SABR Diamond Report: May 2013
Editor's note: The Diamond Report is a series of monthly messages, written by SABR President Vince Gennaro and Executive Director Marc Appleman, to keep SABR members better informed about the Society's direction and progress. The Diamond Report archives are collected at SABR.org/diamondreport. To learn more about becoming a SABR member, visit SABR.org/join.
May 1, 2013

By Marc Appleman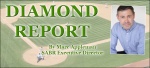 I recently returned from a visit to the National Baseball Hall of Fame. While in Cooperstown, I attended SABR's Ivor-Campbell 19th Century Base Ball Conference, took part in the commemoration of Bud Fowler Day (a SABR plaque was unveiled at Doubleday Field) and got a sneak preview of Diamond Mines — a collaborative effort between SABR and the Hall of Fame to share the work of scouts with baseball fans.
SABR's Scouts Research Committee provided data from its groundbreaking "Who-Signed-Whom" database, linking more than 11,000 current and former major leaguers, with the names of their signing or recommending scout. This is the first time this information has been available to the general public. The Scouts Committee's relational database includes a registry of more than 7,000 professional baseball scouts. This information has been compiled over the past decade by a dedicated team of SABR researchers, led by Rod Nelson and the late Jim Sandoval, and assisted by database specialists Ted Turocy and Sean Lahman, and committee co-chair Joe Hamrahi.
SABR's contribution to Diamond Mines is another testament to the value of the research done by our extremely dedicated members.
Diamond Mines is a new two-year exhibit that will be opening at the Hall of Fame on May 4. The exhibit will also include an interactive component — more than 14,000 scouting reports, covering 441 scouts and 4,444 players from 1943 through 2006 — that will be available through a database that will live at www.baseballhall.org and linked to from SABR.org.
As part of our growing relationship with the Hall of Fame, SABR and the SABR Scouts Committee will be recognized on the Diamond Mines exhibit credit panel at the Hall of Fame and at any other location, and in the credit panel of the online exhibit, including a link to SABR.org. Last week, the Hall of Fame sent out a press release detailing its collaboration with SABR.
The accuracy and depth of this exhibit was enhanced considerably by the data and research provided by SABR.
"The information provided by SABR will provide a higher quality experience," said John Odell, Curator of History and Research at the Hall of Fame. Odell worked very closely with the SABR team to help put together the scouts exhibit. The exhibit — which also received strong support from the Scout of the Year Foundation — includes "a Hall of Famer scouting a Hall of Famer," Odell said. He was referring to the time when Tommy Lasorda, scouting the Dodgers, went to USC to scout a pitcher named Tom Seaver. According to Lasorda's report, "The boy has plenty of desire and wants to beat you." The Dodgers drafted Seaver in the 10th round, but Seaver opted to stay at USC.
After following Derek Jeter throughout high school, a scout for the Colorado Rockies said: "All-Star quality at the major league level." A Cincinnati Reds scout who watched Barry Larkin throughout high school and at the University of Michigan commented: "Spend what it takes."
Diamond Mines promises to be a memorable exhibit dedicated to a group of overlooked and underrated professionals — the scouts — who have helped make baseball the great game that it is.
Special thanks to Peter Mancuso for putting on a tremendous 19th Century Conference, to Jeff Idelson, Ken Meifert, Jim Gates, Tim Wiles, Tom Shieber, John Odell, Lenny DiFranza and Craig Muder at the Hall of Fame, and to SABR member and Mayor of Cooperstown Jeff Katz.
Marc Appleman has been SABR's Executive Director since 2010. His broad-based media career began as a baseball writer at the Los Angeles Times, San Diego Edition, and he has also worked as a Senior Coordinating Editor at ESPN, Director of Programming at AOL Sports and Managing Editor at FoxSports.com. He can be reached at execdir@sabr.org.
---
Originally published: May 1, 2013. Last Updated: May 1, 2013.
https://h2j7w4j4.stackpathcdn.com/wp-content/uploads/2020/03/research-collection4_350x300.jpg
300
350
jpomrenke
/wp-content/uploads/2020/02/sabr_logo.png
jpomrenke
2013-05-01 09:00:00
2013-05-01 09:00:00
SABR Diamond Report: May 2013