SABR Diamond Report: November 2012
Editor's note: The Diamond Report is a series of monthly messages, written by SABR President Vince Gennaro and Executive Director Marc Appleman, to keep SABR members better informed about the Society's direction and progress. The Diamond Report archives are collected at SABR.org/diamondreport. To learn more about becoming a SABR member, visit SABR.org/join.
November 9, 2012
By Marc Appleman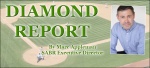 I'm always delighted when baseball people value the opinions of SABR members. I am happy to report that starting this week, SABR members will have the opportunity to play a key role in selecting the winners of the GIBBYs — the annual awards presented by MLB.com.
Click here for the voting instructions at members.sabr.org and to cast your vote.

The GIBBYs categories include: Starting Pitcher, Rookie, Closer, Setup Man, Comeback Player, Manager, Postseason MVP, Top Play, Moment, Oddity, Walk-off, Fan Moment, Postseason Moment and Defensive Player of the Year.
The nominees in the Defensive Player of the Year category were selected by SABR.
SABR members will have the opportunity to play a key role in selecting the winners of the GIBBYs. The votes from SABR members will be equal to each of the other four categories.
SABR members (20%)
MLB.com fans (20%)
Front office personnel (20%)
Retired players (20%)
Media (20%)
The winners will be announced at a reception at the annual Baseball Winter Meetings, which will be held December 3-6, 2012, in Nashville, Tennessee.
This is just one example of how SABR is partnering with Major League Baseball Advanced Media. There is also a permanent link to SABR.org on the popular home page of MLB.com. SABR members continue to contribute content to the Baseball Memory Lab. Content from the SABR BioProject and annual publications will continue to be integrated throughout MLB.com. SABR members have also received discounts to MLB.TV and the MLB.com Shop.
SABR produced six panels at the MLBAM booth during the 2012 All-Star FanFest in Kansas City. These panels featured SABR members and highlighted SABR's ability to put together both topical and historical panels in a way that truly showed off our organization. (Watch them all by clicking here.) MLBAM is also currently working on digitizing SABR's expansive Oral History Collection. Getting SABR's outstanding research out in front of the larger baseball community is in keeping with SABR's mission — to encourage the preservation of baseball research and to help disseminate education and historical information about this great game.
We are also talking with MLBAM about collaborating on a number of other projects during the offseason. I certainly hope that SABR members take the opportunity to make their voice heard by voting for the GIBBYs.
Marc Appleman has been SABR's Executive Director since 2010. His broad-based media career began as a baseball writer at the Los Angeles Times, San Diego Edition, and he has also worked as a Senior Coordinating Editor at ESPN, Director of Programming at AOL Sports and Managing Editor at FoxSports.com. He can be reached at execdir@sabr.org.
---
Originally published: October 31, 2012. Last Updated: October 31, 2012.
https://sabr.org/wp-content/uploads/2020/03/research-collection4_350x300.jpg
300
350
jpomrenke
/wp-content/uploads/2020/02/sabr_logo.png
jpomrenke
2012-10-31 12:40:26
2012-10-31 12:40:26
SABR Diamond Report: November 2012