SABR Digital Library: 1995 Cleveland Indians: The Sleeping Giant Awakes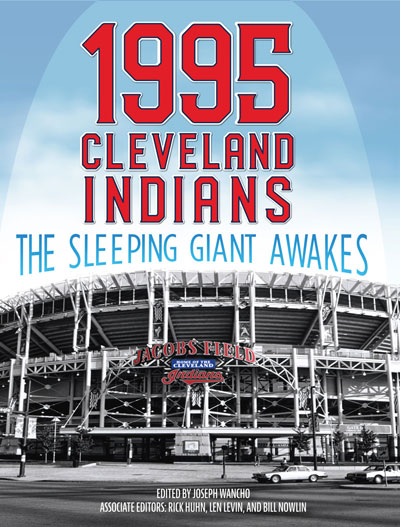 Add a new baseball book to your collection with the newest title from the SABR Digital Library:
1995 Cleveland Indians: The Sleeping Giant Awakes
Edited by Joseph Wancho
Associate Editors: Rick Huhn, Len Levin, and Bill Nowlin
ISBN (ebook): 978-1-943816-94-1, $9.99
ISBN (paperback): 978-1-943816-95-8, $21.95
410 pages, 8.5″ x 11″
After almost 40 years of sub-500 baseball, the Sleeping Giant woke in 1995, the first season the Indians spent in their new home of Jacobs Field.
The Indians ruled Cleveland from 1994 through 2001, winning two pennants and making five playoff appearances. In 1995, the Cleveland Browns had left town and were putting down roots in Baltimore. The Cleveland Cavaliers, while competitive, were usually ousted in the first round of the NBA playoffs. The Indians were the best ticket in town, and 455 consecutive sellouts — from June 12, 1995 through April 2, 2001 — are a testament to their popularity.
While the Indians made it to the brink of baseball nirvana in both 1997 and 2016, losing in Game Seven of both those World Series, it is the 1995 team that fans remember the most fondly. Perhaps this is because they were the first to break through since 1954 and make the postseason. Maybe it's because of the different characters and personalities who made up that team, which included Jim Thome, Eddie Murray, Manny Ramirez, Kenny Lofton, Orel Hershiser, and Sandy Alomar Jr. They had an All-Star seemingly at every position.
As you leaf through the pages of this book, presented here by 40 SABR authors and editors, you will be transported back in time to 1995. The biographies of all the players, coaches, and broadcasters will evoke that glorious era once again for Tribe fans. The volume is also sprinkled with personal perspectives, as well as game stores from key matchups during the 1995 season, information about Jacobs Field, and other writing of interest on the historic season.
Contributors include: Rick Balazs, Richard Bogovich, Augusto Cárdenas, Alan Cohen, Philip A. Cola, Rory Costello, Richard Cuicchi, Charles F. Faber, Dan Fields, Chip Greene, Edward Gruver, Mark Hodermarsky, Paul Hofmann, Rick Huhn, Jay Hurd, Jimmy Keenan, Ted Leavengood, Bob LeMoine, Len Levin, Stephanie Liscio, Gary Livacari, John McMurray, Jeanne M. Mallett, Wynn Montgomery, Bill Nowlin, Gregg Omoth, Anna Pohlod, Joel Rippel, Kelly Boyer Sagert, Rick Schabowski, Harry Schoger, Blake W. Sherry, David E. Skelton, Doug Skipper, Mark S. Sternman, Andy Sturgill, Clayton Trutor, Nick Waddell, Joseph Wancho, Tom Wancho, Steve West, Christopher Williamson, and Gregory H. Wolf.
SABR members, get this e-book for FREE!
Buy the book
About the SABR Digital Library

For more than 40 years, SABR and its members have led the way in publishing the best baseball historical and statistical research. Our publications program is shifting to take advantage of new methods of publishing. Not only will we continue to publish new books like Can He Play? A Look At Baseball Scouts and Their Profession (released in December 2011); Detroit Tigers 1984: What A Start! What A Finish! (December 2012); Sweet '60: The 1960 Pittsburgh Pirates (April 2013); Inventing Baseball: The 100 Greatest Games of the 19th Century (July 2013); Scandal on the South Side: The 1919 Chicago White Sox (June 2015); Nuclear Powered Baseball/The Simpsons (February 2016), Au jeu/Play Ball: The 50 Greatest Games in the History of the Montreal Expos (April 2016); Cuban Baseball Legends (July 2016); Baseball's Business: The Winter Meetings: 1901-1957 (December 2016); No-Hitters (May 2017); Puerto Rico and Baseball (June 2017); Bittersweet Goodbye: The Black Barons, the Grays, and the 1948 Negro League World Series (July 2017), Major League Baseball A Mile High: The First Quarter Century of the Colorado Rockies (May 2018), and Time for Expansion Baseball (December 2018), which showcase the best efforts of SABR's members, chapters and committees, but new technology makes it possible for us to bring out-of-print titles like Run, Rabbit, Run: The Hilarious and Mostly True Tales of Rabbit Maranville (February 2012), Great Hitting Pitchers (March 2012), Nineteenth Century Stars (August 2012); Batting (January 2013); The Fenway Project (September 2013); '75: The Red Sox Team That Saved Baseball (April 2015), and The 1967 Impossible Dream Red Sox: Pandemonium on the Field (June 2017) back again.
Books will be available in digital formats as well as paperbacks produced by "print on demand" (POD).
SABR members will get discounted rates for all Digital Library publications, including many for free. If you're not a member, click here to join SABR.
Stay tuned throughout the year for new (and old!) titles that we'll be adding to the SABR Digital Library. To learn more about SABR Publications, contact Publications Editor Cecilia Tan at ctan@sabr.org.
Having trouble downloading our e-books? To view PDF files on your computer, click here to download the free Adobe Reader software. Having trouble downloading e-books to your Kindle, Nook, Sony Reader or iPad? Click here for additional help.
---
Originally published: January 14, 2019. Last Updated: August 20, 2020.
https://h2j7w4j4.stackpathcdn.com/wp-content/uploads/2019/10/1995-Cleveland-Indians-cover-400px.jpg
527
400
admin
/wp-content/uploads/2020/02/sabr_logo.png
admin
2019-01-14 11:10:42
2020-08-20 01:33:13
SABR Digital Library: 1995 Cleveland Indians: The Sleeping Giant Awakes