SABR Digital Library: Bittersweet Goodbye: The Black Barons, the Grays, and the 1948 Negro League World Series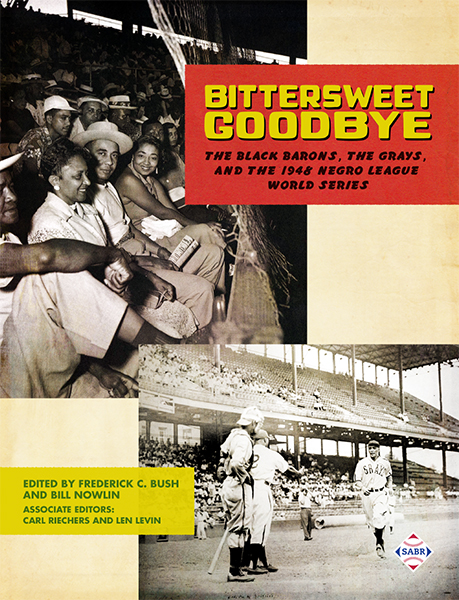 The newest publication from the SABR Digital Library focuses on the end of an era in black baseball:
Bittersweet Goodbye: The Black Barons, the Grays, and the 1948 Negro League World Series
Edited by Frederick C. Bush and Bill Nowlin
Associate Editors: Carl Riechers and Len Levin    
ISBN (paperback): 978-1-943816-55-2, $21.95
ISBN (ebook): 978-1-943816-54-5, $9.99
8.5 x 11″, 438 pages
This book was inspired by the last Negro League World Series ever played and presents biographies of the players on the two contending teams in 1948 — the Birmingham Black Barons and the Homestead Grays — as well as the managers, the owners, and articles on the ballparks the teams called home.
Also included are articles that recap the season's two East-West All-Star Games, the Negro National League and Negro American League playoff series, and the World Series itself. Additional context is provided in essays about the effects of Organized Baseball's integration on the Negro Leagues, the exodus of Negro League players to Canada, and the signing away of top Negro League players, specifically Willie Mays.
The lack of detailed press coverage of the Negro Leagues, the fact that not every player was a star with a lengthy career, and gaps in public records of the era (especially in regard to African Americans) present a situation in which it is not possible to detail the life of every single player as fully as in other SABR publications. In the face of such challenges, the SABR researchers who have contributed player biographies and feature articles to this book have done utmost diligence to uncover every possible nugget of information that is currently available and, in many instances, new discoveries have been made. Many of the players' lives and careers have been presented to a much greater extent than previously.
This book represents the collaborative efforts of 49 authors and editors from the Society for American Baseball Research (SABR). Contributors include: Niall Adler, Jack Anderson, Brian Baughan, Ralph Berger, Richard Bogovich, Frederick C. Bush, Ralph Carhart, Alan Cohen, William Dahlberg, Dennis D. Degenhardt, Amy Essington, Charles F. Faber, James Forr, Dave Forrester, Charlie Fouche, Joseph Gerard, Irv Goldfarb, Margaret M. Gripshover, Tom Hawthorn, Leslie Heaphy, Jay Hurd, Bill Johnson, Thomas E. Kern, Norm King, John Klima, Japheth Knopp, Bob LeMoine, Michael Mattsey, Brian McKenna, Jack Morris, Justin Murphy, Rob Neyer, Skip Nipper, Bill Nowlin, Will Osgood, Mark Panuthos, Richard J. Puerzer, Chris Rainey, John Saccoman, John Schleppi, Curt Smith, Jeb Stewart, J.W. Stewart, Rick Swaine, Clarence Watkins, Steve West, and Dave Wilkie.
SABR members, get this e-book for FREE!
Buy the book
About the SABR Digital Library

For more than 40 years, SABR and its members have led the way in publishing the best baseball historical and statistical research. Our publications program is shifting to take advantage of new methods of publishing. Not only will we continue to publish new books like Can He Play? A Look At Baseball Scouts and Their Profession (released in December 2011); Detroit Tigers 1984: What A Start! What A Finish! (December 2012); Sweet '60: The 1960 Pittsburgh Pirates (April 2013); Inventing Baseball: The 100 Greatest Games of the 19th Century (July 2013); Scandal on the South Side: The 1919 Chicago White Sox (June 2015); The Team That Time Won't Forget: The 1951 New York Giants (December 2015); Nuclear Powered Baseball/The Simpsons (February 2016), Au jeu/Play Ball: The 50 Greatest Games in the History of the Montreal Expos (April 2016); Cuban Baseball Legends (July 2016), Baseball's Business: The Winter Meetings: 1901-1957 (December 2016); Dome Sweet Dome: History and Highlights from 35 Years of the Houston Astrodome (February 2017), and No-Hitters (May 2017), which showcase the best efforts of SABR's members, chapters and committees, but new technology makes it possible for us to bring out-of-print titles like Run, Rabbit, Run: The Hilarious and Mostly True Tales of Rabbit Maranville (February 2012), Great Hitting Pitchers (March 2012), Nineteenth Century Stars (August 2012); Batting (January 2013); The Fenway Project (September 2013); and '75: The Red Sox Team That Saved Baseball (April 2015) back again.
Books will be available in digital formats as well as paperbacks produced by "print on demand" (POD).
SABR members will get discounted rates for all Digital Library publications, including many for free. If you're not a member, click here to join SABR.
Stay tuned throughout the year for new (and old!) titles that we'll be adding to the SABR Digital Library. To learn more about SABR Publications, contact Publications Editor Cecilia Tan at ctan@sabr.org.
Having trouble downloading our e-books? To view PDF files on your computer, click here to download the free Adobe Reader software. Having trouble downloading e-books to your Kindle, Nook, Sony Reader or iPad? Click here for additional help.
---
Originally published: August 10, 2017. Last Updated: August 6, 2020.
https://sabr.org/wp-content/uploads/2019/10/1948-Negro-League-Barons-Grays-cover-600px.jpg
600
459
admin
/wp-content/uploads/2020/02/sabr_logo.png
admin
2017-08-10 06:57:13
2020-08-06 17:04:32
SABR Digital Library: Bittersweet Goodbye: The Black Barons, the Grays, and the 1948 Negro League World Series