SABR Digital Library: Moments of Joy and Heartbreak: 66 Significant Episodes in the History of the Pittsburgh Pirates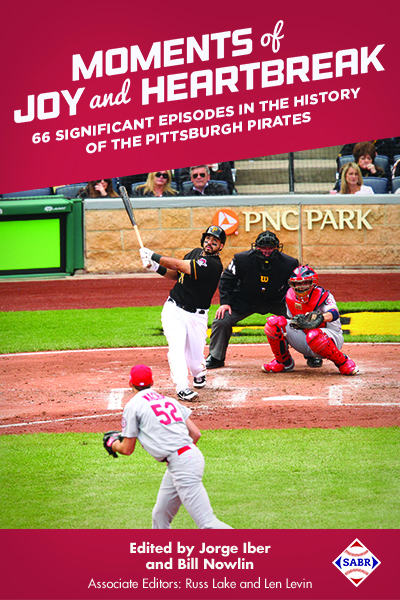 As we gear up for the SABR 48 convention this summer in Pittsburgh, add this new baseball book from the SABR Digital Library to your collection:
Moments of Joy and Heartbreak: 66 Significant Episodes in the History of the Pittsburgh Pirates
Edited by Jorge Iber and Bill Nowlin
Associate Editors: Russ Lake and Len Levin
ISBN (paperback): 978-1-943816-73-6, $19.95
ISBN (e-book): 978-1-943816-72-9, $9.99 
201 pages, 8.5″ x 11″
The Pittsburgh Pirates have a long history, peppered with moments significant both to Pirates fans and Major League Baseball. While the Pirates are recognized as fielding the first all-black lineup in 1971, the 66 games in this book also include one of the first matchups in the majors to involve two non-white opening hurlers (Native American and Cuban) in June 1921. We relive no-hitters, World Series-winning homers, and encounter the story of the last tripleheader ever played in major-league baseball. Famous Pirates like Honus Wagner and Roberto Clemente — and infamous ones like Dock Ellis — make their appearances on the field, as well as recent stars like Andrew McCutchen.
Some of the games are wins; some are losses. All of these essays provide readers with a sense of the totality of the Pirates' experiences: the joy, the heartbreak, and other aspects of baseball (and life) in between. The book includes photos from the Pirates team archives.
This book is the work of 37 members of the Society for American Baseball Research (SABR), including: Jeff Barto, John Bauer, Robert E. Bionaz, Thomas J. Brown Jr., Frederick "Rick" Bush, Alan Cohen, Paul E. Doutrich, Doug Feldmann, Jeff Findley, T.S. Flynn, Gordon J. Gattie, Tom Hawthorn, Rock Hoffman, Paul Hofmann, Mike Huber, Jorge Iber, Frank Ittner, Matt Keelean, Russ Lake, Bob LeMoine, Len Levin, Mark Miller, Seth Moland-Kovash, Bill Nowlin, Richard "Pete" Peterson, Stephen Peterson, Richard J. Puerzer, Eliza Richardson, C. Paul Rogers III, Harry Schoger, Blake Sherry, Wayne Strumpfer, Joseph Wancho, Bob Webster, Steven C. Weiner, Gregory H. Wolf, and Jack Zerby.
SABR members, get this e-book for FREE!
Buy the book
About the SABR Digital Library

For more than 40 years, SABR and its members have led the way in publishing the best baseball historical and statistical research. Our publications program is shifting to take advantage of new methods of publishing. Not only will we continue to publish new books like Can He Play? A Look At Baseball Scouts and Their Profession (released in December 2011); Detroit Tigers 1984: What A Start! What A Finish! (December 2012); Sweet '60: The 1960 Pittsburgh Pirates (April 2013); Inventing Baseball: The 100 Greatest Games of the 19th Century (July 2013); Scandal on the South Side: The 1919 Chicago White Sox (June 2015); The Team That Time Won't Forget: The 1951 New York Giants (December 2015); Nuclear Powered Baseball/The Simpsons (February 2016), Au jeu/Play Ball: The 50 Greatest Games in the History of the Montreal Expos (April 2016); Cuban Baseball Legends (July 2016); Baseball's Business: The Winter Meetings: 1901-1957 (December 2016); Dome Sweet Dome: History and Highlights from 35 Years of the Houston Astrodome (February 2017); No-Hitters (May 2017); Puerto Rico and Baseball (June 2017); Bittersweet Goodbye: The Black Barons, the Grays, and the 1948 Negro League World Series (July 2017), and The Whiz Kids Take the Pennant (January 2018), which showcase the best efforts of SABR's members, chapters and committees, but new technology makes it possible for us to bring out-of-print titles like Run, Rabbit, Run: The Hilarious and Mostly True Tales of Rabbit Maranville (February 2012), Great Hitting Pitchers (March 2012), Nineteenth Century Stars (August 2012); Batting (January 2013); The Fenway Project (September 2013); '75: The Red Sox Team That Saved Baseball (April 2015), and The 1967 Impossible Dream Red Sox: Pandemonium on the Field (June 2017) back again.
Books will be available in digital formats as well as paperbacks produced by "print on demand" (POD).
SABR members will get discounted rates for all Digital Library publications, including many for free. If you're not a member, click here to join SABR.
Stay tuned throughout the year for new (and old!) titles that we'll be adding to the SABR Digital Library. To learn more about SABR Publications, contact Publications Editor Cecilia Tan at ctan@sabr.org.
Having trouble downloading our e-books? To view PDF files on your computer, click here to download the free Adobe Reader software. Having trouble downloading e-books to your Kindle, Nook, Sony Reader or iPad? Click here for additional help.
---
Originally published: March 21, 2018. Last Updated: August 19, 2020.
https://h2j7w4j4.stackpathcdn.com/wp-content/uploads/2019/10/Pirates_Games-cover-400x600-1.jpg
600
400
admin
/wp-content/uploads/2020/02/sabr_logo.png
admin
2018-03-21 17:28:17
2020-08-19 19:51:21
SABR Digital Library: Moments of Joy and Heartbreak: 66 Significant Episodes in the History of the Pittsburgh Pirates