SABR Digital Library: No-Hitters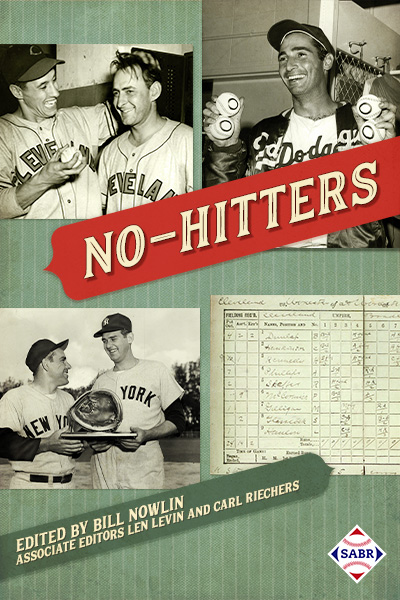 Don't jinx yourself — add this new baseball book from the SABR Digital Library to your collection:
NO-HITTERS
Edited by Bill Nowlin
Associate editors: Len Levin and Carl Riechers
ISBN (paperback): 978-1-943816-51-4, $21.95
ISBN (ebook): 978-1-943816-50-7, $9.99
8.5 x 11″, 549 pages
Pitching a no-hitter is a dream for every major-league pitcher — once they have realized their dream of making it to the big leagues in the first place. Fewer than half the pitchers in the National Baseball Hall of Fame have thrown a no-hitter. Many of the biggest names in pitching have never done it.
This book focuses on pitchers who threw no-hitters and the no-hitters they threw. Naturally, we couldn't present biographies of everyone who ever threw a no-hitter nor could we present Games Project accounts of all of them. From around 300 no-hitters thrown in the majors (out of over 213,000 games), we have selected 59 no-hitters to include, along with the biographies of the men who threw them.
We wanted the book to touch on a variety of matters, and to span the decades so that there was some representation from the earlier eras of baseball right up to more recent years. We tried to hit certain themes — first no-hitter in each league; first no-hitter thrown at 60 feet 6 inches; first in which the losing team scored a run; first pitcher to debut with a no-hitter; first extra-inning no-hitter; etc. You'll find those all in here and maybe a surprise or two as well.
This book represents the collective work of 56 different SABR members as authors and editors.
Contributors include: Marc Z Aaron, Bob Bailey, Parker Bena, Ray Birch, Warren Corbett, Cliff Corn, Rory Costello, Joe Cox, John DiFonzo, Charles F. Faber, Adrian Fung, Ben Girard, Chip Greene, Paul Hensler, Paul Hofmann, Michael Huber, John Husman, Jimmy Keenan, Norm King, Tara Krieger, Dirk Lammers, Leonte Landino, Jim Leeke, Bob LeMoine, Len Levin, Chuck McGill, David Nemec, Bill Nowlin, Len Pasculli, Jacob Pomrenke, Richard J. Puerzer, Alan Raylesberg, Stephen V. Rice, Carl Riechers, C. Paul Rogers III, John T. Saccoman, Steven Schmitt, Thomas E. Schott, Joe Schuster, David E. Skelton, Lyle Spatz, Bill Staples Jr., Stew Thornley, Casey Tibbitts, Adam J. Ulrey, Joe Wancho, Charlie Weatherby, and Gregory H. Wolf.
SABR members, get this e-book for FREE!
Buy the book
About the SABR Digital Library

For more than 40 years, SABR and its members have led the way in publishing the best baseball historical and statistical research. Our publications program is shifting to take advantage of new methods of publishing. Not only will we continue to publish new books like Can He Play? A Look At Baseball Scouts and Their Profession (released in December 2011); Detroit Tigers 1984: What A Start! What A Finish! (December 2012); Sweet '60: The 1960 Pittsburgh Pirates (April 2013); Inventing Baseball: The 100 Greatest Games of the 19th Century (July 2013); Thar's Joy in Braveland: The 1957 Milwaukee Braves (May 2014); Winning on the North Side: The 1929 Chicago Cubs (February 2015); Scandal on the South Side: The 1919 Chicago White Sox (June 2015); The Team That Time Won't Forget: The 1951 New York Giants (December 2015); Nuclear Powered Baseball/The Simpsons (February 2016), Au jeu/Play Ball: The 50 Greatest Games in the History of the Montreal Expos (April 2016); Cuban Baseball Legends (July 2016), Baseball's Business: The Winter Meetings: 1901-1957 (December 2016); and Dome Sweet Dome: History and Highlights from 35 Years of the Houston Astrodome (February 2017), which showcase the best efforts of SABR's members, chapters and committees, but new technology makes it possible for us to bring out-of-print titles like Run, Rabbit, Run: The Hilarious and Mostly True Tales of Rabbit Maranville (February 2012), Great Hitting Pitchers (March 2012), Nineteenth Century Stars (August 2012); Batting (January 2013); The Fenway Project (September 2013); and '75: The Red Sox Team That Saved Baseball (April 2015) back again.
Books will be available in digital formats as well as paperbacks produced by "print on demand" (POD).
SABR members will get discounted rates for all Digital Library publications, including many for free. If you're not a member, click here to join SABR.
Stay tuned throughout the year for new (and old!) titles that we'll be adding to the SABR Digital Library. To learn more about SABR Publications, contact Publications Editor Cecilia Tan at ctan@sabr.org.
Having trouble downloading our e-books? To view PDF files on your computer, click here to download the free Adobe Reader software. Having trouble downloading e-books to your Kindle, Nook, Sony Reader or iPad? Click here for additional help.
---
Originally published: May 30, 2017. Last Updated: August 6, 2020.
https://sabr.org/wp-content/uploads/2019/10/No-Hitters-cover-400x600-1.jpg
600
400
admin
/wp-content/uploads/2020/02/sabr_logo.png
admin
2017-05-30 12:10:01
2020-08-06 17:00:22
SABR Digital Library: No-Hitters