SABR Digital Library: Puerto Rico and Baseball
Stay tuned for an upcoming SABR Digital Library book on Roberto Clemente, "Arriba! The Heroic Life of Roberto Clemente," to be published in Fall 2022!

---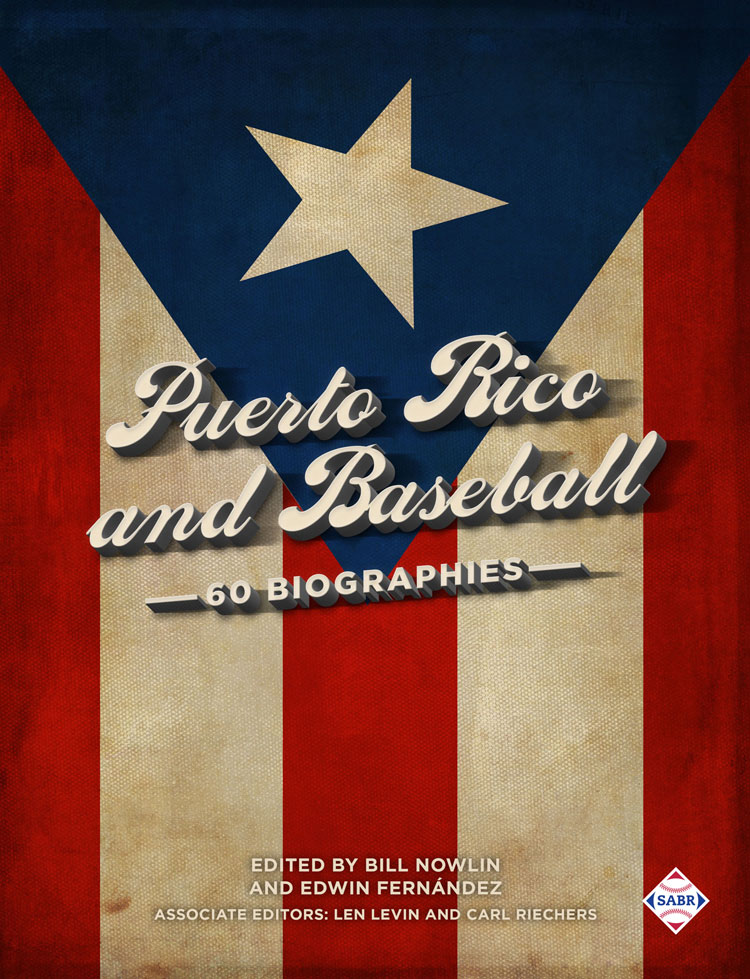 Celebrate la vida béisbol, and add this new baseball book from the SABR Digital Library to your collection:
Puerto Rico and Baseball: 60 Biographies
Edited by Bill Nowlin and Edwin Fernández
Associate Editors: Len Levin and Carl Riechers
ISBN (paperback): 978-1-943816-53-8, $21.95
ISBN (ebook): 978-1-943816-52-1, $9.99
8.5 x 11″, 430 pages
Baseball in Puerto Rico has a long history, dating back to the nineteenth century and now extending into the twenty-first. As of the end of 2016, there have been 323 players born in Puerto Rico or descended from Puerto Rican natives who have played in the major leagues. But there are thousands of Puerto Rican professional players who have played in the Caribbean and other professional leagues, including the minor leagues in the United States.
As one might imagine from the title, Puerto Rico and Baseball: 60 Biographies contains 60 biographies of players — but it also has two "ballpark bios" and an article on major-league games played in Puerto Rico, both spring training exhibition games and several regular-season games from the time when "Los Expos" included San Juan as their home base.
This book highlights some of the pioneers who played in the Negro Leagues before the color line was broken, right up through Ivan Rodriguez, elected in 2017 to the National Baseball Hall of Fame. In reading this book you will get to know Perucho, who was compared with Ty Cobb and called the Babe Ruth of Puerto Rico; why Pancho Coimbre was considered one of the best hitters; the story of the great Roberto Clemente; who was "el Divino Loco," the first pitcher to win a major-league game on the Pacific Coast; who was "El Jibaro"; and even the great achievements of the man who was possibly the most complete catcher who ever stepped on a diamond.
This book also represents the collaborative efforts of 46 authors and editors from the Society for American Baseball Research (SABR).
Contributors include: Jane Allen-Quevedo, Mark Armour, Jonathan Arnold, Thomas J. Brown Jr., Justin Omar Cabrera, Alan Cohen, Jorge Colón-Delgado, Rory Costello, Richard Cuicchi, Scott Cummings, Scott Dominiak, Kyle Eaton, Rob Edelman, Amy Essington, Charles F. Faber, Edwin Fernández, Joseph Gerard, Gary Gillette, Irv Goldfarb, Emily Hawks, Tom Hawthorn, Jane Schupmann Hewitt, Paul Hofmann, Chuck Johnson, William H. "Bill" Johnson, Chris Jones, Norm King, Bob LeMoine, Len Levin, Bill Nowlin, Daniel Potter, Carl Riechers, Rick Schabowski, Steven Schmitt, Richard Smiley, Mark Souder, Mark S. Sternman, Stew Thornley, Adam J. Ulrey, Thomas E. Van Hyning, Marlene Vogelsang, John Vorperian, Joseph Wancho, Steve West, and Brian P. Wood.
---
Puerto Rico yel Béisbol:60 Biografías representa los esfuerzos colaborativos de 46 autores y editores de la Sociedad para la Investigación del Béisbol Americano (SABR). Como se podría imaginar a partir del título, el libro contiene 60 biografías de jugadores -pero también tiene dos "biografías de parques" también. Y un artículo sobre los partidos de grandes ligas jugados en Puerto Rico, tanto los juegos de exhibición de entrenamiento de primavera como varios juegos de temporada regular desde el momento en que "Los Expos" incluyó a San Juan como sede.
El béisbol en Puerto Rico tiene una larga historia, que se remonta al siglo XIX y ahora se extiende hasta el siglo XXI. Al final de 2016, hubo 323 jugadores nacidos en Puerto Rico o descendientes de nativos puertorriqueños que habían jugado en las grandes ligas. Pero hay miles de jugadores profesionales puertorriqueños que han jugado en el Caribe y otras ligas profesionales, incluyendo las ligas menores en los Estados Unidos.
Este libro destaca a algunos de los pioneros, los que jugaron en las Ligas Negras antes de que se rompiera la línea de color, y hasta a través de Ivan Rodríguez, elegido en 2017 al Salón Nacional de la Fama del Béisbol.
Aquí hay 60 biografías. Al leer este libro conocerás a Perucho, quien fue comparado con Ty Cobb y llamado Babe Ruth de Puerto Rico; Por qué Pancho Coimbre fue considerado uno de los mejores bateadores; La historia del gran Roberto Clemente; Quien fue "el Divino Loco", el primer lanzador en ganar un partido de grandes ligas en la Costa del Pacífico; Quien era "El Jibaro"; e incluso los grandes logros del hombre que fue posiblemente el receptor más completo que haya pisado un diamante.
SABR members, get this e-book for FREE!
Buy the book
En español!
About the SABR Digital Library

For more than 40 years, SABR and its members have led the way in publishing the best baseball historical and statistical research. Our publications program is shifting to take advantage of new methods of publishing. Not only will we continue to publish new books like Can He Play? A Look At Baseball Scouts and Their Profession (released in December 2011); Detroit Tigers 1984: What A Start! What A Finish! (December 2012); Sweet '60: The 1960 Pittsburgh Pirates (April 2013); Inventing Baseball: The 100 Greatest Games of the 19th Century (July 2013); Scandal on the South Side: The 1919 Chicago White Sox (June 2015); The Team That Time Won't Forget: The 1951 New York Giants (December 2015); Nuclear Powered Baseball/The Simpsons (February 2016), Au jeu/Play Ball: The 50 Greatest Games in the History of the Montreal Expos (April 2016); Cuban Baseball Legends (July 2016), Baseball's Business: The Winter Meetings: 1901-1957 (December 2016); Dome Sweet Dome: History and Highlights from 35 Years of the Houston Astrodome (February 2017), and No-Hitters (May 2017), which showcase the best efforts of SABR's members, chapters and committees, but new technology makes it possible for us to bring out-of-print titles like Run, Rabbit, Run: The Hilarious and Mostly True Tales of Rabbit Maranville (February 2012), Great Hitting Pitchers (March 2012), Nineteenth Century Stars (August 2012); Batting (January 2013); The Fenway Project (September 2013); and '75: The Red Sox Team That Saved Baseball (April 2015) back again.
Books will be available in digital formats as well as paperbacks produced by "print on demand" (POD).
SABR members will get discounted rates for all Digital Library publications, including many for free. If you're not a member, click here to join SABR.
Stay tuned throughout the year for new (and old!) titles that we'll be adding to the SABR Digital Library. To learn more about SABR Publications, contact Publications Editor Cecilia Tan at ctan@sabr.org.
Having trouble downloading our e-books? To view PDF files on your computer, click here to download the free Adobe Reader software. Having trouble downloading e-books to your Kindle, Nook, Sony Reader or iPad? Click here for additional help.
---
Originally published: June 21, 2017. Last Updated: August 11, 2022.
https://sabr.org/wp-content/uploads/2019/10/SABR-Puerto-Rico-ebook-cover-full-750px.jpg
979
750
admin
/wp-content/uploads/2020/02/sabr_logo.png
admin
2017-06-21 15:41:43
2022-08-11 00:10:29
SABR Digital Library: Puerto Rico and Baseball