SABR Digital Library: The 1967 Impossible Dream Red Sox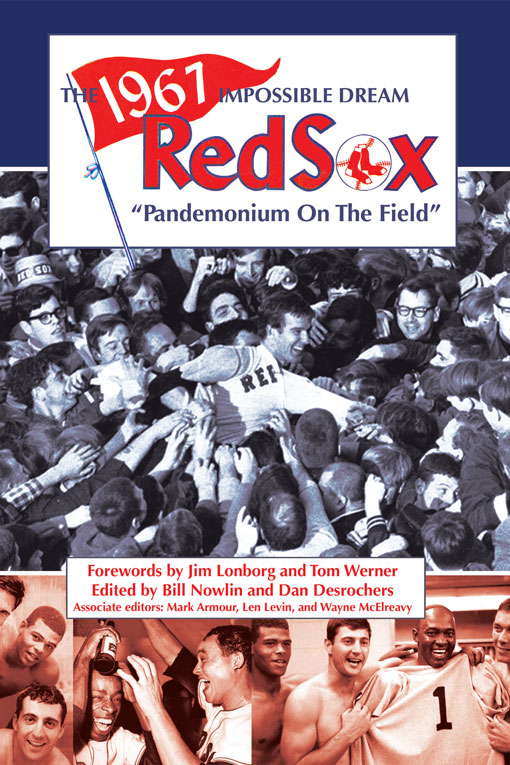 It's the 50th anniversary of the Impossible Dream, so add this new baseball book from the SABR Digital Library to your collection:
The 1967 Impossible Dream Red Sox: Pandemonium on the Field
Edited by Bill Nowlin and Dan Desrochers
Associate Editors: Mark Armour, Len Levin, and Wayne McElreavy
ISBN (paperback): 978-1-943816-49-1, $21.95
ISBN (ebook): 978-1-943816-48-4, $9.99
8.5 x 11″, 521 pages
The '67 Red Sox fulfilled a seemingly Impossible Dream, overcoming 100-to-1 odds by climbing out of ninth place to capture the pennant for the first time in 21 years. Thousands of delirious fans streamed onto the field at Fenway Park mobbing the team, dismantling the scoreboard, climbing the screen behind home plate. It truly was, in the words of Sox radio announcer Ned Martin, "pandemonium on the field."
As Peter Gammons once wrote of this great season, "It wasn't always the way it is now, and might never have been but for '67."
This book is a tribute to the members of the Impossible Dream team, including biographies of all 39 players that year as well as appreciations of this remarkable season by an all-star lineup featuring Joe Castiglione, Ken Coleman, Gordon Edes, Peter Gammons, Jim Lonborg, and many more. The book also presents over 300 rare photographs and memorabilia from this special Red Sox season.
A project of the Boston chapter of the Society for American Baseball Research, this volume gathers the collective efforts of more than 60 SABR members and friends of the nonprofit research society.
Contributors include: Ron Anderson, Andy Andres, Jeff Angus, Mark Armour, Jonathan Arnold, Eric Aron, Fr. Gerry Beirne, Charlie Bevis, Ray Birch, Andrew Blume, Maurice Bouchard, Bob Brady, Steve Buckley, Frederick C. "Rick" Bush, John Cizik, Alan Cohen, Herb Crehan, Dan Desrochers, Alex Edelman, Gordon Edes, Edwin Fernandez, Peter Gammons, Tom Harkins, Joanne Hulbert, Richard Johnson, Mark Kanter, David Laurila, Bob LeMoine, Len Levin, Diane MacLennan, Barb Mantegani, Les Masterson, Wayne McElreavy, Bill Nowlin, Royse Parr, Mike Richard, Doug Skipper, Harvey Soolman, Mark S. Sternman, Glenn Stout, Cecilia Tan, Judith Testa, John Vorperian, Dave Williams, Saul Wisnia, and Gregory H. Wolf.
SABR members, get this e-book for FREE!
Buy the book
About the SABR Digital Library

For more than 40 years, SABR and its members have led the way in publishing the best baseball historical and statistical research. Our publications program is shifting to take advantage of new methods of publishing. Not only will we continue to publish new books like Can He Play? A Look At Baseball Scouts and Their Profession (released in December 2011); Detroit Tigers 1984: What A Start! What A Finish! (December 2012); Sweet '60: The 1960 Pittsburgh Pirates (April 2013); Inventing Baseball: The 100 Greatest Games of the 19th Century (July 2013); Scandal on the South Side: The 1919 Chicago White Sox (June 2015); The Team That Time Won't Forget: The 1951 New York Giants (December 2015); Nuclear Powered Baseball/The Simpsons (February 2016), Au jeu/Play Ball: The 50 Greatest Games in the History of the Montreal Expos (April 2016); Cuban Baseball Legends (July 2016), Baseball's Business: The Winter Meetings: 1901-1957 (December 2016); Dome Sweet Dome: History and Highlights from 35 Years of the Houston Astrodome (February 2017), and No-Hitters (May 2017), which showcase the best efforts of SABR's members, chapters and committees, but new technology makes it possible for us to bring out-of-print titles like Run, Rabbit, Run: The Hilarious and Mostly True Tales of Rabbit Maranville (February 2012), Great Hitting Pitchers (March 2012), Nineteenth Century Stars (August 2012); Batting (January 2013); The Fenway Project (September 2013); and '75: The Red Sox Team That Saved Baseball (April 2015) back again.
Books will be available in digital formats as well as paperbacks produced by "print on demand" (POD).
SABR members will get discounted rates for all Digital Library publications, including many for free. If you're not a member, click here to join SABR.
Stay tuned throughout the year for new (and old!) titles that we'll be adding to the SABR Digital Library. To learn more about SABR Publications, contact Publications Editor Cecilia Tan at ctan@sabr.org.
Having trouble downloading our e-books? To view PDF files on your computer, click here to download the free Adobe Reader software. Having trouble downloading e-books to your Kindle, Nook, Sony Reader or iPad? Click here for additional help.
---
Originally published: June 8, 2017. Last Updated: August 6, 2020.
https://sabr.org/wp-content/uploads/2019/10/1967-Red-Sox-2017-cover_510px.jpg
765
510
admin
/wp-content/uploads/2020/02/sabr_logo.png
admin
2017-06-08 00:58:33
2020-08-06 17:01:30
SABR Digital Library: The 1967 Impossible Dream Red Sox