SABR member Norman Macht's baseball research collection finds a new home
By Jacob Pomrenke
Future baseball researchers will have a chance to view archival materials from SABR member Norman Macht's award-winning, three-volume Connie Mack biography at Southern Methodist University's DeGolyer Library in Dallas, Texas.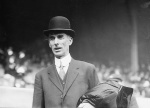 Macht, the author of more than 30 books, said his research collection was acquired by SMU in 2013 and opened to researchers earlier this year. Much of the material at the library covers Macht's three-part biography of Philadelphia A's Hall of Fame manager and owner Connie Mack, published between 2007 and 2015. The final volume, covering Mack's life and career from 1932 until his death, is due to be published next fall by the University of Nebraska Press.
His first volume, Connie Mack and the Early Years of Baseball (2007), won the SABR Deadball Era Committee's Larry Ritter Book Award and was a finalist for Spitball's CASEY Award, as was the second volume from 2012, Connie Mack: The Turbulent and Triumphant Years, 1915-1931.
Macht's collection at the DeGolyer Library contains 43 boxes of notes, drafts, clippings, scrapbooks, baseballs, oral histories, audio cassette tapes, sound reels, posters, and photographs related to his baseball research. A finding guide was prepared by Cynthia Franco and is available online by clicking here.
Macht, a former SABR Director and minor-league general manager, said he was impressed by SMU's facilities and the speed at which the library staff organized and processed his collection.
"They've done an enormous job of collating all the material," said Macht, who lived in San Marcos, Texas, before moving recently to California. "They even drove down from Dallas to my home to pick it up.
"I heard from (SABR member and former dean of the SMU law school) Paul Rogers about the library's special sports collection … this seemed like a good home for it. They had the money, the space, and the people to deal with it, and they were willing to make it available to the public."
Macht said his third Connie Mack book will shed new light on the Philadelphia Athletics' demise after the 1954 season.
"It's the first revelation of the actual circumstances of the sale of the team and the transfer to Kansas City," he said. "It's not uncommon in any family-owned business … when the founder dies or retires, and the children fight. There was a lot of that. The (Mack) family was torn apart. That's why Connie Jr. didn't wind up with the team. He had the money to keep it in Philadelphia. It was the Phillies who would have moved because the A's had the ballpark (Shibe Park/Connie Mack Stadium)."
Visit SABR.org/research/resources to view other baseball research collections in our comprehensive members-only Research Resources page.
Preserve your baseball research: If you have a special collection of research materials or artifacts that you are interested in donating to SABR, please contact the SABR office. Please note: Due to limitations of space and resources, not all materials can be accepted.
---
Originally published: December 19, 2014. Last Updated: December 19, 2014.
https://sabr.org/wp-content/uploads/2020/03/research-collection4_350x300.jpg
300
350
jpomrenke
/wp-content/uploads/2020/02/sabr_logo.png
jpomrenke
2014-12-19 07:03:00
2014-12-19 07:03:00
SABR member Norman Macht's baseball research collection finds a new home