SABRanalytics: Clubhouse Confidential Panel
Here are some highlights from the Clubhouse Confidential Panel on Friday, March 16 at the SABR Analytics Conference, which featured Dave Cameron, Managing Editor at FanGraphs; Jay Jaffe of Baseball Prospectus; Vince Gennaro, SABR president; and Rob Neyer, National Baseball Editor at Baseball Nation:
---
---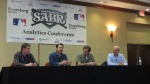 On underrated players
Cameron: "I think my guy is the lowest under-the-radar guy possible. I am like the world's biggest Will Venable fan. He is a left-handed, extremely pull power guy in the one park (Petco Park) that is designed to kill left-handed pull power guys. His home-road home run splits are enormous. He gets absolutely destroyed by his home park, he gets platooned heavily and he doesn't hit a whole lot of home runs. He doesn't walk a lot, his numbers don't look great, so they see him as a part-time backup center fielder."
Jaffe:

"Yovani Gallardo of the Brewers. He is not generally considered to be an ace. Career ERA is about 3.7 and he strikes out about eight guys per 9 innings, but there is a hidden value there and that's his offense. He has a .650 OPS for his career. Over the last three years he's been worth an extra win per year with his bat. A 200-inning guy who doesn't have to be pinch-hit for who could out-hit the Mariners. To me he is a really special player because when you add in the fact he is able to produce runs as well as prevent them, I think that raises his standing and he doesn't get quite enough credit for that."
Biggest strategic flaw (in-game strategy)
Jaffe: "I tend to go with the tendency toward larger pitching staffs and smaller benches. And more of the bringing in the lefty pitcher to face the lefty batter who often gets pinch-hit for. A lot of these left-handed specialists can't get right-handed hitters out, so it's kind of a movement that is self-defeating."
Neyer: "This is sort of inspired by John Dewan's Fielding Bible and his article about the infield shift. I just can't figure out why more hitters don't bunt down the third-base line when there is a shift on them."
Gennaro: "Mine is the in-game move when the manager lifts the pitcher early to optimize the hitter-pitcher matchup. I think it is a very short-term oriented move. It's putting the opportunity of retiring the batter from 65 percent and raising it to 70 or 68 or 71 percent. You burn a pitcher from the bullpen you set a cascade in the process that starts the bullpen churning all because you don't want to take the 65 percent chance of getting the batter out and you want to raise it to 68 or 75 or 70 percent. I think it's just a bad short-term move."
On the addition of the second wild card team
Neyer: "You wind up penalizing a really good second-place team. The Yankees and Red Sox, Yankees and Rays, whoever it is. Let's say the Yankees win 96 games and end up two games behind the Red Sox. The Yankees are a really good team who have to play this one-game playoff against a team who won 88 games. And they could very well lose this game. I want to see the Yankees and Red Sox fight like hell through the last game of the season. Is it fair for the loser? No. Is it good for us (as fans)? It's really good for us. But I'm okay with it. I think those one-game playoffs are going to be a lot of fun."
For more coverage of the SABR Analytics Conference, visit SABR.org/analytics.
---
Originally published: March 28, 2012. Last Updated: March 28, 2012.
https://sabr.org/wp-content/uploads/2020/03/research-collection4_350x300.jpg
300
350
jpomrenke
/wp-content/uploads/2020/02/sabr_logo.png
jpomrenke
2012-03-28 12:27:02
2012-03-28 12:27:02
SABRanalytics: Clubhouse Confidential Panel