SABRanalytics: General Managers panel
Here are some highlights from the General Managers Panel on Friday, March 16 at the SABR Analytics Conference, which featured Chris Antonetti of the Cleveland Indians, Jerry Dipoto of the Los Angeles Angels of Anaheim and Doug Melvin of the Milwaukee Brewers, with moderator Ken Rosenthal of MLB Network/FoxSports.com:
---
---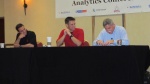 On using sabermetrics as a GM
Dipoto: "You want to be as informed and as educated as you can with any decision that you make. … It's a statistically based game, and it's going to continue to grow. We're getting better and better as an industry at how we analyze defensive metrics. … All the different components that allow you to make good decisions need to be equally balanced in any way that you can."
Melvin: "When it comes to metrics, the toughest job right now (in regards to analytics) is to filter through all the noise. I keep asking my people and challenging them: What are the five or six most important statistical data that can help us mesh that with the (traditional) five tools that scouts bring to the table? Every day there seems to be something new coming forth, whether it's FIP or batting average on balls in play (BABIP) … and it's very important."
On the psychology of baseball
Melvin: "Baseball is a tough game to play. There are 227 days, and it's a grind. Nobody can go through a whole season at 100 percent every single day. I certainly can't do it. … You fail more at our game than any other. It's easy to be around a player when he's performing well. But you also have to be positive when he's not at his best."
On defensive metrics
Antonetti: "I rely on people a lot smarter than me. There's so much information that's available right now. There's a difference between evaluative stats that tell you what happened, but what we about the most is predictive — explaining what may happen in the future. We spend a majority of our time on that, trying to figure out what those might or might not be."
Melvin: "(Defense is) one area we're still exploring and trying to figure out. We're a team that has exaggerated positioning; last year we didn't have great range. … So we did some exaggerated defense last year, which we thought would save us a number of runs … but the managers have to be on board with that, the coaches have to be on board with that. … Yuni Betancourt takes a beating from you guys out there, but you don't win 96 games without a good shortstop. I see a player who makes some plays that someone else might not make."
On ballpark effects
Melvin: "When you're in a science lab doing some experiments, the conditions have to be the same. And that's the toughest challenge we have in finding predictive stats is that the conditions are never the same in baseball. Atmospheric conditions, I think, are a big key for some of the results that happen. The grass could be longer, the dirt could be softer, the outfield defense is different, the parks are different, the wind could be blowing that day, the umpire could stink that night … the spin on the ball is different. That's the toughest challenge we have in our game is trying to find the absolutes."
Dipoto: "As a player, I had some really extreme ballparks. I'll never forget (a game) in old Cleveland Municipal Stadium and I remember vividly (a pitch to) Ruben Sierra. I threw him a straight fastball over the middle of the plate, and he just crushed it. I turned around and (center fielder) Kenny Lofton was 30 feet in front of the warning track. Six or seven years later, I threw that same pitch to Mike Piazza at Coors Field … it went 420 feet, and (center fielder) Ellis Burks had turned his head around, looking at it."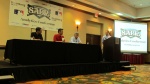 On free agency
Dipoto: "The law of supply and demand applies: What is that player worth at that time in the open market? It's not rocket science. … As players age, performance typically deteriorate at a certain age. But if you break it down to its purest form, how does a player do what he does. In Albert (Pujols') case, how does he do what he does. There is an extraordinary difference in how he performs … and he's consistent through the years. … As you look at all the information at your disposal, you have to know what your price is. There's a day when trading Dan Haren for a left-handed prospect is a good thing. There's also a day when having him on your staff is a good thing."
Antonetti: "For us, we have to find value in the market. We can't build a team through free agency; that's not a reality for our market. We have to be flexible in how we approach it. We can't say, 'This is who we want and this is who we're going to get.'"
On making tough decisions
Melvin: "You can't be afraid. We got great value out of Prince (Fielder) for five years … but now we have to turn (first base) over to someone else in the system. I think people understand that you have to lay the groundwork (for the future). … In 2003, when I first got here, we didn't have a very good team. My goal was to have a team more popular than the sausage race. I haven't gotten there yet, but we'll keep trying."
For more coverage of the SABR Analytics Conference, visit SABR.org/analytics. Follow along live on Twitter by searching for the hashtag #SABRanalytics or reading live tweets from our account (@SABR) and from other conference attendees.
---
Originally published: March 16, 2012. Last Updated: March 16, 2012.
https://sabr.org/wp-content/uploads/2020/03/research-collection4_350x300.jpg
300
350
jpomrenke
/wp-content/uploads/2020/02/sabr_logo.png
jpomrenke
2012-03-16 16:09:37
2012-03-16 16:09:37
SABRanalytics: General Managers panel