SABRanalytics: Q&A with Tom Ricketts
Here are some highlights from our exclusive Q&A with Chicago Cubs chairman Tom Ricketts, moderated by SABR president Vince Gennaro, on Friday, March 16 at the SABR Analytics Conference:
---
Audio: Listen to our Q&A with Chicago Cubs chairman Tom Ricketts here
---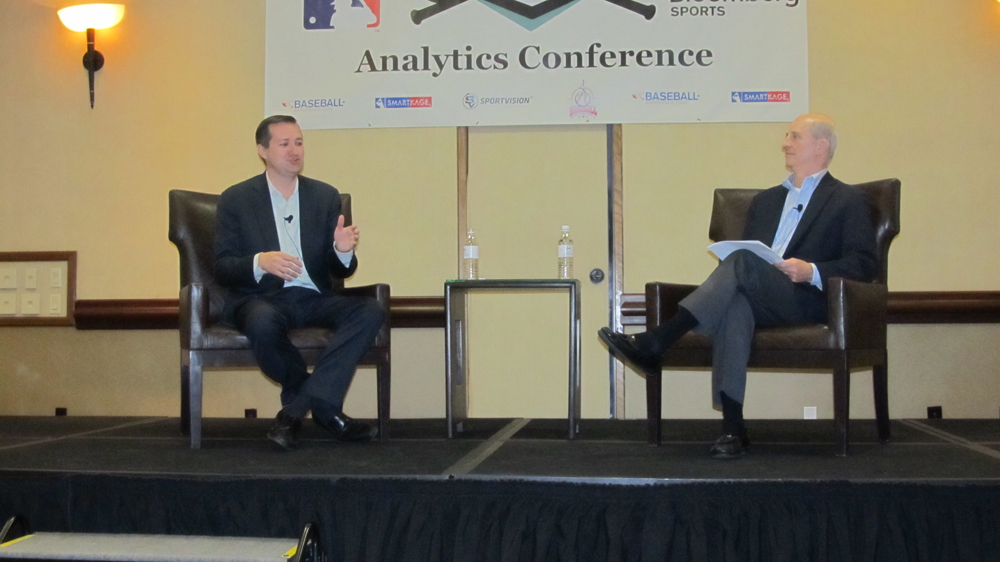 On what he's learned after purchasing the Cubs in 2009

"It's a lot of learning curve. There's a lot to know about the best way to handle your players, the best way to build your system. I've spent a lot of time traveling to all of our affiliates; I've been to the Dominican three times. It's really (about) understanding about how the whole business works. It's not just about which 25 guys you run out there on April 5, it's really about: What are you doing for the (organization's) long-term success and to build for the future?"
On hiring Theo Epstein as president of baseball operations
"Toward the end of the season, we had a couple people who were focused on quantitatively analyzing each team, in player development. I (also) reached out to about 20 people in the industry … and just talked to people about who they thought was the best leader … and obviously, Theo's name comes up a lot. Some people say, "Well, you do all this analysis to come up with Theo?" Yeah, I know. … But I was super impressed with not only his accomplishments in the past … but his focus on the team, not just the team on the field but the team off the field. So we think it's a great fit."
On his long-term goals for the Cubs
"To be clear, we want to win, immediately and always. But what's become clear to me in the last couple years, when an organization starts thinking too short-term, you end up putting yourself off track. And you have to be careful that your short-term (efforts) … still give you long-term flexibility. It's telling the guys on the baseball side that we're going to be patient and do it the right way. Because once you're better, you're more likely to stay better. And that's our goal."
For more coverage of the SABR Analytics Conference, visit SABR.org/analytics.
---
Originally published: March 26, 2012. Last Updated: March 26, 2012.
https://sabr.org/wp-content/uploads/2012/03/IMG_2274.jpg
562
1000
jpomrenke
/wp-content/uploads/2020/02/sabr_logo.png
jpomrenke
2012-03-26 10:46:06
2012-03-26 10:46:06
SABRanalytics: Q&A with Tom Ricketts