Special screening of Hank Greenberg film extras at SABR 43
We are pleased to host a special screening of never-before-seen film extras from The Life and Times of Hank Greenberg at SABR 43 in Philadelphia with filmmaker Aviva Kempner and SABR member John Rosengren, who has just published a new biography on the Hall of Fame slugger.
SABR 43 will be held July 31-August 4, 2013, at the Philadelphia Marriott Downtown in Philadelphia, Pennsylvania. All baseball fans are welcome to attend.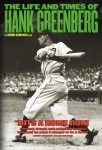 The Life and Times of Hank Greenberg special edition gives a lively history of the golden age of baseball. From the early days of Hank Greenberg to his days in the front office, the special edition DVD provides viewers with a humorous and historical account of baseball in its purest days.
Coming off an MVP season, Hank Greenberg joined the Army on May 7, 1941. On February 1, 1942, following the Japanese attacks on Pearl Harbor, Sgt. Greenberg reenlisted. He joined fellow players Bob Feller, Ted Williams, Joe DiMaggio, Stan Musial and over 500 others. Greenberg's lifetime statistics reflect an enormous gap during his peak playing years. Many argue that Hank would be among the top 50 homerun hitters of all time had he maintained his average production during the years lost to military service.
Baseball in the golden age bared little resemblance to the sport today. Players exiting the field in between innings would leave their mitts in the field where they would remain during their at bats. The sacrifice fly rule changed several times during the golden age sometimes counting against the batters average. Pitchers put in many more innings per start and saves were not yet counted as a statistic. Bats were heavier, gloves less forgiving and AstroTurf non-existent. Players traveled by bus, walked home from games accompanied by fans, and in Hank's case, tutored fans struggling with math homework. One year deals provided a strong incentive to players to perform at their best as the safety of a multi-year deal was not a part of negotiations.
The film extras include more interviews with Bob Feller, Hal Newhouser, Harry Eisenstat, and more. The crown jewel of the added footage is a never-before-heard interview with Ted Williams. Ted speaks fondly of Hank as a fellow slugger, friend, and gentleman. Williams also explains the key to success shared by hitters in his era. The respect between sluggers of the golden age is evident in the film. Former sports journalist Shirley Povich tells a story of the descriptive classification Walter Johnson used to describe homerun balls hit by Hank vs. Ruth vs. Williams.
For more information on the film, visit hankgreenbergfilm.org.
---
Originally published: May 15, 2013. Last Updated: July 27, 2020.
https://h2j7w4j4.stackpathcdn.com/wp-content/uploads/2020/03/research-collection4_350x300.jpg
300
350
jpomrenke
/wp-content/uploads/2020/02/sabr_logo.png
jpomrenke
2013-05-15 10:37:00
2020-07-27 16:51:55
Special screening of Hank Greenberg film extras at SABR 43