The History of Baseball in Altoona, Pennsylvania
This article was published in the Fall 2012 Baseball Research Journal.
Since the formation of the National League in 1876, many cities have failed to retain their major league teams. Fifteen such cities were represented in the majors before 1900. Most cities persevered in the minor leagues, but only Troy, New York suffered longer without professional baseball than Altoona, Pennsylvania, whose sole stint in the majors came with the Union Association of Professional Base Ball Clubs in 1884.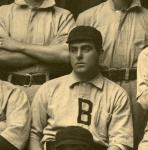 The upstart Union Association was masterminded and substantially financed by 26-year-old Henry Van Noye Lucas, heir to a family fortune accumulated in St. Louis. Henry's older brother, John B. C. Lucas, had served as president of the St. Louis team known as the Brown Stockings that played in the National Association of Professional Base Ball Players (1875) and the National League of Professional Base Ball Clubs (1876–77).1 Henry himself sponsored and played third base for the Lucas Amateurs in 1883.2
The Union Association faced direct competition from established major league teams in Philadelphia, St. Louis, Chicago, Baltimore, Boston, and Cincinnati. A seventh Union Association team vied for fans in Washington, DC.
The eighth Union Association team was based in Altoona, about two-thirds of the way from Philadelphia to Pittsburgh. One of the smallest cities (1880 population: 19,710) ever to field a major league baseball team, Altoona was founded in 1849 and served as the headquarters and railroad hub of the Pennsylvania Railroad.3 In 1854 the celebrated Horseshoe Curve, just west of Altoona, was completed, reducing travel time between Philadelphia and Pittsburgh from three to four days to a mere 15 hours. Designated as a National Historic Landmark in 1966 and still in use today, the Curve was regarded to be of such strategic importance that it was guarded by Union troops during the Civil War and was the object of a Nazi sabotage plot known as Operation Pastorius in 1942.4
The history of professional baseball in Altoona began with the formation of the Mountain Base Ball Club in 1862. The defeat of the Mountain City Club by the Keystone Club of Harrisburg, on August 20, 1862, was described as "the first match game of base ball ever played in Pennsylvania, outside of Philadelphia."5 The club played at least one match game in each of its first three years of existence. Two were drubbings by the vaunted Athletics of Philadelphia: 73–22 at Prospect Hill in Altoona on September 11, 1863, and 63–2 in Philadelphia on September 27, 1864. The Mountain City Club played at least four match games in 1865 and at least six in 1866. Altoona was represented in the National Association of Base Ball Players, the nation's first formal baseball organization, by Mountain (1865–67), Star (1867) and Mountain Star (1868). By 1869 a new baseball club called Mountain City had been formed.6
No records have been found regarding games played by Mountain City in the early 1870s, although they did play several games in 1875 and at least three games in 1876.7 Candy Cummings, the reputed "inventor" of the curveball, represented Altoona, as well as Allentown and the Live Oaks of Lynn, Massachusetts, at the February 1877 meeting in Pittsburgh that formed the International Association of Professional Base Ball Players.8
In the meantime a rich amateur sporting tradition developed in Altoona. Railroad employees formed cricket teams in the latter half of the 1870s and, in 1878, the Pennsylvania Railroad Company constructed Cricket Field at Chestnut Avenue and Seventh Street. As interest in cricket waned, Cricket Field became the host of numerous railroader baseball games and, later, major league and Negro League exhibition games.9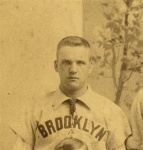 By 1881 a semi-professional baseball team had formed in Altoona, featuring 18-year-old George "Germany" Smith at shortstop. Smith, who became a life-long resident of Altoona, played with Altoona teams into 1884.10 In March 1883 sixteen local businessmen, led by Arthur Dively and William Ritz, formed the Altoona Base Ball Club.11 Incomplete records indicate that Altoona competed in the Western Inter-State League that year against four Pittsburgh teams, plus teams located in New Castle, Johnstown, and Leechburg, Pennsylvania, and Youngstown, Ohio.12
The club reorganized as the Altoona Base Ball Association, Ltd., on February 9, 1884, and applied for admission into the Union Association of February 11. On March 8 league president Lucas arrived in Altoona and met with club officials. Assuring them of membership in the Union Association, Lucas personally contributed $2,500 to the club's coffers.13
However, the Altoona club operated at a distinct disadvantage. Not only was it located in the league's smallest city, its membership in an "outlaw" league debarred it from playing potentially lucrative games against teams in the National League, American Association, Eastern League, and Northwestern League.
Moreover, Lucas stocked his St. Louis team with crack veteran players who had jumped from the established leagues. His team won its first 20 games and was never seriously challenged.
Fortunate to open on the road, Altoona lost its first two series in Cincinnati and St. Louis. The final game in St. Louis, played on Sunday April 27, attracted an astounding 8,000–10,000 onlookers.14 Nonetheless, the game drew the ire of the Altoona press and its fans, since it violated Pennsylvania blue laws that prohibited Sunday baseball. The team never again played on Sunday.15
Altoona opened its home season on April 30 at Columbia Park, also known as Fourth Avenue Grounds. They finally won their first game on May 10, defeating Boston 9–4 before 3,000 spectators. However attendance subsequently waned, despite a four-game winning streak May 23 through 27. Henry Lucas returned to Altoona on May 29, met with officials, refused to offer additional financial support, and urged the team to disband. Following another loss on May 31, the stockholders met and did just that.
Altoona was replaced by a Kansas City team that picked up four of the former Altoonans.16 Only five of the 17 men who played for Altoona in 1884 ever played major league baseball thereafter. Among the fortunate, "Germany" Smith joined the Cleveland National League team, then moved to Brooklyn for the seasons 1885 through 1890, gaining a reputation as the game's best defensive shortstop and helping Brooklyn win pennants in 1889 in the American Association and 1890 in the National League. After six seasons with Cincinnati and one more in Brooklyn, Smith played his final major league game with St. Louis in 1898.17
Altoona was the first team to disband, but not the last. The Philadelphia Keystones disbanded in early August, to be replaced by a Wilmington, Delaware, team that disbanded on September 15, to later be replaced by a Milwaukee team that had won the Northwestern League pennant.18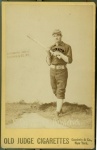 Chicago moved to Pittsburgh in late August and the latter team disbanded in late September, to be replaced by a St. Paul team from the Northwestern League that never played a home game.19
Of the original eight teams, only St. Louis, Cincinnati, Baltimore, Boston, and Washington played as many as 105 games in the 112-game schedule. With the pennant race decided by July, perhaps the most exciting event of the Union Association season was when three players from the National League Cleveland team—catcher Fatty Briody, pitcher Jim McCormick and shortstop Jack Glasscock—jumped to the Cincinnati Union team in August.20
Although Lucas's losses in the venture were estimated at $100,000, suspicions remain that his true intent in forming the Union Association was to gain admission for his club into the National League, which he did in January.21
Altoona intermittently fielded teams in the minor leagues into 1912, with games played at Columbia Park/Fourth Avenue Grounds. Altoona joined the Pennsylvania State Association for the years 1886 and 1887. The 1886 roster included Altoonan Alexander Donoghue and two 20-year-olds, catcher-later-third baseman Lave Cross and pitcher Billy Crowell. Crowell led the league in strikeouts with 285, while Donoghue played for Altoona teams every year it had a minor league team in the nineteenth century except 1892.22 Cross played 27 years professionally, 21 in the major leagues. He holds the distinction of having played in four different major leagues and was one of the first players to surpass 2,000 games played, principally with teams based in Philadelphia.23
The 1887 team featured 18-year-old outfielder Steve Brodie in his professional debut and 22-year-old pitcher Ben Sanders. Brodie joined the majors with Boston National League team in 1890 and was a key member of its 1891 pennant-winning team. His greatest acclaim came with the renowned Baltimore Orioles, for whom he played from 1893 to 1896, along with future Hall of Famers John McGraw, Willie Keeler, Joe Kelley, and Wilbert Robinson. Sanders was one of the few baseball players of the era with a college education, attending Roanoke College and later graduating from Vanderbilt University. From 1888–90 he won 19 games a year for Philadelphia teams.24 Neither Brodie nor Sanders finished out the season with Altoona, as the Pennsylvania State Association disbanded on July 20, after Scranton and Wilkes-Barre abandoned the league to join the higher level International Association.25
Altoona returned to the minor leagues in 1890 with the Eastern Inter-State League, competing against five other Pennsylvania teams. In 1892 Altoona joined the Pennsylvania State League for three years. Finishing second that year, Altoona featured Charles "Jigger" Shaffer, who led the league in hits, pitcher George Hodson, who led the league in wins and strikeouts, and outfielder Ralph "Socks" Seybold, who patrolled the outfield for Connie Mack's Philadelphia Athletics from 1901 to 1908. After a third-place finish in 1893, Altoona transferred to Lancaster on July 7, 1894, during a season in which only four of the eight teams persevered in their original city.26
In the spring of 1902 native son and former Pennsylvania Railroad employee Charles Carpenter helped organize an Altoona team for the independent Tri-State League. Among its players was "Germany" Smith, following the conclusion of his major league career. He played for the team through 1904 and managed the team for part of 1905. Carpenter was chosen president of the Tri-State League in 1905, a position he held through 1913. In 1907 the Tri-State League joined Organized Baseball as a Class-B league.27 During this era Altoona included second baseman Tom "Tido" Daly (1904–07) and pitcher Charles "Spider" Baum (1906–07). Daly was the only man to play for all three of Brooklyn's nineteenth century National League pennant winners (1890, 1899, 1900) while Baum later delivered a record nine 20-win seasons in the minor leagues, mostly in the Pacific Coast League.28
Finishing no better than fourth 1904–09, Altoona won its first Tri-State League pennant in 1910, behind pitcher Bill Steele and outfielder Bob Coulson. The team faded to fifth in 1911 and on June 13, 1912, the team moved to Reading, due to lack of patronage.29
From the turn of the century into the 1930s, Cricket Field hosted railroad-sponsored athletic events including baseball and football games, tennis matches, and track and field events, as well as exhibition games against major league baseball players. Initially seating 3,500 people, the stadium was expanded to seat 25,000 in 1922.30 On October 3, 1924, Babe Ruth, on a 15-city barnstorming tour, homered in a game at Altoona, the "longest hit ever made at Cricket Field."31
In the early 1930s, Cricket Field was also the site of games against Negro League players. On September 3, 1931, Satchel Page pitched in a game there.32 Furthermore, Cricket Field was the neutral site for home games of the Homestead Grays, a team that featured Oscar Charleston, Josh Gibson, and Willie Foster, all later inducted into baseball's Hall of Fame.33 In 1931 Altoona briefly appeared in the Class C Middle Atlantic League. Another Pennsylvania team, from the town of Jeanette, moved to Altoona on May 23, playing its first home game on May 28. After compiling a record of 16–43, the team shifted to Beaver Falls on July 18.34
In the meantime, Altoonans could revel in the exploits of two native sons, Perce "Pat" Malone and James "Ripper" Collins. Malone pitched in the major leagues 1928–37, appearing in the World Series for the losing Cubs in 1929 and 1932 and the winning Yankees in 1936. First baseman Collins, a member of the heralded "Gas House Gang," played for St. Louis 1931–36, concluding his major league career in 1941. After leading the National League in slugging percentage, OPS, total bases, and home runs in 1934, he was an All-Star 1935 through 1937, appearing in three World Series, with the winning Cardinals in 1931 and 1934 and the losing Cubs in 1938.35
A hiatus of nearly six decades ensued, with Altoona returning to the professional leagues as the Rail Kings with two short-lived independent leagues, the North Atlantic League of 1996 and the Heartland League of 1997. The Rail Kings played at 3,000-seat Veterans Memorial Stadium.36
Ultimately Altoona rejoined Organized Baseball in 1999 with the Altoona Curve of the Class AA Eastern League. An affiliate of the Pittsburgh Pirates through 2014, the Curve play at Blair County Ballpark.37 Beyond the right-field fence in Lakemont Park stands "Leap the Dips," the world's oldest operating wooden roller coaster and North America's last surviving "slide friction" roller coaster.38 The 1902-built coaster lends a carnival atmosphere to the facility and as of this writing in 2012 is still operating.
The debut team included pitcher Bronson Arroyo (15–4 before his promotion to AAA Nashville), utility man Craig Wilson (111 games), and slugging outfielder Adam Hyzdu.39 A remarkable minor league success story, the Curve consistently drew over 300,000 fans per year and expanded capacity at Blair County Ballpark by more than 1,000 seats for the 2003 season.40 That year, with southpaw Sean Burnett (14–6 in 27 games), the team made the league playoffs but was eliminated in the first round by the Akron Aeros.
Attendance climbed to 365,376 in 2003, then peaked at 394,062 in 2004 as Altoona finished in first place in the South Division, only to be blanked by New Hampshire in the finals. The team featured pitcher Ian Snell (11–7 in 26 games) in his second season with Altoona, left-handed pitcher Zach Duke (5–1 in 9 games after his promotion from Lynchburg) and outfielder Nate McLouth, who led the league in hits and runs. The Curve again made the playoffs in 2005 and 2006 but were eliminated in the first round by Akron both years. The Curve hosted the 2006 Eastern League All-Star Game before a record crowd of 9,308. Curve outfielder Brett Roneberg won the award as the game's Most Valuable Player.41 Dreadlocked center fielder Andrew McCutchen joined Altoona in 2006 and played 118 games for the team in 2007, before his promotion to triple-A Indianapolis.42
In 2010 Altoona won the Western Division of the Eastern League, defeating the Harrisburg Senators in the first round of the playoffs and winning the league championship by beating the Trenton Thunder three games to one. In 2012 the ballpark was renamed Peoples Natural Gas Field.43
Although Altoona was only briefly in the major leagues and devoid of minor league baseball for many years, fans now bask in the sunshine of professional baseball games at the foot of the Allegheny Mountains. Memories stir and tales are told of the glory days of local baseball, recent and past, as young and old share the joys of the national pastime.
BROCK HELANDER is the author of "The Rock Who's Who" (1982), "The Rock Who's Who Second Edition" (1996), "The Rockin' '50s" (1998), and "The Rockin' '60s" (1999), all published by Schirmer Books. Since joining SABR in 2002, he has been researching nineteenth century baseball, focusing on the history of baseball in cities that were represented in the major leagues exclusively in the nineteenth century. He lives in Sacramento with his wife Carol and their one-eyed cat Winky.
1. Ralph Horton, "Henry Von Noye Lucas," Nineteenth Century Stars
(Kansas City, MO: SABR, 1989), 81.
2. Cleveland Herald, April 22, 1884.
3. "Report on the Social Statistics of Cities," 1880 Census Information, The New England and Middle Atlantic States, 748.
4. Dana L. Shoemaker, "The Horseshoe Curve: 150 Years of Engineering Heritage in the Railroad City," Pittsburgh Engineer, Winter 2005, 21; "Horseshoe Curve," http://www.absoluteastronomy.com; "George John Dasch and the Nazi Saboteurs," http://www.fbi.gov/about-us/history/famous-cases/nazi-saboteurs
5. Philadelphia Inquirer, August 22, 1862, as cited at http://www.retrosheet.org/Protoball
6. Peter Morris, "Mountain of Altoona," http://www.petermorrisbooks.com; Marshall D. Wright, The National Association of Base Ball Players, 1857–1870 (Jefferson, North Carolina: McFarland & Company, 2000), 109, 138, 184, 185, 234.
7. New York Clipper, November 20, 1875, December 25, 1875; St. Louis Globe-Democrat, July 16, 1876; New York Clipper Almanac, 1877, 42; Walter LeConte, "In-Season Exhibition Games," http://www.retrosheet.org/Research/LeConteW/ISEG.pdf
8. Chicago Tribune, February 25, 1877, 7.
9. Jerry Jaye Wright, "The Pennsylvania Railroad Company's Influence on Baseball in Altoona, Pennsylvania, 1862–1884," North American Society for Sports History Proceedings and Newsletter, 1989, 30.
10. Robert L. Tiemann, "George J. (Germany) Smith," Baseball's First Stars (Cleveland: SABR, 1996), 151.
11. Donald Dewey and Nicholas Acocella. The Ball Clubs: Every Franchise, Past and Present, Officially Recognized by Mayor League Baseball (New York: HarperPerennial, 1996), 1.
13. Jerry Jaye Wright, "The 1884 Altoona Unions," The National Pastime, No. 13 (1993), 54.
14. St. Louis Globe-Democrat, April 28, 1884, 3; The New York Times, April 28, 1884, 1; New York Clipper, May 3, 1884.
15. Jerry Jaye Wright, "The 1884 Altoona Unions," 55.
16. http://www.retrosheet.org/boxesetc/1884; Jerry Jaye Wright, "The 1884 Altoona Unions," 54–56.
17. Pete Palmer and Gary Gillette, ed. The 2005 Baseball Encyclopedia (New York: Sterling Publishing, 2005), 625
18. Washington Post, August 10, 1884, 2; Washington Post, August 17, 1884; Boston Globe, September 20, 1884, 1.
19. Washington Post, August 24, 1884, 2; Boston Globe, September 20, 1884, 1; New York Clipper, October 4, 1884; Harold Seymour, Baseball: The Early Years (New York: Oxford University Press, 1989), 159.
20. Washington Post, August 17, 1884, 2; Seymour, 156.
21. Joshua B. Orenstein, "The Union Association of 1884: A Glorious Failure," Baseball Research Journal, Vol. 19 (1990), 3–6.
23. John R. Husman, "Lafayette (Lave) Napoleon Cross," Baseball's First Stars (Cleveland: SABR, 1996), 42.
24. Joe Klein, "Alexander Bennett (Big Ben) Sanders," Baseball's First Stars (Cleveland: SABR, 1996) 145.
25. Lloyd Johnson and Miles Wolff, ed. Encyclopedia of Minor League Baseball (Durham, North Carolina: Baseball America, 2007), 149.
26. Johnson and Wolff, 162, 165; Palmer and Gillette, 607.
27. "Some Facts about President Carpenter," Sporting Life, April 3, 1909, 16; Johnson and Wolff, 219, 224, 231, 237, 243.
28. Randy Lintburst, "Thomas Peter (Tido) Daly," Baseball's First Stars (Cleveland: SABR, 1996), 48; "Spider Baum," http://www.baseballreference.com/bullpen/Spider_Baum
29. Johnson and Wolff, 224, 231, 237; Chicago Tribune, June 14, 1912, 11.
30. "Aspects of the Social, Recreational, and Cultural Life at Altoona," Chapter 3, Labor and Management Relations at the Altoona Railroad Shops, Pennsylvania Railroad Shops and Works, National Park Service, http://www.nps.gov/history/online_books/railroad/shg3a.htm; Sr. Anne Francis Pulling, Altoona/Images of America, (Charleston, South Carolina: Arcadia Publishing, 2001), 22.
31. The New York Times, December 6, 1924, 19; Altoona Mirror, September 15, 2009, A10.
32. Altoona Mirror, September 12, 1962, 24.
33. Philip J. Lowry, Green Cathedrals: The Ultimate Celebration of Major League and Negro League Ballparks (New York: Walker and Company, 2006), 2; Pittsburgh Courier, August 22, 1931, A4.
34. Johnson and Wolff, 326.
35. Palmer and Gillette, 1041, 134–135.
36. Johnson and Wolff, 668, 674.
40. Altoona Mirror, April 11, 2003, A10