The Society for American Baseball Research (SABR) celebrated its annual National SABR Day on Saturday, January 28th, with local chapters holding meetings throughout North America. The Baseball Hall of Fame recognized the work of this organization by hosting a meeting of the Cliff Kachline Chapter in the Bullpen Theater in Cooperstown, New York.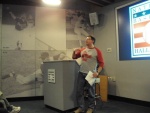 Chapter president Jeff Katz opened the meeting with some general business items, including a discussion of how to promote the summer meeting which occurs every year on the Sunday evening of induction weekend. The chapter will try to set up a tent to hand out information that weekend. The meeting is open to all, and interested parties should drop by the tent to learn more. 
Three research presentations were then delivered by chapter members.    
Professor Jon Arakaki of the State University of New York – Oneonta has been conducting research on the appearance of baseball on the covers of Sports Illustrated from 1954 to date, and presented an interesting review of his data.  He has examined 3,299 covers for which 605 or 18.3% are baseball related, only 5 of which do not concern the major leagues. Of all the baseball covers, appearances were broken down by person, team, race and gender. The most revealing numbers relate to the breakdown by race. During the 1950s, 88% of Sports Illustrated covers were related to whites, 9% to African-Americans, and 3% to Hispanics.  By the 1990s these figures had changed to 55% for whites, 28% for African-American, and 16% for Hispanics. This data served to support Arakaki's general conclusions that these magazine covers mirror our culture and represent what is a hot topic, and that they also serve to suggest who wields cultural influence at any time.    
---
Photo gallery: View photos from SABR Day in Cooperstown at the Cliff Kachline Chapter's Facebook page here
---
Chapter member Mike Piazzi has been conducting some biographical research on former National League president Harry Pulliam. Noting that no current biography has been produced on Pulliam as an historic figure in baseball history, Piazzi has been working to fill the gaps with hopes of publishing in the future. His presentation covered most of Pulliam's early years. He was described as a lawyer who never practices law, but became a journalist who evolved into a noted sportswriter. During his time with the Louisville Commercial he became associated with the Louisville Colonels Base Ball Club where he developed a reputation as being a good administrator and sound financial manager, which helped him gain access to other teams and owners. As luck would have it, his skills helped him get elected as President of the National League in 1902, a position he did not seek, and despite multiple health issues he helped lead the league in its first years of competition with the newly formed American League.  Piazzi's research on this project continues and the chapter hopes to learn more in future sessions.    
Author/researcher/blogger Gabriel Schechter brought the meeting to a close with an update on his statistical research on the use of relief pitchers from the 1950s through recent years. Using data supplied by Dave Smith at www.Retrosheet.org, Schechter has been conducting research on the deployment of relievers from the 1952 season. This presentation focused on an examination of games in which the starter had a 3 run or less lead coming into the 7th inning. From the 1950s to the 1970s the starter was allowed to continue 40% of the time, while in the past 15 years this has dropped to 20%. If the lead was maintained, 90% of the starters were allowed to continue into the 8th inning during the 50s to 70s period, while this has dropped to 50% in recent years. The results of these changes show that regardless of who was pitching in the 8th inning (starter or middle reliever), blown leads remained in the 10% to 15% range. Schechter's conclusion is that teams should reconsider pulling a starter having a good outing for the unknown factor of a relief pitcher, as the results are consistent. His next research objective is to subdivide this data by team and manager to determine if further conclusions can be reached. 
Anyone seeking additional information on the Society of American Baseball Research can check out their web site, www.sabr.org, and anyone interested in becoming involved in baseball research should consider becoming a member. The next meeting of the Cliff Kachline Chapter will be Sunday evening, July 22nd.
To view more SABR Day 2012 recaps, visit http://sabr.org/sabrday.