SABR Day 2014
SABR Day is an annual event that brings together SABR members and friends on the same day, regardless of where they live. More than 30 meetings were held around the U.S. and Canda for the fifth annual SABR Day on January 25, 2014.
Regional SABR meetings are open to all baseball fans — though we encourage you to join SABR if you like what you find — and are usually free to attend. Guest speakers often include current and former baseball players, managers, umpires, executives, scouts, writers and authors.
Here are some more highlights from SABR Day 2014:
Albuquerque, New Mexico (Rio Grande Chapter)
The Rio Grande Chapter of SABR had two guest speakers on SABR Day: Josh Suchon, author of Miracle Men, a book about the 1988 Los Angeles Dodgers, and the play-by-play voice of the local Albuquerque Isotopes; and Sam Chavez, a local high school assistant principal and Albuquerque native who played a number of seasons in the minors and was a teammate of new Hall of Fame member Frank Thomas when the two were in the White Sox's Class A affiliate in Sarasota, Fla., in 1989. The meeting was held at Sandia Prep in Albuquerque.
Arlington, Texas (Ernie Banks-Bobby Bragan DFW Chapter)
The newly christened Ernie Banks-Bobby Bragan DFW Chapter manned a booth at the Texas Rangers' FanFest, held on SABR Day at Rangers Ballpark in Arlington.
Austin, Texas (Rogers Hornsby Chapter)
The Rogers Hornsby Chapter held an informal SABR Day get-together lunch on SABR Day at the Macaroni Grill in Austin.
Boston, Massachusetts (Boston Chapter)
The Boston Chapter met at McGreevy's Irish Pub near Fenway Park for an unveiling of the new SABR BioProject book, New Team, New Century: The 1901 Boston Americans , edited by SABR Vice President Bill Nowlin. SABR member Peter Nash, a proprietor of McGreevy's and a contributor to the book, was on hand, too.
Burlington, Vermont (Gardner-Waterman Chapter)
Members of the Gardner-Waterman (Vermont) Chapter met in the Microform Room at the University of Vermont's Bailey-Howe Library to do research on the 1887 North Eastern League as part of their group research project on early baseball in Vermont.
Columbus, Ohio (Hank Gowdy Chapter)
We met at the Westerville Public Library, and our guest speaker was Ryan Mitchell, Director of Broadcasting and voice of the Columbus Clippers for the last five seasons. We also heard research presentations, held a book raffle and conducted a lively trivia quiz.
Cooperstown, New York (Cliff Kachline Chapter)
We had an All-Star lineup of presenters on SABR Day at the Baseball Hall of Fame's Bullpen Theater: Mike Piazzi on Henry Mathewson, brother of Christy; Jim Gates on Baseball Iconography of 1939; Tom Shieber on rare Yankees footage from the 1920s and 1930s; and Bruce Markusen on a baseball card mystery.
Denver, Colorado (Rocky Mountain Chapter)
Thirty-eight SABR members and friends had the opportunity to listen to our Baseball Media Panel that included Marc Stout of Root Sports, Thomas Harding of MLB.com, and Ed Henderson of KCOL Radio in Fort Collins, Bill Rogan of KNUS Radio in Denver and Ralph Widlic of KSIR radio in Fort Morgan. Chapter Director Paul Parker provided media panel introductions and welcome greetings. Chapter President Matthew Repplinger made general announcements which included information regarding the chapter 2014 Game of the Month schedule and the chapter's research project about Merchants Park, which was located in south Denver during the 1920s, '30s, and '40s. Marc Stout was the Media Panel emcee and provided a number of questions to the panel members about the 2014 Colorado Rockies roster. Panelists patiently answered any and all questions by the emcee and from the audience, especially addressing the complexity of the 2014 Rockies player acquisitions and free agent signing. Questions lead to panel member response and discussions regarding the 2014 Rockies roster, player development in the minor leagues, possible leadoff hitters, and pitching staff roles such as starters, setup men, and closers. Their opinions were also provided on issues such as position players, utility players, and outfielders. The Hot Stove continues with spring training just a short time away. Chapter members who attended the event interacted with the panel members and enjoyed the panel members' insight and explanations. Panelists were praised for their outstanding feedback as keynote speakers by all members and guests. — John Paul
Des Moines, Iowa (Field of Dreams Chapter)
Members of the Field of Dreams Chapter met at Confluence Brewery in Des Moines for a SABR Day lunch. R.J. Lesch presented some biographical information on early Iowa baseball player Pony Sager. John Liepa shared some of his recent findings of early baseball in Iowa. Ralph Christian showed off some material on baseball's relationship with Bull Durham tobacco, and Bill Johnson presented some of his research on the Cedar Rapids M-J League (Manufacturers and Jobbers semi-pro league.)
Houston, Texas (Larry Dierker Chapter)
The Larry Dierker Chapter, host of this summer's SABR 44 national convention in Houston, manned a booth at the Astros' team FanFest, held on SABR Day at Minute Maid Park in Houston.
Indianapolis, Indiana (Oscar Charleston Chapter)
Members of the Oscar Charleston Chapter met for their annual Hot Stove Luncheon at Milano Inn in Indianapolis, warming up from the "polar vortex" with an afternoon of baseball talk.
Kansas City, Missouri (Monarchs Chapter)
The Monarchs Chapter held its SABR Day meeting at the Trailside Center in Kansas City. Our first  guest speaker was Bill Carle, a recipient of both the Henry Chadwick Award and the Bob Davids Award, SABR's highest honor. He has been a SABR member since 1977 and has served as chairman of SABR's Biographical Research Committee since 1988. Then, Jeremy Deckard discussed his book Capital City Cubbie, Tales and Travel of a Kansas Cubs Fan. Deckard grew up in Marquette, Kansas, and graduated from Pittsburg State University before working as a sports writer for the Pittsburg Morning Sun in the late 1990s. He currently serves as sports correspondent and baseball blogger for the Topeka Capital-Journal.
Kenosha, Wisconsin (Emil Rothe and Ken Keltner Badger State chapters)
For the thirdrd time, the Ken Keltner Badger State and Emil Rothe chapters held a joint meeting on SABR Day. Kenosha, the unofficial dividing line between Chicago and Milwaukee fan bases, once again played host for an outstanding day of baseball chatter and camaraderie. The day started with Rich Schabowski, representing the Wisconsin chapter, recalled the dead ballplayers and chapter members since last year's meeting, most famously Andy Pafko. A moment of silence was held for their remembrance. David Malamut, representing the Chicago chapter, announced that the there were 4 autographed books up for silent auction during the meeting. He also announced the next chapter meeting would be a celebration of Wrigley Field's 100th anniversary. More information can be found here as it becomes available. Rich Hansen, chapter chair for the Emil Rothe chapter, noted a few of the potential speakers for this meeting as well as making a note of the fact that Chicago will be hosting the 2015 SABR Convention. Special guest speakers included: Christopher Kamka of Comcast Sportsnet; Kane County Cougars announcer Wayne Randazzo; Matt Dennewitz with his new Index of Sabermetric Research; Jake McGhee, General Manager of the Kenosha Kingfish; Dennis Pajot on baseball in 1902; and Bob Buege on Jim Thorpe: All-American. Click here to read the full recap. — Matt Mitchell
Knoxville, Tennessee (East Tennessee Chapter)
We met to celebrate SABR Day on January 25 at the Lawson McGhee Library in Knoxville. Brian Cox, General Manager of the Tennessee Smokies, was our featured speaker. Bradley Reeves of TAMIS presented some film footage of baseball played in Knoxville from days gone by. We also heard from Adam Alfrey of the Tennessee Association of Vintage Base Ball about the expansion of vintage baseball in eastern Tennessee. You can listen to SABR Day presentations from Knoxville by clicking here (SoundCloud.)  — Mark Aubrey
Little Rock, Arkansas (Robinson-Kell Chapter)
The Robinson-Kell SABR chapter participated in SABR Day with a meeting on Saturday, January 25 at the Central Arkansas Library in Little Rock. There were 15 members and guests present. The featured speaker was Mr. J.B. Hogan of Fayetteville, Arkansas, who spoke about his book Angels in the Ozarks: Professional Baseball in Fayetteville and the Arkansas State/Arkansas-Missouri League 1934-1940. Other presentations included: Fred Worth on three great minor leaguers, Harry Kelley, John Henry "Hank" "Rube" Robinson, and Jimmy Zinn; Caleb Hardwick on "The Rise of Professional Baseball in Arkansas," which covered the development and progression of early professional baseball in Arkansas up to the introduction of the Little Rock Travelers in 1901; Madison McEntire on "They Picked a Bad Time to Lose It: Pitchers Who Lost More World Series Games than Regular Season Games in a Season;" Mark Weatherton on "Considerations of the Designated Hitter Rule;" and Jim Yeager on the Rogers Boys of Pottsville, Arkansas. For a complete recap and more photos from SABR Day in Little Rock, click here. — Madison McEntire
Middletown, Connecticut (Smoky Joe Wood Chapter)
Smoky Joe Wood Chapter members met for SABR Day at Middlesex Community College. They heard several interesting presentations, and discussed the recent Hall of Fame election. Ken Paulsen led a Hall of Fame trivia quiz, as well.
Minneapolis, Minnesota (Halsey Hall Chapter)
A special thanks goes out to all the volunteers who braved the cold to represent and promote the Halsey Hall Chapter at Twinsfest, including Brenda Himrich, George Rekela, Jerry Janzen, Stew Thornley, Rich Arpi, Joe O'Connell, Howard Luloff, and Lee Temanson. We had the opportunity to speak to a number of Twinsfest attendees who were interested in baseball and our organization, passed out more than 80 SABR membership flyers, met several former SABR members who may be interested in re-joining the organization, and spoke with several more who said they would like to become new members. At Twinsfest, the chapter highlighted its Spread of Baseball in Minnesota project, which was started by Rich Arpi and now includes contributions from a number of members. For more information, click here to read the Halsey Hall Chapter's February 2014 newsletter. — Stew Thornley
Nashville, Tennessee (Rice-Russell Nashville Chapter)
SABR members in Nashville met at Shelby Park for SABR Day and toured the Old Timers Nashville Amateur Baseball Hall of Fame, which is displayed at the park.
New Orleans, Louisiana (Schott-Pelican Chapter)
SABR members in New Orleans met at the Holiday Inn Westbank for the fifth annual SABR Day.
New York, New York (Casey Stengel Chapter)
Our SABR Day program, moderated by Ernestine Miller, featured guest speakers Jane Leavy, author of acclaimed biographies on Sandy Koufax and Mickey Mantle; memorabilia appraiser Leila Dunbar; Baseball Hall of Fame President Jeff Idelson; and Mets historian John DeSpagna. We also had a trivia contest, a baseball raffle and more.
Philadelphia, Pennsylvania (Connie Mack Chapter)
Dick Rosen emceed the meeting held at Drexel University. We talked a lot of baseball and even raised some funds for the chapter via a raffle. Rock Hoffman was in charge of the registration and George Miller organized the raffle. We had a paid attendance of 43. Our first guest speaker was Ed Achorn, author of The Summer of Beer and Whiskey. Ed came down from Providence to talk about the American Association and its Philly connections. Next was Mike Gimbel on "The RPA formula: The 'Moneyball' before Billy Beane." Mark is the former Assistant to Dan Duquette at both Montreal and Boston, and he told of some of his early work choosing some key players for both teams. He brought with him a computer full of significant data and displayed it to those interested. Presenters included: Sharon Ullman, a Bryn Mawr history professor who uses baseball in a social history course; Jason Mitchell, who spoke about a method to predict RBI based on the "Expected RBI" metric; Jim Hawking, who led a 24-question trivia quiz in which the answer to all questions was John Montgomery Ward, the subject of his recent novel; James Robinson, on Communist Party-sponsored baseball teams and leagues 1939-47; Lin and Jonathan Crowe, on Jesse Foyle, aka "The Cape Lady" and Phillies fan extraordinare; Chuck Barksdale, who provided some insight into scoring of games in his job STATS, LLC; Dick Rosen, on Santos Amaro, the great Cuban player and the father of 1960s Phillies player Ruben Amaro Sr. and grandfather of the team's current GM; Steve Glassman, on  Philadelphia's brotherly Battery, Bobby and Billy Shantz; and Ira Levinton, on players with at least 30 HR, 100 RBI, 100 runs scored, and .300 average in a season.
Phoenix, Arizona (Flame Delhi Chapter)
Twenty-three members and guests gathered for SABR Day on a characteristically sunny day in Arizona at Tempe Diablo Stadium, spring training home of the Angels. John Dittrich, a minor league executive for more than 40 years and currently the GM for the rookie-league Pulaski Mariners, told stories about how he got his start in baseball under Texas League president Bobby Bragan and all his stops along the way. "I have driven to work at a ballpark every day of my life since 1974," Dittrich said. "That is the greatest privilege in the world to me." Dittrich brought in ball caps from all the teams he's worked for, including the Amarillo Gold Sox, the Calgary Cannons, the Fargo-Moorhead RedHawks, the Schaumburg Flyers, and the Fort Worth Cats. He also showed off other memorabilia he's collected, including a Satchel Paige and Bob Feller signed baseball from a 1975 old-timer's game in Alexandria, Louisiana. We also heard from Mike Phillips, public affairs manager for Scottsdale, Arizona, on the city's upcoming spring training festival in February. Flame Delhi Chapter president Rodney Johnson gave an update on the chapter's new website (SABRAZ.org) and the e-book publication of the 1999 SABR convention journal, Mining Towns to Major Leagues, which is now available for purchase. — Jacob Pomrenke
Pittsburgh, Pennsylvania (Forbes Field Chapter)
Our SABR DAY meeting was held at the Pittsburgh Pirates Tour Theatre at PNC Park, courtesy of the Pirates. Marky Bilson discussed his connection as announcer for the Texas Winter League. Sam Reich explored the recent Hall of Fame selections and critiqued the process. One of our youngest members, Steve Silverman, demonstrated a computer program he has created for acquiring various statistical information. We were taken back to the 1960 Pirates by Bob Recker, who was the Pirates batboy, highlighted with Bob's 1960 uniform from Mark Woods' fine collection. Bob Friend then regaled us with tales of his long career with the Pirates. We concluded with Eliza Marone's statistical analysis of how often a player who makes a great play has the opportunity to lead off the next inning. Donations and a 50/50 raffle allowed us to send a check for $200 to Pirates manager Clint Hurdle's "Wins for Kids" charity. Despite the snow we had a fine gathering and are looking forward to our next meeting in March. — George Skornickel
Rochester, New York (Luke Easter Chapter)
The new Luke Easter Chapter met for SABR Day as part of the Rochester Baseball Historical Society's Hot Stove Dinner with local baseball legends Joe Altobelli and Johnny Antonelli. Guests were treated to a special Q&A with Joe and Johnny, a presentation by Scott Pitoniak, and a Rochester Baseball History Talk by Paul Bielewicz.
Seattle, Washington (Northwest Chapter)
: Members of the Northwest Chapter met for SABR Day at the Seattle Mariners' FanFest and heard from Mariners GM Jack Zduriencik, manager Lloyd McClendon and more.
St. Louis, Missouri (Bob Broeg Chapter)
Forty-six members and guests of the Bob Broeg SABR Chapter attended the annual Hot Stove Luncheon on SABR Day at Mike Shannon's Steaks and Seafood Restaurant in the shadow of the developing Ballpark Village in downtown St. Louis. Prior to the ballpark fare meal, president Norm Richards asked for a moment of silence for two recently deceased chapter members, former chapter president and current secretary Jim Rygelski and Claude Rider. Batting lead-off was the Director of Minor League Operations for the St. Louis Cardinals, John Vuch, who spoke about his rise in the organization since his beginning right after high school. He also spoke of the team's commitment to making the transistion as easy as possible for rookies heading to the big leagues (of which the Cardinals had several last year), the expansion of their international operations, the continuing development of Oscar Taveras and Steve Piscotty, Michael Wacha's quick rise, and the discussions prior to the signing of Jhonny Peralta. Carter Rethwisch, known in and around Busch Stadium as the "Cardinal Cowboy," spoke on how baseball saved his life after a near-fatal accident as a teenager put him in a coma for a week. Next up was Art Voellinger, a long-time coach and sportswriter in the area and a member of the St. Louis Amateur Baseball Hall of Fame. He mixed his talk with stories and trivia about several players. Bud Zipfel, former first baseman and outfielder with the Washington Senators, and Glenn Brummer, whose legendary steal of home in 1982 is an iconic moment in Cardinals lore, also spoke. — Jim Leefers
St. Petersburg, Florida (Central Florida Chapter)
Central Florida SABR members made a tour of the Schrader's "Little Cooperstown" exhibit at the St. Petersburg Museum of History. The exhibit has more then 4,600 autographed baseballs and other artifacts, including storyboards, video screens, and displays of many events and players, including exhibits on the Women's Professional Baseball League, the Negro Leagues, and spring training.  
San Francisco, CA (Lefty O'Doul Chapter)
The Lefty O'Doul Chapter in San Francisco met on Sunday, January 26 for a special Line Drives and Lipstick panel discussion with Dorothy Seymour Mills, Jean Ardell, Leslie Heaphy, Monica Nucciarone, and David Block. The Line Drives and Lipsticks exhibit at the San Francisco Main Library, honoring the All-American Girls Professional Baseball League, opened that weekend, as well.
Montreal, Quebec (Quebec Chapter)
Our guest speaker was Danny Gallagher, author of Ecstasy to Agony: The 1994 Montreal Expos. We heard research presentations on Canadian batteries, the Black Sox Scandal, and a recap of last year's SABR national convention. We also introduced the chapter's new Board and made meeting plans for the rest of the year.
Victoria, British Columbia (Northwest Chapter)
Members of the Northwest Chapter in B.C. met at John's Place for lunch and a lively baseball discussion amidst a trove of baseball memorabilia and artwork.
Washington, D.C. (Bob Davids Chapter)
The snow is piled up and it hasn't been above freezing since last weekend. What's the cure for the wintertime blues? The Bob Davids Chapter's annual SABR meeting in Rosslyn, Virginia is about as good as it gets. The Bob Davids Chapter is the original SABR chapter, the largest and most active and this year's meeting was attended by well over a hundred members, all starved for a little baseball trivia and a touch of hot stove in the depths of a deep chill. There is nothing better than talking baseball among friends at the SABR meeting, but the annual Bob Davids meeting provides guest speakers that rank about as good as the national convention. To wit, the meeting began with two of the more popular presentations from the national convention, starting with Amy Tetlow Smith on the evolution of baseball score sheets from the 1880?s to 1940?s and how they mirror the cultural evolution of both the game and the culture. Amy's husband, Dr. David W. Smith–the founder of Retrosheet–followed with a compelling discussion of information requests he has received in recent years from Major League teams and broadcasters. Vince Gennaro, the current president of SABR, also reprised an annual convention presentation, "Big Data Approach to Evaluating Batter-Pitcher Matchups." He credited Dr. Smith and others with setting in motion an exponential growth in the amount of computer data available on each pitch thrown in the majors and the resulting batter-pitcher outcomes. Del Wilbur shared anecdotes from his own career and that of his father. Ned Rice (pictured at right) of the Baltimore Orioles also spoke. There was enough baseball talk that it was possible to ignore the steady flow of frigid air pouring under the double doors to the loading dock. After lunch celebrated local film documentarian, Aviva Kempner, discussed the storied career of Siy Cohen, Mike Gibbons and Shawn Herne of Baltimore's Babe Ruth Museum discussed their museum's window onto the life of the Babe, Brian Engelhardt celebrated the visit of the "Young Mr. McPhail to Reading, PA."— Ted Leavengood
Note: Due to inclement weather, SABR Day meetings in Fort Wayne, Indiana; Louisville, Kentucky; and Nashville, Tennessee were postponed on Saturday, January 25. Check the Events Calendar for information on all future meetings.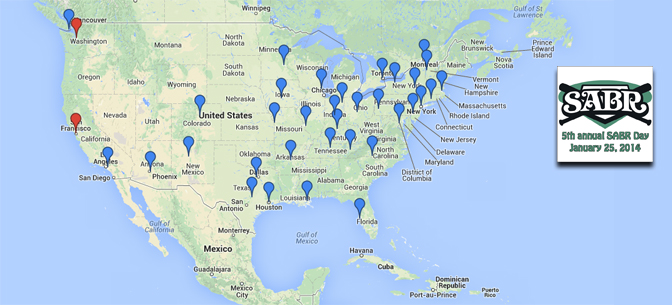 To view all SABR Day 2014 events on a map, click here or click the image at the top of this page.
To learn more about all upcoming SABR events, including chapter meetings in your area, view our calendar at SABR.org/events.