SABR Day 2016
SABR Day is an annual event that brings together SABR members and friends on the same day, regardless of where they live. The seventh annual SABR Day was held on Saturday, January 30, 2016.
Regional SABR meetings are open to all baseball fans — though we encourage you to join SABR if you like what you find — and are usually free to attend. Guest speakers often include current and former baseball players, managers, umpires, executives, scouts, writers and authors.
Here are some highlights and photos from SABR Day 2016:
Austin, Texas (Rogers Hornsby Chapter)
Seven chapter members joined SABR members across the nation and around the world to recognize SABR Day on January 30. We talked about the Astros' recent pickup of Doug Fister. Meanwhile, Jim Baker, Predictatron impresario, shared that he wasn't surprised when the winter meeting predicted the Astros to win the World Series later this year. Jan Larson added that the Astros have improved enough as a team that the prediction shouldn't come as a surprise. Whatever happens, the humble author of this summary hopes we're right! Also, Monte Cely missed our SABR Day lunch for good reason: he traveled to Santo Domingo, Dominican Republic, the home of 58th Serie del Caribe. Follow his updates by clicking on this link. — Gilbert Martinez
Baltimore, Maryland (Babe Ruth Chapter)
The new Babe Ruth Chapter held its first SABR Day meeting on Saturday, February 6 at Towson University's Smith Hall. Guest speakers included SABR Vice President Bill Nowlin, a Red Sox historian and prolific author; John Eisenberg, Baltimore-based author and sportswriter who has written nearly 10 books including From 33rd Street to Camden Yards: An Oral History of the Baltimore Orioles; Brian Engelhardt, author of the recently released Reading's Big League Exhibition Games; John Holway, esteemed Negro Leagues historian; and Mike Gimbel, former consultant on player evaluation for the Boston Red Sox and Montreal Expos. — D. Bruce Brown
Boston, Massachusetts (Boston Chapter)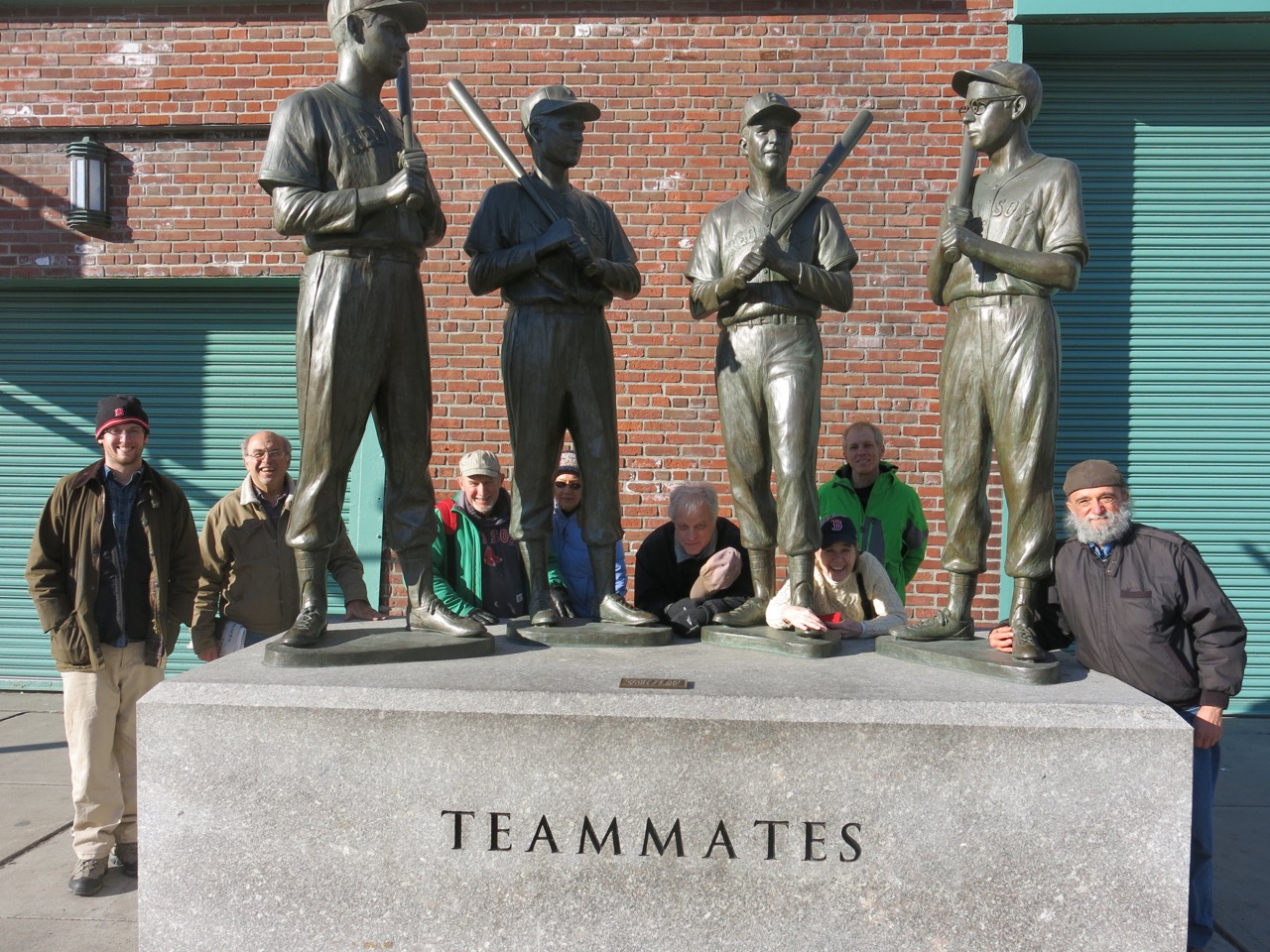 The Boston Chapter met on Saturday at the Bleacher Bar, located under the Green Monster at Fenway Park. A few of our attendees had never been there before and they were certainly impressed with the location and the big window that was open to the field – where they are constructing a  gigantic snow slide – should be up and running in 2 weeks, we hope. We talked, ate and exchanged stories and encouraged a couple of new members to get involved in the Chapter activities – the next one being Truck Day at noontime on February 10 – the day when the equipment truck leaves for Florida – a tradition that goes back even earlier than when there were trucks and the day was celebrated by fans, cranks and Royal Rooters at South Station when the train left Boston for the trip south and spring training.  After lunch we made a circumnavigation of Fenway Park, stopping at sites along the way. Click here to take our "virtual tour" of Fenway Park. — Joanne Hulbert
Columbus, Ohio (Hank Gowdy Chapter)
A special thanks goes out to Tracy Martin for our special SABR Day tour of his Vintage Baseball Museum in Grove City. His informative presentation on the evolution of baseball equipment and allowing us to spend nearly two hours in his museum was awesome. Truly a great event. — Blake Sherry
Denver, Colorado (Rocky Mountain Chapter)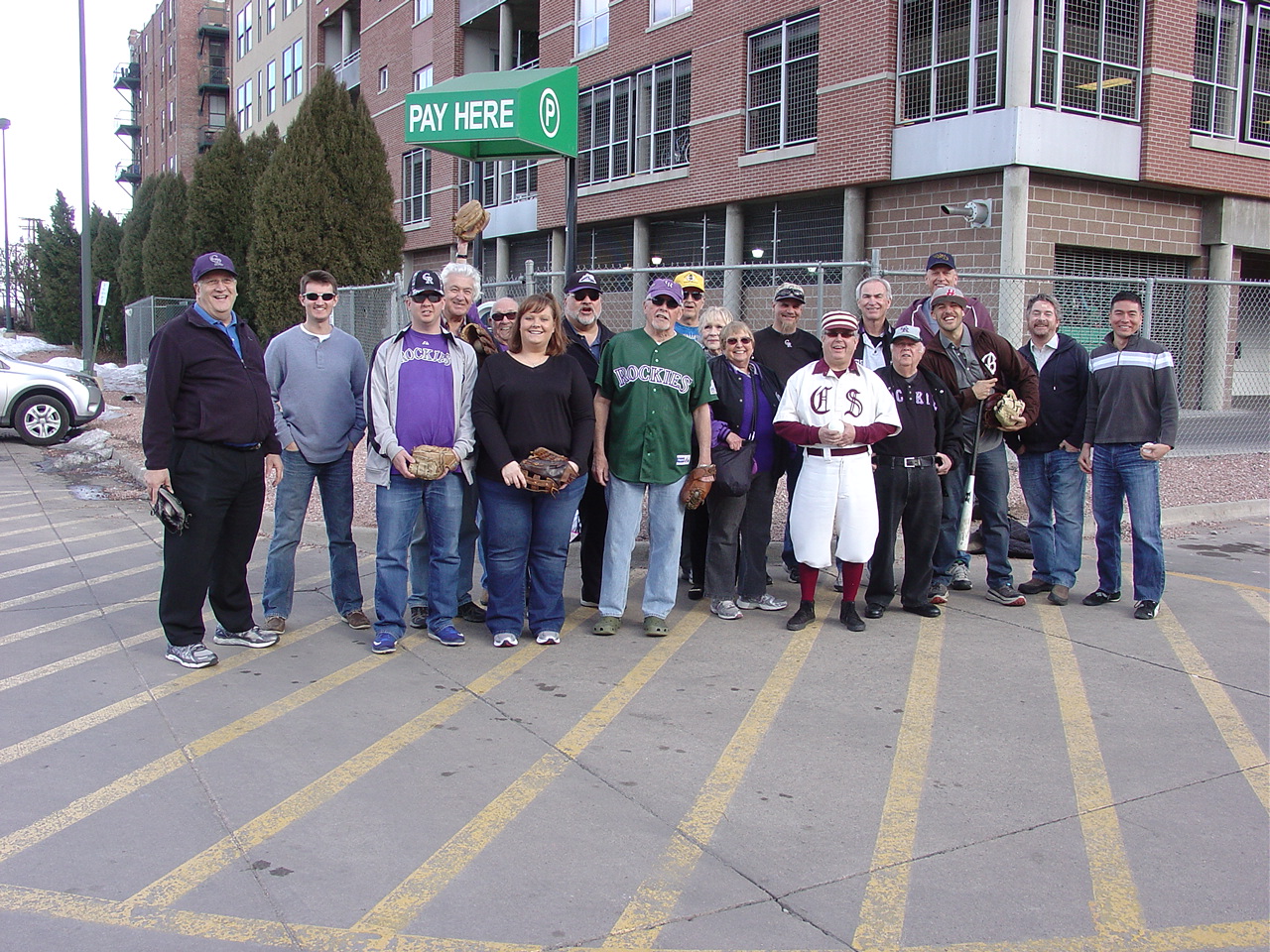 SABR's Rocky Mountain Chapter hosted 42 SABR members and friends for SABR Day at the Breckenridge Brewery downtown. Greg May gave an outstanding presentation about the great New York Yankee second baseman Bobby Richardson. Member David Glandorf was honored for winning the chapter's Rockies 2015 Total Wins Prediction contest. Trevor Patch, Colorado Rockies Manager of Baseball Analytics, spoke about obtaining data from sources such as some of the latest systems like Trackman, PITCH f/x, HIT f/x, and Statcast, and about the large amount of data that is recorded for generating specialized research which is the future of analytics in baseball today. Guests and chapter members interacted with Trevor providing many questions about the new baseball analytics. The traditional mass game of catch began at 2:10 p.m. with the call "Play Ball!" The weather was extremely cooperative providing a partly sunny and mild day of 65 degrees. — John Paul
Las Vegas, Nevada (Maddux Brothers-Las Vegas Chapter)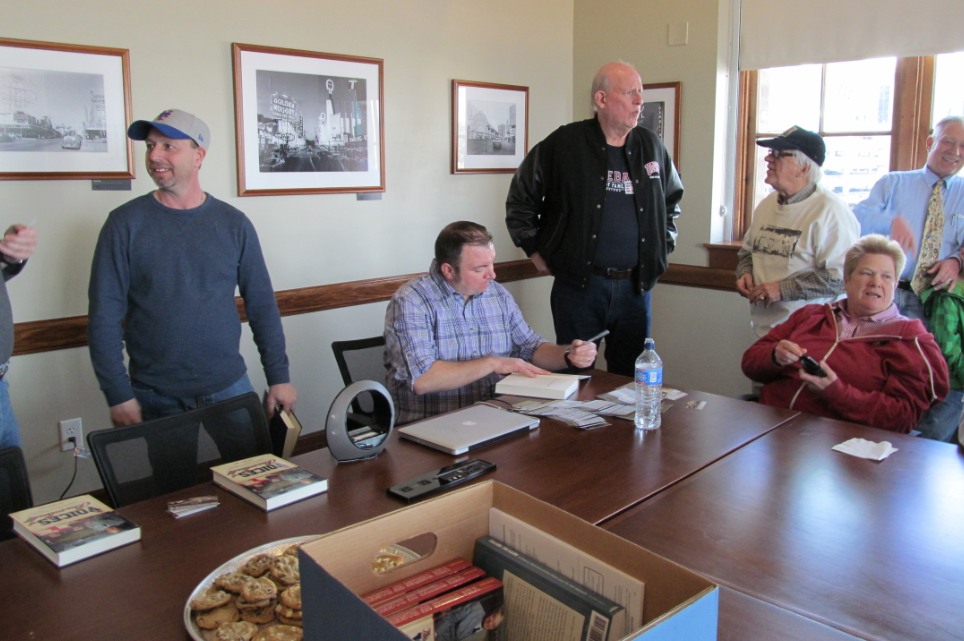 Eighteen chapter members and friends came together in the Oscar Goodman Room of the Mob Museum in downtown Las Vegas. Las Vegas Review-Journal sports columnist Ron Kontoswki bought a special guest, his friend and former major-league catcher Duke Sims; we had a great time discussing his career, the greatest player born in Utah, and the current status of baseball today. Also speaking was Kirk McKnight, author of Voices of Baseball, which includes interviews of all the current MLB broadcasters and provides an in-depth look at each of the 30 MLB ballparks from their perspective. He discussed some of the stories and played back some of the interviews — everyone enjoyed the one with Vin Scully. It's a book worth having in your collection. Ben Pawlowski followed with his research on hitting, pitching, and the quality of pennant winners through the post-WWII, divisional play, and wild card eras. Rick Swift discussed the 2015 Arizona Fall League Experience and some of the players to watch. After four hours, we all headed home happy that Opening Day was just 60 days away. — Rick Swift
Little Rock, Arkansas (Robinson-Kell Chapter)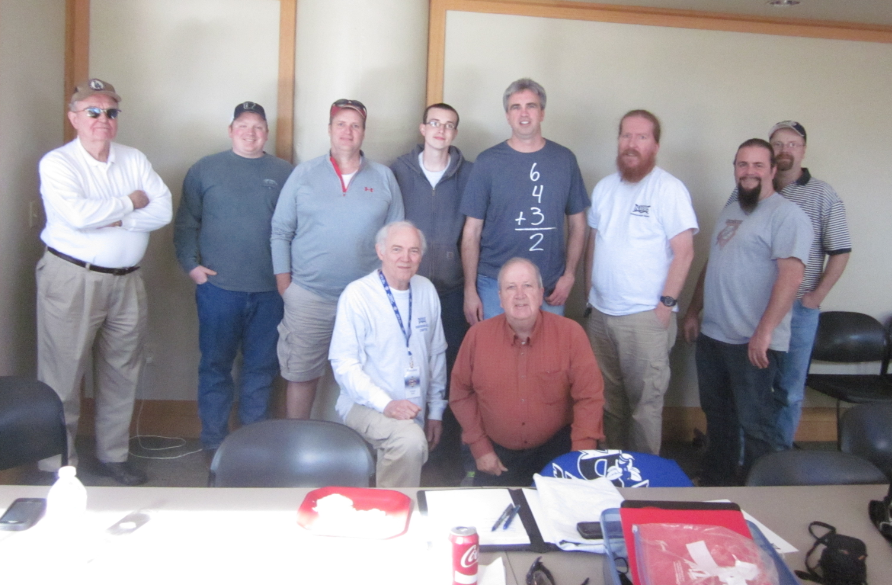 At the Central Arkansas Library, 10 SABR members and guests watched the recently released The First Boys of Spring documentary about the history of spring training in Hot Springs, Arkansas, which featured our chapter member Mike Dugan. We then had three research presentations and gave away a few $1 baseball books from a used book sale as door prizes. — Madison McEntire
Louisville, Kentucky (Pee Wee Reese Chapter)
Unlike the ice and snow of past years, spring training-type weather (68 degrees and sunny) greeted 22 members and guests at the gathering of the Pee Wee Reese SABR Chapter at the University of Louisville. Participants were counted from Louisville, Lexington, Lawrenceburg and Frankfort, KY; Cincinnati and Cleveland, Ohio; and Columbus, Indiana. Sean Moth, the radio voice of the #2-ranked Louisville Cardinals baseball team for the past 15 years, discussed some of his experiences interviewing MLB players, and he gave pretty darn good impressions of Harry Caray and Vin Scully.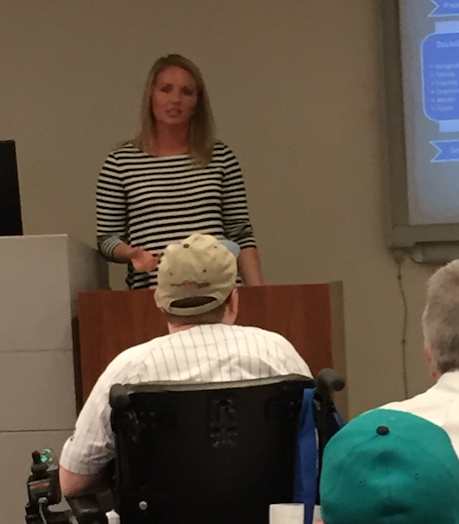 Cincinnati Reds team historian Greg Rhodes then gave an excellent review of pageantry, parades and pachyderms in his presentation on Reds Opening Days. Dr. Megan Shreffler followed with a summary of her research study, The Socialization of Chicagoans into Baseball Fandom, regarding how Chicagoans become Cubs or White Sox fans. Dr. Jack Sullivan again prepared and conducted the challenging 25-question written Trivia Contest, with cash prizes won by faithful SABR members Jon "Ace" Borie for first place and Robert Sawyer for second place finishes. Everyone present left with a door prize, including Ryan Schroer, who won a one-year complimentary SABR membership; and Roger Snell and Rodger Payne, who each won 4 tickets to the South Atlantic League All-Star game in Lexington this summer. Much laughter and camaraderie filled the day. Next year, this event will return to its usual site at the Louisville Slugger Hall of Fame and Museum.  — Harry Rothgerber
Middletown, Connecticut (Smoky Joe Wood Chapter)
The Smoky Joe Wood Chapter had a lively meeting with 20 members in attendance at Middlesex Community College. Dean of Academic Affairs Steven Minkler greeted all. Attendees shopped an assortment of pre-loved baseball books for $1, and 2017 Hall of Fame ballots were handed out. The centerpiece of the meeting was a Hall of Fame Voters discussion with panelists David Borges of the New Haven Register and Bob Wirz, former journalist and Press Manager for Commissioners Bowie Kuhn and Peter Ueberroth, moderated by Steve Krevisky, Chapter President. Topics discussed included: surprise PEDs, voting rule changes, what beyond the numbers makes someone at HOFer, the 10-player voting limit, and publicizing your vote. View more photos at smokyjoewood.com or on the chapter's Facebook page. — Steve Krevisky
Montreal, Quebec (Quebec Chapter)
The winter meeting of the SABR Quebec Chapter was held on January 30 which happened to be SABR Day. Like school kids, we went on a field trip! We were off to Laval, QC to pay a visit to a friend of the chapter, Perry Gee. Perry is an avid collector of everything Expos and he and his wife were kind enough to welcome our chapter into their lovely home to take a look at their collection.  Perry has been collecting for several years now. He has an impressive number of Expos uniforms, many formerly belonging to Expos greats like Gene Mauch, Gary Carter or Vladimir Guerrero. He has a team signed ball for every year of the Expos' existence. He also possesses troves of programs, scheduled and scorecards. Recently, Perry got interested in the Royals. A small section of his man cave is dedicated to the Royals and Jean-Pierre Roy, Tommy Lasorda and of course, Jackie Robinson have a place of honor on his wall. It is Perry's dream to one day transform his collection into a Montreal Expos Museum.  — Patrick Carpentier
New York, New York (Casey Stengel Chapter)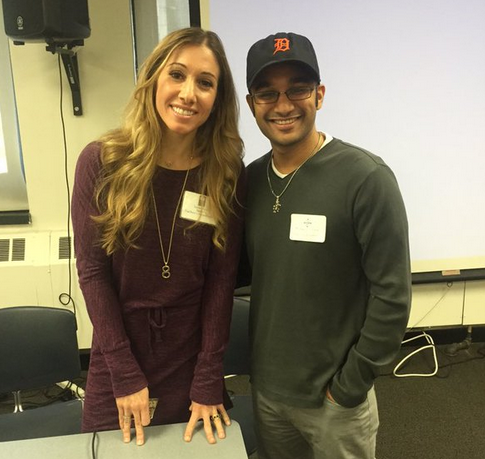 Ernestine Miller moderated a program on SABR Day at the Mid-Manhattan branch of the NY Public Library dedicated to Yogi Berra (morning session) and commemorating the 30th anniversary of the 1986 Mets' World Series championship (afternoon session). Speakers for the day included Dave Kaplan, the founding director of the Yogi Berra Museum & Learning Center, Pulitzer Prize-winning Dave Anderson of the New York Times, Lindsay Berra, a columnist for MLB.com who is the oldest grandchild of Yogi and Carmen Berra. Panelists shared stories of Berra on and off the field. The stories and memories were a friendly reminder that Yogi will always be with us because he was so much more than an athlete. He was a father, husband, grandfather, and influence to so many people. There was also a multimedia presentation by Jay Goldberg and baseball photographer Muneesh Jain focused on the 30th anniversary of the 1986 World Champion New York Mets. Goldberg shared stories and podcast highlights from interviews he did with those who either played on the 1986 Mets or were around the team at the time. — Max Mannis
Orlando, Florida (Auker-Seminick Chapter)
The Auker-Seminick Chapter held its SABR Day meeting on February 6 at the Orange County Southwest Library in Orlando. Guest speakers included George Gedda and Gene Brock on Jackie Robinson, Jim Bard, author of a book on Nellie Fox; and Skip McAfee, the editor of the Paul Dickson Baseball Dictionary who presented on the "last words" of many players. — Rod Caborn
Phoenix, Arizona (Flame Delhi Chapter)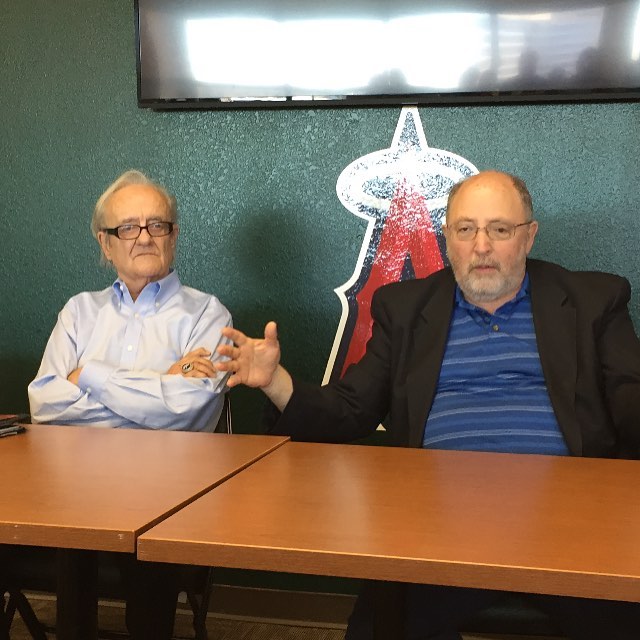 Nearly 60 members and friends gathered at Tempe Diablo Stadium for SABR Day. Former major-league pitcher John D'Acquisto led off the sessions in a one-on-one session with Tony DeMarco. John credited his early athletic development to working on his uncle's tuna boat in San Diego. He also talked about the old norm of pitchers frequently throwing complete games and how that has changed in modern times. Barry Bloom moderated a one-on-one session with baseball executive Roland Hemond, the Hall of Fame's 2011 Buck O'Neil Lifetime Achievement Award recipient who took the audience through highlights of his 60-year journey in the baseball world. Roland shared stories about his time with the Boston and Milwaukee Braves and his crazy days and nights working with owner Bill Veeck with the Chicago White Sox. Finally, Bernie Pleskoff led a front office panel with longtime executives Tony Siegle and Mike Port, as they spoke about their experiences in baseball and what they believe it takes to build a successful franchise. Port discussed his insight on analytics in baseball and mentioned it is a tool that can measure many things, except for personality. Siegle attributed the Giants' success to their consistency of promoting within and the opportunity for growth in all departments of the organization.  — Marisa Elliot
Pittsburgh, Pennsylvania (Forbes Field Chapter)
Members and friends gathered at PNC Park to listen to baseball presentations from Joe Guzzardi ("The Fan's Essential Guide: "Who's Who in Baseball""); Herb Soltman ("Today's Role Models"); Alan Steinberg ("The Winter of 1988: My Baseball Correspondence and Conversations On Free Agency With Roger Angell, Bob Costas, Frank Deford, Bart Giamatti, Tony Kubek, and Sam Nover"); Sam Reich ("Hall of Fame Update"); Jim Haller ("Growing Up With Baseball in Pittsburgh"); Dave Finoli ("Ranking Players in the Pirates Encyclopedia"); and Herb Soltman ("Annual Team Ranking Contest"). — George Skornickel
St. Louis, Missouri (Bob Broeg Chapter)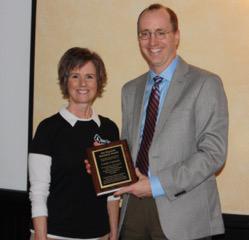 42 members and guests of the Bob Broeg SABR Chapter met for their annual Hot Stove Luncheon at Favazza's Restaurant in St. Louis' classic The Hill neighborhood. Mike Girsch, the assistant general manager for the St. Louis Cardinals, fielded questions on a variety of topics including the health of Yadier Molina and Carlos Martinez, the negotiations with Jason Heyward and David Price, the projecting of talent throughout all of pro ball, the possibility of the DH in the National League, and future penalties from the computer hacking scandal. MLB columnist Bob Nightengale of USA Today said that in the past 30 years in traveling throughout all of the major leagues, he believed St. Louis truly is the best baseball town. He spoke about the changes in the game with the advanced analytics and balancing that with scouting. Celeste Czarnecki was presented with the chapter's inaugural Jim Rygelski Research Award. Steve Pona and Jeff Kittel gave a presentation on Chris von der Ahe, the founder and owner of the St. Louis Brown Stockings of the American Association, which eventually became the present-day St. Louis Cardinals.  — Jim Leefers
San Diego, California (Ted Williams Chapter)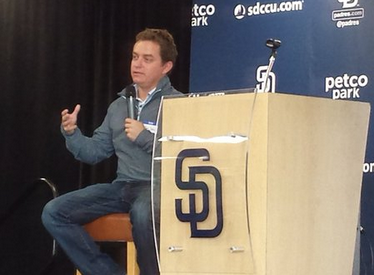 A number of great guest speakers came together for SABR Day at Petco Park, including Josh Stein, the Padres' Assistant General Manager; Carlos Bauer, who present a talk on Bill Weiss and historical minor-league statistics, discussing how Weiss changed the rigor with which statistics were compiled in both the major and minor leagues once he became a league statistician. Next, Andy McCue, former SABR president and the author of Mover and Shaker, a Seymour Medal-winning biography of Walter O'Malley, offered some alternative viewpoints of Bill Veeck as an owner. At various times, Veeck owned the Cleveland Indians, St Louis Browns, and Chicago White Sox. Finally, Norman Macht, the author of a three-volume set on the life on Connie Mack, gave a short talk on his work and then answered questions. Andy Strasberg also briefed the membership on Chapter plans during All-Star Weekend. — Tom Larwin
San Francisco, California (Lefty O Doul Chapter)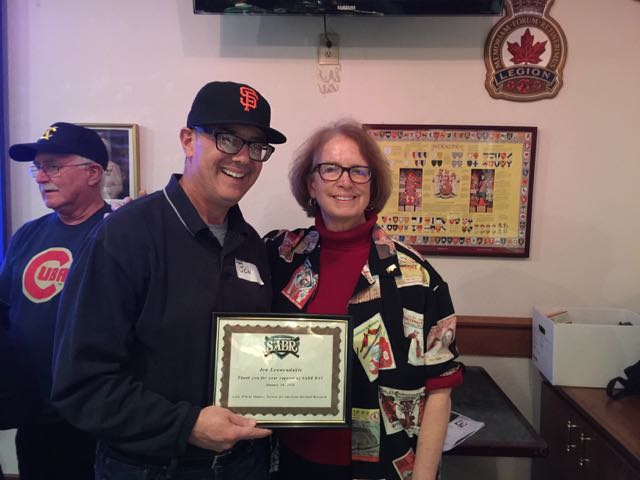 Nearly 50 members and guests gathered at The Englander in San Leandro for a special viewing of "Hano!", a new documentary about a legendary sports writer. Thanks to filmmaker Jon Leonoudakis for taking time from his busy schedule to join us to talk about Arnold Hano and the making of the film. Dave Newhouse also talked about his current books on the 49ers and local sports and his upcoming work on Charlie Silvera, the last Yankee!  Barry Weiss shared pictures and updates about baseball in Cuba, Cesar Love talked about the mystery of the baseball diamond, Charles Fracchia has completed his 35-year project to get his 1978 SF Giants Media Guide autographed by every player in the book, and Graham Womack brought us up to date about his blog, Baseball Past and Present, and his Hall of Fame lists. Mark Macrae was presented with the Lefty O'Doul Chapter Award for his many and ongoing contributions to the history of baseball and baseball research. He has long been a supporter of the chapter and has assisted with many of our events. — Marlene Vogelsang
Seattle, Washington (Northwest Chapter)
New Mariners manager Scott Servais, General Manager Jerry Dipoto, and Vice President of Player Personnel Tom Allison were among the speakers at the Northwest Chapter's SABR Day meeting on Sunday, January 31 at Safeco Field.
Tallahassee, Florida (Buck O Neil/North Florida Chapter)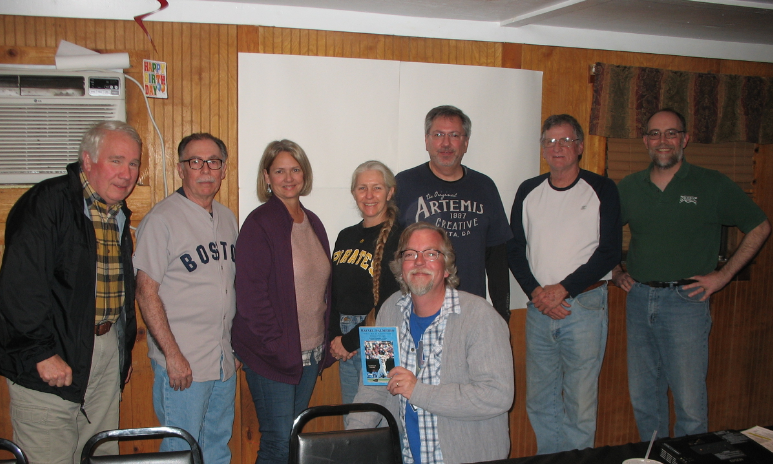 Eight Buck O'Neil/North Florida Chapter members gathered at the Chapter's usual haunt (Fourth Quarter sports bar in Tallahassee) to celebrate SABR Day. After some conversation about current events in the hardball world, Chapter President Matthew Keelean gave an overview of SABR as an organization, its history, current make-up in terms of Chapters and Research Committees, benefits to being a member, and what SABR meant to him. Following that, Chapter members briefly talked about interest/ability to participate in SABR 46 in Miami, in support of our fellow South Florida Chapter members' effort to host the convention. Next, Chapter Treasurer Rick Swaine presided over a trivia contest amongst those in attendance. The competition was a tight one, but in the end, Chapter Secretary Jeff English came away with the victory, and the coveted prize. We closed out the day with a viewing of Game 7 from the 1960 World Series, and most of us (sorry Jim) cheered when Maz sent the Pittsburgh faithful home in delirious joy.  — Matthew Keelean
Washington, DC (Bob Davids Chapter)
More than 125 members and guests attended the 45th annual meeting of the Bob Davids Chapter on SABR Day at the Holiday Inn Rosslyn in Arlington, Virginia. Guest speakers included Chelsea Janes, Nationals beat writer for the Washington Post; Matt Kastel, Manager of Stadium Operations for Camden Yards; and Tom Hetrick, author of MISFITS! Baseball's Worst Ever Team on the 1899 Cleveland Spiders. Samuel Mondry-Cohen, Director of Research and Baseball Analysis for the Nationals, also spoke to the group, describing some of the data sets that only Major League teams can deploy, such as the reports from the more than 30 scouts employed by the Nationals. Bruce Adams, co-founder of the Bethesda Big Train, has written numerous baseball travelogues and spoke to the SABR group about his trip to the College World Series in 2015. David W. Smith of Retrosheet presented a fascinating argument, that no off-field change like tracking "Saves" has made such a remarkable difference in how the game is played. Read the full recap at Seamheads.com . — Ted Leavengood