SABR Day 2017
SABR Day is an annual event that brings together SABR members and friends on the same day, regardless of where they live. The eighth annual SABR Day was held on Saturday, January 28, 2017.
Regional SABR meetings are open to all baseball fans — though we encourage you to join SABR if you like what you find — and are usually free to attend. Guest speakers often include current and former baseball players, managers, umpires, executives, scouts, writers and authors.
Here are some highlights and photos from SABR Day 2017:
Albuquerque, NM (Rio Grande Chapter)
The Rio Grande Chapter celebrated SABR Day on Saturday, January 28 by meeting at the recently built and dedicated team clubhouse of the University of New Mexico baseball team. Coach Ray Birmingham was there, showing much deserved pride, to give us a tour of a clubhouse worthy of AAA teams. Over the past five years, the chapter has met at the field at least once a year, as Birmingham has told us of his plans for bringing the field and its facilities up to a first rate college venue, and he is well on his way, from getting the electrical and plumbing upgraded to having new stands constructed and field lights installed to having restrooms built and now a wonderful clubhouse for the Lobo team. Not only has he been a coach to lead his team nearly every year to the NCAA baseball playoffs, but he has also been the major fundraiser for all the changes. Fittingly, our speaker for the day was Austin House. Many of us over the years have seen him pitch at one or more levels of his career. The Albuquerque native started in Little League here, then high school, and, yes, then as a Lobo. As an added hometown flavor, House, originally drafted by the Oakland A's, is now in the Rockies organization and ended the season last year pitching for Albuquerque's own minor-league team, the Albuquerque Isotopes, the AAA affiliate of the Rockies. House ended his talk by saying he hoped to have a successful season through August, but we all told him to have a successful season into November. — David Kunsman
Austin, TX (Rogers Hornsby Chapter)
Baseball stories involving Yogi Berra, Tommy Lasorda, Andre Dawson and Dizzy Dean were among the gems shared at the 11th Annual Rogers Hornsby Chapter Winter Meeting on Saturday, January 14 at Texas State University in San Marcos. Thirty-nine chapter members and guests enjoyed presentations by Dr. Bobby Brown, former World Series champion with the Yankees and retired cardiologist; Mark Saccomanno, former Astros first baseman who hit a home run on the first pitch he saw in the big leagues; Mike Capps, entering his 18th season as broadcaster for the Round Rock Express; and Bo Carter, longtime college sports information director who co-authored a book about Dizzy Dean, and Sara Kirby Burke, daughter of longtime broadcaster Gene Kirby who collected and wrote much of the text in the Dizzy Dean book. — Monte Cely
Baltimore, MD (Babe Ruth Chapter)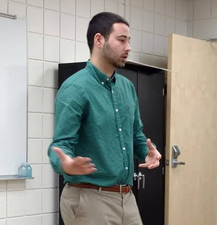 The Baltimore/Babe Ruth Chapter of SABR held its second annual SABR Day celebration and business meeting on the beautiful Towson University campus on Saturday, January 21. More than thirty members and friends were in attendance to hear presentations from six presenters representing a wide spectrum of baseball interests. Adam Pohl, Director of Broadcasting for the AA Bowie (Maryland) Baysox, detailed the trials and triumphs of his profession and left no doubt of his love for the game. Veteran SABR author and journalist Ted Patterson reminisced about some of the baseball and writing greats he has had the pleasure to associate with during his career, calling particular attention to his meeting with former major league player and broadcasting pioneer, Jack Graney. Sports attorney Phil Hochberg told of his employment as stadium announcer for the Washington Senators and of the friendships he formed and of his observations of the evolution of baseball. Former Baltimore Orioles outfielder Larry Sheets followed lunch and told of the privilege of playing for not one, but two Hall of Fame managers, Earl Weaver and Sparky Anderson. He was enthusiastic, charming and self-effacing as he told of his rise to the majors and the highlights of his time there, sometimes on the field and sometimes elsewhere with teammates. Richard Hershberger, who has written numerous articles on early baseball, concentrating on its origins and its organizational history was the next presenter. He is currently writing a book on the evolution of the rules of baseball and described to the group the early findings of his research. Young Kevin Tenenbaum from the Orioles Baseball Analytics Department was the final speaker and did an amazing job of describing the latest tools used by the franchise in evaluating players, both in their organization and throughout baseball.  — D. Bruce Brown
Boston, MA (Boston Chapter)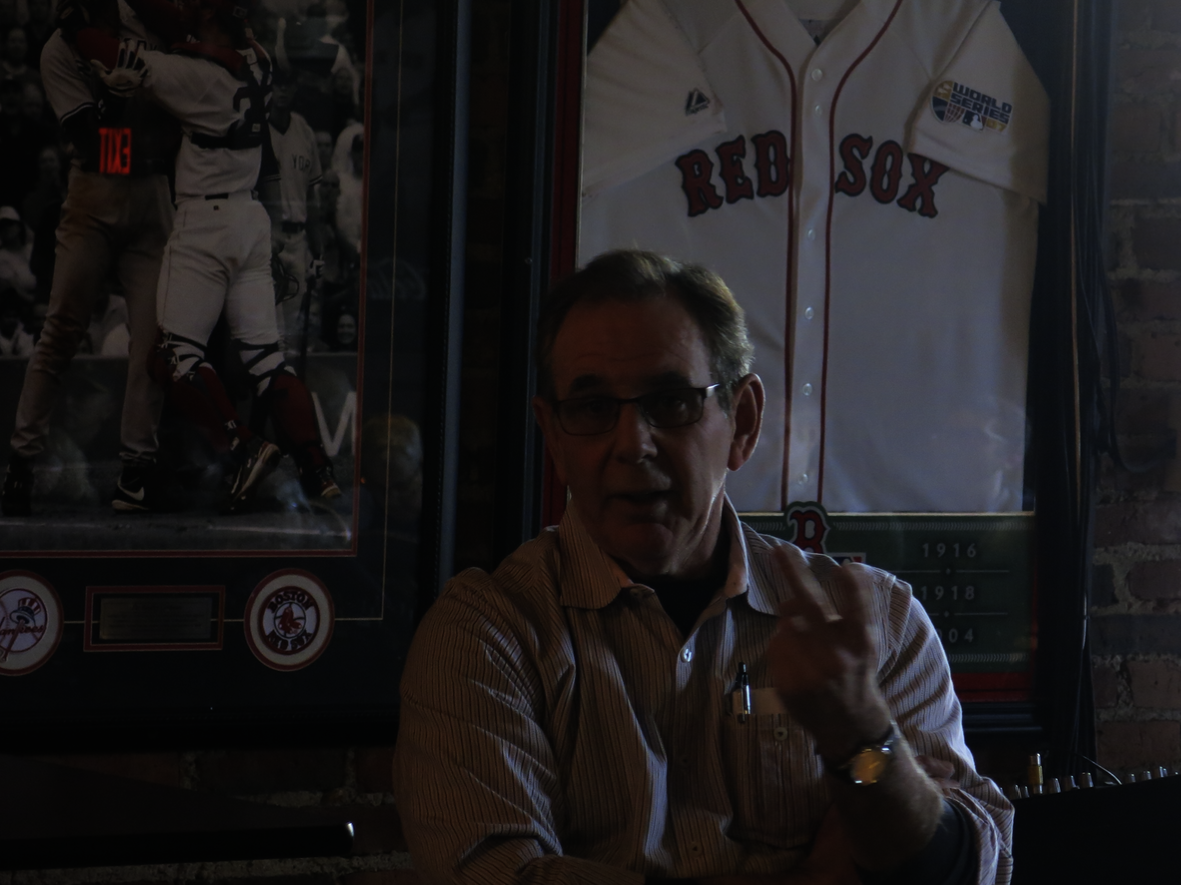 About 45 SABR members and guests joined the SABR Boston Chapter for its annual MLK Day meeting on Monday, January 16, at The Baseball Tavern on Boylston Street in Boston. It was one of our best meetings in recent memory. Our featured speaker was Dave Wallace (pictured at right), former pitching coach for the 2004 Boston Red Sox and also the Los Angeles Dodgers, New York Mets, Houston Astros, and most recently the Baltimore Orioles. He also pitched parts of three seasons for the Philadelphia Phillies and Toronto Blue Jays. We also heard from Boston Red Sox team historian Gordon Edes about changes with the Red Sox and at Fenway Park. Clayton Trutor spoke about the Tony Conigliaro Award winners, subject of a new SABR publication that was released this month. Donna Halper, interesting and informative as always, talked about "Honoring Black Baseball Writers," and Bob Brady and Mark Kanter had a lot to say about baseball in Cuba. Kara Jackman spoke about Boston University, Martin Luther King Jr., race, and baseball. David Kaiser also presented on "The Unluckiest Pitchers: Won-Lost Records and Selection to the Hall of Fame.  — Joanne Hulbert
Cleveland, OH (Jack Graney Chapter)
Fans know Matt Underwood from his role as Indians play-by-play announcer; he's in his 18th year with the team and the 11th paired with analyst Rick Manning – but he's also a baseball historian, and someone who respects the game's past as well as its present. Underwood is working on a documentary on Addie Joss, the first Cleveland pitcher to throw a perfect game. Joss – a Hall of Famer – died during his prime in 1911. Underwood spoke to a gathering of more than 60 SABR enthusiasts on Saturday, February 4 at the Baseball Heritage Museum at League Park. Click here for a full recap from the Cleveland Plain Dealer. Or click here to view more photos on Facebook. — Marc Bona
Columbus, OH (Hank Gowdy Chapter)
Our SABR Day event was the second edition of our regular Hot Stove talks, held Saturday, January 28 at the Westerville Public Library. Given that our meeting took place right after the Baseball Hall of Fame vote, it is not surprising we spent a lot of time talking about the writers' vote, the process itself, the Veterans Committee, the steroid era, and the honor (or not) of being elected on the first ballot. Then we voted. Only one player made it in our voting: Tim Raines. We had 19 members attending and voting at the meeting, so a player would have needed 15 votes to make it for 75% of the vote. Raines received 17 votes. Here are the other top vote-getters: Jeff Bagwell (13), Trevor Hoffman (11), Vlad Guerrero and Ivan Rodriguez (10), Edgar Martinez (8).  In addition, we discussed many of the trades and new signings and what we thought the impact would be on the upcoming seasons. We also discussed plans and the agenda for our annual meeting, set for April 22. Afterwards, 16 of us went to lunch at a local sports bar. — Blake Sherry
Cooperstown, NY (Cliff Kachline Chapter)
The Cliff Kachline Chapter met for SABR Day on Saturday, January 28 at the Bullpen Theater at the National Baseball Hall of Fame and Museum. Mike Hauser and David Karpinski told us about the history of Parkhurst Field in Gloversville, New York, and plans to restore this ballpark to its rightful place in history. Peter Henrici handed out his latest data on Hall of Farmers and the accurate dates of their election and Induction (as well as what group elected them). Mike Piazzi walked us through a century-old baseball postcard that caught his eye. Jeff Katz gave the recently revived SABR Baseball Cards Committee and blog, Facebook page and Twitter feed a push. — Jeff Katz
Denver, CO (Rocky Mountain Chapter)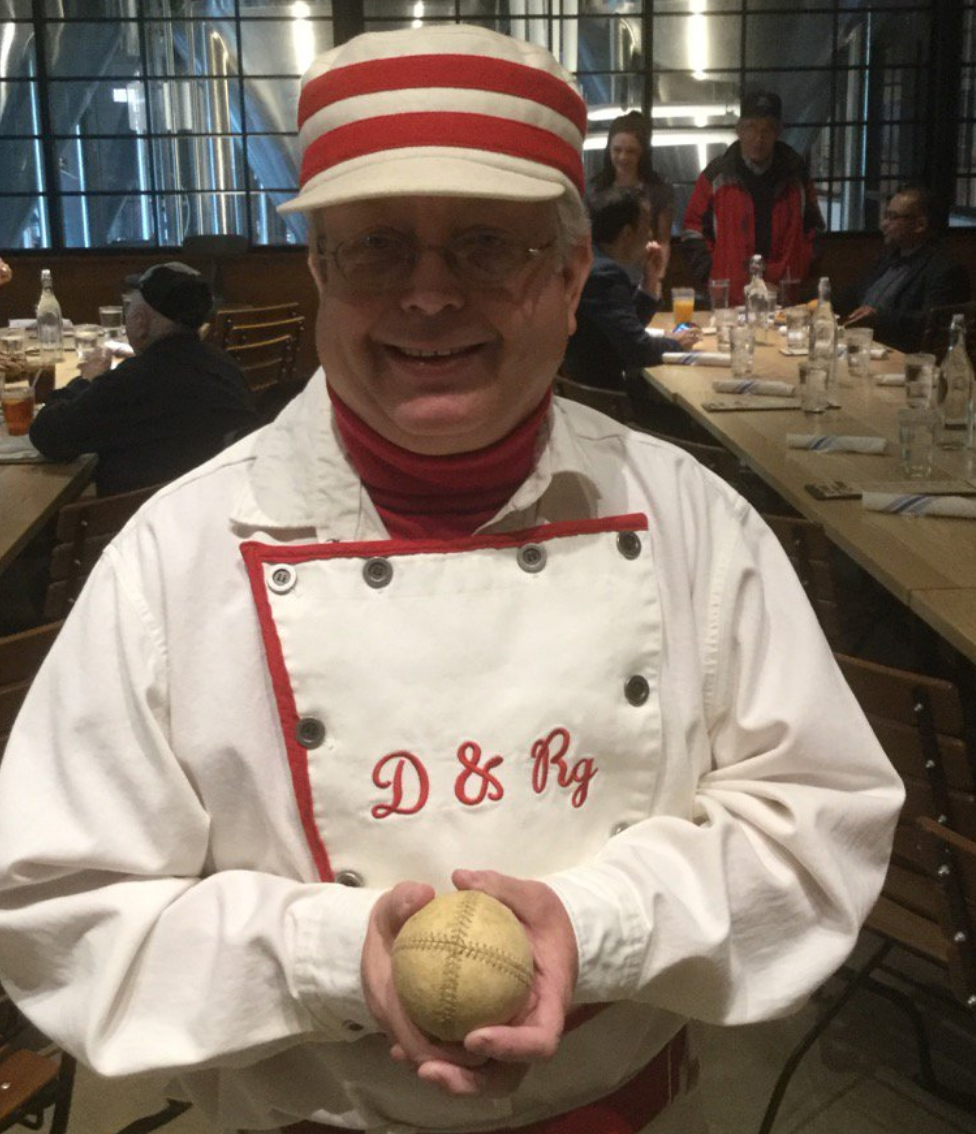 At the SABR Day festivities in Denver, 55 baseball enthusiasts packed the room at the Blue Moon Restaurant and Brewery as the Rocky Mountain Chapter presented a media panel focusing on the 2017 Rockies. Former big-leaguer Jeff Huson, now of Root Sports, joined forces with Thomas Harding of MLB.com and KOA Radio's Ed Henderson to analyze this year's Rockies club. The panel was moderated by Warren Miller, the Rockies' PR director. Over the course of more than an hour, they covered every aspect of the team and its chances in the coming season. Former Los Angeles Dodgers GM Dan Evans, now a super scout with the Toronto Blue Jays and an active member of Rocky Mountain SABR, was also in attendance. Following the conclusion of the panel, about 20 members headed outside for our traditional mass game of catch. The weather was generally cooperative with temps hovering in the mid-40s. Everybody left champing at the bit for pitchers and catchers to report in less than three weeks. — John Paul
Des Moines, IA (Field of Dreams Chapter)
The Field of Dreams Chapter had its informal SABR Day gathering one day late, on Sunday, January 29. Ten members and guests met at the Twisted Vine Brewery in West Des Moines to talk baseball and enjoy some fine beers. Steve Elsberry provided a chart outlining the number of no-hitters, by franchise, from 1901 to 2016. Steve was inspired to make the chart when he noted his Giants had no-hitters in four consecutive seasons, from 2012 through 2015, and he wondered if any other franchises had accomplished that feat. (Answer: yes, by the Dodgers and more specifically, by Sandy Koufax all by himself). John Liepa spoke about his upcoming presentation at the Des Moines Civil War Round Table.  — Tim Rask
Detroit, MI (Detroit Chapter)
The SABR Day meeting on Saturday, February 4 at the Detroit Public Library was kicked off with a slide show presentation of Detroit Stars and Hamtramck Stadium. As many of you know the site was recently granted $50,000 for redevelopment. We were also able to see a brief promotional video and heard from the President of Friends of Historic Hamtramck Stadium Gary Gillette. We then viewed Norman Turkey Stearnes: A Family Album, presented by his youngest daughter Joyce Stearnes Thompson. We were able to see pictures of Turkey Stearnes as a ballplayer and some photos with his family. Among the photos that were shared were many from Stearnes' induction weekend at the Baseball Hall of Fame in Cooperstown in 2000. We also viewed part of an intriguing Negro League documentary. So little video footage of Negro League players exist that it was really great to see. A four person panel consisting of the Joyce Stearnes Thompson, Rosilyn Stearnes-Brown, local long time coach Michael Wilson, and Negro League veteran Ron Teasley presented memories of Negro League legends, local high school stars, and memories from Coach Teasley's long coaching career. Click here for a full recap and more photos at sabr-detroit.org. — Brandon Robetoy
Durham, NC (Carolina Chapter)
We had a great time at Bull Durham Brewery for SABR Day on Saturday, January 28. Tom Brown told us about his upcoming article at the SABR Games Project on Tom Seaver's 19-strikeout game in 1970, as well as getting a call from former Mets pitcher Jon Matlack. Nick Novosel brought books and baseball cards to open and flip through. Elena Elms shared a tidbit on the reach of the St. Louis Cardinals, where she was a fan from Kentucky, inherited from her father, who was from West Texas. And a non-SABR member joined us: John Eshelman, who works in psychology, spoke of scouting and developing a metric measuring "makeup." — Chris Dial
Fort Lauderdale, FL (South Florida Chapter)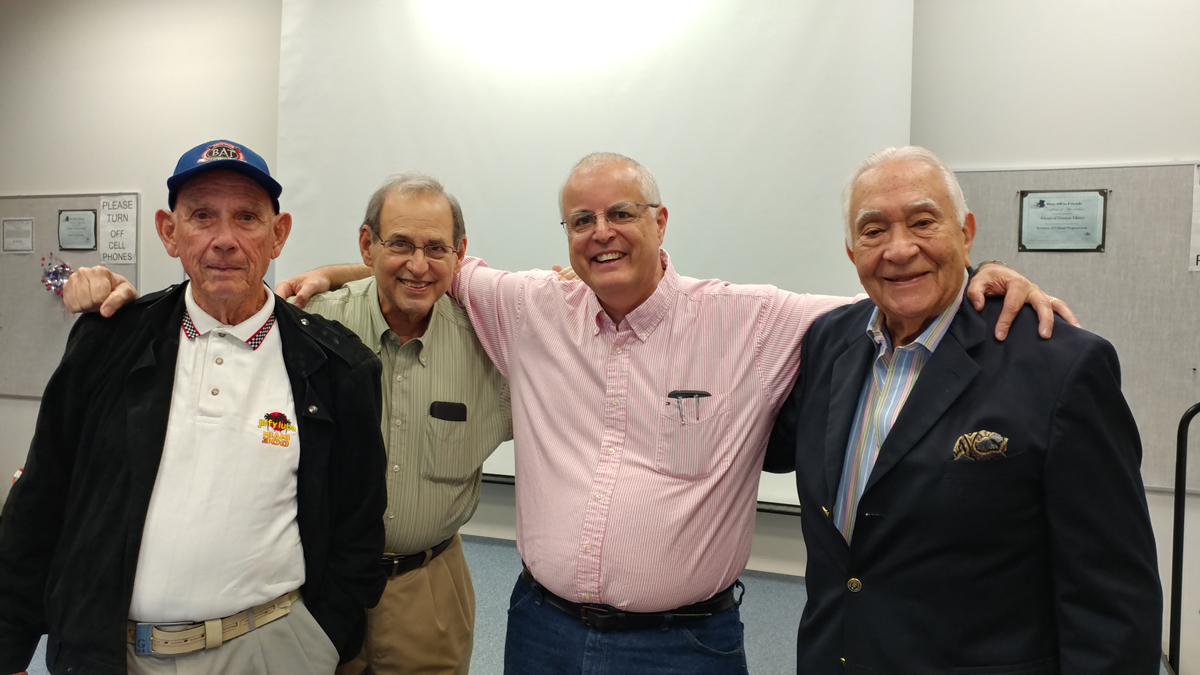 Twenty-eight members, family, and friends gathered to celebrate SABR Day at the South Florida Chapter meeting on Saturday, January 21 at the Tamarac Public Library. Attendees were regaled by our keynote speaker, Tim Healey, Miami Marlins beat writer for the Sun-Sentinel newspaper. Mr. Healey discussed his new book, Hometown Hardball: A Minor League Baseball Road Trip from the Rocky Shores of Maine to the Bright Lights of New York City. In addition, he shared experiences covering and traveling with the Miami Marlins. Following was our distinguished baseball panel moderated by Alberto "Tito" Rondon that included Gonzalo "Cholly" Naranjo (Cuban Winter League star, pitcher and member of the 1955 Pittsburgh Pirates) and Oscar Reguera, (star minor-league pitcher, signed as a 16-year old with the Tampa Smokers of the Florida International League). Gerry Garte hosted our Trivia challenge. The big winner of the day was Tom Hufford, one of 16 founding SABR members and a former member of the SABR Board of Directors.  — Sam Zygner
Fort Wayne, IN (Kekionga Chapter)
Our SABR Day meeting on Saturday, January 28 was attended by 14 baseball-crazed aficionados. The primary subject was the financing of our monument to commemorate the first game played by the Kekionga team in the 19th century. The meeting officially began with 5th district councilman Geoff Paddock outlining the city's requirements. What makes this project unique among anything I have ever been a part of is the number of people who have contributed, without many of whom this project would be impossible. We also briefly discussed whether the best day to conduct the dedication would be May 4, which is a Thursday, or the following Saturday when the maximum number of people could likely attend. Tom Blessing gave a presentation on his "retro" fantasy baseball league, which uses the actual stats for players in given years to form teams. — Bill Griggs
Houston, TX (Larry Dierker Chapter)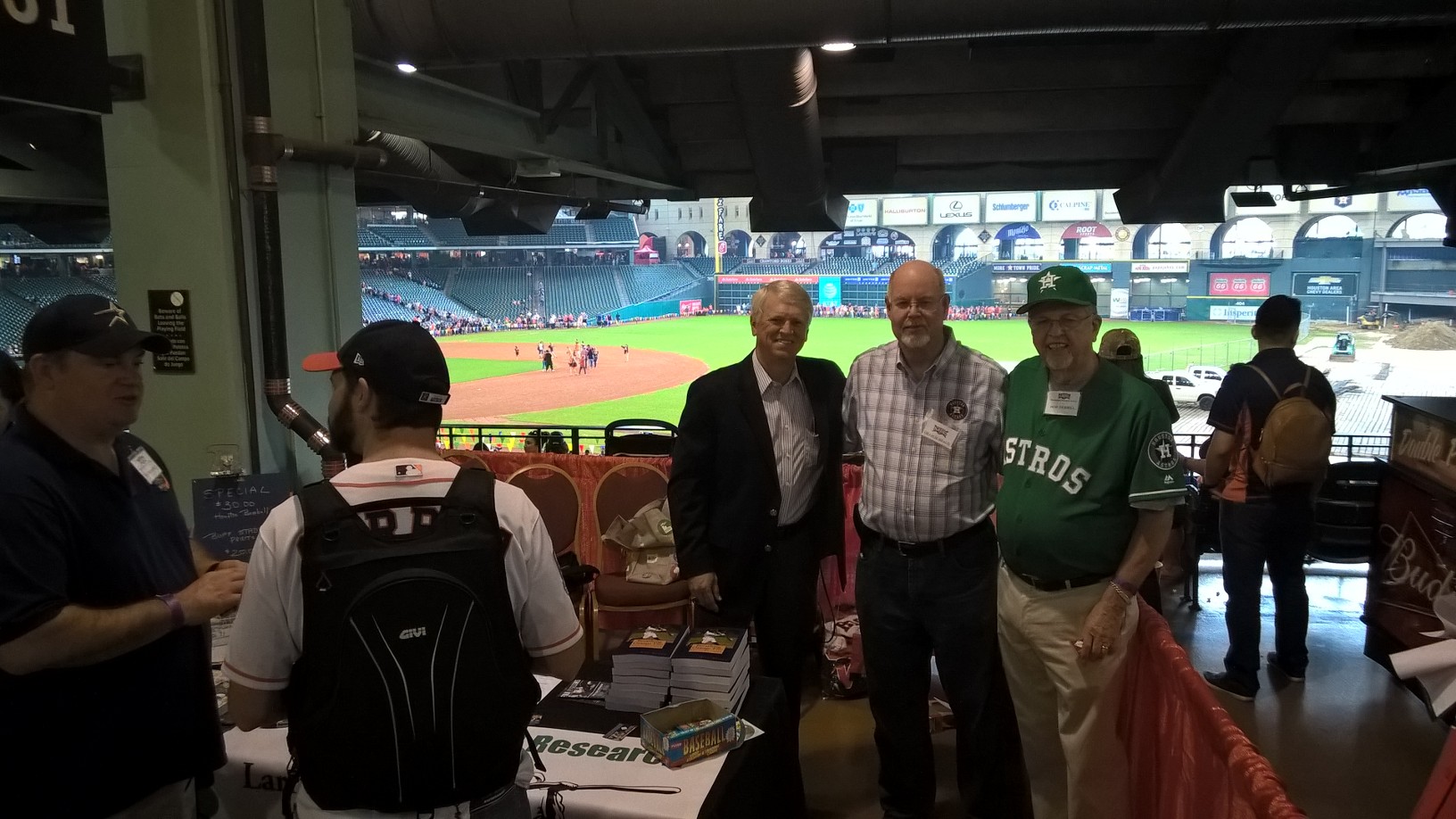 The Larry Dierker SABR Chapter held our SABR Day event on Saturday, January 21 and for the third consecutive year we met at Minute Maid Park in Houston as part of the annual Houston Astros FanFest. Twelve chapter members, including recently retired Astros television broadcaster Bill Brown, staffed our booth over a six-hour period running from 10:00 a.m. to 4:00 p.m. and had the opportunity to interact with many of the 12,000 fans attending the event. At our table we offered attendees free baseball cards, chapter business cards, samples of SABR publications, SABR application forms, and the opportunity to purchase locally written baseball books, including Houston Baseball: The Early Years and Brown's Breathing Orange Fire: Jose Altuve.  — Bob Dorrill
Kansas City, MO (Monarchs Chapter)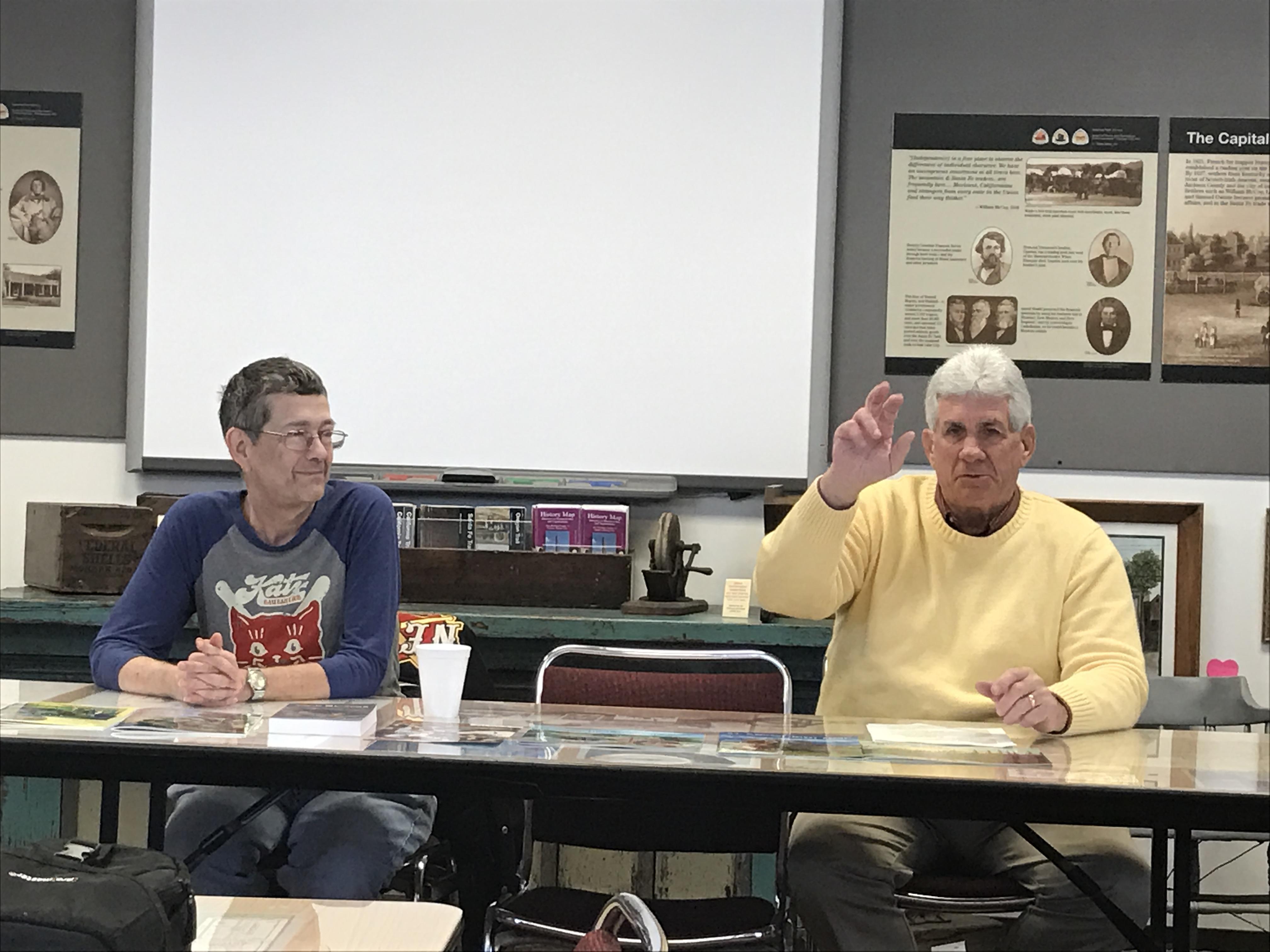 More than 20 members and guests attended SABR Day on Saturday, January 21 at the Trailside Center in Kansas City. Former All-Star outfielder Ken Berry entertained the crowd of slightly over 20 people with stories about his baseball career and life. He played for 11 different major league managers, but he said his three favorites were Del Crandall, Chuck Tanner, and Eddie Stanky. These three men taught him things that he would use throughout his 26-year career as a minor league coach and manager. The most important thing he learned from Crandall was how to use a delayed steal, which you can see him describing in the picture at right to chapter president Roger Erickson. Bill Young is the author of a pair of baseball books, John Tortes "Chief" Meyers: A Baseball Biography, and J.L. Wilkinson and the Kansas City Monarchs Trailblazers in Black Baseball. His talk focused primarily on J.L. Wilkinson, recapping his life and contributions to baseball from forming barnstorming Bloomer Girl teams, on to the integrated All-Nations team, though a 29-year ownership of the Monarchs.  — Mike Webber
Kenosha, WI (Emil Rothe/Chicago Chapter and Ken Keltner Badger State Chapter)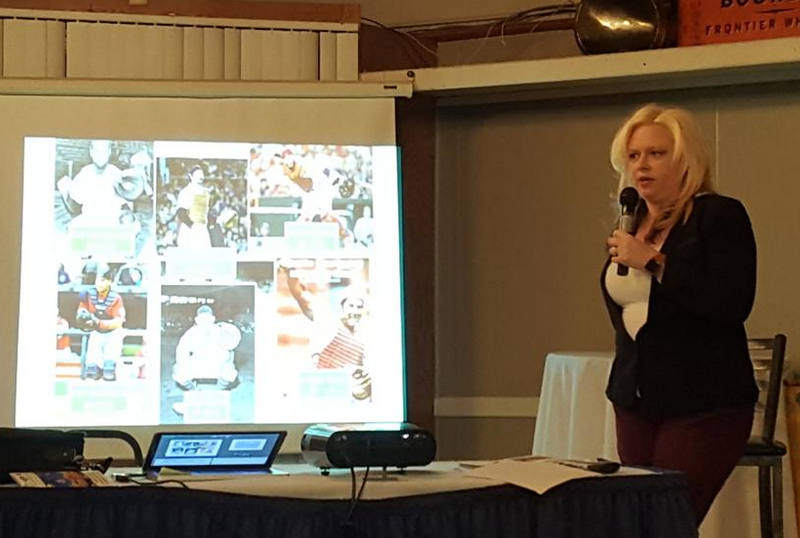 The annual SABR Day meeting involving our Chicago and Milwaukee chapters — who meet in the middle at The Brat Stop in Kenosha — was again a big hit. Guest speakers included Chris Kamka of CSN Chicago, who presented on "one-game" players in the major leagues, author Scott Lindholm, who spoke about starting pitchers and complete games, and Meredith Wills, who gave a talk on statistically evaluating catchers' defense. We also auctioned off some autographed books to benefit the chapter.
Little Rock, AR (Robinson-Kell Chapter)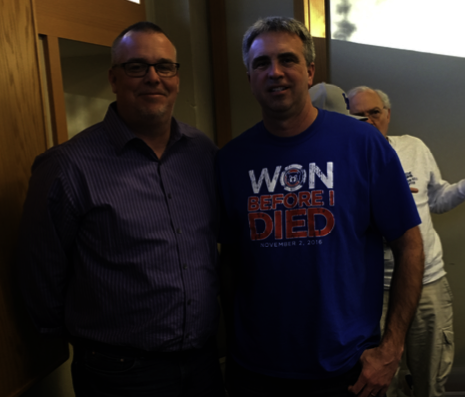 Seventeen members and guests were present for the Robinson-Kell Chapter's SABR Day meeting on Saturday, January 28 at the Central Arkansas Library. Former MLB pitcher Rich (Rick) Croushore was our guest speaker. He debuted with the St. Louis Cardinals in May 1998 and was with them for the rest of the season when Mark McGwire hit 70 home runs. We also had presentations from Jim Yeager on "Back Roads and Ballplayers"; Fred Worth on "Tidbits about the 500 Home Run Club" and "Small Cemeteries"; Robert Reising on George Kell's less famous brother in "No, not George—Skeeter!"; and Caleb Hardwick on "The Ultimate All-Arkansas Leaderboard." Click here to download a full recap and photos (PDF) — Madison McEntire
Los Angeles, CA (Allan Roth Chapter)
Seventeen members and guests met on SABR Day on Saturday, January 28 in La Habra, California, for a lively and rewarding meeting. David Ezra presented his outstanding analysis of the case against Barry Bonds, which he documented in his book Asterisk—Home Runs, Steroids, and the Rush to Judgment. Ezra, an attorney, spoke for over an hour to a spellbound audience about the lack of real evidence against Bonds. Tom Willman talked about his research into the Sherman School for Native Americans and the highly successful baseball teams the school produced. Don Zminda presented his photographs of the South Side Hit Men, as the 1977 White Sox were known. He brought to life the exciting season and ultimate disappointment that Chicago fans experienced that year. Barry Mednick conducted a trivia contest on single game records, leading up to a discussion of Mike Benjamin's remarkable accomplishment of 14 hits in a three-game span in 1995. — Barry Mednick
Louisville, KY (Pee Wee Reese Chapter)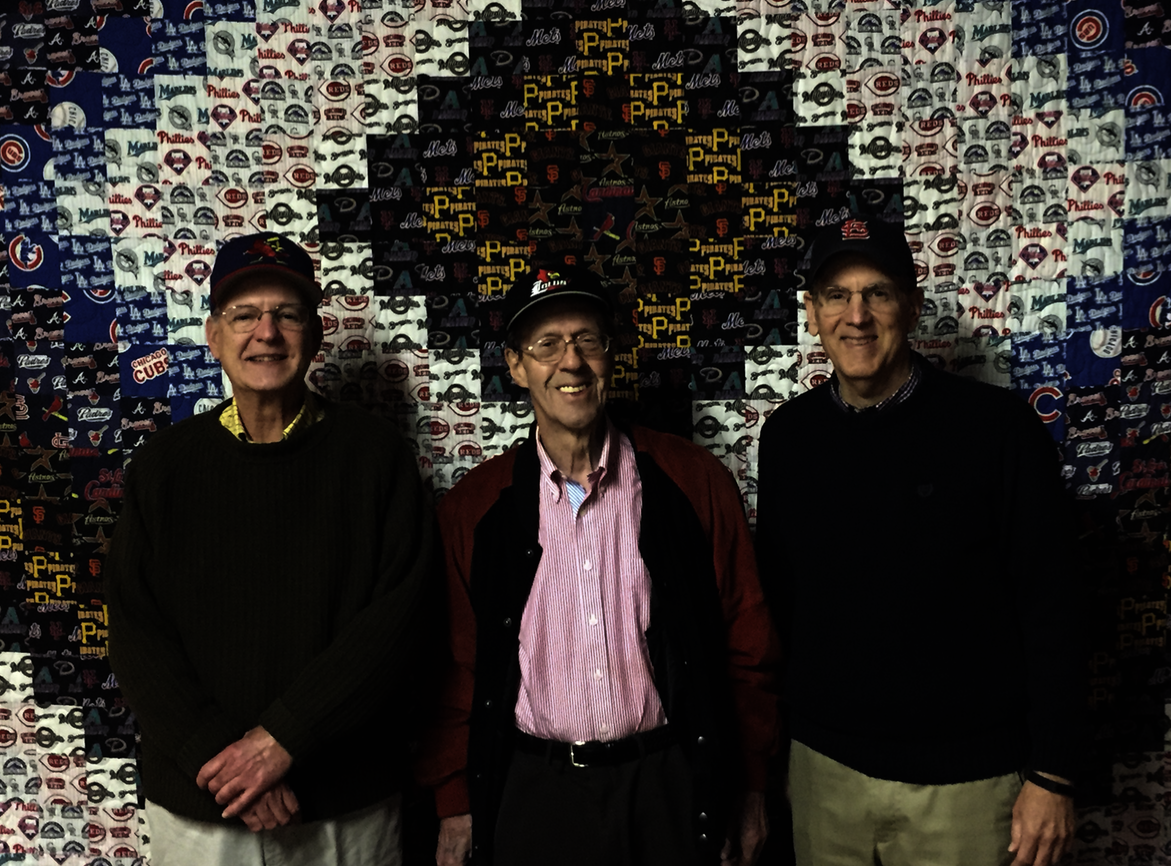 Unlike the ice and snow of past years, sunny weather (and 41 degrees) greeted 12 members and guests at the annual SABR Day gathering of the Pee Wee Reese SABR Chapter on Saturday, January 28 at the Louisville Slugger Museum and Factory. The kind folks at the LSM&F provided an attractive, ample meeting space, including light refreshments. Chad Reineke, former MLB pitcher with three teams and popular player from the Louisville Bats, discussed his experiences in coming up through the system. He not only shared some humorous stories, but gave his serious insights into issues involving youth baseball today, including arm injuries. Author Doug Wilson then made an excellent presentation on the life and times of former Cincinnati Reds manager Fred Hutchinson.  — Harry Rothgerber
Middletown, CT (Smoky Joe Wood Chapter)
A great time was had on Saturday, January 21, as 11 members of the Connecticut Smoky Joe Wood Chapter played vintage teams in the timeless baseball simulation game, Strat-O-Matic, at the Russell Library in Middletown. In attendance were Larry Howard, Joe Runde, Alan Cohen, Tom and Matt Monitto, David Wilk, Gary Gold, Stan Dziurgot, Steve Krevisky, Jon Daly, and Karl Cicitto. Click here for a recap and game summaries at SmokyJoeWood.com. — Karl Cicitto
Montreal, QC (Quebec Chapter)
The Quebec Chapter met for SABR Day on Saturday, January 28 at Madison's restaurant, a stone's throw away from Olympic Stadium. It was an appropriate location given our discussions focused on the history of major league baseball in Montreal, and specifically on the Expos' difficult final years before they relocated. Two guests joined us for this meeting: Sylvain Tremblay, one of the executives of Encore Baseball Montréal; and Philippe Georgiades, a member of the Montreal Baseball Project. Philippe Georgiades also talked to us about his efforts helping former player Warren Cromartie, the Montreal Baseball Project's spokesman, by volunteering his experience in the field of public relations.  — Patrick Carpentier
New Orleans, LA (Schott-Pelican Chapter)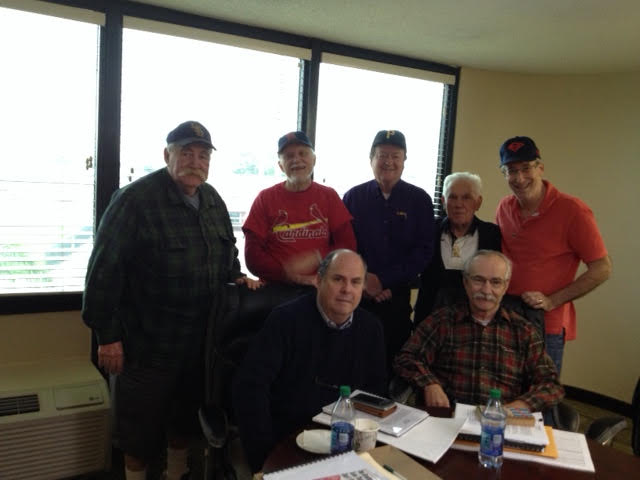 Eight members of the Schott-Pelican Chapter attended our SABR Day meeting on Saturday, January 28 in New Orleans. Terry Cullen presented an update of his analysis of Hall of Fame batters vs. Hall of Fame pitchers; and a paper on Defensive Stars. Neal Golden provided a trivia quiz; Joe Liss won first place; Richard Dempsey second place. Richard Cuicchi provided an updated list from his New Orleans Area Players Database (local high school players who went on to play at college, minor league and major league levels); and some examples of 2016 baseball family relationships data  from his Baseball's Relatives website. Joe Liss led a discussion about his theory for the primary difference in actual won-loss records and the Pythagorean Won-Loss (per Baseball-Reference) for pennant winning teams. Guest attendee was Nolan Vicknair (91 years old), former New York Giants minor league player in 1946-47. He talked about his spring training camp experiences with the Giants organization in 1947 at the Rockefeller Mansion site in New Jersey. Our next meeting is scheduled for April 22. — Richard Cuicchi
New York, NY (Casey Stengel Chapter)
More than 100 SABR members and guests gathered for SABR Day on Saturday, January 28 at the Mid-Manhattan branch of the New York Public Library. Guest speakers included Marc Appleman, SABR CEO who discuss the growth of SABR and the exciting plans for the SABR 47 national convention in NYC in 2017; Marty Appel, best-selling author and noted historian who discuss his new book on Casey Stengel; Kristie Ackert, New York Daily News beat reporter who covers the New York Mets; and Steve Nadel, who gave a presentation on historical situations that might have benefitted from instant reply. Learn more at sabrnyc.org.
Philadelphia, PA (Connie Mack Chapter)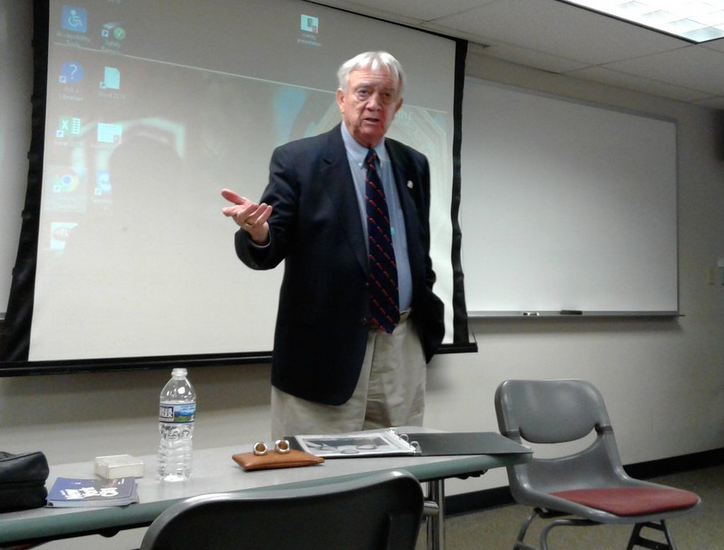 The Connie Mack Chapter held its SABR Day gathering on Saturday, January 28 at Temple University City Center. About 30 members and guests heard from Howie Bedell, former Phillies and Braves player and later farm director of the Cincinnati Reds, who showed off his World Series rings. Matt Albertson gave an update on the recent SABR 19th Century Symposium and presentations were made by Dick Rosen ("Goose Goslin: Real Hall of Famer?"), Seamus Kearney ("John Kruk: A Baseball Life"), Charles Kupfer ("The 1979-82 Baltimore Orioles"), Mark Kanter ("A baseball trip to Cuba"), and Steven King ("Andy Coakley: Man of Mystery").  — Rock Hoffman
Phoenix, AZ (Flame Delhi Chapter)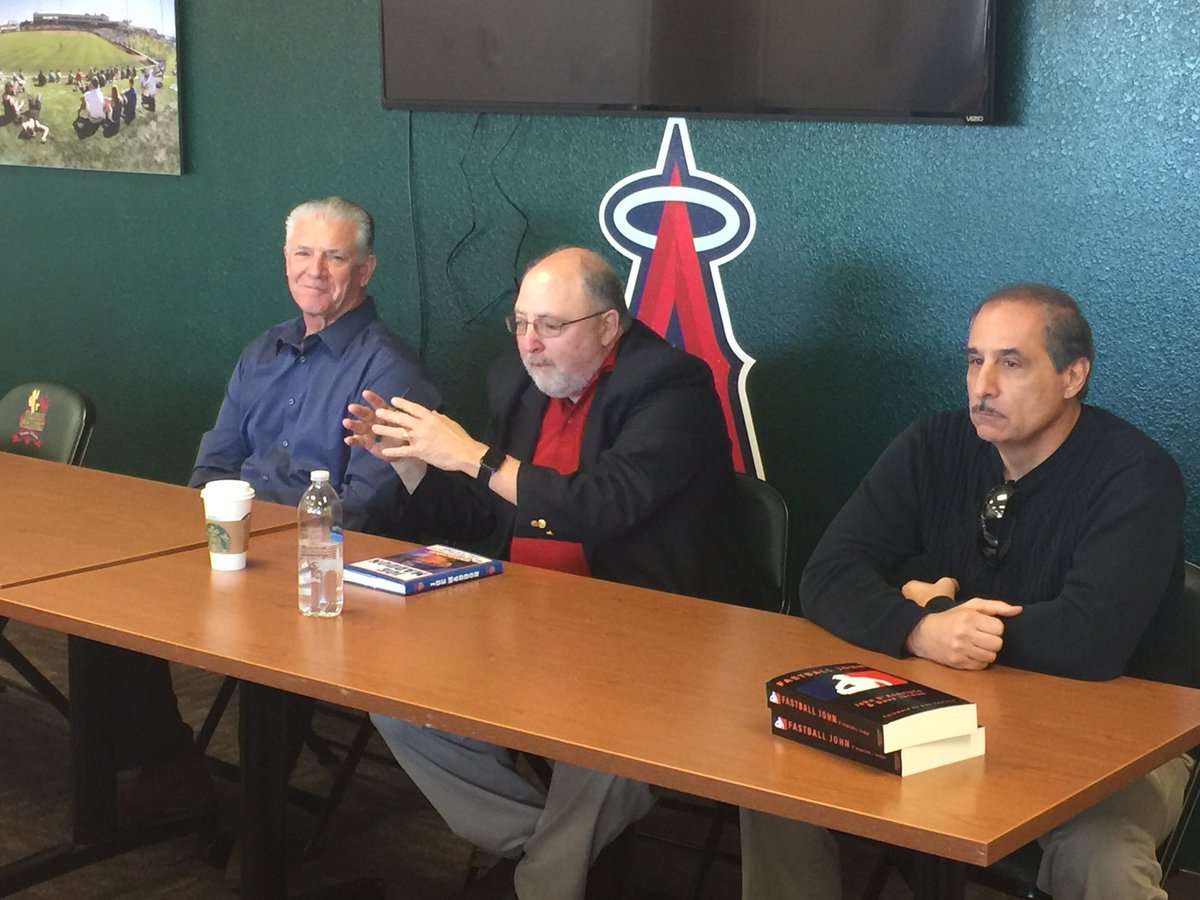 Thirty-eight members and guests of the Flame Delhi Chapter gathered to celebrate SABR Day on January 28 at Tempe Diablo Stadium. New chapter president Barry Bloom led a lively panel discussion on Baseball Hall of Fame voting with sports writer Tony DeMarco and former MLB pitcher John D'Acquisto. Bernie Pleskoff spoke about his recent baseball trip to Cuba and life in the Caribbean island nation. Mike Anderson gave an entertaining presentation on Frank Eyman, a former semipro ballplayer turned lawman who helped apprehend the gangster John Dillinger in Tucson in 1934. Author and publisher Rich Wolfe spoke about his new book on Chicago Cubs manager Joe Maddon and shared other stories from his career in books. Don Drooker brought in some Ted Williams baseball cards from his collection and talked about the Splendid Splinter's statistical prowess. Jacob Pomrenke presented on "The Final Pitch of the Season," memorable plays that ended the World Series. — Jacob Pomrenke
Rochester, NY (Luke Easter Chapter)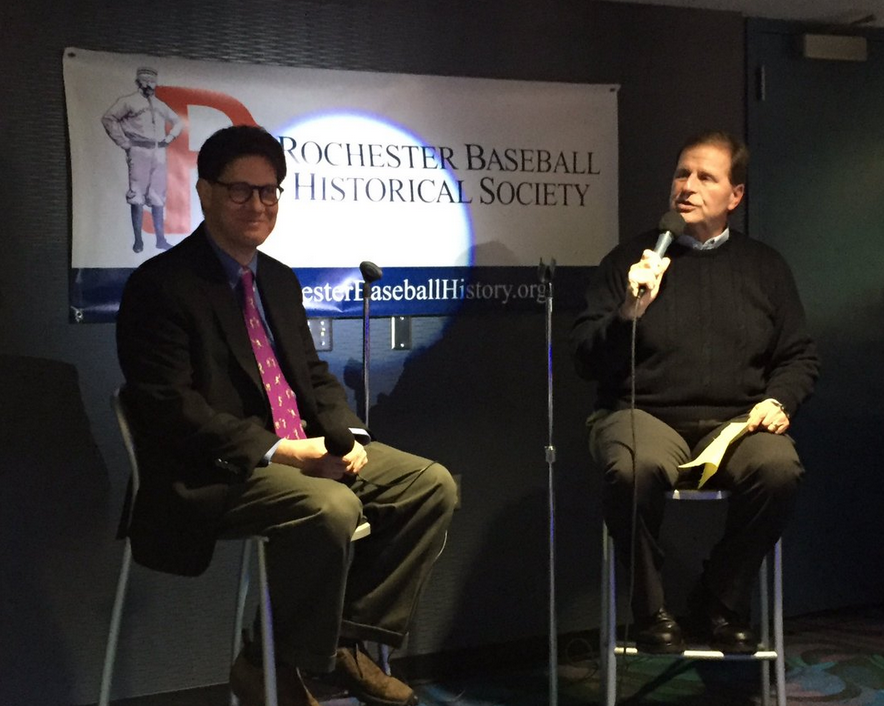 Our featured guest for the fourth annual Hot Stove Dinner on Saturday, January 28 at Frontier Field was Tom Shieber, Senior Curator at the Baseball Hall of Fame. Shieber, who was interviewed by author Scott Pitoniak, spoke about "panning for gold" in baseball research, on the challenges of creating museum exhibits for current and ongoing events, on the Hall of Fame's new PASTIME digital collection, telling stories through rare artifacts, and more. The event was co-sponsored by the Rochester Baseball History Society; visit rochesterbaseballhistory.org for more information. Click here to watch the interview with Tom Shieber on YouTube. — Ryan Brecker
San Diego, CA (Ted Williams Chapter)
The Ted Williams Chapter held its annual SABR Day meeting on Saturday, January 28 at the San Diego Central Library. Former Angels and Red Sox general manager Mike Port discussed life in the front office and in baseball. Carlos Bauer and Tom Larwin, two long-suffering Cubs fans, talked about their beloved team and its 2016 championship. Joe Price, co-director of the Institute for Baseball Studies, made a presentation on "Ballpark Closures." Bauer also talked about the 1939 Pioneer League season and offered show-and-tell from the Bill Weiss Archive. Click here for more photos from Kristin Johnson at Roxx Foxx Sports.
San Francisco, CA (Lefty O Doul Chapter)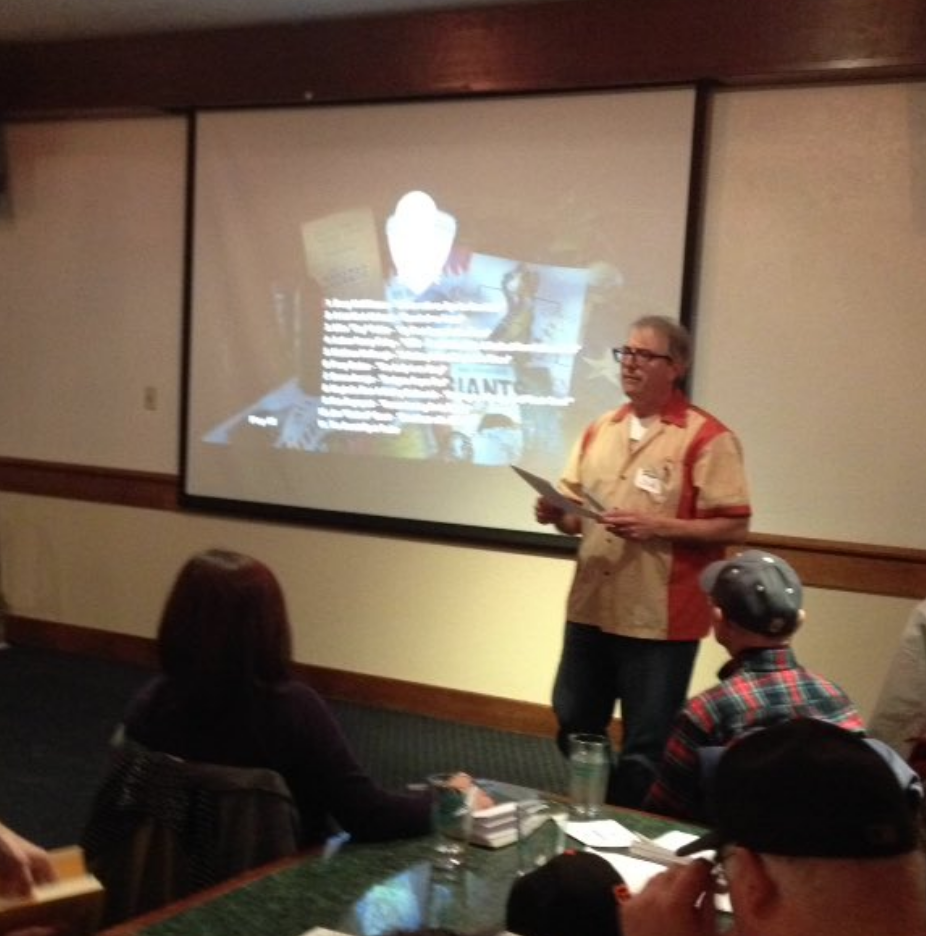 More than 50 members and friends of the Lefty O'Doul Chapter met for SABR Day on Saturday, January 28 at The Englander in nearby San Leandro. Guest speakers included Nancy Finley, author of Finley Ball, who spoke about her family's ownership of the Oakland A's dynasty in the 1970s; Lincoln Mitchell, author of  Will Big League Baseball Survive?, who spoke about factors affecting the game in the 21st century; filmmakers Michael Pickman-Thoon and Randy Field, who produced a documentary on pioneering sports writer and activist Lester Rodney; Jon Leonoudakis, who premiered segments of his new Sports Video series "The Sweet Spot"; and Dan Taylor, author of a new book on baseball "superscout" George Genovese. Pete MacPhail and Doug McWilliams were honored with the chapter's Lefty O'Doul Award for their ongoing contributions to the chapter and to baseball history. Pete has been the chapter treasurer for many years. Doug is a noted baseball photographer and local baseball historian. — Marlene Vogelsang
Seattle, WA (Northwest Chapter)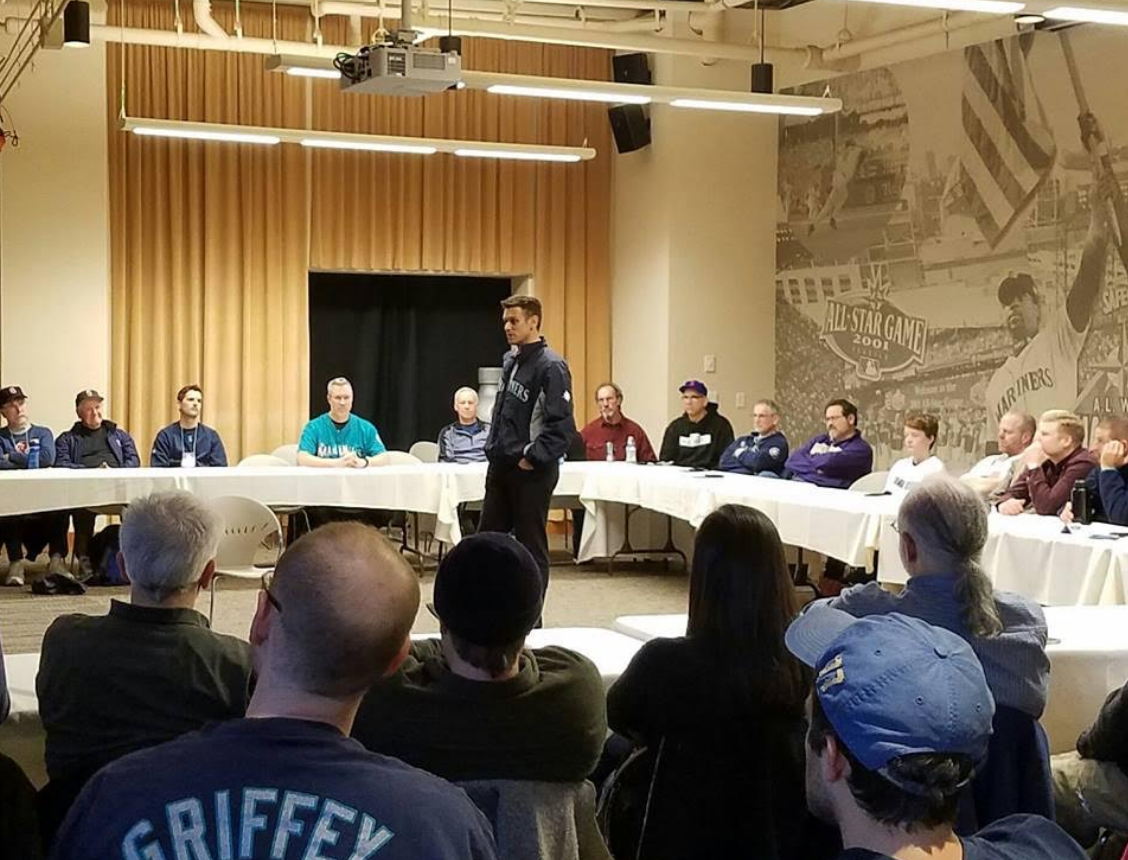 Our chapter engaged in a number of activities over the course of the SABR Day weekend. On both days we staffed an information table with SABR books and information as part of the Seattle Mariners FanFest event at Safeco Field. On Sunday, January 29 the M's hosted us for a meeting. Their Scouting Department, Analytics group, and GM Jerry Dipoto gave generously of their time, filling the Ellis Pavilion with erudite baseball talk for most of the afternoon. North of the border, and concurrent with the activity in Seattle, our Canadian membership held a meeting in Victoria, British Columbia. — Bob Russon
Stillwater, OK (Oklahoma Chapter)
The Oklahoma Chapter met for SABR Day on Saturday, January 21 within the confines of Allie P. Reynolds Stadium on the campus of Oklahoma State University in Stillwater. A group of 17 enthusiasts heard remarks from head baseball coach Josh Holliday, assistant baseball coach James Vilade, Dr. Justin Moss, horticulture professor and member of the turfgrass breeding team in the Division of Agricultural Sciences and and Natural Resources, and athletic fields superintendent Todd Tribble.  — Howard Johnson
St. Louis, MO (Bob Broeg Chapter)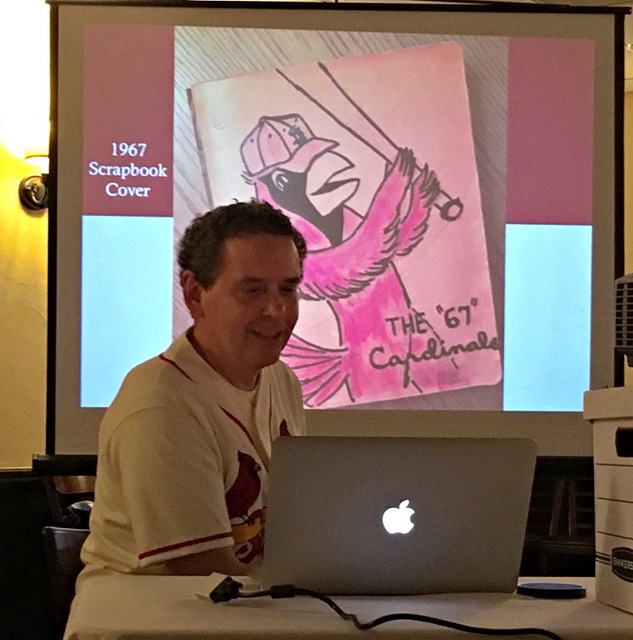 The eighth annual SABR Day was celebrated by the Bob Broeg St. Louis Chapter on Saturday, January 28, as 48 members and guests gathered at Favazza's Restaurant for their Hot Stove Luncheon in the historic neighborhood known as The Hill. The first guest speaker of the day was Randy Flores, former major league relief pitcher for the Rangers, Rockies, Cardinals, and Twins. Randy is currently entering into his second season as the scouting director for the St. Louis Cardinals. He talked about the keys of Teamwork/Discipline/Buy-In (to the program) and the challenges that lay ahead (including the possible penalties, that were imposed just a couple of days later in the computer hacking scandal). The 2007 J.G. Taylor Spink award winner, Rick Hummel, better known as "The Commish" in BBWAA circles, offered a position-by-position comparison of the 2017 projected lineups of the Cardinals and the division rival and current World Champion Chicago Cubs. Former Chapter President Mark Stangl presented the second annual Jim Rygelski Research Award to Brian Flaspohler for his presentation, at the chapter research conference last August, entitled "Racial Bias in Hit By Pitch Data." Dan Martin, cartoonist for the St. Louis Post-Dispatch gave a slide presentation on the history of sports cartooning, primarily focusing on his predecessor Amadee Wohlschlaeger, but also including Rube Goldberg and Robert Ripley, among others. Gary Kodner, author of St. Louis Cardinals Uniforms & Logos: An Illustrated History – 1882-2016, followed with a slide presentation on the development of his book.  — Jim Leefers
Tallahassee, FL (Buck O Neil/North Florida Chapter)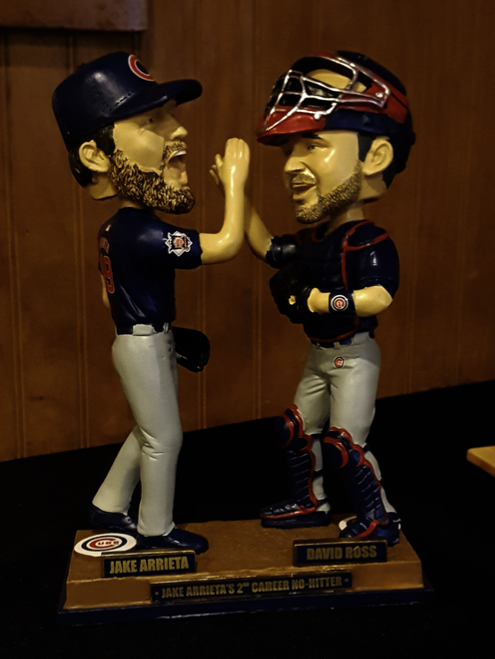 SABR Day in Tallahassee was a great success, with a number of local chapter members in attendance, as well as two honored guests from the 2016 World Series champs, the Chicago Cubs: Jake Arrieta and Tallahassee's own David Ross. Well, they didn't actually join us in person, but they were there in spirit, and in bobblehead splendor. In addition to current events in the world of hardball, the chapter began planning in earnest for its 2017 three-games-in-three-days junket through the southern end of the Southern League. While the dates have not yet been chosen, the interest in the trip itself is high, and promises to be a great adventure for those who participate. Following the travel planning portion of the afternoon, the Second Annual Chapter Trivia Contest was held. This year's winner, Jim Turner, took home three highly prized 1989 Jamie Moyer baseball cards, a fitting segue (not really) into the afternoon's final activity, a viewing of the 2016 documentary Fastball. All in all, it would have been difficult to find a better way to spend a cold, gray afternoon in Tallahassee. — Matthew Keelean