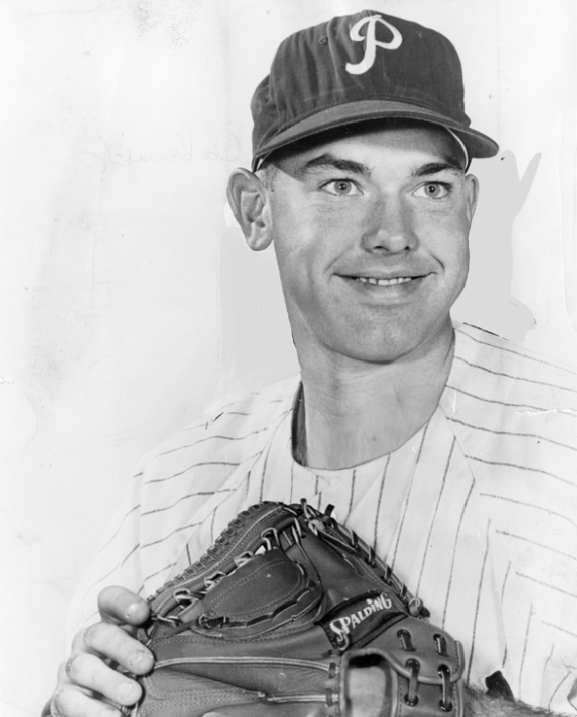 "I place a premium on a thinking catcher," said Gene Mauch1, who managed Clay Dalrymple for eight-plus seasons in Philadelphia. Mauch stressed pitching and defense. Thus, while Dalrymple's hitting declined after the 1963 season, the lefty swinger stayed employed as a platoon player, thanks to his skills behind the plate. He later became a role player for another great tactician, Earl Weaver, winning a World Series ring in 1970. The Californian handled pitchers deftly and threw out a superior 49% of the runners who tried to steal against him during his career.
Clayton Dalrymple was born on December 3, 1936. His father, Lyndon (they shared the middle name Errol) grew up in the Dakotas. Lyndon met his wife, Elsie Mae Henderson, in Alberta, Canada. The couple wanted to live in a warmer place, though, so they moved to Chico, California. During the Depression, Lyndon was an iceman. He then recapped tires for a service station and drove a truck for Butte County. He and Elsie had three children before Clay: sons Leslie and Melvin and daughter Lois.
Chico, 90 miles north of Sacramento, is today a city of about 85,000. In 1940, though, it was just a town with only two or three thousand in the center, as Clay recalled in 2008. In author Debra Moon's words, "Chico was a fun place. It had an ideal location for raising food and families."2 Baseball was also popular. "The Chico Colts [semipro] baseball team drew a big crowd every Sunday afternoon for years. . . . They had some good players. Gordon Slade, a third baseman, later played with the St. Louis Cardinals and Cincinnati Reds [in the 1930s]."3
Older brothers Les and Mel both played for the Colts and in the minors. Les, also a catcher, played Class B ball in 1947 and 1948. Mel, nicknamed Bush, was a lefty pitcher. He still holds records at Chico State College, now known as Cal State-Chico. In 1950, Bush played Class C ball. Later, as head baseball coach at both Chico and Pleasant Valley High Schools, he instructed future big-league pitchers Nelson Briles and Pat Clements.
When Clay was a boy, "Chico was just forming Little Leagues at the time. The problem was getting enough kids together for teams in a small town -- there were just enough for one." He then followed his brothers to Chico High, the Colts, and Chico State. In his own view, he "was not way out in front of the other kids. My ability grew from year to year on a steady scale. I wasn't one of those players who could have made it to the majors out of high school."
Dalrymple joined the Colts in 1954 as a high-school senior. Les stepped aside for his 17-year-old brother and became manager. Clay remained with the Colts during his first two years at Chico State (1955-56). Back then, "we didn't have the scale or the coaching that they do now." Yet while this is a good-quality program, he remains the Wildcats' only major-league alumnus.
Clay had good size (6'0" and 200 pounds) and played football too. "It was always interesting, and I enjoyed it. But baseball was far and away my favorite." His other sport was boxing. With an 11-1 record, he became heavyweight champion of the Far Western Conference.
In August 1956, Dalrymple made his pro debut with the Sacramento Solons of the Pacific Coast League (then unaffiliated with any major-league club). "Don Masterson was a bird dog for Sacramento. He got into pro ball but had an accident. A ball got through his catcher's mask and broke some bones, and then he got a settlement. He told Sacramento I was a good prospect. But they couldn't approach me, they would have gotten fined. So I called the general manager, Dave Kelley."
From the beginning, Clay established a work ethic. "I had to do a lot of things for the organization to have them be pleased with my progress," he says. In 1957, Dalrymple was assigned to the Amarillo Gold Sox, a Class A team that had a working agreement with Sacramento. The left-handed dead pull hitter made the Western League's All-Star team, hitting 17 homers and driving in 81 runs with a .298 average. He said of the city, "I like it fine. These are the friendliest people I've ever met." A day after the season ended, on September 16, Clay married the one he found friendliest of all, Celia Faye Creamer.4
During the offseason, Clay went back to Chico State for more classes. (Teaching and coaching was his backup plan, though he never did get his degree.) Meanwhile, the Solons reportedly turned down an offer of $50,000 for their prospect -- which the financially strapped club could have used. In August 1958, The Sporting News noted, "Although Dalrymple has been hitting only around .190, Dave Kelley says he wouldn't take $90,000 for him now."5
After that season, Clay went to Venezuela and Cuba (he has colorful memories of both places), but "that was the end of my winter ball experience. It was mainly family reasons, but I found other jobs. I drove a cement truck one year, and I was also with the Southern Pacific Railroad."
Despte his weak batting in 1958, Dalrymple had impressed veteran baseball men such as Phoenix manager Red Davis. The Milwaukee Braves, who had a working agreement with the Solons, invited Dalrymple to spring training in 1959. After one more summer in Sacramento, the Phillies selected Clay in the minor-league draft that November, thanks to Dave Kelley, who had become their Far West supervisor of scouts. Clay later told author Robert Gordon, "I was happy when the Phils drafted me. . .I knew I had a chance to play."6
The Sporting News called Dalrymple "strictly [a] gamble"7 -- but he made the Phillies team in spring training 1960. The starter was scrappy but light-hitting Jim Coker; Clay thought that Coker "was always a little cool to me 'cause he thought I was out for his job."8 The rookie made his mark as a pinch-hitter, going 12-for-42 in that role in 1960. One of those hits came in Juan Marichal's debut on July 19 -- the only one the high-kicking Dominican allowed that day. Dalrymple was "assigned to veteran receiver Cal Neeman to learn how to improve his defensive skills."9 Neeman came over in the Tony Taylor trade on May 12.
The receiver already possessed a vital knack. "Impressed with his pitch-calling, Phillies ace Robin Roberts went to Mauch and asked that the young backstop catch him on a regular basis, and, by August, Dalrymple was the team's regular catcher as well."10 He finished the year with a .272 batting average, 4 homers, and 21 RBIs in 158 at-bats.
In spring training 1961, Clay suffered a case of the "yips" -- he had problems even throwing the ball back to the pitcher. "'I had a bad arm,' Dalrymple explained. 'And then it became a mental thing. The exact same thing Steve Sax went through with the Dodgers.'"11 He also had an ice-cold first half hitting. Yet while the team endured a 23-game losing streak from late July through most of August, the catcher came around in the second half and lifted his average to .220. Gene Mauch observed, "Dalrymple has sure improved. . .from midseason on he led the club in hitting and he gained confidence in his ability to handle a game."12
Clay (already balding in his mid-twenties) had his best hitting year in 1962: .276-11-54, with 70 walks as well. The next year, he posted career high in games (142) and at-bats (452). In 1964, though, Mauch went with a platoon behind the plate. "Although the Phils' veteran catcher was not too happy about splitting time with the recently acquired [Gus] Triandos, he understood the benefit of platooning. 'Having Gus here ought to mean a better year for the club and for me,' he admitted. 'This year we should get a solid .270 out of both catchers."13
However, Clay went into a funk with the bat and never recovered. "For some reason, I developed a hitch in my swing -- just one of those mechanical things. We didn't have a hitting coach. We didn't have videos either. I never fixed the problems the rest of my career. I just stopped hitting."14
Nonetheless, he remained a key contributor to the club that looked certain to win the NL pennant. As ever, he handled pitchers capably. He also sought out talented but divisive star Richie Allen after a contentious team meeting, telling Allen "that he was a smart guy and that he had some great leadership qualities. I guess he didn't appreciate all the talent he had at that time, though."15 In 2008, Dalrymple noted, "Richie Allen and I were very close. I roomed with Pat Corrales and they were close -- all three of us were." There weren't many African-Americans in Chico when Clay was growing up, and he was shocked to see the treatment they received in the Deep South.
Many writers have covered the notorious "September Swoon" in depth. Author William Kashatus devoted an entire book to it in 2005, and in 1989, veteran Philadelphia journalist Stan Hochman came out with a series on the players. Dalrymple was one of their featured interviewees. He commented on the many ingredients that went into the collapse. The most debatable factor, of course, was how Gene Mauch handled his pitchers down the stretch. Clay told Kashatus that the "bullheaded" and "panicking" skipper gave up on Ray Culp and Art Mahaffey, viewing the former as overweight and both as lacking guts.16 Dalrymple himself suffered a strained knee in September as he dived back into first base following a pickoff attempt in September. "I hit the ground real hard," he said in 2008. "They were going to drain some water off my knee, but there was a skinned-up mark there and we didn't want to put the needle in that."
Ultimately, though, he told Hochman, "Not one thing is at fault. Not one single thing can you put your finger on. Lose that many in a row with that big a lead, everyone had their finger in the pie."17
Clay recognized Mauch's special acumen. "Gene manipulated his players on the field better than anyone I ever played for," he said after the manager's passing in 2005.18 However, in 1968, some months after The Little General was fired, Dalrymple also remarked on the flip side of this habit. "Gene is a great manager but he will not let the players 'play the game'. . .He wants to play the game from the dugout."19
Only someone as strong-minded as pitcher Jim Bunning could break free of Mauch's micromanaging. In his book, the future U.S. Senator observed, "Clay had been trained to look for Mauch's every sign. As soon as Clay put down the sign, I changed it. . .and Dalrymple finally said, 'I'm not even going to look anymore. Clay found out Mauch was not going to object. . .We played much faster games that way. It was so much easier."20 However, it was Gus Triandos, not Clay, who caught Bunning's perfect game on June 21, 1964.
On a personal level, a truly heartwarming story from the '64 season came as Dalrymple befriended a little blind girl who attended games at Connie Mack Stadium. Clay took his "biggest fan" onto the field after one game and escorted her from home plate around all the bases for her to feel them. "'She was just so overjoyed. . .It was probably the biggest ovation I ever received,' recalled the Phillies backstop, who is still nearly overcome with emotion nearly forty years later. 'Fans like that little girl made my entire career worthwhile.'"21
Clay also developed his personal touch in Philadelphia as an after-dinner speaker. "I would get $35 for appearing at Little League banquets. You get a feeling for yourself -- it's good for your personality. Stabilization." He was the guest of many community groups over the years.
From 1965 through 1968, Dalrymple remained in a platoon with various other catchers -- none of whom hit well. After Triandos was sold to Houston in June '65, Clay's partner was Pat Corrales. Bob Uecker, Gene Oliver, and the even lighter-hitting Mike Ryan followed. Dalrymple's defense remained sharp -- he set a league record, since broken, with 99 consecutive errorless games (and 628 chances) during 1966 and 1967. Yet the notoriously harsh Philly boo-birds piled on him.
"The pressure of playing before fans who weren't appreciative was too much," Clay observed in 1969.22 A few decades later, he added, "The fans were brutal to me toward the end. Eventually I told the Phils, 'You should trade me. I'm not doing you any good here."23
Clay's wish was granted -- he went to the Orioles in January 1969. In Baltimore, he was a part of three straight AL pennant winners from 1969 to 1971. Earl Weaver already had a catching platoon with righty Andy Etchebarren and lefty swinger Elrod Hendricks. However, he typically carried three catchers on his roster. Dalrymple added maneuverability and insurance against injury. He played in just 37 games with 80-at-bats during the regular season in '69, and did not appear in the playoffs vs. the Twins, but in the World Series, he went 2 for 2 as a pinch-hitter as the Amazin' Mets upset Baltimore. "You can win a bar bet with that," he said with a laugh in 2008.
Early in the 1970 season, Dalrymple's action was even more limited. On June 27, however, he got one of his infrequent starts, in a Saturday night game at Washington. In a play at the plate, his season ended as beefy Mike Epstein -- a fullback in college football -- bowled him over. Clay's right ankle was dislocated and broken in two places. The cast came off three months later, just before the World Series, but the ankle wasn't ready. Thus Dalrymple remained inactive for the Series. He watched from the bullpen and was on hand for the victory celebration. "Yeah, I wear the ring. I really felt like I was a part of that team," he said in 2008.
Also, though he was able to rejoice with his teammates, his wife Celia had been diagnosed with the cancer that would eventually claim her life two years later. Her Christian Scientist beliefs dissuaded her from the minor surgery that might have caught the disease early.
Clay was able to come back in 1971. Again he played sparingly, but he did make the postseason roster. However, he did not appear in either the playoffs or the World Series (though he did provide some scouting reports on Pittsburgh batters). Later that October, the Orioles left on one of the periodic American postseason tours to Japan, but Clay had to cut it short because Celia was ill again. The team also sent Clay a message by leaving him off the 40-man roster and assigning him to Triple-A Rochester. So that December, he retired after 12 seasons in the majors. "I've fulfilled my baseball dreams," he said.24
It's worth reiterating his most impressive big-league stat, though: 306 runners caught stealing against 320 successful. Even as the third-string catcher with the O's, each year there he nailed over 50% (25 out of 44 total). Analyst Chuck Rosciam compiled this statistic across the majors from 1956 through 2007. Over more than half a century, Dalrymple ranks second only to Roy Campanella (whose entire career was available for study).25
Clay credited his quick release more than his arm strength. "Every instant, every split second counted. Facing somebody like Maury Wills, I thought, what do I have to do to cut him down? It was always going to be a bang-bang play anyway. Grab the ball and don't look for the seam -- get rid of it. It was almost a sidearm throw sometimes."
Celia Dalrymple, aged only 34, passed away in November 1972. Dallas Green had offered him a job with the Phillies, but Clay felt compelled to stay with his three daughters, Dawn, April, and Autumn (whom he and Celia had adopted eight years after April was born). In 2008 he said, "I would probably have started managing in the minors. I could have gone into the front office."
During 1976 and 1977, Dalrymple served as a color man on Orioles TV broadcasts. Around 1982, he returned home to Chico. He worked in food distribution before retiring in 1998. Since 2001, he has lived in Gold Beach, Oregon. After his second divorce and losing another wife to sudden death, he states, "I'm very happy now" with his fifth wife, Teresa.
For a couple of years, he helped coach the local high school baseball team, "but I found there was too big an age gap, I wasn't communicating properly. I don't have the patience any more. I know things about catching that I can't teach. You have to experience it."
In his early seventies, Dalrymple said, "I'm starting to feel that old broken ankle now." He serves as a commissioner for the local port district, but that is not his most avid pursuit today. "I'm a news junkie," he says. "I follow politics very closely. I write articles, I'm a conservative. I enjoy writing about politics more than anything."
At a March 2008 autograph show in the Baltimore-Washington Airport, one of the guests was Reggie Jackson. Once he realized who Clay was, Reggie recalled with pleasure how, as a teenager growing up just north of Philadelphia, he had watched the catcher at Connie Mack Stadium. Neither a star nor a "character," Clay Dalrymple still struck a chord with many fans. If you appreciate honest artisans and the game's subtle nuances, you could be one of them.
Last revised: August 27, 2014
This biography is included in the book "The Year of the Blue Snow: The 1964 Philadelphia Phillies" (SABR, 2013), edited by Mel Marmer and Bill Nowlin. For more information or to purchase the book in e-book or paperback form, click here.
An alternate version of this biography has also appeared in SABR's "Pitching, Defense and Three-Run Homers: The 1970 Baltimore Orioles," published by the University of Nebraska Press in 2012.
Acknowledgements
Grateful acknowledgment to Clay Dalrymple for his memories (phone interviews, May 11 and May 23, 2008). Thanks also to SABR member Alfonso Tusa (Venezuelan stats).
Sources
Professional Baseball Players Database V6.0
Gutiérrez, Daniel, Efraim Álvarez, and Daniel Gutiérrez Jr., La Enciclopedia del Béisbol en Venezuela. Caracas, Venezuela: Editorial Norma, 2007.
Notes