Freddy Parent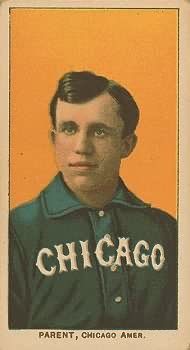 Sparkplug shortstop Freddy Parent, the "Flying Frenchman," led the Boston Americans with MVP-type seasons to the first modern World Series championship in 1903 and the American League pennant in 1904. An early American League star, Parent (along with teammate Buck Freeman) was its first iron man, playing in 413 consecutive games from the April 26, 1901 opener to September 25, 1903, surprising considering his aggressive playing style. Beset by injuries, including multiple head-beanings that hampered his play later in his career, Parent nevertheless ranked among the all-time American League leaders in several categories after its first decade, including second in games played and at bats, fourth in hits and sacrifice hits, and sixth in total bases.
Alfred (Frederick) L. Parent was born on November 25, 1875 in Biddeford, a predominantly textile community in southern Maine. He was the oldest of ten children of Alfred, a fireman, and Celina (Paul) Parent, both French-Canadian immigrants. Freddy quit school at the age of 14 to labor in Biddeford's Laconia Mill harness shop for 65 cents a day. When not working, he enjoyed playing "scrub" ball in the city's back lots, captain of a team he helped organize. Parent moved to Sanford, Maine at age 16, where he worked in the Goodall Worsted Company's weave-room and played amateur ball.
Parent married the former Fidelia LaFlamme in 1896 and had one child, Fred Jr. His "proposal" to the 16 year-old Fidelia included a conditional baseball provision: "I want to marry you, but I do not want to work in the mill. Okay?" The young Fidelia, aware of his baseball desire and potential, replied "yes." Thus, began a 67-year relationship.
The 5'5'' 148-pound (some sources say 5'7") Parent's introduction to league play was a secondary role on the Sanford town team. "Everybody pretty nearly told me I was too small to play baseball and that I would never make a player anyhow." Once given the opportunity to start at shortstop for the town's first team, he developed into a strong infielder. Parent stretched his playing time by playing on teams in Maine and New Hampshire over the next two years.
Parent's first professional season came in 1898 with New Haven in the Connecticut League. Boasting one of the league's top averages at .326, Parent helped New Haven to a second place finish. In July 1899, the short-handed St. Louis Perfectos of the National League recruited Parent from nearby New Haven while they played the New York Giants. The Brooklyn Superbas had expressed an interest in Parent to replace the injured Hughie Jennings, and maintained the initial rights to him after paying New Haven $1,000 for his release. But the team changed their plans, and the Perfectos got Parent on a trial basis for the same offer.
Parent started at second base for two games, contributing to a Perfectos victory in the first game and getting two hits overall. But he suffered a sprained ankle and the Perfectos subsequently released him, stating he needed more experience in the minors. Parent returned to New Haven and helped them win the 1899 Connecticut League championship, finishing second in the league in batting (.349) and third in runs scored (76).
In 1900, Parent played shortstop for the champion Providence Grays in the more advanced Eastern League, batting .287 with 23 stolen bases, 21 doubles, six triples and four home runs. In March of 1901, Parent signed with the Boston Americans, where the sturdy little shortstop's solid hitting, fielding, base stealing, and hustle endeared him to the Boston fans.
A right-handed batter, Parent was a dependable hitter. He was a wrist hitter, slapping balls to all fields. He hovered over the plate with an exaggerated piece of lumber, a wagon-tongue bat of suspicious weight. Known as an excellent bunter, Parent also showed some power. In 1901, he augmented a .306 batting average with 36 extra base hits. The following year his average dipped to .275, but he also cranked a career-best 31 doubles. Crowding the plate enhanced his bunting and opposite field hitting, but it also exposed him to being hit by pitches. He ranked sixth in the AL in times hit by pitch in the first decade, including multiple blows to the head.
Parent was also a snappy infielder. An unassuming player with great range, Parent was a "little general" on the field. He compensated for his size with keen instincts, quickness, and dexterity covering the ground. In 1902 he led the American League with 492 assists, and also set an American League record by fielding 20 chances without an error in a 17-inning match-up against the Athletics. Recognized for his superior fielding skills, Parent at times ranked low in fielding percentages, possibly attributable to his ability to get to balls and being a risk taker. The Washington Post affirmed this view when reporting the 1904 fielding statistics: "But fielding averages really do not demonstrate the value of any player, for there is Fred Parent, probably the foremost shortstop in the country occupying a position next to last."
With Hobe Ferris and "Candy" LaChance, Parent was part of the early Boston Americans' dynamic double-play combination. Like the famous National League keystone duo of Johnny Evers and Joe Tinker, Parent and Ferris went years without speaking to one another. Whereas they demonstrated spontaneous and effective teamwork on the field, off-field their association was one of unspoken enmity. Fortunately, the proud and quiet Parent and hotheaded Ferris's baseball instincts outweighed their lack of verbal discourse, which translated into defensive brilliance.
Parent enjoyed his best seasons as a professional in 1903 and 1904, when Boston won back-to-back American League pennants. In 1903, Parent posted a .304 batting average, and registered career-highs in triples (17, tied for fourth best in the league) and RBI (80, eighth best in the circuit.) In the first modern World Series in 1903, Parent outshined the legendary Honus Wagner of the Pittsburgh Pirates, outplaying him in the field and notching a batting average nearly sixty points greater than Wagner's for the Series. A "two-way standout Parent made several sparkling plays--cutting off a half dozen hits with great plays," and ended the eight-game series with 28 assists. He established a record for most runs scored with eight, eventually broken by Babe Ruth 25 years later. The newborn American Leaguers, considered "soft touches" for the senior circuit stars, came back from a three-to-one deficit to win the best-of-nine series.
The following year, Parent again enjoyed an outstanding season, batting .291 with 85 runs scored and six home runs, tied for fourth best in the league. But he was simply a passive observer in his most famous at-bat of the season, when 41-game winner Jack Chesbro of the New York Highlanders unleashed a wild pitch in the ninth inning on the last day of the season to bring in the run that won the pennant for the Americans. Forgotten to most, Parent followed this most famous wild pitch with a base hit that would have scored the run otherwise.
His hitting effectiveness declined considerably after the 1904 season, however, as he batted just .234 and .235 in 1905 and 1906, respectively. Parent's average rebounded to .276 in 1907, despite two head beanings that year which caused him to become an early proponent of the batting helmet. During the season he began sporting a pneumatic head protector. "Those two blows which felled me had an effect of making me timid whenever I faced the pitcher, and instead of stepping into the ball I was pulling away, the result being that I did not hit up to my standard." He claimed he would wear the protective gear for the rest of his career. However, while the "bombproof" headgear provided him security and reassurance, it spurred hazing and timorous, chickenhearted jousting. In the spring of 1908, Parent claimed he was no longer shy at the plate and discarded the headgear.
Parent's salary battles with owners were epic, as he constantly challenged baseball's moguls. When he first signed with Boston, he demanded an extra $300, and got it. In 1904, he demanded Boston match Cincinnati's John Brush's offer of $4,000 per year. He got it. In 1907, Red Sox owner John Taylor was in dire financial straits and proposed cutting Parent's reported salary of $4,250. Freddy was determined to hold out for a "fancy" salary, and did so until mid-April. This stunt cost him his starting shortstop job and precipitated his trade to the White Sox. In October the Red Sox traded Parent to the White Sox in a three-way trade with the Highlanders who got Jake Stahl from the White Sox and sent infielder Frank LaPorte to the Red Sox.
Parent struggled mightily at the plate during the next three seasons, posting batting averages of .207, .261 and .178 from 1908 to 1910. In 1911, Parent staged his final battle with major league ownership. Coming off a strong spring training, Parent tangled with Chicago owner Charles Comiskey over his pay. After playing in three games for the White Sox, Parent was sold to the Baltimore Orioles of the International League. Parent's tenure with the Orioles gave him opportunities to extend his playing career, gain coaching experience, and influence his former team's purchase of the greatest player ever.
In 1914, Baltimore owner Jack Dunn signed 19-year-old Babe Ruth, regarded as a great pitching prospect, but one who required guidance and mentoring. Parent was proud of his work with Ruth. "I coached Babe more than anybody else at the time. I remember he was pitching in the late innings of a close game and there were two outs and the bases loaded and a dangerous left-handed hitter was up. He got two strikes on him, and I ran out and told him to waste a pitch. The next pitch he threw right up the middle. Oh, gee, a triple. Babe comes in and I said, 'What happened?' He said, 'I threw one waist high, didn't I?'" Parent later noted, "I used to see him later, after he was a big star, and I'd ask him how his "waist pitch was. He did not like it much."
The Orioles, despite their star-studded lineup, faced stiff competition from the nearby Baltimore Terrapins of the newly formed Federal League. The day after his team played to an attendance low of just 17 fans, the financially-stricken Dunn began a fire sale. In July 1914, he visited Red Sox owner Joe Lannin and player-manager Bill "Rough" Carrigan in Washington. Dunn took Freddie along as a reference Carrigan would trust. Carrigan sought Parent's advice "as one of the Orioles master-minds at the time and I figured he could give me the dope." Parent told Carrigan that while Ruth lacked finish, "he can't miss with a little more experience." Carrigan concurred with Parent's advice, with Lannin and Dunn closing the deal.
Parent never lost his enthusiasm for baseball. After Baltimore, he played for a short stint with Toronto of the International League. He also returned briefly to organized ball as player-manager with the Springfield, Massachusetts Eastern League team in 1918 and Lewiston in the New England League in 1919. From 1922 to 1924, Parent was a successful head coach at Colby College, and later assisted former teammate Fred Mitchell as junior varsity coach at Harvard from 1926 to 1928.
In 1936, Parent was presented a Lifetime Pass by the American and National leagues in appreciation of long and meritorious service to the game. In 1969, Parent was elected to the Maine Baseball Hall of Fame. An avid outdoorsman who loved to hunt and fish, Parent spent the rest of his life in his home state. After professional ball, Parent dabbled in a few ventures, including owning and operating a boarding home and running a gasoline filling station for a number of years. Along with former teammate Harry Lord, he once tried to purchase a minor league team in Portland. He also unsuccessfully ran for county sheriff.
As the last survivor of the 1903 World Series and one of the last nineteenth century players, during his later years Parent was often sought out for interviews by reporters, and proved to be a strong advocate for the Deadball Era style of play. He described modern baseball as a different game, using "a rubber ball," with rosters composed of "mostly Class A ballplayers, with only three or four major leaguers on a club." Parent also described modern players and game conditions as timid in comparison to his rough-and-tumble days. "People get real excited when someone throws a paper cup or something at a player. They didn't throw those kinds of things in my days. They threw beer bottles. And they aimed at your head."
Freddy Parent died on November 2, 1972, three weeks shy of his 97th birthday, in Sanford, Maine. He was buried in Saint Ignatius Cemetery, in Sanford.
Note
This biography originally appeared in David Jones, ed., Deadball Stars of the American League (Washington, D.C.: Potomac Books, Inc., 2006).
Sources
Biddeford Weekly Journal (Maine)
Boston Globe
Boston Herald
Boston Post
Brooklyn Daily Eagle
Chicago Daily News
Chicago Evening American
Chicago Journal Tribune
Foster's Daily Democrat (Dover, NH)
Kennebec Journal (ME)
New York Times
Portland Press Herald
Philadelphia Daily News
Providence Journal
Sanford News
Sanford Tribune
St. Louis Republic
Washington Post
Hugh S. Fullerton. "Between Games," The American Magazine, 1911.
L. Robert Davids. Baseball Briefs, April 1971.
Baseball Magazine
Colby College Oracle
Reach Guide
Spaulding Baseball Guides
Sporting Life
The Sporting News
Jim Reisler. Before They Were the Bombers. McFarland, 2002.
Bob Niss. Faces of Maine. Guy Gannett Publishing Company, 1981.
Frederick R. Boyle. Later Families of Sanford-Springvale Maine. Peter E. Randal, 1995.
Kerry Keene. The Babe in Red Stockings. Sagamore Publishing, 1997.
Frederick G. Lieb. The Boston Red Sox. G.P. Putman's Sons, 1947.
Lawrence S. Ritter. The Glory of Their Times. William Morrow, 1985.
Marshall Smelser. The Life That Ruth Built. University of Nebraska Press, 1975.
Johnny Evers and Hugh S. Fullerton. Touching Second. The Reilly & Britton Co., 1910.
John J. McGraw. My Thirty Years in Baseball. University of Nebraska Press, 1995.
Will Anderson. Was Baseball Really Invented in Maine? Will Anderson Publisher, 1992.
Don MacWilliams. Yours in Sports. The Monmouth Press, 1969.
Interviews and Credits
Armand Chabot, Paul Demers, Therese Desrochers, and Glenn Ledoux.