Hobe Ferris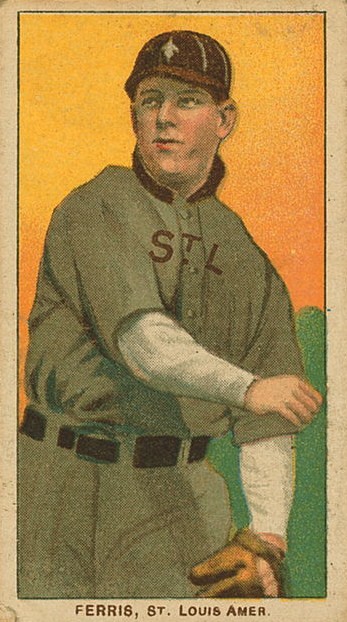 At 5'8" and 162 pounds, slick-fielding second baseman Hobe Ferris looked the part of a light-hitting middle infielder, an initial impression supported by his lifetime .239 batting average and .265 on base percentage. But looks can be deceiving, as Ferris was one of the hardest hitters in the junior circuit. Of the right-hander's 1,146 career hits, 28 percent of them went for extra bases, a ratio exceeded only by 10 other American Leaguers during the Deadball Era, and higher than such renowned sluggers as Ty Cobb, Frank Baker, Elmer Flick and Jimmy Collins. During his nine-year major league career, Ferris ranked in the league's top five in triples and home runs three times each. Defensively, Ferris was widely regarded as one of the best fielding second baseman of his time, and led the league in putouts twice, assists twice, and double plays once during his seven years with Boston. "At his best," the Washington Post observed in 1908, "[his defense] made Larry Lajoie look like a second-rater." A fierce competitor and notorious umpire baiter, the hot-tempered Ferris was later described by Fred Lieb as a "rough and tumble old time player that could take it and dish it out."
Most sources record Ferris as being born on December 7, 1877 in Providence, Rhode Island. However, the Rhode Island State Archives have no record of his birth in that state, and census records indicate that Albert Sayles Ferris was actually born in England, as were his parents, and immigrated to the United States in 1879. Having developed his baseball skills on the Providence sandlots, Ferris advanced to the next level by playing for a North Attleboro, Massachusetts team in 1898. One day the shortstop was missing, so Hobe, "with one side of his face swollen with a toothache," filled in and handled 22 chances perfectly, a feat that won him a starting position. Having kept himself in fine shape by playing polo during the off-season, Ferris reported to Pawtucket of the New England League in 1899. Despite an initial batting slump, Ferris finished with a .295 average and won accolades for his fielding. In 1900, the infielder joined Norwich in the Connecticut League, where he played shortstop and batted .292 with 31 extra-base hits.
Prior to the 1901 season, Ferris was drafted by the Cincinnati Reds, but instead opted to jump to the American League and play for the Boston Americans. That same offseason, shortstop Freddy Parent signed with the club, and Ferris shifted to second base.
It was initially a rough transition for Ferris, who committed 61 errors in 1901, the second-highest total by a second baseman in American League history. (That same year, Detroit second-sacker Kid Gleason committed 64 errors.) At the plate, the 23-year-old
batted .250, drove in 63 runs, and led American League rookies with 15 triples.
The following year, Ferris again drove in 63 runs while smashing eight home runs (tied for seventh best in the league) and smacking 14 triples. His glove work also showed signs of improvement, as he committed 22 fewer errors in the field and showed brilliant range. In one June contest, Ferris recorded 11 putouts, and on another occasion he accepted 26 chances over two consecutive games.
But it was Ferris's numerous run-ins with umpires which garnered the most attention. In May, Ferris tangled with umpire Jack Sheridan and received a three-day suspension from American League president Ban Johnson. "Ferris deserves his suspension, and while it will hurt Collins' club, I am glad of it," wrote Peter Kelley of the Boston Journal. "We do not want any of the John McGraw biz in Boston, and the sooner that certain players become reconciled to that fact the better it will be for Boston baseball lovers. I hope this will be a lesson for Hobe, for if he behaves, he will make a big name for himself."
Ferris never reformed his ways, but he remained an integral part of the Boston club as it captured the 1903 American League pennant. In August, the second baseman's defense led to two victories in a doubleheader against St. Louis. "When the Browns broke into a rally Hobe cut them down with a triple play in one game and worked a double in the next that thrilled 19,000 fans," reported one observer. "Retiring five men on two chances is quite an achievement for one day." For the season Ferris batted an unimpressive .251, but swatted a career-high nine home runs and scored a career-best 69 runs. In the Americans' World Series triumph over Pittsburgh, Ferris recovered from a poor showing in the first game, in which he committed two errors (and briefly raised suspicions that Boston had thrown the game), to make a spectacular unassisted double play on a Honus Wagner line drive in Game 2, preserving a 3-0 Boston victory. In the eighth and final game, Ferris drove in all three Boston runs off Deacon Phillippe to secure the franchise's first world championship.
In 1904, Ferris slumped badly at the plate, as his batting average dipped to .213, but he figured prominently in Boston's narrow victory in the American League pennant race, as he scored from second base on a fly ball and error on the season's penultimate day to give Boston a 1-0 victory. It marked the final team triumph of Ferris's major league career, as the aging Boston roster unraveled from 1905 to 1907. Still in his prime, Ferris continued to post low batting averages while ranking among the league leaders in extra base hits and providing Gold Glove-caliber defense at second base. He also continued to make headlines whenever his nasty temper flared on the ball field, as occurred on September 11, 1906.
In that afternoon's game against the New York Highlanders at Hilltop Park, Boston outfielder Jack Hayden took a leisurely route on a fly ball hit to short right field, which Ferris himself failed to go after, resulting in an inside-the-park home run. Returning to the bench at the end of the inning, Ferris initiated a vile verbal attack on Hayden for what he perceived as lackadaisical play. Hayden, in turn, landed three stingers to Hobe's jaw. After their teammates separated them, Ferris braced himself on a rail and thrust his foot into Hayden's face, knocking out several teeth. The fisticuffs continued and eventually both men were arrested. Neither player pressed charges, but in response to what one reporter called "the most disgraceful affair ever predicated by any ball players on the ball field," Ban Johnson suspended Ferris for the remainder of the season. For his part, Hobe declared, "I suppose I'm a fool for being in earnest and trying to win, but that is my way. I can't help it." Ferris lasted one more season in Boston, before owner John Taylor dealt him to the St. Louis Browns in a six-player trade. Explaining the move, Taylor suggested that Hobe had "outlived his usefulness."
Ferris enjoyed perhaps his best season as a professional in 1908, as he posted career highs in batting average (.270), on base percentage (.291), and RBI (74). Because Jimmy Williams was already established at second base, Ferris shifted to third, where he combined with shortstop Bobby Wallace to form what one writer called "the stonewall defense." Hobe adjusted very well to his new position, as he led the league's third basemen in putouts, double plays, and fielding percentage. Browns manager Jimmy McAleer was effusive in his praise of Hobe. "I have been in the game a long while, but I have never seen a man play such remarkable ball for a team as has Ferris for us....You never see him that he is not hustling."
The 1909 campaign, however, was a disappointment, as Ferris's average plummeted to .216. Hobe claimed he had a difficult time getting in shape, and as his season deteriorated, his frustration level spiraled to the point where a sportswriter sarcastically wrote that Ferris "has a sweet disposition when he is not getting his share of base hits." In one incident he hit a fly ball to left, and on his return to the dugout complained to Tom Hughes, the pitcher, "I ought to have killed that one." The Washington hurler retorted, "You hit like an old woman." Hobe applied "a few choice names to Hughes who was willing to stop the ball game while he got at Ferris. Umpire Egan, however, waved him back and prevented hostilities."
After the 1909 season, Ferris was released to Minneapolis of the American Association, where he produced respectable numbers for three seasons as his playing time gradually decreased. He spent the 1913 season with St. Paul in a utility role, before drawing his release. Ferris played one season for Wilkes-Barre of the New York State League before that club, too, released him. Baseball Magazine clarified the reasons for Hobe's decline: "Ferris is let out because he has slowed up both with arms and legs--finds it hard to make the throw to first, hard to stoop quickly for fast grounders."
By 1920, Ferris, his wife Helena and their daughter Natalie, had established roots in Detroit, where Hobe worked as a mechanic and occasionally played for semipro teams. As the years passed, however, Ferris became obese. On March 18, 1938, Hobe came across a newspaper account of ex-Tiger "Fatty" Fothergill's hospitalization. As he informed his wife of this story, Ferris died of a heart attack. He was 60 years old.
Note
This biography originally appeared in David Jones, ed., Deadball Stars of the American League (Washington, D.C.: Potomac Books, Inc., 2006).
Sources
Newspapers
Boston Globe
Chicago Tribune
Evening Times (Pawtucket)
Los Angeles Times
New York Times
Providence Journal
Washington Post

Books, Articles
David Anderson. More than Merkle. University of Nebraska, 2000.
Reed Browning. Cy Young: A Baseball Life. University of Massachusetts, 2000.
Craig Carter ed. The Sporting News Complete Baseball Record Book 2001.
Dennis DeValeria and Jeanne DeValeria. Honus Wagner. University of Pittsburgh, 1998.
Bill James. All-Time Major League Handbook. 2nd ed. STATS, 2002.
Bill James. The New Bill James Historical Baseball Abstract. STATS, 2001.
Louis Masur. Autumn Glory. Macmillan, 2003.
David Neft, Richard Cohen, and Michael Neft. The Sports Encyclopedia: Baseball 1999. New York, 1999.
Pete Palmer and Gary Gilette. The Baseball Encyclopedia. New York, 2004.
W.A Phelon. "The Month's Parade". Baseball Magazine, April, 1915.
Joseph Reichler. The Baseball Encyclopedia. 6th ed. New York, 1985.
Joseph Reichler. The Great All-Time Baseball Record Book. New York, 1981.
Glenn Stout ed. Impossible Dreams. Boston, 2003.
Glenn Stout and Richard Johnson. Red Sox Century. Boston, 2000.
John Thor, Pete Palmer and Michael Gershman. Total Baseball. 6th ed. New York, 1999.
Dixie Tourangeau. "Remembering Opening Day a Century Ago." The National Pastime, Volume 22, pp. 19-24, 2002.
John Ward. "The Keystone Kings." Baseball Magazine. October, 1914, pp. 43-48.
Other Resources
Hobe Ferris's file at the National Baseball Hall of Fame
Rhode Island State Archives
Heritage Quest