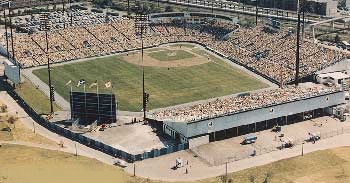 This article was written by Rory Costello
---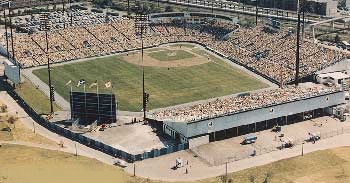 Rinky-dink in a most charming way, Jarry Park — or Parc Jarry to Quebec's French-speaking population — was home to the Montreal Expos from 1969 through 1976. The little ballpark seated just 28,456, and that was only after additions pumped it up from its amateur capacity of 3,000. Since the era of wooden stadiums ended, not many major-league venues have been smaller.1 Jarry was originally intended as a stopgap for only four seasons but wound up serving for eight because of construction delays in the notorious white elephant, Olympic Stadium.
Jarry Park was among the last of the big-league stadiums that had but a single deck. Not long after the last Expos games there, Montreal sportswriter Ian MacDonald said, "The closeness of the seats to the field provided an intimacy to the game, which may not have materialized in a larger stadium. . . . Everybody, in short, had fun."2 There were plenty of other things that contributed to this ambience.
One was P.A. announcer Claude Mouton, who served through the 1973 season. As Montreal Gazette columnist Ted Blackman wrote in 1970, "Claude Mouton was an instant hit as the public address announcer at Parc Jarry. He could really roll that 'r' in Angel Hermoso, the pauses between syllables in John Boccabella tickled the crowd. His 'Hal Holiver' for Al Oliver, 'deveen' for Devine, and 'tird baseman' were part of the color of the joint."3
That color also included comely usherettes — no grouchy old men in Gallic Montreal, please. Originally the Expos gave the young women blue uniforms, but team president John McHale said, "The first day we issued them, they all took home their skirts and shortened them."4
Then there was organist Fernand "Fern" Lapierre. The original organist in 1969 "lacked pep, couldn't generate fan enthusiasm," but when Lapierre arrived a month or so into the first season, even visiting teams commented on how good he was.5 After just one hearing, Oakland A's owner Charlie Finley called him the most valuable member of the Expos. In fact, Lapierre left during the 1972 season over demands for salary and perks.6 He returned in 1973, though, and remained with the club at Olympic Stadium for years thereafter.
Lapierre inspired another memorable character, The Dancer, a hospital cook named Claude Desjardins "who regularly entertain[ed] Jarry Park patrons with his improvisations on modern dance between innings."7 When a fat man can really dance — like Jackie Gleason, for example — it's somehow funnier. So much of the fan base was delightful: pretty women . . . the Fiddler on the Dugout Roof . . . the man who brought a duck (or was it a goose?) to a game . . . and the denizens of Jonesville, the left-field bleachers which Ted Blackman named for the club's first hero, outfielder Mack Jones. When feet and other objects drummed on the metal bleachers, it was quite a racket. Maury Wills, who played part of the '69 season in Montreal, said, "They're more like Latin American fans."8
Another fan said in 1970, "Jarry Park is one of the last places left in Montreal where the French, the English, the Jews, the Italians, and everybody else can all get together and just have fun."9 And like the Amazin' Mets in their early days, the expansion-era Expos were lovable losers. Montreal Canadiens hockey player Steve Shutt said in 1980, "I used to like going to the games in Jarry Park. You knew the team was going to lose so you could relax. Now, because they are winning all the time, everyone gets nervous."10 Ian MacDonald also said that an early sign that the innocent romantic phase was over came when Nos Amours moved into first place — even if only for a few hours — amid the five-team dogfight in the National League East in September 1973. "The fans weren't about to accept only hustle and effort now. They wanted results."11
John Boccabella said in 2011, "Especially the first year, we weren't very good, and we'd be getting beat pretty badly. Many days you'd go to the ballpark and it would have been raining all day long . . . and the stands were packed! When the game was over, we'd be walking down the line to the clubhouse, and the people would be giving us a standing ovation. Maybe the third year we were there, they started booing for the first time. I think Bob Bailey was the first guy they booed."
Properly speaking, Jarry Park refers to the urban park that covers 36 hectares (89 acres) in the Villeray neighborhood in the north-central part of the Island of Montreal. The ballpark, whose full name was Jarry Park Stadium (Stade Parc Jarry), was located in the southwest corner. Given the number of baseball stadiums that are called "Park," though, it's easy to understand how the distinction got blurred.
Raoul Jarry, a member of Montreal's City Council representing Villeray, helped develop the park starting in 1925. The city of Montreal leased the land for years and finally purchased it in 1945 as a neighborhood recreational area. At that time, Montreal's main baseball stadium, where the Royals of the International League played, was Delorimier Downs. The diamond at Jarry Park hosted peewee and Junior League baseball.
Jarry Park Stadium formally opened in August 1960.12 That September, after the Los Angeles Dodgers ended their affiliation with the Royals, a Canadian syndicate got an option on the franchise provided a suitable ballpark was found. The group was unable to negotiate a rental agreement for Delorimier, and so it eyed Jarry.13 Delorimier was still viewed as preferable, though, and a rent deal was reportedly worked out as of January 1961.14 Even so, the Royals moved to Syracuse later that month.
When the National League awarded Montreal an expansion franchise in May 1968, the city was in a fix. Jean-Pierre Roy, the Montreal-born pitcher who became one of the original Expos broadcasters, said, "I was surprised that they obtained a franchise, because they didn't have a suitable ballpark." Delorimier Downs was a small stadium (capacity roughly 20,000). It was also wedged into an area that offered little parking. What's more, the city's school board had bought the facility in 1967 and begun converting it into a school. Another potential spot, the Autostade, was not viable either.
Jean-Pierre Roy continued, "It meant a lot to me, and to professional baseball in Montreal — it was a new life as far as sports was concerned. As soon as I heard the news — I was in Las Vegas — I said, 'I'm going back home, to see if I can land something.' But the mayor, Jean Drapeau, said to me, 'We just don't know if we'll be able to work it out.'"
On August 9, 1968, Mayor Drapeau announced that the city and the Expos' sponsors had solved the ballpark problem: Jarry Park Stadium — once it got roughly 10 times more seats and better lighting — would be the answer. It benefited from proximity to a Métro station, train service, and the Metropolitan Expressway. "The area was just terrific," said Roy. "It was a perfect crossroads. Very suitable, as far as the location was concerned." The initial suggestion had come from CFCF sportscaster Russ Taylor and La Presse columnist Marcel Desjardins. National League President Warren Giles visited the park with Mayor Drapeau and approved. After Drapeau emerged from the conclusive four-hour meeting, Expos owner Charles Bronfman said, "We're going to play ball. Yes, we did it."15
In 2011, Charles Bronfman recalled the last-ditch rescue. "During that summer, it was dicey. I went to see Mayor Drapeau one day with my resignation in my pocket. He said to me, 'Can you wait for 24 hours? My father told me never to give up until you give it 24 more hours. I said, 'What can you do in 24 hours?' He said, 'Wait and see.'
"The next morning, we were having a wake in my office on Peel Street. The mayor called. He said to me, 'I want only you to come to my office.' He showed me the drawing of Jarry Park and said, 'That's your new stadium.' They stayed up all night to do it."
Over the next several months, the $3 million upgrade project took place. Montreal endured a lingering winter, however; snow and low temperatures placed "a distinct hardship" on the construction crews. There were also some snafus; the steel for the stands went to the wrong place, causing a three-week delay. As of mid-February, the clubhouses — visitors' along the first-base line, home team's along the third-base line — had yet to be constructed.16 There were no tunnels to the dugouts at first. Eventually a cement-block connection was built so players did not have to walk outside unless they chose.
On March 29, 1969, the April 14 home opener was in doubt. Director of operations Lew Martin said, "We must have eight to 10 days of good, warm weather in the next two weeks to allow our new field to dry out. It is extremely hard and could become unplayable if the frost doesn't get out of it in a hurry."17
Fortunately, the Expos played their first six games on the road in 1969, and when they got back, 400 workmen had gotten things into an acceptable state after a last big push. "There will be minor things wrong — we know that," said General Manager Jim Fanning. "But the whole thing is so good overall that they won't be noticed."18 One of those "little things" was the use of 6,000 folding chairs (which Fanning himself helped install) because there was not enough time to bolt the permanent seats into place.19
"It was far from being suitable for the major leagues," said Jean-Pierre Roy, "but they worked it out all right." When writer Roger Angell visited Jarry Park in 1969, he called it "a handsome little field that much resembles a country fairground."20 The next year, the Calgary Herald said, "An Expos game is a massive family picnic."21 In between, Sports Illustrated suggested that there was "perhaps a smidgen of Woodstock," adding, "Religion or festival, Charles Bronfman ordered a study on the sociological significance of the team, confessing happily, 'Something's going on but I don't know what it is.'"22
Jarry was charming both because of and despite its shortcomings. The French oxymoron belle laide applies: oddly beautiful despite unconventional features. Being close to the action was a good thing for the fans, but "the temporary grandstands were built parallel to the foul lines, [causing] a few thousand stiff necks."23 The grandstands also had no roof, so exposure to the elements — especially at the beginning and end of the season — was a factor. The winter of 1970-71 brought 150 inches of snow to Montreal, and the groundskeepers had to remove 4,000 truckloads of the white stuff as the 1971 season approached.24 In a twist on the Knothole Gang experience or the roofs neighboring Wrigley Field, Montreal fans could watch from atop snowbanks.
Postponements were frequent at those times of year — all season long, in fact. In 1977, Expos catcher Gary Carter said, "It seems they were always bundled up against the cold and the wind. There was too much openness."25 In 2011 San Francisco native John Boccabella recalled, "The weather was awful. We had so many rainouts. Early in the year, the river was frozen — the field was frozen. The grass was white. They painted the field to make it look green." He added, "The groundskeepers weren't experienced with baseball at first — putting the tarp out was a Chinese fire drill. Once, the air got under the tarp and carried two or three guys away!"
In various ways, Jarry's layout both gave and took away. Jonesville was a great source of support — but "the sunset over the left-field bleachers . . . played hell with first basemen who had to look directly into the fading sun. The situation invariably was at its worst just after 8 o'clock and lasted from 15 to 20 minutes. Many starts were delayed."26 John Boccabella, who played a good bit of first base in addition to catching for the Expos, said, "You couldn't see anything, even with glasses. The ball would come right out of the sun, just to the left of the shortstop right at that level. You couldn't move to the side like an outfielder."
The field dimensions at Jarry were not small — 340 feet down the lines, 368 feet in the alleys, and 417 feet (listed as 420) to straightaway center. Even so, it was a ballpark that favored offense — overall. Gary Carter said, "You were always hitting into a stiff wind if you were a right-hander. I know I lost several home runs because of it."27 Yet manager Gene Mauch said in 1971, "Sure the ball was hanging up in left, but those things balance off. There'll be some hit to right field later that aren't supposed to go, but will."28
Thus, lefty power hitters benefited at Jarry Park. Over the years, Expos first baseman Ron Fairly hit more homers there than anybody else, while Pittsburgh's Willie Stargell hit the most among visitors. The immensely powerful Stargell was also the first to launch a "splashdown" homer at Jarry. Just beyond the right-field fence — all the fences at Jarry were wire — was a municipal swimming pool. On July 16, 1969, the Pirates slugger sent a shot estimated at 495 feet there, and anecdotal evidence suggests that he did it a couple of other times. French speakers called the pool "la piscine de Willie." On his farewell trip in 1982, the city of Montreal presented Stargell with a life preserver in memory of all the swimmers he chased out of the pool.29 Ron Fairly banked one in off the scoreboard on June 12, 1971, and Willie McCovey also reached the pool on May 5, 1976.30 Another lefty power hitter, Rusty Staub, may have done so too, though detail is lacking.
Staub — Le Grand Orange — was of course one of the first major fan favorites at Jarry Park, along with Mack Jones. Although the overall talent level was fairly typical of expansion teams, there were other reasons to root. Quebec-born Claude Raymond was a local hero. Carl Morton won 18 games in 1970 and became NL Rookie of the Year, and Bill Stoneman could also be a very effective pitcher at times. On October 2, 1972, Stoney threw his second career no-hitter — the only one in Jarry's history — defeating the Mets 7-0.
Attendance was respectable, especially in view of available seats. It remained over one million through 1974 and did not plunge until the last year. The best single-game figure was 34,331, on September 15, 1973. There was a promotion that day — wool hats for the winter — but the first case of pennant fever was the bigger factor. As one fan put it, "It wasn't the free hats that brought us here. The weather was great and we wanted to see our team win."31 The record crowd spilled all around the inner fence in right and center.32
That month Ted Blackman called Jarry Park "the world's largest bilingual funny farm" and "professional sport's zaniest theatre." There was talk of suspending a 10,000-seat second deck over the heart of the stands, but the railway tracks behind third base made that unfeasible.33 In view of a possible playoff berth, though, temporary bleachers were installed behind right and center fields. As John McHale observed, 31,000 seats would have been almost as much as Fenway Park in those days. Fresh sod was laid down in several areas, and one of the groundskeepers even touched up the logo of the NL West opponent, Cincinnati, in the on-deck circle.34 Yet it was for naught, as the Mets won the division and then the pennant.
Montreal had won the bidding to host the 1976 Olympic Games back in 1970, and the Olympic Stadium situation grew protracted (but that's a whole different story). John McHale noted that the National League continued to question the Expos, but that no real pressure had been applied. "The problem we've had is that we can never plan very far in advance," said McHale. "If we knew we were going to stay at Jarry, we would have put up an office building at the park and had our concession area enlarged. But things have been so iffy we haven't been able to go into all that."35
The last major-league games at Jarry Park took place on September 24-26, 1976. It was a five-game series against the Phillies, featuring two doubleheaders because games had to be made up. The Phils took four of five, clinching the National League East division title in the opener on September 26. The polite people of Montreal gave the Phillies a standing ovation after the game.
The nightcap was called because of steady rain after the seventh inning. Despite the inclement weather, there were 14,166 fans on hand, lured by other attractions. "There was no sign of a letup in the weather," wrote Ian MacDonald, "and so the Expos hurried up the distribution of prizes. None of the major winners stayed around long enough to collect. Then the Expos went through with a fireworks display that had been scheduled for after the game, during the rain delay. The explosives, soggy and damp, created about as much excitement as the Expos' bats have most of the season."
MacDonald called it "a dismal day and a dismal end for Jarry Park."36 His follow-up story was headlined, "Eight-year Jarry love affair ends on desperate note." Yet he added, "There were good days at Jarry Park as well. And certainly there was fun. He concluded, "Jarry Park was intimate. It was fun. But it had outlived its usefulness."37
John McHale said, "Running Jarry Park was just a piece of cake compared to the new stadium. . . . We will need a lot more personnel."38 Yet as the end of 1976 approached, final lease arrangements for Olympic Stadium were not complete, and the possibility still lurked that at the beginning of the 1977 season, the Expos might have to play their home games in Jarry or even in other cities. The "dragging of feet," as McHale termed it, caused the National League to shift the 1978 All-Star Game from Montreal to San Diego.39
The uncertainty lingered into January 1977, when talks between the Expos and the Olympic Installations Board (OIB) were described as "very, very sour." When asked about whether the team could wind up returning to Jarry Park, McHale said, "That is a distinct possibility."40 Indeed, the Expos also announced that month that they would sell 1977 season tickets on the basis that the team would continue to play at Jarry.
Finally, in February 1977 the Expos and OIB came to terms, and an official announcement came in early March. "Jarry Park was quaint and fun," said a relieved McHale, "but that kind of thing really wore itself out."41 Shortly thereafter, Montreal city officials announced preliminary plans to dismantle the stands and return seating capacity to roughly 2,000. The parking space for 1,800 cars was to be turned green, with the aim of making Jarry into the city's north end "lung."42
In 2004 Jean-Pierre Roy expressed his opinion after the franchise moved to Washington. He thought Jarry Park should have been renovated. "It was perfect for baseball and well located," Roy said. "They could have built a dome. That was an error. In the big Olympic Stadium, one got lost."43 Charles Bronfman seconded this view in 2011. "In Olympic Stadium the fun dissipated pretty damn fast. That wasn't a ballpark."
In fact, as early as June 1978 there was talk of "rebuilding Jarry into a two-tiered 40,000 capacity stadium with a roof to protect the fans." Montreal columnist Tim Burke added, "There would also have to be a massive landscaping job on the field, to level out the bumps which drive infielders to tears, and sometimes to the hospital."44 A few weeks later, pitcher Steve Rogers told Burke, with a sly grin, that even though the Big O had some slippery stretches and bad seams in its artificial turf, a return to Jarry "should be protested on the grounds of endangering life and limb to all the players in the NL."45
As of 1979, Jarry's big-league seating capacity was still intact. Although junior baseball teams shied away because their crowds got swallowed up, rodeos had been held there, and the superintendent of Montreal's sports and recreation department had an eye on soccer, rock concerts, and tennis. For such events, Jarry occupied a good niche in capacity between the Montreal Forum (home of the Canadiens) and Olympic Stadium. 46
Tennis did come to Jarry Park in 1980, as the baseball field made way for four courts. The great Martina Navratilova won the first women's pro tournament there that July. The Canadian Open men's tournament came over from Toronto in 1981 and as of 2011 has remained ever since. Rock acts including Supertramp (1979) and Genesis (1982) played Jarry Park. However, ticketless youths caused a riot at the Genesis show, prompting police to ask for a ban on outdoor concerts there. In addition to international soccer matches, the Inter-Montreal club in the Canadian Professional Soccer League (CSPL) played at Jarry. However, Inter-Montreal folded in June 1983.
A big highlight for Jarry Park was the September 1984 visit of Pope John Paul II, who celebrated an open-air Mass before 350,000 people in the rain. It was the biggest religious gathering in Canadian history. The park was renamed Parc Jean-Paul II but reverted to Parc Jarry in 1987.
Over time, mirroring the baseball experience, Jarry Park Stadium's tennis facilities grew dilapidated and outmoded. In 1987 it was renamed Du Maurier Stadium. Comprehensive renovations began in August 1995 and were complete roughly a year later. In 2004, the stadium took a new name, Stade Uniprix.
It's been more than four decades since major-league baseball was played in Jarry Park. Yet many people who worked, played, and cheered there still had memories that they would cherish forever. The independent echoes in this handful are striking.
Expos broadcaster Jacques Doucet: "As a commentator and broadcaster, it was an ideal setting to see everything on the field of play, almost right behind the catcher. Small, but cozy and the fans were so close they could almost touch the players."47
Charles Bronfman: "Baseball is an intimate game. At Jarry, you were pretty damn close. We went through the joy of having a team in Montreal to not so much fun the last few years. But it was great fun for the first few years."
John Boccabella: "For its time and its circumstances, it was a lot of fun."
Jean-Pierre Roy: "Some of the ballplayers were not so happy — but it was good for the crowd, it was good for the city, and it was a lot of fun."
Acknowledgments
Special thanks to (in chronological order): Jacques Doucet (e-mail, June 3, 2011); Jean-Pierre Roy (telephone interview, June 5, 2011); John Boccabella (telephone interview, June 30, 2011), Charles Bronfman (telephone interview, August 16, 2011).
Sources
Doucet, Jacques and Marc Robitaille. Il Était Une Fois Les Expos: Tome 1 — de 1969 à 1984. Montreal: Les Éditions Hurtubise, 2009.
Les Expos: Nos Amours — The Jarry Park Years, 1969-1976. Volume 1 of a two-volume video set (1994). Narrated by Canadian actor and leading Expos fan Donald Sutherland.
Hudon, François. Le Parc Jarry de Montréal. Montreal: Éditions Logiques, 2000.
Hood, Hugh. "Ghosts at Jarry." Part of the collection From Ink Lake: Canadian Stories Selected by Michael Ondaatje. Toronto: Lester & Orpen Dennys, 1990.
Notes
1 They include Shibe Park (the first concrete and steel stadium) and Baker Bowl in Philadelphia; Seals Stadium, which hosted the San Francisco Giants in 1958; and Sick's Stadium, home of the Seattle Pilots in their only season, 1969. Cincinnati's Crosley Field was just a little bigger.
http://bioproj.sabr.org/bp_ftp/images5/JarryPark.jpg
600
800
admin
/wp-content/uploads/2020/02/sabr_logo.png
admin
2012-01-08 20:51:20
2021-03-10 00:48:04
Jarry Park (Montreal)