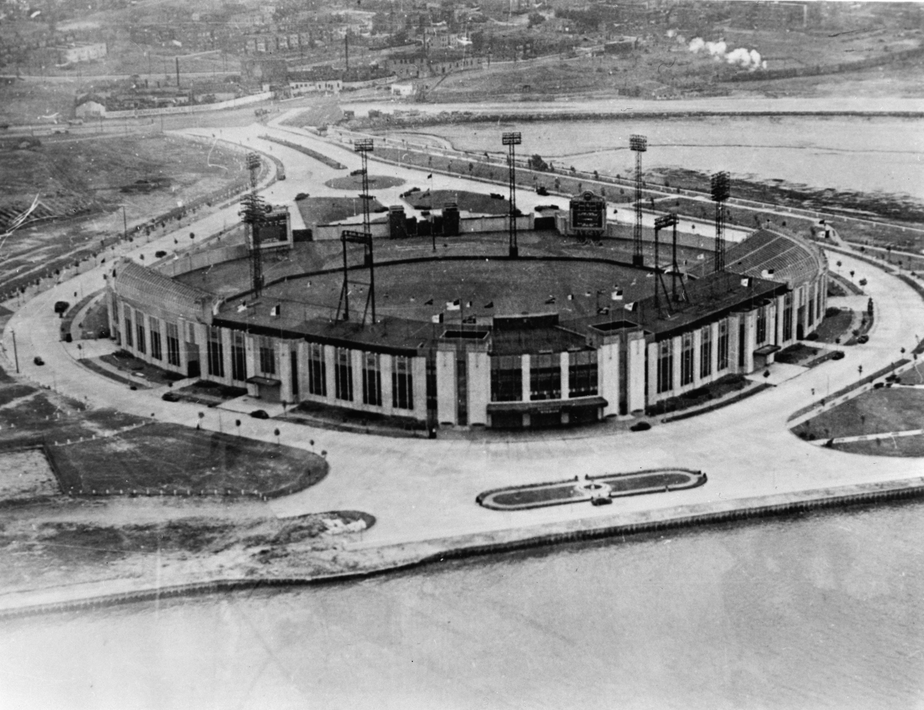 Roosevelt Stadium (Jersey City, NJ)
This article was written by David Krell
---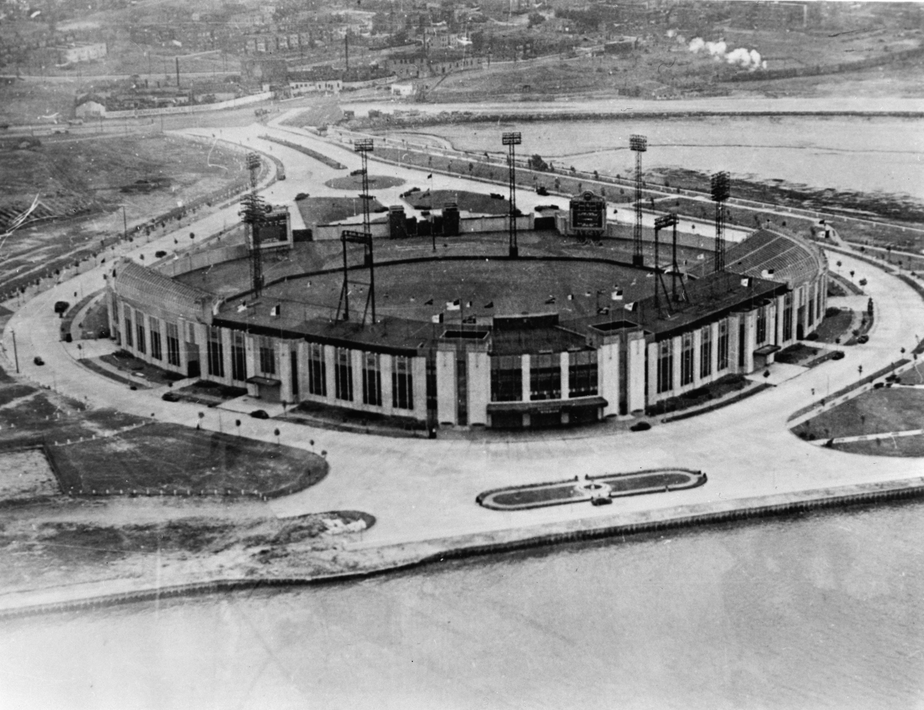 Jersey City, squeezed between Newark Bay and the Hudson River, is a prime metropolis for a ballpark. For 50 years, it had one, an Art Deco edifice débuting in the Depression, thriving for the first half of its life, fading into deep neglect in the 1970s, and succumbing to eventual nullity in the 1980s.
Within a Ruthian home run of Newark Bay, Roosevelt Stadium had a capacity of 25,000. Named for President Franklin D. Roosevelt, the ballpark stood on the site of the defunct Jersey City Airport in the Droyer's Point section. Its construction was part of the Works Progress Administration, created under FDR's presidency to give people work during the Great Depression in the 1930s. More than 2,400 WPA workers contributed their efforts to the arena.1
Mayor Frank Hague's political finagling and finesse ensured that Roosevelt Stadium and other projects that defined 20th century Jersey City would get built. "The most famous man Jersey City ever produced,"2 described The Jersey Journal in Hague's obituary in 1956. The Journal also noted Roosevelt Stadium as one of Hague's three lasting sports-related impacts on Jersey City, the others being the Department of Recreation and the Department of Parks and Public Properties.
New Jersey politicos and businessmen, plus those on the national stage, once Hague became a Roosevelt endorser, knew that all roads to getting things done led to 280 Grove Street, City Hall. Hague's word, indeed, was as strong as the winds off the Hudson River on a cold day in February. "As mayor of Jersey City, Hague's word was undisputed," explained Charles Sullivan and Bruce Bailey in the Newark Star-Ledger. "He gained enough power to declare flatly, 'I am the law,' and that became his trademark."3
Hague did not live to see major-league games played in the stadium that he championed, but the 15 games that the Brooklyn Dodgers played there in 1956 and 1957 were "a tribute to his foresight."4 His acumen for persuasion also attracted championship boxing to Jersey City before the stadium's 1937 début, including the 1921 Dempsey-Carpentier bout at Boyle's Thirty Acres.5 For baseball, he had "the enthusiasm of a Little Leaguer" when he threw out the first ball at a game.6
Dimensions were 330 feet down the lines, center field was 411.7
Hague served as Jersey City's mayor from 1917 to 1947. He stepped down so his nephew, Frank Hague Eggers, could get an appointment to succeed him; Eggers lost to John V. Kenny, a disaffected former Hague aide. It was the inevitable use of technology that would have put Hague out of office anyway — Governor Walter Edge authorized the use of voting machines instead of paper ballots to bolster protection from tampering on Election Day.
A signature of the Hague regime was a desk had a compartment facing visitors. Hague could open it with a button, so people offering bribes could put the money in or people getting bribes could take money out, without much, if any, incriminating discussion.
Two weeks before Christmas, 1935, Hague broke ground on the stadium in front of sports executives and state and county officials, underscored the city's entertainment deficit, and highlighted the president's involvement. "President Roosevelt has been considerate of Jersey City in giving us this stadium," declared Hague. "It was impossible for Jersey City to erect it. With the stadium, all sorts of affairs and demonstrations can be held.
"Besides the stadium, I am happy that its construction will provide work for nearly 1,000 men and women and, through them, hundreds of persons will benefit. The business people will also share in its benefit by furnishing the necessary materials."8
Roosevelt Stadium's construction was not only a political benefit for Hague to embrace, but also an architectural dilemma for him to solve. Enter Christian Ziegler. It was Ziegler who designed several Jersey City buildings in the Art Deco style, including the Margaret Hague Maternity Hospital at the Jersey City Medical Center. The stadium fit nicely into Ziegler's Art Deco paradigm, which embraced sleekness over complexity. New York City has, perhaps, the three most famous examples because of their presence in popular culture: Chrysler Building, Empire State Building, and 30 Rockefeller Center.
Emerging in the 1920s and 1930s, the style became a firmly entrenched architectural staple in the 20th century. "Instead of ornamental excess, lavish cornices, and intricate columns, you had flat surfaces accentuated by calculated relief that cleverly recalled these features of traditional classical architecture while rendering them by using a more streamlined method," explained Brian Kelly, Director of the Architecture Program at the University of Maryland's School of Architecture, Planning and Preservation, in an interview for SABR's The National Pastime in 2017. "Art Deco buildings were fundamentally traditional, but at the same time, much simpler and more modern in appearance.
"There are repetitive aspects complemented by flourishes of ornament in specific locations. Fundamentally, though, they're stripped down."9
A stadium contributes to a city's identity, offering a central meeting place where, no matter one's ethnic background, everyone is the same. "This was a building that emphasized Jersey City's strength," said William Neumann, Board Member of Preservation New Jersey, a non-profit dedicated to the advocacy of historic preservation in 2015. "Architecture, in a literal sense, cements the ideals outlook, and faith of a community. When we build stadia, there is an art form with amazing amounts of craft and science behind it. Though it appears simple, architecture can enlighten and entertain."10
A turning point for Roosevelt Stadium came at the end of 1936, when New York Giants owner Horace Stoneham announced his purchase of the Albany Senators in the International League and intent to move to Jersey City.11 Stoneham said, "We have a reputation to uphold and Jersey City, being part of our organization, must be a strong, winning team. It may be a year or two before we can reach this point, but I can promise all Jersey City fans that it will not be long before we have a real 'farm,' worthy of representing the city and made up entirely of capable players, the majority of whom will someday be members of the Giants."12 Had the deal fallen through, Stoneham had his sights further north on the Toronto Maple Leafs.13
The Giants' début on April 24, 1937, drew more than 31,000 to Roosevelt Stadium, breaking attendance record for the International League in a 12-inning, 4-3 loss to the Rochester Red Wings,14 Baseball's clown Al Schacht kept the crowd's attention before the game. "Togged in a frock coat and battered topper, Al wandered all over the field as he ran through his pantomime," described The Jersey Journal.
"He directed both the Department of Public Safety Band as well as the musicians from the Bayway Works of the Standard Oil Company who were on hand to keep the fans pepped up. He clowned all over the diamond, imitating various players, aping others and concluded his day's performance by catching Mayor Frank Hague's opening pitch in the largest baseball glove in captivity."15
From 1937 to 1950, the Jersey City Giants called Roosevelt Stadium home. They got no further than the IL playoffs in 1939, 1940, 1947, 1949, and 1950.
Hague's political muscle boosted Roosevelt Stadium's visibility and vibrancy at an annual event nicknamed "loafers and fishes," designed to prompt Opening Day ticket sales from the city's businessmen seeking favor from City Hall. Ticket sales prompted by the Hague machine to local businesses typically oversold the stadium. But those who bought the tickets without any inkling of using them knew it was the cost of doing business in Jersey City under Hague. For example, in 1945, it was reported that he sold more than 52,000 tickets, though the ballpark's capacity was 35,000.16
The following year, Roosevelt Stadium became the first step toward integrating baseball 62 years after Moses Fleetwood Walker and, soon after, Weldy Walker played for the Toledo Blue Stockings in 1884. Jackie Robinson led the Montreal Royals to a 14-1 rout of the Jersey City Giants on April 18, 1946; a three-run home run punctuated his 4-for-5 performance. He also stole two bases. "There was a lot of fanfare at Roosevelt Stadium," wrote Robinson in his 1960 autobiography. "Mayor Frank Hague was there, with a lot of school children he had 'liberated' by declaring a holiday. I remember the parades, the brass band's playing 'The Star-Spangled Banner' and the marvelous beauty of this 'day of destiny' for me."17
But it's possible, even likely, that the ballyhoo was Hague's penchant for flourish on the stadium's Opening Day tradition — when he was center stage and threw out the first ball — rather than a salute to Robinson. A statue of Robinson outside the Journal Square PATH station (Port Authority Trans-Hudson commuter rail line) marks Jersey City's place in baseball history.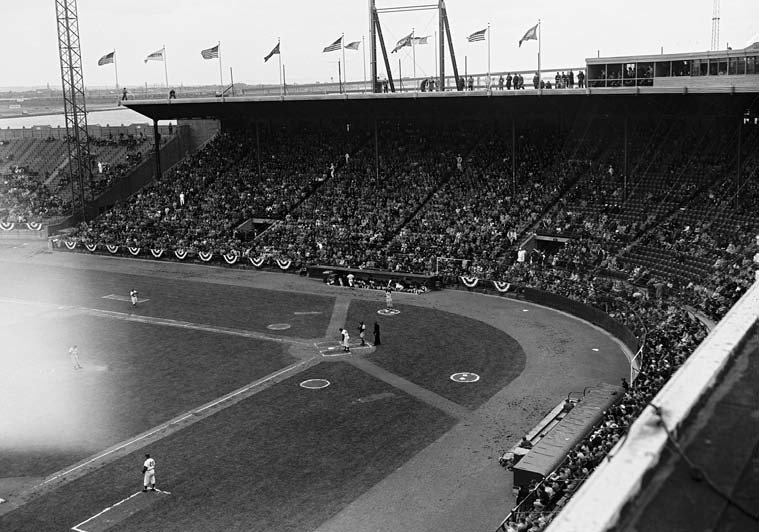 Jersey City elevated to the major leagues when it was announced in December 1955, just two months after the Dodgers won their only World Series in Brooklyn, that the team would play games in Roosevelt Stadium for the next three years. There was an annual fee of $10,000 with an option for an additional three years. At that point, Dodgers owner Walter O'Malley had asked the borough for a new stadium site.18 "We own Ebbets Field in Brooklyn. We want a new stadium. We want it in Brooklyn. But we had to look around for a ball park in which to play our games while one stadium is going up and Ebbets Field is coming down.
"The nearest spots were Jersey City and Yankee Stadium. Horace Stoneham of the New York Giants has said it is very likely the Giants some day will play their home games in Yankee Stadium. Three clubs could not use one park, so we had to pick Roosevelt Stadium."19
The press box was tripled; Jersey City gave school kids a day off if they got "a note from their parents and a ticket to the game." It was another Hague custom. But the first game was reported to have only 2,500 tickets sold to Dodgers fans.20
Robinson's return to Jersey City after 10 years kindled boos, not ballyhoo, with the stadium at about half-capacity. "There's no justification for their booing me," said the six-time National League All-Star. "I don't know why they did it. That kind of reception from hometown baseball fans I resent."21 Further, the fans' behavior prompted an unnamed player to remark, "They got wolves in that town to beat any in the league.""22
But Roosevelt Stadium was, for 14 years, a Giants gathering place. Pee Wee Reese noted the connection between Jersey City and the Dodgers' rival, while Duke Snider mentioned the size of the ballpark turning long fly balls into outs when they would have easily cleared the fences in Ebbets Field.
The friction between Jersey City and the Dodgers concerning promotion of the seven games scheduled for 1956 might have been foreseen and smoothed over by Hague's political deftness had the mayor not died in January. Joe Lovas called the Dodgers "Bush League" for their comportment. "There were many uncomplimentary remarks tossed around in the Dodger dressing room…all against Jersey fans and the stadium. Certainly, the rhubarb Jackie Robinson steered himself into, and the fact that other Dodgers criticized the playing field, the long distance to the outfield fences, and the booing of the fans, won't help matters. Robinson later said he 'was only kidding 'Irving Rudd', the Dodgers' business manager for New Jersey, when he launched his post-game tirade against the fans and the stadium."23
The Dodgers played another seven games in Roosevelt Stadium in 1956.
"Since tickets hadn't printed, we only took mail orders and issued certificates. It was hostile country," Rudd revealed in 1981. Jersey City had been the home base of the Giants' farm club.
"I knew we were in trouble when the mayor's kids showed up in Yankee sweat shirts. When the Dodgers took the field, they were hissed and booed, especially Jackie Robinson.
"Jackie yelled over to me: 'Hey, Irv, is this your idea? You can give this town back to the Indians and politicians. Despite raw, blustery weather, we drew more than 12,000.
"We played six more games, drawing 22,071 against the Cards and packing 'em in for night games with the Cubs, Reds and Pirates. They called it 'O'Malley's Folly,' but Mr. O'Malley had the last laugh."24
Ever since the Dodgers abandoned Brooklyn for Los Angeles after the 1957 season, Roosevelt Stadium's role in the move has been a subject of discussion, primarily whether it was even a remote possibility of being a site for the Dodgers. Likely not. In The Dodgers Go West, Neil J. Sullivan noted, "The Jersey City gambit is best understood as a ploy to force New York City officials to comply with O'Malley's clear preference to stay in Brooklyn. Years of pointing to the deficiencies of Ebbets Field had resulted in some meetings, but no action appeared in the offing. Scheduling games in Roosevelt Stadium focused the attention of the community on the Dodgers' dissatisfaction with their decrepit park."25 Sandy Koufax called it "the windiest ball park that I have ever pitched in."26
In a mid-1980s oral history project, Al Keenan, Retired Superintendent of Roosevelt Stadium, explained, "It had terrazzo floor — marble — everything you would want in architecture at the time — huge dressing rooms with everything in them for the team."27 Hague conducted business at secret meetings in the middle of the night at the stadium, avoiding state and federal authorities. It was subterfuge at its finest.28
With the Giants a distant memory and the Dodgers experiment leaving a sour taste, Roosevelt Stadium was vacant at the end of the 1950s. There was speculation and hope that Jersey City might be a fixture in the Continental League, an upstart venture begun to fill the void left by the Dodgers and Giants trekking to California. The stadium needed to expand to at least 35,000 capacity.29
In the summer of 1959, Jersey City's residents anticipated a return to the stadium's glory days. The newly-formed Continental League aimed to compete with Major League Baseball and investors wanted to establish a Jersey City-Newark team.30 Investment broker Bennett Davies, who headed Bennett & Company, lauded statistics and sentiment: "We have the population, and what would be more natural than a rivalry between a team in Long Island and one in New Jersey. It would be Giants vs. Dodgers all over again."31 The population of northern New Jersey was reported as approximately four million.32
Notwithstanding the potential fan base, there were financial realities. First, a Jersey City team would need to install about 10,000 seats for the stadium to be considered. Second, the New York City franchise would likely squawk. Even though there were three teams just a couple of years before, the exodus to the suburbs of Long Island, Westchester, New Jersey, and Connecticut prompted two of those teams to leave. There was a balance of arguments: leeching from New York's potential fan base and television revenue or a new rivalry to ignite interest.33
Earlier in 1959, there had been a proposal to move the Double-A Eastern League's Allentown Red Sox to Jersey City.34
The Continental League dissolved in 1960 before any games were played at Roosevelt Stadium or elsewhere; MLB added four expansion teams: New York Mets, Houston Colt .45s, Los Angeles Angels, and a new Washington Senators ball club. The Allentown idea, too, evaporated.
Dreams of being a major-league metropolis went unfulfilled, but political strife in Cuba gave the ballpark a new life. Fidel Castro's regime in Cuba, which overthrew the Batista government in January 1959, grabbed U.S. property and businesses through nationalization. The Havana Sugar Kings in the International League left Cuba in July, 1960, six days after IL President Frank Shaughnessy gave the green light to leave. On July 14th, the Sugar Kings played their last game, a 7-3 victory over the Miami Marlins. Jersey City welcomed Roosevelt Stadium's new residents the next day with a motorcade.
"Roosevelt Stadium is one of the best ball park [sic] in country," said manager Nap Reyes. "We got players who will make the fences. Might need some pitching. If we get mound help then watch out for us."35
Jose Azcue, the team's catcher, concurred, "Jersey City has a great baseball park. The fans make a lot of noise. They make you feel good. They even cheered us when we were losing."36 Azcue played for the Reds, Athletics, Indians, Red Sox, Angels, and Brewers in his major-league career (1960, 1962-1972).
At the beginning of the 1961 season, there was concern whether the Jerseys would draw sufficient attendance of 3,000 per game.37 But special occasions attracted the fans, just as they did during Hague's heyday. Jersey City's Mayor's Night, a tribute to incumbent Thomas Gangemi, drew more than 9,000 fans in August; the Jerseys beat the Toronto Maple Leafs 4-3.38 But the Jersey City Jerseys left the Garden State for Jacksonville after the 1961 season, redubbing themselves as the Suns.
Though baseball was the primary attraction, Roosevelt Stadium boasted numerous highly significant sporting events during its tenure as Jersey City's anchor venue. In August, 1950, for example, Sugar Ray Robinson defended his welterweight crown against Charley Fusari, ("The Irvington Milkman" and New Jersey State Champion 1947, 1948, 1949), in 15 rounds. Watching were Phil Rizzuto, Don Newcombe, Jackie Robinson, Joe DiMaggio, First Daughter Margaret Truman, gossip columnist Walter Winchell, and former champions James J. Braddock, Gene Tunney, Barney Ross.39
A 1972 Jersey City State — Montclair State football game showcased the latter squad's "Little Flea Halfback" Bob Hermanni, who scored three touchdowns, passed for another in the first half, and "had the decaying and ancient Roosevelt Stadium rocking with the cheers of its small crowd." One touchdown was on a 67-yard run — his first play. The second was a 65-yard run, and the third was a 24-yarder. Hermanni's 231 yards was a single game record for MS. Final score: 35-9.40
From religion41 to rock-and-roll, Roosevelt Stadium also became a destination venue beyond sports. Tragedy struck in 1976 when a 16-year-old boy was stabbed to death in June, "in a park about 200 yards from the stadium."42 It happened about 45 minutes after a Yes concert; a Grateful Dead concert scheduled for two days before Independence Day was canceled. The Beach Boys brought the house down for the stadium's final rock concert; more than 30,000 attended.43 Pink Floyd, Alice Cooper, KISS, Grand Funk Railroad, Santana, and Three Dog Night also played there. An ice skating rink, basketball court, and midget stock racing track were also built for events. In 1976, Roosevelt Stadium got a sports arena's version of a nip and a tuck, including "40,000 square feet of new sod," because it had been 10 years since the last sodding.44
Roosevelt Stadium returned to the ranks of professional baseball when the Cleveland Indians club called it home for the Double-A Jersey Indians in the Eastern League in 1977. Though the team switched its major-league connection to the Oakland A's in 1978, the "Indians" label stayed; future MLB record-setting base thief Rickey Henderson stole 81 bases and batted .310 for the '78 squad. "Jersey City was a big ballpark," said Henderson in 1981. "It wasn't really kept up neat and the lights were real, real bad. You could hardly see.
"During twilight games you had to try and figure out where the ball was going.
"It was hard on hitters to hit there and hard to just concentrate on playing the game. Believe me, nobody liked it."45
A bit of baseball fame whirled into Jersey City that summer — Bob Feller appeared for a baseball clinic and an honor before a Roosevelt Stadium contest between the Indians and the West Haven Yankees.46 Roger Kahn, author of the masterful chronicle The Boys of Summer about the 1950s Brooklyn Dodgers, captured nostalgia for Roosevelt Stadium in an account of a 5-4 victory for the Indians over the Holyoke Millers. Attendance: 223. "No one playing baseball this season for the Jersey Indians has developed a fear of crowds, throngs, mobs or hordes, or been threatened by a flying press of fans,"47 wrote Kahn about the emptiness of the stadium.
It was the last season of professional baseball in Jersey City.
By the late 1970s, Roosevelt Stadium had fallen to neglect. Mayor Thomas F.X. Smith closed it for repair at the end of 1978 "because light towers and a wall are in danger of collapsing."48­
Roosevelt Stadium had an alternate use in its waning days. The 1984 Broadway revue Diamonds, directed by Harold Prince, who also directed Damn Yankees used the seats from the relic, though the price tag caused a negative vote from the producers. But to give a mise-en-scène with realism, Prince stood his ground to incorporate the seats into the set design.49
Dreams of a major-league nine planting its flag in Jersey City didn't die with Roosevelt Stadium's demise. In 1984, a City Hall spokesman said, "Mayor (Gerald) McCann has been meeting with several hopeful major league owners who are interested in putting a team in North New Jersey. The city is seriously being considered by these owners."50
Alas, Jersey City's destiny as a major-league metropolis went unrealized. The Historic American Buildings Survey reported the "deterioration and abandonment" of the stadium, including collapse of the scoreboard and light towers; seats ripped out; windows smashed; interior spaces vandalized; and flooding of dugouts and locker room tunnels because of the ruined drainage system.51
Demolition began on May 7, 1985. K. Hovnanian, a prominent developer, built an apartment and condominium complex on the site that housed Roosevelt Stadium and, before that, Jersey City Airport. When chromium was discovered, it prompted a delay of a year so the developers could remove it. Jersey City bore the cost of chromium removal; demolition cost for the developer was estimated at $250,000.52
"A few years ago, I was in Brooklyn and I told a youngster, 'I used to play in Ebbets Field,'" recalled Dodgers righthander Carl Erskine, who threw two no-hitters at the legendary Brooklyn ballpark. "It didn't mean anything to him, either. And I suppose some day somebody's going to say, 'Roosevelt Stadium used to be right here,' and that won't mean anything either."53 A plaque at the site denotes the stadium's import and Jackie Robinson's game on April 18, 1946.
Former Mayor Smith said, "So, my feelings were strong for that stadium, more so than, I think, anyone else's. But it was a point that the stadium, unfortunately, just outlived its usefulness. That's a difficult thing. It's like I never had to put an animal to sleep. Because he or she was finished. But, none the less, I guess it would be comparable to that. So I understand. Maybe that's why I ran for governor — psychologically — to get away from that (having to demolish Roosevelt Stadium).54
A plaque explaining the rich history of Roosevelt Stadium was given to the housing development by K. Hovnanian Companies and the Society for American Baseball Research. It was once displayed along with another plaque about Jackie Robinson, but they have long since been removed and await a day when they can be displayed again to celebrate the stadium's prominence.
If baseball is a family, then Roosevelt Stadium once stood proudly as a cousin of Newark's Ruppert Stadium and a younger sibling to Yankee Stadium, Ebbets Field, and the Polo Grounds. It is honored by the street "Roosevelt Stadium Court" on the site where Frank Hague basked in the glow of the citizenry during Opening Day ceremonies and other events; Christian Ziegler supervised the construction of a popular addition to his Art Deco paradigm; St. Peter's Prep and Dickinson High School made their annual football game a Thanksgiving Day tradition; Jackie Robinson made an awesome stride in civil rights; the Jersey City Giants delighted fans for 14 years; and three minor-league teams gave the city a baseball identity but for no more than two seasons each time.
As the demolition took place, Smith recalled the genesis of the ballpark where the Hackensack River flows into Newark Bay. "When the city was getting the grant from (President Franklin) Roosevelt, the public works director told Hague there was a whole host of problems with the sewers and he said perhaps we should use the million dollars for that rather than the stadium," said Smith, a Jersey City native, who was at Roosevelt Stadium's first game in 1937.
"Hague said: 'I have one question to ask you: Which will the people see?' The guy answered, 'The stadium.' And Hague said: 'You got your answer.'"55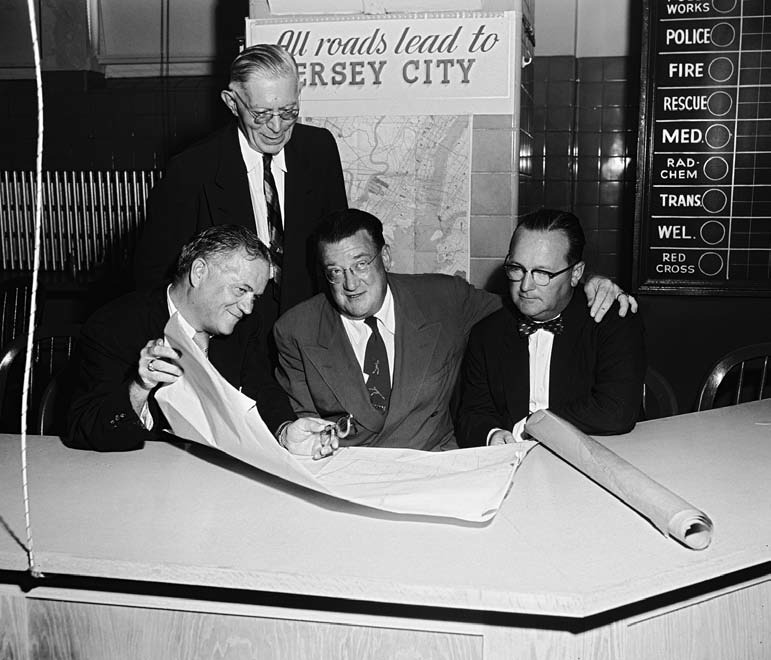 Acknowledgments
This story was reviewed by Andrew Sharp and David H. Lippman and fact-checked by Kevin Larkin.
Notes
1 "A Recreation Project in Jersey City: In its vast new stadium Jersey City claims the greatest of New Jersey's WPA projects," Parks and Recreation, Volume 31, September 1937.
2 Thomas O'Connor, "Hague Lies In State As City Pays Tribute: Fly Hospital Flags at Half-Mast, Crowds Begin Paying Respects at 3 o'Clock," Jersey Journal, January 2, 1956: 1.
3 Charles Sullivan and Bruce Bailey, "Frank Hague Dies at 81," Newark Star-Ledger, January 2, 1956.
4 "Hague's Avid Interest in Sports Ranged From Baseball to Golf," Jersey Journal, January 2, 1956: 9.
5 Ibid.
6 Ibid.
7 "A Recreation Project in Jersey City,"
8 "Hague Breaks Ground For Stadium Here," The Jersey Journal, December 12, 1935: 1.
9 Brian Kelly, quoted by David Krell, "Roosevelt Stadium: The Forgotten Ballpark," The National Pastime, SABR, 2017.
10 William Neumann, quoted by David Krell, "Roosevelt Stadium: The Forgotten Ballpark."
11 "Giants Ready to Start Building Local Baseball Team: Make Plans to Secure New Players After Closing Deal With Cambria for Senators, Transfer of Albany Franchise to This City Expected to Be Mere Formality — Jackson Coming to New York to Confer With Stoneham," The Jersey Journal, December 31, 1936: 18.
12 Ibid.
13 Ibid.
14 "Outlook Pleases Majority Of 31,234 Fans Who Watched Inaugural Game of Season," The Jersey Journal, April 24, 1937: 10.
15 "Large Opening Day Crowd At Roosevelt Stadium Is Given Fine Entertainment: No Dull Moments for Early Birds as Al Schacht Acts as Master of Ceremonies for Pre-Game Show That Runs Gauntlet From Comedy to Drama, Interspersed With Music and Dancing," The Jersey Journal, April 24, 1937: 10.
16 Dan Parker column, Evening Couriert (Camden, NJ), April 20, 1945: 20.
17 Carl T. Rowan with Jackie Robinson, Wait Till Next Year: The Story of Jackie Robinson (New York: Random House), 149. The Royals beat the Louisville Colonels of the American Association in the 1946 Little World Series.
18 "Dodgers Will Play 7 Games In Jersey: Sign 3-Year Pact With Jersey City And Guarantee To Pay $10,000 Yearly," Bergen Evening Record (Hackensack, NJ), December 2, 1955: 30.
19 Frank Eck, "Roosevelt Stadium Test Tube As Dodgers Seek New Park: Jersey City Awaits Brooklyn 'Opener' Against Philadelphia on April 19," The Herald-News (Passaic-Clifton, NJ), April 5, 1956: 43.
20 "Diamond Dust: Bragan Orders Curfew," Daily News (New York), April 19, 1956: 87.
21 Joe Orlando, "Sport Angles," Asbury Park Evening Press (Asbury Park, NJ), April 21, 1956: 11.
22 Jack Lang, "Dodgers Say Fence Too Far, Fans Too Rough: Players Gripe At 'Homers,'" The Jersey Journal and Jersey Observer, April 20: 1956: 22s.
23 Joe Lovas, "Dodgers Act 'Bush League,' The Herald-News (Passaic-Clifton, NJ) (Passaic, NJ), April 23, 1956: 24.
24 Will Grimsley, "Rudd last remaining relic of the 'Boys of Summer,'" Asbury Park Press (Asbury Park, NJ), February 18, 1981: 42.
25 Neil J. Sullivan, The Dodgers Go West (New York: Oxford University Press, 1987), 55.
26 Sandy Koufax, quoted by Gerald McCann, interview by Jane Carolan, September 22, 1986, transcript, Roosevelt Stadium Oral History Project, prepared for Department of Housing and Economic Development, City of Jersey City, New Jersey Room, Jersey City Library, Main Branch, Jersey City, NJ.
27 Al Keenan, interview by Jane Carolan, September 23, 1986, transcript, Roosevelt Stadium Oral History Project, prepared for Department of Housing and Economic Development, City of Jersey City, New Jersey Room, Jersey City Library, Main Branch, Jersey City, NJ.
28 Ibid.
29 "Jersey in Majors?," Associated Press, Plainfield Courier-News (Plainfield, NJ), August 6, 1959: 7.
30 "Newark Broker Has Backing For Jersey Franchise in CL: Asks Jersey City Officials for Concrete Proposal Concerning Roosevelt Stadium," United Press International, The Herald-News (Passaic-Clifton, NJ), August 6, 1959: 35.
31 "Jersey Broker Seeks Team For New Continental Loop: Davies Thinks Franchise Would Make Out Well in State Because of Population," The Herald-News (Passaic-Clifton, NJ), August 10, 1959: 19. There was talk of the CL also establishing a team in Long Island.
32 Ibid.
33 Jack Powers, "Mystery Shrouds Third League Franchise for Jersey City: Berry Not Sold on Idea," The Jersey Journal and Jersey Observer, August 6, 1959: 23.
34 "Looking It Over," Keyport Weekly (Keyport, NJ), January 29, 1959: 10.
35 Ed Brennan, "Jerseys Take Defeat With International Grin," The Jersey Journal and Jersey Observer, July 16, 1960: 9.
36 Ibid.
37 George Govlick, "Sports Previews and Reviews: Jerseys Hope that New Jersey Is Not a Baseball 'Boneyard,'" The Courier-News (Plainfield, NJ), April 24, 1961: 12.
38 Fred Cranwell, "Mayor's Night Sock Success for J's, ex-Jerseys: Big Crowd Treated to Win by J's, Risenhoover Stops Leafs," The Jersey Journal and Jersey Observer, August 16, 1961: 27. Gangemi became mayor the month before and resigned two years later when the State Department questioned his citizenship. Gangemi responded, "To the best of my knowledge, I was born and raised in Jersey City and have lived here all my life." "Gangemi Resigns! Kelly New Mayor?: Gangemi Resignation," The Jersey Journal and Jersey Observer, September 26, 1963: 1.
39 Rod Marvin, "For The Record: Robbie Wins As He Pleases," Bergen Evening Record (Hackensack, NJ), August 10, 1950: 28; "Charley Fusari," New Jersey Boxing Hall of Fame, http://www.njboxinghof.org/charley-fusari/.
40 "Stellar HB Looks Like a Waterboy," The Evening News (Paterson, NJ), November 14, 1972: 16.
41 Jehovah's Witnesses used the stadium for several gatherings. "Assembly a Family Affair: Three Generations of Perren Family to Attend Jehovah's Witnesses' Meeting," The Montclair Times (Montclair, NJ), July 19, 1962: 28.
42 "Jersey City rock concert canceled," Associated Press, The Herald-News (Clifton-Passaic, NJ), June 28, 1976: 6.
43 Bruce Chadwick, "Beach Boys still riding the wave," Daily News (New York), August 30, 1976: 19.
44 Pete Wevurski, "The Stadia Mania sweeps our town," The Jersey Journal and Jersey Observer, April 15, 1976: 1.
45 Dan Hirshberg, "Henderson's Jersey City Memories Real Nightmare," Daily Record (Morristown, NJ), May 17, 1981: 36.
46 "Feller salute set," The Record (Hackensack, NJ), July 10, 1978: 31.
47 Roger Kahn, "Why Play Ball? Minor Leagues Provide Answer," New York Times News Service, The Daily Oklahoman (Oklahoma City, OK), July 3, 1978: 13.
48 "Roosevelt Stadium closed," The Home News (Middlesex and Somerset Counties, NJ), December 28, 1978: 2.
49 Jane Gross, "Musical Celebrates Baseball," The New York Times, November 21, 1984: B7. "Mr. Martin and his fellow producers initially balked at the cost of importing seats from Roosevelt Stadium, the former home of the Class AAA Jersey Giants. Mr. Prince, however, insisted they were necessary for the total environment, which includes blue sky and fluffy clouds, strolling vendors and sepia-and-white cutouts that suggest the rooftops that were once the backdrop at stadiums like Ebbets Field or Connie Mack Stadium in Philadelphia."
50 Frank Alkyer, "Would you believe major league ball in Jersey City?," The Jersey Journal and Jersey Observer, May 22, 1984: 1.
51 Historic American Buildings Survey No. NJ-819, National Park Service, U.S. Department of the Interior, Washington, D.C..
52 Joni Scanlon, "Roosevelt Stadium's final out won't end game of memories," The Jersey Journal and Jersey Observer, May 8, 1985: 20.
53 Bruce Lowitt, "Roosevelt Stadium evokes nightmares," Associated Press, Poughkeepsie Journal (Poughkeepsie, NY), June 6, 1985: 26.
54 Thomas F. X. Smith, interview with Jane Carolan, September 23, 1986, Roosevelt Stadium Oral History Project, prepared for Department of Housing and Economic Development, City of Jersey City, New Jersey Room, Jersey City Library, Main Branch, Jersey City, NJ.
55 Tom Canavan, "Memories of Roosevelt Stadium linger as wrecking ball flies," Associated Press, The Courier-News (Bridgewater, NJ), May 8, 1985: 35.
https://sabr.org/sites/default/files/Roosevelt-Stadium.png
600
800
admin
/wp-content/uploads/2020/02/sabr_logo.png
admin
2020-03-23 16:48:18
2021-03-10 00:45:27
Roosevelt Stadium (Jersey City, NJ)