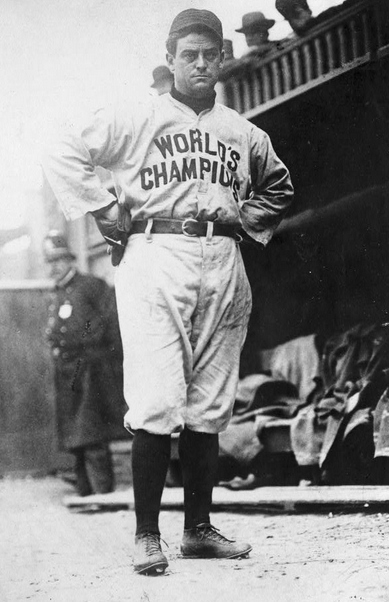 A flamboyant playboy and partygoer who dressed impeccably and always had a quip and a handshake for everyone he met, Mike Donlin was "one of the most picturesque, most written-about, most likeable athletes that ever cut his mark on the big circuit." Donlin also could hit as well as anyone in baseball during the Deadball Era. Though he rarely walked, the powerfully built 5' 9" left-hander was a masterful curveball hitter with power to all fields. His career slugging percentage of .468 compares favorably to better-known contemporary power hitters like Honus Wagner (.467) and Sam Crawford (.452), and his .333 lifetime batting average might have earned him a spot in the Hall of Fame had he sustained it over a full career. But Donlin was "not serious about the game," and his love of the bottle and frequent stints in Vaudeville limited him to the equivalent of only seven full seasons.

Michael Joseph Donlin was born on May 30, 1878, in Peoria, Illinois, but grew up in Erie, Pennsylvania. When he was eight his parents, railroad conductor John Donlin and his wife, Maggie, were killed in a bridge collapse. Forced to hustle for a living, young Mike worked as a machinist and was often in poor health, with a concave chest due to consumption. At age 15 he got a job as a candy seller on a California-bound train. Mike stayed in California, where he ran foot races and played baseball, and the sun helped him grow stronger.

Primarily a left-handed pitcher who also played some outfield, Donlin starred for Los Angeles in 1897 and the Santa Cruz Sandcrabs in 1898-99. Even early in his career he was mindful of the value of publicity. With the Sandcrabs, Donlin gave a photo of himself to San Francisco Examiner artist Hype Igoe, saying: "If you put a picture of me in the paper, I know I'll get a break. I know I'm going to be great." University of Oregon coach Tom Kelly recalled pitching against Mike a month after Admiral Dewey's victory at Manila Bay. Donlin's bat was painted red, white, and blue, and he called it "Dewey." Kelly described him as "the typical wild Irish kid, imbued with natural baseball sense and confidence."

Halfway through the 1899 season, Donlin had appeared in 29 games for Santa Cruz and was batting .402. A correspondent for The Sporting News sent clippings about him to editor Joe Flanner in St. Louis, who passed them on to Cardinals player-manager Patsy Tebeau. St. Louis acquired Donlin for "little more than train fare." Mike learned he was going to the National League while locked up for drunkenness in a Santa Cruz jail. He reported to League Park in St. Louis wearing a newspaper photo of himself clipped to his lapel. When the gatekeeper refused him entry, he proclaimed, "I am Mike Donlin," and pointed to the clipping.

In his debut on July 19, 1899, Donlin pitched in relief against Boston. Afterward, hearing Tebeau needed a shortstop, the lefthander volunteered and handled several chances in his first game. "I was swelled on myself at shortstop that first day," he recalled. The next day, in front of a big crowd, Donlin mishandled every chance and made several wild throws. He was moved to first base in the fifth inning and had trouble there, too. After a few days Tebeau put Donlin in the outfield, where he played most of his career despite a continuing reputation for subpar defense. But he batted .323 for the Cardinals in 1899 and .326 in 1900, and he would bat over .300 in 11 of his 12 seasons.

In 1901 Donlin jumped to the American League with the Baltimore Orioles. He soon became friends with his new manager, John McGraw, who admired the young slugger's fiery temperament. One day in Detroit, Baltimore pitcher Harry Howell was ejected for arguing a call and Donlin responded by firing a ball at the umpire's back. Of course, Donlin's prowess at the plate also helped his standing with McGraw. On June 24, 1901, he got six hits in six at-bats: two singles, two doubles, and two triples. Donlin batted .340 in his first season as a full-time regular. His future seemed unlimited. But in March 1902 Donlin went on a drinking binge in Baltimore, urinated in public, and accosted two chorus girls. He was sentenced to six months in prison and the Orioles released him. Paroled a month early for good behavior, Donlin joined the Cincinnati Reds in August, appearing in only 34 games and batting a career-low .287.

In 1903 Mike Donlin stayed out of trouble and almost won the NL batting crown, hitting .351 to Honus Wagner's .355. He also finished second in runs (110) and triples (18), and third in slugging (.516). The next spring Donlin and some teammates were carousing in a bar during spring training in Augusta, Georgia, when a customer, irritated by Donlin's singing, pulled a revolver on him. Manager Joe Kelley saved Mike's life by spiriting him away. That summer Donlin was hitting .356 when he went on another bender in St. Louis. Kelley suspended him for 30 days, then traded him to the New York Giants, reuniting him with McGraw.

Donlin asked New York sportswriters to give him an even break, promising: "If you treat me right, I'll be on the up and up." He had little need to worry. Slashing pitches into the gaps, running the bases with reckless abandon, and arguing incessantly with umpires, Donlin became "the baseball idol of Manhattan." Because of his strutting walk and red neck, he was dubbed "Turkey"--a nickname that he hated, but he had such a following that kids imitated his strut. With his cap at a belligerent angle over one ear, a scar running down his left cheek from a knifing, and an ever-present plug of tobacco in his jaw, he looked the part of a rough, tough deadballer. When the Giants won their first pennant of the Deadball Era in 1904, Donlin was one of the team's offensive stars, his .329 average (between Cincinnati and New York) second in the NL to Wagner again. The following season he was named captain and enjoyed his greatest season, batting a career-high .356, third best in the NL. Donlin led the league with 124 runs and was second with 216 hits. The Giants won the pennant again and Donlin hit .263 in New York's World Series victory.

On April 11, 1906, Donlin married actress Mabel Hite, a stunning Broadway musical comedy sensation. Newspapers soon reported that marriage had tamed him, loosening his attachment to the bottle. Early that season Donlin broke an ankle sliding, finishing his season after just 37 games and depriving him forever of his blazing speed. In the spring of 1907 he demanded the same $3,300 he had been paid in 1906, plus a $600 bonus if he stayed sober all year. Owner John Brush declined. Mike held out and eventually went on the vaudeville circuit with his wife, missing the entire season. With characteristic confidence, he proclaimed: "I can act. I'll break the hearts of all the gals in the country." Critics generally disagreed. One said that Donlin "never was the actor he thought he was or wanted to be."

Donlin returned to the Giants for the 1908 season. Huge ovations greeted him at the home opener, with bleacherites yelling "Oh you Mabel's Mike!" In the ninth, the Giants were down by a run with two out and a man on second. Donlin worked the pitcher to a full count, then homered into the right-field bleachers to win the game. Thousands of fans mobbed the field, slapping him on his back as he rounded the bases, taking his cap, and ripping the buttons off his shirt. It was the beginning of another great season for Donlin, who finished second in the NL in batting average (.334), hits (198), RBIs (106), total bases, and slugging percentage. After the season he was awarded the New York Journal trophy as New York's most popular player. John Barrymore, one of Donlin's best friends, performed Hamlet's soliloquy at a dinner in his honor.

On October 26, 1908, Hite and Donlin's one-act play, Stealing Home, opened at the Hammerstein Theater in New York. Though the play was acclaimed, reviews for the ballplayer-turned-actor were mixed. Variety raved: "Mike Donlin as a polite comedian is quite the most delightful vaudeville surprise you ever enjoyed." But another critic wrote, "Hite was so good she could carry him." For the next three winters the pair performed Stealing Home in front of sold-out houses from Boston to San Francisco. Donlin vowed never to return to baseball because he was making more money in show business.

One of the greatest players of his era missed two more seasons during his prime. By 1911, however, Stealing Home had finally run its course and Hite's other vaudeville ventures were floundering, so Donlin was forced to return to baseball. His lengthy hiatus took a toll. Mike had as many arguments as hits for the Giants, and on August 1, 1911, he was sold to the lowly Boston Rustlers (who became the Braves the following season). Donlin played center field and batted .315, but the Rustlers didn't need an aging star and his salary demands so they traded him to Pittsburgh. In 1912 Mike played 77 games, mainly in right field, for the Pirates and hit .316.

Hite died of cancer in October 22, 1912, the same month that the Pirates put Donlin on waivers. Philadelphia claimed him but he announced his retirement. Late in the summer of 1913 Donlin attempted a comeback, playing 36 games with minor league Jersey City. McGraw then named him to an all-star team that went on a postseason barnstorming tour through Europe, Asia, and Africa. Based on Donlin's hitting on the tour, McGraw decided to give his old friend another chance. "The Apollo of the whackstick is back with the Giants," exclaimed the New York World. But the erstwhile star was washed up at age 36, managing only five hits in 31 at-bats.

In October 1914 Mike married Rita Ross, a member of the famous musical comedy team Ross & Fenton. He returned to Vaudeville, pairing up with Giants teammate Marty McHale, but their act flopped. In 1915 Donlin started his movie career, starring in a film about his own life called Right Off the Bat. In 1916 he managed a semipro team in New Jersey, and the next winter ran a baseball clinic and a boxing tournament in Cuba. In 1917 Donlin managed the Memphis Chicks of the Southern League. At first he was popular with the fans, but they booed him when he put himself in to pitch and made a farce of the game. He quit the Chicks--or by some accounts was fired--in midseason. Later that year the War Department appointed him to teach baseball to US soldiers in France. In 1918 Donlin returned to California as a scout for the Boston Braves.

Immediately he got into Hollywood movies, helped by his friend John Barrymore. Mike appeared with the great actor in the 1918 film Raffles, and his later roles included parts in Buster Keaton's classic The General, in which he played one of the Southern generals, and The Sea Beast, a Moby Dick adaptation in which Barrymore played Ahab. He was always in demand to be an assistant director in baseball movies to give the films authenticity.

Donlin had chronic money troubles and was constantly scraping for jobs in baseball and acting. In 1927 actors and movie stars staged a minstrel show benefit to raise money to send him to the Mayo Clinic for a major operation. Mike's last movie role was in 1933's Air Hostess. That spring he still wanted to get back into baseball, asking a friend if he could get a coaching job with the Giants. A heart attack took Turkey Mike Donlin in his sleep on September 24, 1933.


Note: A slightly different version of this biography appeared in Tom Simon, ed., Deadball Stars of the National League (Washington, D.C.: Brassey's, Inc., 2004).

Sources

For this biography, the author used a number of contemporary sources, especially those found in the subject's file at the National Baseball Hall of Fame Library.