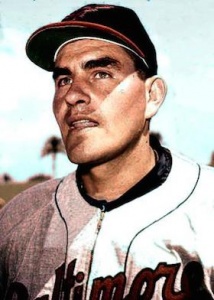 ---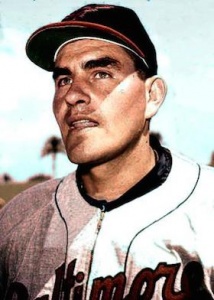 Fifteen years before New York City high school graduate and future Hall of Fame inductee Rod Carew signed with the Minnesota Twins in 1964, another "schoolboy sensation"1 from George Washington High launched his professional career with much greater fanfare. An accomplished four-sport athlete, Arnie Portocarrero's "baseball appetite [was] insatiable."2 Widely pursued by big league scouts, the hard-throwing righty had a standing invitation to work out at the Polo Grounds, two miles from the school, in hopes he would sign with the New York Giants.
In 1954, following a two-year stint with the U.S. Army, Portocarrero surfaced in the majors with the Philadelphia Athletics amid high expectations. The flame-throwing rookie led the inept team in every pitching category. Seeking to build upon this success, the 22-year-old pursued winter ball in his father's homeland of Puerto Rico. This decision proved costly after Portocarrero suffered an injury from which he never fully recovered. His major league career ended in 1960 with a record of 38-57, 4.32 in 166 appearances, well short of his sterling forecasts.
Arnold Mario Portocarrero was born on July 5, 1931, the first of two athletically-skilled sons born to Oscar and Julia Portocarrero in New York City. Oscar had possessed his own robust résumé, pitching for the University of Maryland after emigrating from Puerto Rico in 1927. After college, he built a successful career as a vice-president of the U.S. Navigation Company. Arnie's brother, Louis, two years his junior, was the center fielder for George Washington High during Arnie's senior year. After graduation, Louis pitched for Long Island University.
But it was Arnie's achievements that drew the most attention. An accomplished high school swimmer and football and basketball player, he particularly excelled on the baseball diamond. Striking out an average of 12 opponents per game, Portocarrero earned a 29-0 prep school record while leading George Washington to two consecutive public league titles.3 He also garnered success in American Legion ball and amongst the region's semipro teams. It was while performing in this latter capacity with the Long Island Monarchs that Portocarrero, weeks after his high school graduation, signed with the Philadelphia Athletics on August 1, 1949.
Scout Richard "Lefty" Lloyd's bid for the prized righty was not the highest dollar offer. After initial resistance from his father, who wanted his son to go to college, Portocarrero signed with the Athletics because he saw an opportunity for rapid advancement with the once-illustrious club. Since 1933, Philadelphia had fallen on hard times, finishing in the first division just once. The confident youngster likely saw himself as a key component in turning that fate around. Through the remainder of the 1949 season Portocarrero traveled with the club under the direct supervision of manager Connie Mack and the coaching staff. Speculation that the Athletics wanted to place Portocarrero on the major league roster was checked because the youngster would fall into the bonus class designation, forcing Mack to keep the righty on the roster the following season.
Excluding a brief and unsuccessful stint with the Fayetteville (North Carolina) A's, Portocarrero spent the 1950 campaign with the Class B West Palm Beach (Florida) Indians. He registered a 9-11 mark for the offensively challenged club, while his 2.20 ERA placed among the Florida International League leaders. Besides four shutouts, Portocarrero was also stingy with the long ball — a mere two homers yielded in 168 innings. The following spring he was one of six prized prospects asked to report to the Athletics' early camp for specialized instruction.
Portocarrero received a very long look in spring training. Philadelphia was coming off the majors' worst record in 1950 (52-102), a distinction earned with a major-league worst 5.49 ERA. Seeking help from all quarters, Philadelphia appears to have considered advancing Portocarrero from Class B to the parent roster. By far the youngest player on the club's 40-man roster, the 19-year-old was assigned to the Lincoln (Nebraska) A's just days before the start of the season. Portocarrero's Western League experience was nearly identical to his year in the FIL. With little run support he logged a 12-14 record, including an impressive shutout of the Pueblo Dodgers on May 29, 1951. He placed among the team leaders in most every category; the only disturbing sign was a high walk yield (4.3 per 9 innings). Certain advancement appeared in the offing for the youngster until Uncle Sam beckoned.
Portocarrero was drafted into the army on January 11, 1952. His two-year service was spent primarily at Fort Dix near Trenton, New Jersey. The military base built a proud baseball tradition: a 75-15 win-loss record 1951-1954; capturing the 1st Army championship during Portocarrero's first year. He fashioned a 26-3 record over both seasons and was named to the Army All-Star squad alongside many major league players. Portocarrero had not received his formal discharge on January 19, 1954, before he was pitching for San Juan in the Puerto Rican League. On January 6, a fifth-inning infield single was the only thing that stood between Portocarrero and a no-hitter against Mayaguez. A week later he delivered a six-hit, 10-0 win over Ponce (hitting a homer to help his own cause).
The Athletics' pitching struggles continued during Portocarrero's two-year absence; when he returned there was little question the 22-year-old would make the rotation. On April 18, 1954, Portocarrero made his major league debut in Fenway Park against the Boston Red Sox. A third- inning three-run homer by first baseman Harry Agganis4 followed a shaky start by Portocarrero, but he immediately settled down to retire 17 of the next 18 batters. Lifted for a pinch-hitter in the ninth, he did not figure in the 13-inning loss.
Portocarrero earned his second start on May 2 against the Chicago White Sox — eight innings of four-hit pitching without a decision. Four days later he suffered his first loss in a complete game duel against future Hall of Famer Early Wynn. Portocarrero captured his first major league win on May 22 against the Washington Senators. Moved back in the rotation due to a sore arm, he returned eight days later to beat the Nats again.
But the losses continued while hurling for the majors' worst-hitting team — a .236 batting average. An impressive 2.83 ERA was paired with an uninspiring 2-5 record that earned Portocarrero the label as "the unluckiest pitcher in the American League … The way he pitched in his first nine starts, he could very well have compiled a won-and-lost record of 8 and 1; even 9 and 0."5 The futility was evidenced on June 6 against Cleveland great Bob Feller. Portocarrero surrendered three hits, struck out seven, retired the last 19 batters, and hit his first major league homer, yet came out on the losing end, 2-1. Fate swung in his favor afterward with four consecutive wins to earn him mid-season recognition amongst Wally Moon, Ernie Banks and the other top rookie performers of 1954.
But the pendulum swung again as Portocarrero lost 11 of his next 12 decisions. Some losses were the result of manager Eddie Joost leaving the youngster in longer than necessary. On July 20, Portocarrero took a four-hit, 3-1 lead into the eighth before a three-run rally carried the Detroit Tigers to victory. Another eighth- inning collapse on August 8 broke open a close contest against Cleveland's Bob Lemon. Four days later an eighth inning homer by New York Yankees slugger Mickey Mantle undid a knotted contest and sent Portocarrero to his twelfth defeat. On August 22 he twirled a two-hit shutout into – what else? – the eighth before a Senators' rally resulted in a tie. Late-inning rallies were not the sole cause for mounting losses. Portocarrero led the majors with nine wild pitches. One cost him dearly on August 29 when Detroit scored the game-winning run on an errant pitch.
Portocarrero captured his first career shutout on September 14 against the White Sox. Ten days later he earned a career-high 11 strikeouts in a 5-1 victory over the Yankees. Portocarrero finished 9-18, 4.06 for the inept 1954 Athletics (51-103), placing among the team leaders in most pitching categories to establish himself as the club's ace. Joost had some choice words for the organization after his November release, but reserved considerable praise for Portocarrero. He was not alone. During the offseason the Athletics received numerous offers for the youngster, including two reported queries from the Yankees. Dan Topping, the president and part-owner of the Bombers, seemingly acknowledged their interest when he said, "The [Athletics] have a fine prospect in Arnold Portocarrero."6 He was one of only two players to earn a raise from the club, which had moved to Kansas City.
But that winter proved costly to the Athletics in regard to Portocarrero and another prized prospect, lefty Walt Craddock. Both hurlers were pitching in the Puerto Rican League when Craddock fractured his arm.7 In an abundance of caution, Portocarrero immediately quit, despite placing among the league leaders with eight wins. What he did not reveal, at least initially, was the shoulder stiffening that began affecting him around January. When spring camp opened in 1955, there was a noticeable loss in Portocarrero's velocity. Though he possessed an adequate curve and change-up, the fastball was his signature pitch; he never regained it. "I made the mistake myself pitching winter ball," Portocarrero later confided. "I'll never make that mistake again if I ever get the full use of my arm."8
Portents of Portocarrero's 1955 challenges surfaced during Kansas City's inaugural game when his vehicle was ticketed for a parking violation; he went downhill from there. After his first four starts, he fashioned an 0-3, 7.88 mark, yielding 16 walks in as many innings. During a May swing through Baltimore, Portocarrero visited a renowned Johns Hopkins University surgeon. A torn muscle was discovered in the right arm. He was assigned to the 30-day disabled list. Marked improvement was witnessed immediately upon his return — 2-0, 1.20 in three starts. But Portocarrero was spotty thereafter. On August 12 he surrendered six Cleveland runs without surviving the first inning; twelve days later he earned his second career shutout. He finished 5-9, 4.77 in 111⅓ innings. Seemingly adding an exclamation point to the disappointing season, in the winter Portocarrero was sued for damages from a July 21 car crash.
During the year Portocarrero married Missouri native Patricia Turner. Indications are that the union dissolved in divorce but not before producing two children: Arnold, Jr. and Marisa. In 1956 Portocarrero joined teammate Jim Finigan in offseason employment with a Kansas City region food products company; the next year he did public relations work with the Athletics.
No longer considered the ace of the Athletics' staff, Portocarrero reported to the 1956 spring camp competing with eight others for a spot in the rotation. At various times referred to as husky or massive (scribes nominated him as the club's biggest eater the previous year), the streamlined righty arrived in Florida 20 pounds lighter. Acknowledged as one of the hardest workers in camp, Portocarrero appeared poised to mount a comeback campaign following an April 8 exhibition performance against Pittsburgh when he and Alex Kellner combined to shut out the Pirates. But when the season began, Portocarrero was held on a short leash. He was moved to the bullpen after an April 24 loss to the Tigers. On the heels of a difficult relief stint in Cleveland on May 13, Portocarrero was optioned to the Birmingham Barons.
He found instant success with the Yankees' Class AA affiliate (the Barons had a working relationship with the Athletics and other teams). On May 29, in his first Southern Association appearance, Portocarrero beat Memphis, 7-1, missing a shutout when the Chickasaws scored with two outs in the ninth. He won 10 of his first 14 decisions, including an August 7 victory that lifted the Barons into first place. Though he lost his last six games, Portocarrero finished among the league leaders with a 3.47 ERA.
The successful campaign earned Portocarrero another shot at the big leagues. The Athletics were hopeful despite rising questions about the 25-year-old's maturity: "[I]s [Portocarrero] ready to take his work seriously[?]"9 Those queries were answered affirmatively when the righty fashioned five innings of spotless relief to start the 1957 season. Injuries and general ineffectiveness forced Kansas City to turn to 14 starters during the 94-loss campaign; Portocarrero earned 17 of those starts, completing just one. His arm problems persisted, as evidenced by a July 26 start against Washington. Portocarrero surrendered just two hits in five innings, but was forced from the game due to an ailing shoulder. He finished 4-9, 3.92, including a brilliant record from the bullpen — 2-0, 0.52 in 34⅓ relief innings. "I am interested in the possibilities for Arnold Portocarrero," said manager Harry Craft, who took the helm during the last third of the season. "I thought he did a great relief job for us … and [I] was impressed when he started a game in our last series in Detroit."10
But Craft would have little opportunity to explore this interest. On April 17, 1958, the Athletics, needing to shore up their left-handed pitching, jumped at the opportunity to secure Baltimore southpaw Bud Daley in exchange for Portocarrero. Baltimore general manager and on-field skipper Paul Richards, along with Orioles' pitching coach Harry Brecheen, had jointly developed a reputation for rehabilitating underperforming pitchers. During the righty's disappointing Orioles' debut, the manager and coach detected a flaw in his delivery. Portocarrero was nearly flawless in his next outing — 3⅓ innings of one-hit relief. A start on May 11 resulted in six innings of two-hit pitching in a 4-0 win over Boston (Portocarrero was lifted due to a rain delay). He helped his own cause with a two-run double.
The win launched "a comeback story second to none on the pitching mound."11 On May 30 and June 3 Portocarrero delivered two consecutive shutouts. Beginning June 29 he collected six straight wins in as many starts. By late July, Portocarrero's 2.43 ERA was second only to future Hall of Famer Whitey Ford in the American League. In August the Yankees reportedly queried the Orioles about Portocarrero's availability and were rebuffed. The stopper on the Baltimore staff, Portocarrero halted an 11-game losing streak for his eleventh win. His fourteenth, in which he carried a one-hitter into the seventh while walloping a 400-foot homer off Cleveland righty Mudcat Grant, ended a Baltimore seven-game skid. Portocarrero's third shutout victory of the campaign established an Orioles' single-season record of 15 wins. With a career-best 3.25 ERA, he placed among the team leaders in appearances (32), innings pitched (204⅔), complete games (10), and strikeouts (90). Recipient of a hefty raise to lift his salary to $15,000, Portocarrero was one of the first players to sign a 1959 contract. Anxious to build on the 1958 success, he started working with Brecheen on adding a screwball to his repertoire.
But the combined efforts of the pitching coach and manager Richards could not prevent Portocarrero from a collapse in 1959. His first start, a 13-3 loss to the Yankees in which Bill Skowron hit a grand slam, set the tone for the season. He did not survive the fourth inning in his first three starts, all losses. On April 22, Portocarrero surrendered five runs in 3⅓ innings and actually lowered his ERA to 17.47. Hints emerged that batters were teeing off on the righty because he was telegraphing his pitches. "I was doing a lot of little things wrong," Portocarrero later admitted. "Not one or two things. If it had been one or two, I'd have gotten all straightened out long ago."12 Signs of improvement surfaced when, on August 5, he fashioned a five-hit complete game win over the White Sox. That same month the San Francisco Giants made an unsuccessful bid for him to bolster their relief corps. Portocarrero finished with a record of 2-7, 6.80 in 90 innings.
On the strength of a new delivery and another new pitch (a forkball), Portocarrero hoped to reclaim his place on the 1960 staff. A 3-0, 2.36 record in his first seven appearances (three starts) appeared to support this hope. But far less success ensued. When the Orioles signed aging veteran Bobby Thomson to bolster the club's right-handed hitting (an endeavor that lasted just 22 days), Portocarrero was assigned to the Miami Marlins of the International League. In a surprise move, after the season he returned to Puerto Rico to pitch through the winter. A successful campaign – he led the San Juan Senators to a second-half title – offered encouragement for another try with the Orioles the following spring.
Certainly discouragement occurred when Portocarrero was assigned to another Class AAA affiliate in 1961. Despite a brilliant start – 1.38 ERA in seven relief appearances – he concluded that advancement was not in the offing. At 29, Portocarrero walked away from the professional game.
When he left baseball, Portocarrero was hired as a salesman for U.S. Rubber Company. He remained in sales for the remainder of his life. He also attempted to fulfill his father's wishes by enrolling in college. It is unclear whether he earned a degree.
On June 21, 1986, two weeks before his fifty-fifth birthday, Portocarrero died at the University of Kansas Medical Center. His remains were transported to New York and buried in Calverton National Cemetery. The insatiable appetite for baseball had stayed with him until his last breath; Portocarrero was active in the amateur circuits around Kansas City long after leaving the professional diamonds.
Acknowledgments
The author wishes to thank Rod Nelson, Chair of the SABR Scouts Committee.
Sources
Websites
Ancestry.com
thedeadballera.com/Obits/Obits_P/Portocarrero.Arnie.Obit.html
news.google.com/newspapers?nid=1955&dat=19490811&id=eLwhAAAAIBAJ&sjid=mZwFAAAAIBAJ&pg=5913,3263624&hl=en
news.google.com/newspapers?nid=1955&dat=19490804&id=crwhAAAAIBAJ&sjid=mZwFAAAAIBAJ&pg=3793,894227&hl=en
Notes
Full Name
Arnold Mario Portocarrero
Born
July 5, 1931 at New York, NY (USA)
Died
June 21, 1986 at Kansas City, KS (USA)
If you can help us improve this player's biography, contact us.
http://sabr.org/sites/default/files/PortocarreroArnie.preview.jpg
600
800
admin
/wp-content/uploads/2020/02/sabr_logo.png
admin
2012-01-04 20:37:34
2020-09-07 07:02:25
Arnie Portocarrero