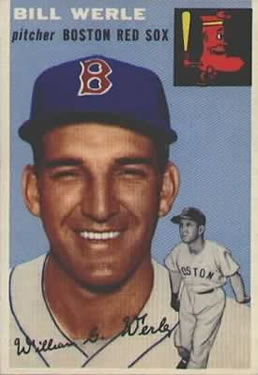 ---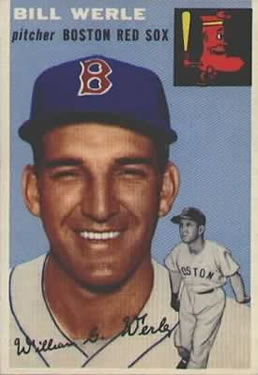 A left-handed entomologist who forged a career in baseball? Handedness is immaterial in science, but successfully pitching left-handed in baseball is a sought-after skill. Bill Werle had a decent run, winning 29 games over six big-league seasons (two partial) from 1949 through 1954. Werle's playing career spanned from 1943 to 1963, and he also managed in the minors during nine seasons (1961; 1963-70) before scouting for nearly three decades.
His interest in entomology earned him the nickname "Bugs," but the one he reported in 1952 was "Whirling Willie Werle."1 The interest in entomology was not apparently in love for the various species but in "insect extermination."2 His uncle was a county agricultural inspector, and when Bill got an athletic scholarship to college, the uncle suggested the field of study. "I didn't realize I was going to be involved so much with science courses," Werle admitted.3
William George Werle was born on December 21, 1920 in Oakland, California. He was of German ancestry. His mother, Emma Windnagel, was born in Illinois of two German parents. His father, Leslie Nelson Werle, was a native Californian, born to two Californian parents. He worked as a police officer. By 1930, the Werles lived in Stockton, where Leslie continued to work for the city police department. They had two children – William and his younger sister Patricia.
Bill attended the Lottie Grunsky School in Stockton through age eight, and then Stockton High. He played American Legion ball in Stockton, and also enjoyed basketball, handball, and ping pong.
Werle went on to Modesto Junior College. He married young, to Olga Hassett in November 1938, while at Modesto. He then attended the University of California at Berkeley in 1941-42 and 1942-43. Werle's record on the mound for the California Bears was not imposing (29-39, 4.69 overall) – but his hitting is still visible in the team's record books. For 1942, his .474 batting average won him the Robert Crews cup as the best hitter for the Bears.4
Werle began his professional baseball career with the Pacific Coast League's San Francisco Seals in 1943. Bob Joyce was a 20-game winner that year for the Seals. Werle was supposed to have a tryout with the Portland Beavers, but Joyce's father, Joe, was on the Stockton police force with Leslie Werle. Joe Joyce called Charlie Graham of the Seals on behalf of his fellow cop's son. "Mr. Graham signed me to a Coast League contract on Mr. Joyce's recommendation and without ever having seen me pitch."5 The signing was announced on June 5, 1943.
Werle – who was 6-foot-2 and listed at 182 pounds – worked 26 innings in nine games that season, with a record of 1-2 and a 4.85 ERA. The Seals, under skipper Lefty O'Doul, finished second in the PCL standings, but won the playoffs in 1943. Werle appeared briefly in the second round of the league playoffs, pitching in the ninth inning of Game One and getting the win in relief.
The following year, 1944, he started 35 games and threw 289 innings, winning 14 and losing 19. His ERA was 4.05. The Seals finished third but again won in the playoffs, four games to three. Bob Joyce, lefty Tom Seats, and Ray Harrell saw most of the action. Werle appeared once, losing a complete-game, 2-1 game against the Angels.
Werle worked over the winter in a war plant in Stockton, but in February 1945, he was inducted into the Unites States Army. He and Olga had a daughter named Jordana at the time of his induction.6
Werle, an infantryman, didn't have to serve long because World War II ended in a matter of months. He was out of the Army by December and was able to return to the Seals for 1946. For the next three seasons – 1946, '47, and '48 – Werle was 12-8, 12-12, and 17-7, with very solid earned run averages of 2.26, 3.29, and 2.74. Lefty O'Doul was still the manager those three years. The Seals finished first and won the playoffs in 1946; finished in a tie for first in 1947 but lost a single-game playoff to Los Angeles; and in 1948, finished second and lost in the playoffs. Werle had the best winning percentage in the league that year. And he had showed off a bit of "iron man" stuff on August 27 against visiting Sacramento, shutting out the Solons, 11-0, in the first game of two, then battling them to a 3-3 tie in the second game, in a game stopped after seven innings by curfew.
The Seals announced on September 22, 1948 that Werle's contract had been sold to the Pittsburgh Pirates for three players and an unannounced sum of cash. Scout Ted McGrew of the Pirates had been following him for some time.7 The Associated Press story suggested the amount of cash was "a large chunk" and might have been as much as $50,000.8
At age 28, Werle became a big-leaguer; he made the Pittsburgh roster in spring training 1949. His debut came on April 22 in early relief as Pirates manager Billy Meyer summoned him in the top of the second inning. The Cincinnati Reds had a 4-0 lead, two on, and nobody out. Werle pitched 7 2/3 innings of scoreless, six-hit ball, while the Pirates scored five runs to take the lead and win the game. "I never worried after that first pitch," he said postgame. "I've always had good control and if I get by that first one I'm usually all right. That curve was really snapping in there today. I used a sinker a lot and my forkball worked, too."9 One week later, he got his first start, but lost, 7-3.
Werle was arguably the best rookie lefty in the National League in 1949, but he was pitching for the sixth-place Pirates. He finished 12-13 with a 4.24 ERA. He struck out 106 batters and walked only 51, in 221 innings of work. He started in 29 of his 35 games, and threw 10 complete games. Perhaps his most satisfying effort was on the Fourth of July, in the second game of a doubleheader, a 1-0 shutout of the Cincinnati Reds.
Meyer progressively converted Werle into a reliever. In 1950, 22 of his 48 games were as a starter, mostly at the beginning and end of the season; he was 8-16, 4.60.
In 1951, Werle appeared in 59 games – then a franchise record – starting in only nine of them. His ERA climbed to 5.65, and there were some very disappointing moments, such as the August 22 game at Boston's Braves Field, when his wild pitch in the bottom of the 10th inning allowed Sibby Sisti to score the go-ahead run from third base.
During spring training in 1952, there was controversy. Werle was fined $500, suspended indefinitely, and put on the waiver list for "breaking training rules." Meyer was not known as a particularly strict manager; in all his years, Werle was only the third player he'd fined. Yet Meyer said, "I don't care if Werle comes back or not." That sounded serious. Werle didn't deny he'd been out a bit past curfew, but he said he was being made a scapegoat. "Why are they singling me out?" he asked.10
It was a confusing story that took some time to unfold. Some reports suggested he'd been drinking and entertaining another woman in his room (not his wife), and straitlaced Pittsburgh GM Branch Rickey was believing it. Shortly afterwards, Werle admitted he had indeed missed curfew, and that Meyer was right to insist players follow the rules, but that being late was all it had been. Within about a week, both sides had more or less backtracked. The fine still stood, however. And, Pittsburgh sportswriters said, Werle was "a cinch to be traded."11
After his first five relief appearances, he had neither a win nor a loss but an ERA of 9.00. It was no surprise to anyone when he was dealt to the St. Louis Cardinals straight up for right-hander Red Munger on May 3.
Werle appeared in 19 games for the Cardinals and was 1-2 with a 4.85 ERA. Combined, he'd worked in only 24 games, far fewer than his career-high 59 of the year before. (Munger was 0-3, 7.18 for the Pirates, released before mid-June.) Werle himself pitched his last game of the year on July 15. He was placed on the disabled list and missed the remainder of the season with a liver ailment.
On October 2, the Boston Red Sox paid $10,000 to the Cardinals, selecting Werle off the waiver list. He reported for early spring training with the Red Sox in 1953. Manager Lou Boudreau hoped to use him as a lefty reliever. Werle pitched in five games in April and May, and had a very good 1.54 ERA in 11 2/3 innings. Even so, Boston needed to prune the roster and optioned him to Louisville on May 12; Werle spent the rest of the year in Triple A, pitching for the Louisville Colonels. He started 11 games and relieved in 20 others, with an overall ERA of 2.60 and a 13-8 record.
In 1954, Werle was 0-1 for Boston (the same record he'd had in 1953). He relieved in 14 games over April, May, and June, pitching just 24 2/3 innings and posting a 4.38 ERA. He still wanted to pitch, and in the big leagues – as a starter. He'd started in his last 12 appearances for Louisville in 1953, and he'd gone 8-3. In the only one that was not a complete game, he'd left in the seventh for a pinch-hitter, trailing 1-0. Boudreau, however, felt that with Mel Parnell, Leo Kiely, and Bill Henry he had enough lefty starters. "If one of them falters Werle will get his starting chance," said the manager that February.12
Werle had a reason he preferred starting. "When a pitcher starts a game he has an opportunity to try various types of pitches against the other team's hitters by pitching to them three or four times if he stays in the game. This gives you a chance to learn how to pitch to the opposing batter. And to win a pitcher must learn the strength and weaknesses of the hitters against his own pitches, not just that some batters like to hit fast balls and others like to hit curves. When you relieve you may get to pitch against most hitters only once, and do that in the clutch with no change to try more than one pitch."13
Werle's final major-league appearance came on June 20. Though he'd given up only two earned runs over his last six stints, when the Red Sox brought up Russ Kemmerer from Louisville on June 22, they sent both Werle and Tom Herrin down. Werle spent the rest of the year in Louisville again going 7-4, 3.99. Louisville won the Junior World Series in 1954, beating Syracuse of the International League. Werle got the clinching Game Six win, 4-2. He'd won a total of six postseason games during the American Association playoffs and the Junior World Series.14 On October 14, the Cincinnati Redlegs bought his contract from Louisville.
Werle trained in the springtime with Cincinnati, until April 1, when his contract was sold to the Portland Beavers. He felt aggrieved. He thought he'd been doing OK for Cincinnati manager Birdie Tebbetts, but was let go when he was just 62 days short of eligibility for a pension. He thought Tebbetts had misled him about his standing with the team, and that he'd been treated unfairly. He said that maybe Tebbetts hadn't known how close he was to eligibility "but Cincinnati did and I call it a raw deal. I think I earned the right to a fair trial with Cincinnati, but I sure didn't get it."15 Tebbetts said that Werle had gotten the opportunity to make the club, but simply had not, and was unwilling to take all the blame. Tebbetts also noted that the Red Sox had cut Werle with the same number of days before eligibility.
Werle spent the next seven seasons pitching back in the Coast League and was a starter for most of that time. He was with Portland in 1955 (17-8) and 1956 (16-15). He split the 1957 season between Portland and San Diego, where he also worked in '58, '59, and the start of 1960. He joined Tacoma in 1960, and then during 1961 he went from Tacoma to a new franchise, the Hawaii Islanders. In addition to pitching for the Islanders, he served as the team's pitching coach. When Tommy Heath was kicked upstairs to the front office amid a slump, Werle was named acting manager in late August and then manager on September 2.16
According to reports at the time, Werle was going to manage the Islanders in 1962. However, he wound up coming back as pitching coach instead.17 In 1963, he resumed his minor-league managing career with Single-A Fresno in the San Francisco Giants' system. He also made his final appearance on the mound that year, retiring the only batter he faced.
Werle returned to Fresno as skipper in 1964. That year he managed Masanori Murakami, the first Japanese-born major-leaguer. Rob Fitts, author of Mashi, the biography of Murakami, said of Werle, "His handling of Murakami was superb."18 Werle had visited Japan twice with Lefty O'Doul and picked up a few phrases of Japanese. This and his appreciation of Japan itself helped make Murakami and a pair of other Japanese players comfortable.19
Werle then moved up to Triple A, leading Tacoma in 1965 and Phoenix in 1966 and '67. In 1967, the Giants did him a favor, signing him to an active contract to give him the 19 days of service he then needed to make five years and qualify for a pension.20
In 1968, Werle managed low-A ball for Baltimore. He then put in two more years at Fresno for the Giants in 1969 and 1970. Beginning in 1971, he became a special assignment scout for the Orioles.
Werle scouted for Baltimore all the way through 1989, mostly looking at pitchers in the majors and high minor leagues. In 1984, Ron Borges of the Boston Globe wrote a nice profile on his scouting work.21
In 1990, Werle was offered a two-year deal by the Cleveland Indians and worked for them through 1999. Brent Kelley's interview in 1991 for Sports Collectors Digest provides a lot of Werle's perspectives on his work to that time.
Werle lived nearly a decade after retiring from baseball. At age 89, he died of complications from Alzheimer's in San Mateo on November 27, 2010. He'd been in a home for 2½ years before his passing. He was survived by his second wife, Eva, and his son William Jr., as well as two stepdaughters and several grandchildren and great-grandchildren.
Acknowledgments
This biography was reviewed by Rory Costello and fact-checked by Thomas Nester.
Sources
In addition to the sources noted in this biography, the author also accessed Werle's player file and player questionnaire from the National Baseball Hall of Fame, the Encyclopedia of Minor League Baseball, Retrosheet.org, Baseball-Reference.com, CalBears.com, Rod Nelson of SABR's Scouts Committee, and the SABR Minor Leagues Database, accessed online at Baseball-Reference.com. Thanks to Rory Costello for several suggestions for improvement.
Notes
Born
December 21, 1920 at Oakland, CA (USA)
Died
November 27, 2010 at San Mateo, CA (USA)
If you can help us improve this player's biography, contact us.
https://sabr.org/sites/default/files/WerleBill.jpg
600
800
admin
/wp-content/uploads/2020/02/sabr_logo.png
admin
2017-04-20 16:51:01
2017-04-20 16:51:01
Bill Werle