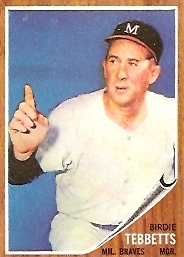 ---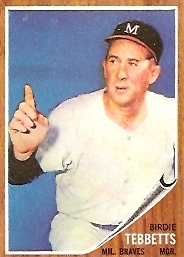 In a 1973 SABR survey, Birdie Tebbetts narrowly missed being chosen Vermont's greatest baseball player, finishing second to Larry Gardner by a mere handful of votes. In almost every respect, Tebbetts was a solid candidate: a lifetime .270 hitter, Birdie amassed exactly 1,000 hits in a career that spanned 17 years, three of which were lost to military service. Perhaps what was lacking were strong Vermont ties — whereas Gardner spent nearly his entire life in the Green Mountains, Tebbetts left the state when he was only a couple of months old.
But aside from being born there, Tebbetts had several other connections to the Green Mountain State. He nearly accepted a scholarship from Gardner to attend the University of Vermont — until the aspiring pre-med learned that afternoon laboratory sessions would conflict with baseball practice. Instead he chose Providence College at the behest of the scout who signed him to his first professional contract — none other than Vermont-born Jean Dubuc. But his fondest Vermont memory was of a 1948 barnstorming trip to Burlington, during which he met his future wife.
George Robert Tebbetts was born in Burlington on November 10, 1912. He was the third and final child of Charles and Elizabeth Ryan Tebbetts, and his round, freckled face and flaming red hair reflected his mother's Irish heritage. George's most distinguishing characteristic, though, was his unusually high-pitched voice. As a toddler he acquired the nickname "Birdie" after an aunt observed that his voice sounded like a bird chirping.
The Tebbetts family lived in a brick Federal-style house that still stands on King Street. Birdie's father, Charles Tebbetts, first appeared in the Burlington City Directory in 1911. At the time he worked as a shipping clerk for Swift & Company, a wholesaler of meats and provisions located at the corner of Maple and Battery streets. That's why the family was living in Vermont when Birdie was born, but Charles was originally from New Hampshire, having grown up on a farm near Dover. Within a couple months of Birdie's birth, Swift promoted Charles to salesman and transferred him back to his native state. The family settled in Nashua, but tragedy struck one year later when Charles died, leaving Mary to raise three children on her own. "We were very poor," Tebbetts recalled.
When Birdie was eight he had the fortune of meeting Francis Parnell Murphy, owner of Nashua's biggest industry, the Thom McAn Shoe Company, and later governor of New Hampshire. Murphy sponsored the Nashua Millionaires, an independent baseball team composed of ex-professionals and collegiate All-Americans, and Birdie served as the team's mascot. "Murphy happened to take a liking to me," Tebbetts said. "Having no father of my own, I guess I adopted him in my mind as a father. He helped me in a number of ways, and no man in my life has ever exerted a more powerful influence on me." One obvious perk was that Tebbetts never had to pay for a pair of shoes.
That stint as mascot for the Millionaires was also responsible for Tebbetts becoming a catcher. His idol on the team was Clyde Sukeforth, best-known today as the man whom Branch Rickey assigned to scout Jackie Robinson for the Brooklyn Dodgers. Sukey was also a pretty good backstop who went on to enjoy a ten-year career in the majors with Cincinnati and Brooklyn, and Birdie imitated his moves behind the plate. Tebbetts became so adept, in fact, that it became a standard pregame attraction for the youngster to warm up Nashua's starting pitcher.
Birdie grew up to be a star athlete at Nashua High School, playing football, basketball, and especially baseball. By his senior year of 1930 he'd received scholarship offers from numerous colleges (one was a six-year scholarship from UVM that included medical school) and professional bids from major league clubs. The man who signed Lou Gehrig, in fact — legendary New York Yankees scout Paul Krichell — told Birdie's mother that the Yankees considered her son the best amateur prospect in the country. Imagine the money he could command if he were in that position today!
Tebbetts eventually chose to sign with the Detroit Tigers after being scouted by Dubuc and approved by the team's manager, future Hall of Famer Bucky Harris.
"I got a bonus that was sufficient to wipe out all our family debts," Birdie said. Better yet, the Tigers agreed to pay his way through any college in the country. Birdie narrowed his choice to Holy Cross and Providence, but it took two stars of the deadball era to help make his final decision. "I was actually leaning towards Holy Cross, which was coached by Jack Barry, the old Philadelphia A's shortstop," Tebbetts said. "But Dubuc had offered to pay my way down to New York so I could work out with the Tigers at Yankee Stadium, and when Barry got wind of it he threatened to have my amateur status revoked." The old Tiger righthander mentioned this to Birdie, who became so angry that he chose Providence. "In my first game for Providence I tripled to beat Holy Cross," Tebbetts said. "It was one of the highlights of my baseball career."
Each summer, following the end of the college baseball season, Birdie played for East Douglas in the Blackstone Valley League, a high-level semipro circuit consisting mostly of teams from New England mill towns. Though supposedly amateur, teams spared no expense in attracting the best talent available. It wasn't uncommon for major leaguers who had off-days in Boston to sign on for important games. That's how Tebbetts in the span of one week found himself catching future Hall of Famers Lefty Grove and Carl Hubbell, both in the prime of their careers.
Birdie Tebbetts graduated from Providence College with a degree in philosophy in 1934, the year Detroit purchased future Hall of Fame catcher Mickey Cochrane from the Philadelphia A's. With the veteran backstop installed as player-manager, the Tigers ran away with their first American League pennant since 1909. The following year Cochrane led the Tigers to another pennant and a World Series victory over the Chicago Cubs, giving Detroit its first championship ever. With Cochrane a fixture behind the plate, clearly there was no need for Tebbetts in Detroit.
Birdie spent three seasons in the minors before receiving a call-up to the Tigers in September 1936. In 1937 he made the team out of spring training, but the season was in its infancy when he and three others received notice that they were being sent to Toledo following an afternoon game with the Yankees. The others watched the game from the grandstand, but Tebbetts elected to remain in uniform in case he was needed. In the fourteenth inning Birdie was pressed into duty as a pinch hitter. He delivered a game-winning double into the right-field corner, and after that he didn't leave the majors for another 16 years.
On May 25, 1937, an opening in Detroit's starting lineup suddenly appeared when Cochrane's skull was fractured by a pitch from Bump Hadley of the Yankees. Rookie Rudy York was thrown into the catching breach and responded with 68 home runs and 230 RBIs over the next two seasons, but his defense was awful. By 1939 Cochrane's replacement as manager, Del Baker, had seen enough. He installed Tebbetts as Detroit's regular catcher and Birdie batted a respectable .261 in 106 games.
In 1940, Baker shifted Hank Greenberg to left field to open up a regular spot for York at first base. The pair combined to hit 74 home runs as the Tigers finished a whisker ahead of the Indians and Yankees in one of the closest pennant races ever. After batting .294 for the regular season, Tebbetts went hitless in 11 World Series at-bats, even though the Tigers were stealing Cincinnati catcher Jimmie Wilson's signs. "We knew every pitch the Reds were throwing against us," Birdie said. "The screwiest part of it was that it didn't do us a damn bit of good." With solid pitching from Paul Derringer and Bucky Walters, Cincinnati edged out the Tigers in a seven-game series.
Tebbetts caught for the American League in the 1941 and 1942 All-Star Games, but military service during World War II took him out of baseball for the next three seasons. Birdie batted only .243 on his return in 1946 and continued to struggle in 1947, batting .094 as of May 20. On that date the Tigers traded him to the Red Sox for Hal Wagner, a catcher nearing the end of a 12-year career. The swap proved a bargain for Boston. Tebbetts batted .299 for the remainder of 1947, lifting his average for the year to .267. Reminiscent of the vengeance he inflicted on Holy Cross, Birdie managed to hit nearly .400 against Detroit.
He was Boston's regular catcher again in 1948 and made the American League All-Star Team. After 154 games that season, the Red Sox and Cleveland ended up tied at 96-58, necessitating a one-game play-off On October 4, 1948, the Indians beat Denny Galehouse at Fenway Park, preventing the Red Sox from joining the Braves in an all-Boston World Series.
Following the 1948 season Birdie Tebbetts barnstormed throughout New England with a team of his own composition. The Birdie Tebbetts Major League All-Stars featured Snuffy Stirnweiss and Spec Shea of the Yankees, Vic Wertz of the Tigers, Eddie Pellagrini" of the Browns, Carl Sheib and Joe Coleman of the Athletics, Vern Stephens and Jimmy Piersall of the Red Sox, and Chicago White Sox first baseman Tony Lupien, a Massachusetts native who made his home in Springfield, Vermont.
On Columbus Day the team came to Burlington's Centennial Field to play an aggregation managed by Larry Gardner and composed mostly of players from Burlington's amateur Suburban League. The local squad was beefed up by the addition of St. Louis Cardinals infielder Ralph Lapointe of Winooski, and the two teams exchanged pitchers and catchers to make-the game more interesting. A crowd of over 4,500 packed Centennial to see the Tebbetts All-Stars cruise to an 8-4 victory. Appropriately, the game's top performances were turned in by players with Vermont connections: Lupien was 4-for-5 with a triple and three RBIs, while Lapointe paced the locals with two singles and a stolen base.
The game was staged for the benefit of a local charity, and afterwards a banquet was, held at the Hotel Vermont. Birdie was chatting with Stephen Hartnett, proprietor of a Burlington restaurant, when he noticed a beautiful brunette about 20 feet away. "Boy, that's a good-looking girl," Tebbetts said to his companion. "I sure would like to meet her." Hartnett called the woman over and said, "Mr. Tebbetts, I'd like you to meet my daughter Mary." At the time, Mary Hartnett was working as a secretary to Vermont Governor Ernest Gibson, who was unable to attend the banquet and sent Mary in his place.
Stephen Hartnett was active in the Burlington Elks Club, and at her father's request Mary wrote to Tebbetts and asked what he'd charge to give a speech to the Elks at their winter sports banquet. Tebbetts replied to Mr. Hartnett that his usual fee was $350, but he'd donate the money back to the Elks if he could get a date with his daughter. Mary wrote back that "the fee is too high and his daughter is not interested" but Birdie persisted. "That winter I drove up from Nashua through those mountains and spoke at that banquet," Tebbetts said. The effort paid off. Birdie married Mary Hartnett on October 28, 1950.
A 37-year-old Tebbetts batted .310 with a career-high eight home runs for the Red Sox in 1950, but despite the increased production he caught just 74 games — only one more than his back-up, 28-year-old Matt Batts. During a postseason banquet, Birdie told reporters that the reason he'd played so little was that one or two "juvenile delinquents and moronic malcontents" on the Boston pitching staff didn't want him catching them. The Red Sox didn't appreciate Birdie's candor. Though weak behind the plate, they sold Tebbetts to Cleveland. Over the next two seasons he spelled perennial all-star Jim Hegan, a superb defensive catcher.
Tebbetts knew he was nearing the end of his playing days, but he wasn't sure what he wanted to do next. Earlier in his career he'd considered farming, even taking post-graduate courses in agriculture at the University of New Hampshire in 1941. The war halted his studies, however, and he switched to selling insurance as an off-season activity, working as an associate for the Paul Sadler Agency in Nashua. But following the 1952 season. he decided to accept an offer from the Indians to manage their Triple-A farm team in Indianapolis. Sports writers predicted that before long he'd be managing in the majors.
Those predictions came true one year later when a strange set of circumstances led to his hiring by the Cincinnati Redlegs (during the McCarthy era the team preferred not to be called the Reds). The Redlegs didn't have a Triple-A affiliate, so Cincinnati's general manager, Gabe Paul, made a deal with his cross-state counterpart in Cleveland, Hank Greenberg. The Redlegs agreed to send prospects to Tebbetts at Indianapolis if the Indians would help stock Cincinnati's Double-A team at Tulsa. Greenberg asked the Redlegs to send reports on his players from Tulsa's manager, Joe Schultz, so Paul requested Tebbetts' reports on the Redlegs prospects. "When I got them, I was amazed," Paul said. "Birdie's reports were the most complete I'd ever seen."
Frustrated by Cincinnati's fourth consecutive sixth-place finish in 1953, Paul decided to fire manager Rogers Hornsby. Initially he'd hoped to hire Al Lopez, but when the Cleveland manager announced his decision to remain with the Indians, Paul asked Greenberg for permission to hire Tebbetts. Not wanting to stand in the way of his old teammate, Greenberg acquiesced, and on September 28, 1953, Birdie Tebbetts became Cincinnati's fifth manager in seven years. To this day he is the only Vermonter ever to manage in the major leagues.
The Redlegs experienced slight improvement in their first two seasons under Tebbetts, finishing in fifth place both years. Then in 1956 the Redlegs stayed in the race until the last day of the season, ending up with a 91-63 record, two games behind Brooklyn and one behind Milwaukee. It was the first time Cincinnati had finished in the first division in 11 years. Tebbetts was voted National League Manager of the Year.
Cincinnati finally appeared to be on the verge of a pennant, but the Redlegs finished a disappointing fourth in both of the next two seasons. Paul and Tebbetts fell under heavy criticism. Finally Birdie decided to quit, as Paul confirmed years later.
       Nobody believes me when I say Birdie quit. They still think I fired him. Absolutely not. I tried to get him to stay. He was a nervous wreck and he looked bad.
       He came to me and said, "Why don't you pay me off and let me go home?" I talked him out of it. Rumors began to fly and I told the reporters that what we needed were new players, not a new manager. And I meant it.
       Three weeks later, he came to me again, requesting to leave. This time I thought it would be the best thing for his health, so I accepted his resignation. But he positively was not going to get fired. He could have stayed at Cincinnati as long as he wanted to. The way he looked, I didn't think he'd ever manage again.
In fact, neither did Tebbetts. At the press conference announcing his resignation, he told reporters he was through with managing.
Birdie landed an executive position with the Milwaukee Braves, but he missed the excitement of being in the dugout. When the team fired Chuck Dressen in September 1961, Tebbetts returned to managing for the last month of the season. Despite talented players like Hank Aaron, Eddie Mathews, Joe Adcock, Warren Spahn, and Lew Burdette, the Braves finished fourth. Ironically, they'd won the pennant in 1958 when Tebbetts last managed the Reds, and in 1961 the Reds won when he was managing the Braves.
During the 1962 World Series Birdie accepted an offer to manage the Indians from Gabe Paul, who'd moved on from Cincinnati to become general manager at Cleveland. In his return to the A.L., Birdie guided a young Cleveland team to a fifth-place tie in 1963. By that point he'd been smoking three packs a day for the last 25 years, and his weight had ballooned to 238 pounds.
In Tucson on April 1, 1964, just as spring training was ending, Tebbetts suffered a heart attack. The 52-year-old underwent bypass surgery at the Mayo Clinic, and it was reported that he was probably out for the season. Miraculously, he returned to the Indians on July 4, remaining with the team until he was fired on August 19, 1966. In 10 seasons as a manager, he'd compiled a record of 748-705 (.515).
Though he never again managed in the majors, Tebbetts worked in professional baseball as a scout and minor league manager for the New York Mets, New York Yankees, and Baltimore Orioles until his retirement in 1992. Settling down in Holmes Beach, Florida, in his eighties. Birdie helped out with the Anna Maria Island Little League.
Birdie Tebbetts died on March 25, 1999. "I'd like to be remembered as a good father and a good citizen," he told The Bradenton Herald a month before his death, "but I am a baseball guy. That's all I am. That's all I ever was. That's all I ever want to be."
Note
This biography originally appeared in the book Spahn, Sain, and Teddy Ballgame: Boston's (almost) Perfect Baseball Summer of 1948, edited by Bill Nowlin and published by Rounder Books in 2008.
Sources
A version of this biography originally appeared in Green Mountain Boys of Summer: Vermonters in the Major Leagues 1882-1993, edited by Tom Simon (New England Press, 2000).
In researching this article, the author made use of the subject's file at the National Baseball Hall of Fame Library, the Tom Shea Collection, the archives at the University of Vermont, and several local newspapers.
Photo Credit
The Topps Company
Born
November 10, 1912 at Burlington, VT (USA)
Died
March 24, 1999 at Manatee, FL (USA)
If you can help us improve this player's biography, contact us.
http://bioproj.sabr.org/bp_ftp/images3/TebbettsBirdie.jpg
600
800
admin
/wp-content/uploads/2020/02/sabr_logo.png
admin
2012-01-04 20:39:56
2021-09-26 10:32:02
Birdie Tebbetts