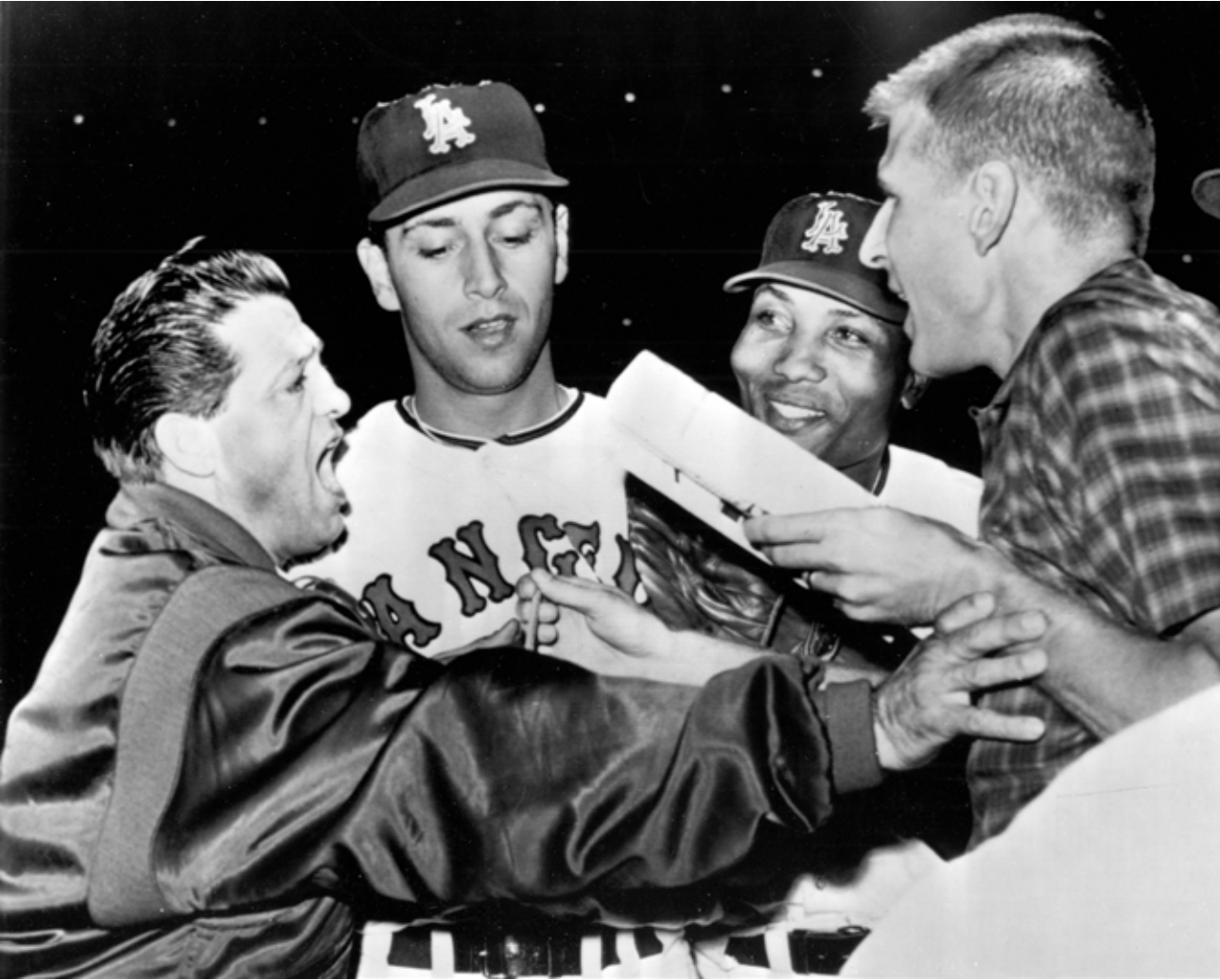 ---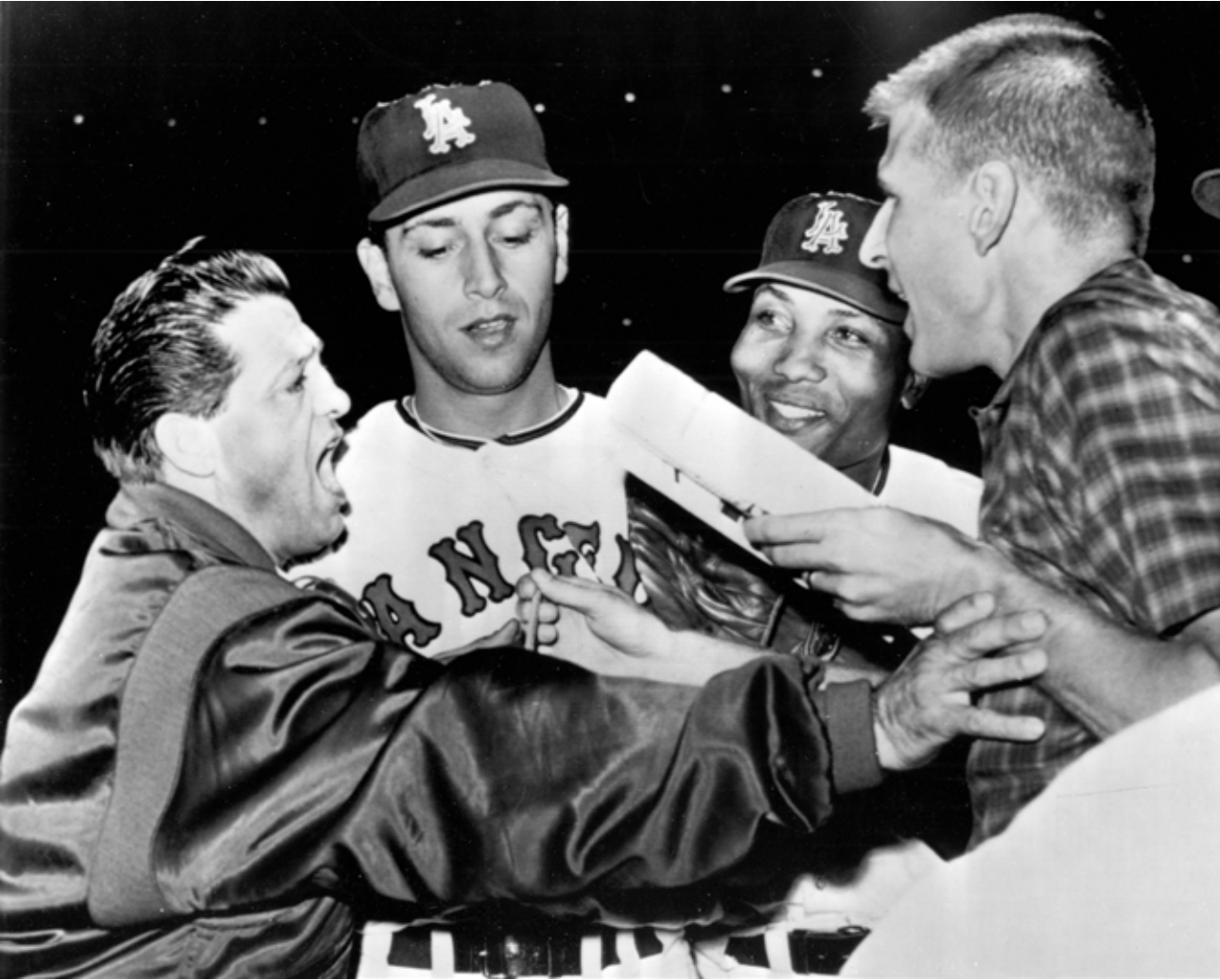 "My only regret is that I can't sit in the stands and watch myself pitch."1 No one ever accused southpaw Bo Belinsky of being modest. And probably no pitcher in baseball history ever got more mileage out of 28 wins (against 51 defeats) in parts of eight big-seasons as Belinsky.
Belinsky took baseball by storm as a rookie with the Los Angeles Angels in 1962, and captured the hearts of the Hollywood jet set. Good-looking with a dark complexion and slicked-back black hair, the roughneck from the streets of Trenton, New Jersey, turned Tinseltown upside down when he tossed a no-hitter in his fourth big-league start, en route to winning six of his first seven starts. That gem changed his life, and cast him on an odyssey that few big-league players could ever imagine. Belinsky's ego was as big as his fastball was daunting. He flouted the conservative mores of baseball by praising himself and living by his own rules. Days after his no-hitter, he became a regular at Hollywood afterparties, where he met Walter Winchell, an aging influential gossip columnist, who introduced him to Hollywood A-listers, and plenty of B-listers, and a seemingly endless supply of actresses and wanna-be's who lined up to meet the most eligible bachelor in town not named Hugh Hefner. Belinsky was the country's best-known athlete-playboy, 3½ years before Joe Willie Namath took a bite out of the Big Apple. "Playing baseball seemed only incidental," said Belinsky in retirement. "I was just on a mad whirl day and night."2
Belinsky made as many headlines with women as for his occasional pitching victories. "For both variety and sheer volume of female companions," opined sportswriter Myron Cope, "Belinsky is an authentic lion of the boudoir."3 He dated Ann-Margret, Tina Louise, and Connie Stevens, was briefly engaged to Mamie Van Doren in 1963, and married Jo Collins, Playboy's 1965 Playmate of the Year, in 1968. "What I'm looking for is one with dough," said Belinsky as a rookie. "I need a poor one like Custer needed more Indians."4 He got his wish more than a decade later when he married Jane Weyerhaeuser, the heiress to the Weyerhaeuser paper fortune, in 1975. Both the aforementioned marriages ended in divorce. "My philosophy of life?" said Belinsky in one of his most memorable quips. "That's easy. If music be the food of love, by all means let the band play on."5
Years before Nike ran an ad campaign focusing on two-sport star Bo Jackson, "Bo Knows" could have referred to Belinsky, as in "Bo Knows — No Rules." "I was serious when I pitched," he said after retiring, his memory of reality slightly distorted, "but off the mound I defined myself. I tried to live my life the way I wanted, with a little style, a little creativity."6 He drove around Hollywood in a bright red Cadillac convertible, a gift from a local auto dealer after his no-hitter. Belinsky earned only $10,000 as a rookie, and $15,000 two years later, but enjoyed a supersized lifestyle. "I live like a man who makes $70,000," he once said. "The places I go and the people I bang into and the dinners that I don't pay for …"7 Even Belinsky's mother seemed ill at ease with her son's predilection for glitz and glamour, but wasn't surprised. "Bo likes money," she said, "but he doesn't work hard to get it. He's always been that way. He was a kid with high ideas and low pockets."8
"My career?" said Belinsky in retirement. "It was no big thing."9 Belinsky was correct about his pitching — it was dismal. But it was his life off the mound that made him one of the most colorful characters and most recognizable athletes of the early to mid-1960s. He captured the zeitgeist of the pre-Vietnam War swinging '60s, and marked the gradual dissolution of the button-down conservatism of the previous decade. "In the long run it wore me down physically and mentally," said Belinsky about his fast-paced living.10 Writer Steve Oney described Belinsky as a cross between the debonair Dean Martin and the antiestablishment Jack Kerouac.11 Belinsky's controversy-filled three-year stint with the Angels ended when he cold-cocked a 64-year-old reporter and was traded to the Philadelphia Phillies. Belinsky knocked around a few more years before retiring in 1970, the years of heavy drinking, smoking, and partying having taken a toll on his once svelte body.
Robert Belinsky was born on December 7, 1936, in New York City, to Edward and Anna (Polnoff) Belinsky. A few years later the family left its tenement house on the Lower East Side and moved to Trenton, New Jersey, where the elder Belinsky had been born. The Belinsky family, which grew to four with the birth of daughter Lorraine, had limited means; Edward had been a handyman at an apartment house, and later opened a TV repair shop; Anna was a stocking inspector at the Gold Stripe Hosiery Company. Though Belinsky is often identified as a Jewish ballplayer (his mother was Jewish and his father was Catholic), he was not raised in a religious household. Rather, Belinsky was proverbially baptized on the streets of Trenton, where he became a two-bit poolhall hustler and fighter, and was nicknamed Bo (he had been called Bob as a child) after boxer Bobo Olson. "When I think of Trenton," said Belinsky in a tell-all story about his life, Bo: Pitching and Wooing, by Maury Allen (published in 1973), "I can't imagine I lived there as long as I did. Things were tough."12 Belinsky attended Trenton Central High School but didn't play sports. They were "too regimented," he claimed, plus he didn't like the rah-rah stuff.13
Belinsky's introduction to baseball was on Trenton sandlots and in semipro leagues which afforded him the freedom to come and go as he pleased. After graduating from school in 1955, Belinsky hung around Trenton, hustled in nearby cities with noted pool sharks, and took the mound occasionally. The Pittsburgh Pirates took a chance on the 6-foot-2 southpaw with a mean heater and signed Belinsky on May 15, 1956, to a contract on scout Rex Rowen's suggestion.14 "I never liked baseball that much — at first, anyway," said Belinsky. "I only signed a contract to get out of Trenton."15 Pittsburgh assigned him to Brunswick in the Class-D Georgia-Florida League where it was an unmitigated disaster. Feeling out of place and earning $185 per month, Belinsky quit the team in midseason with a 7.36 ERA in 33 innings.
The Pirates sold Belinsky to the Baltimore Orioles, for whom he spent the next five seasons moving up the ladder and flashing signs of greatness, but also establishing a reputation as a carouser who enjoyed the night life more than baseball and was in the doghouse of every manager he played for. In 1957 he went 13-6 with Pensacola and finished with 202 strikeouts, second most in the Alabama-Florida League. The next season he led the Class-C Northern League in ERA (2.24) and strikeouts (184) while posting a misleading 10-14 record with the Aberdeen (South Dakota) Pheasants. After splitting his time among four different teams in 1959, Belinsky was fed up, and threatened to quit. "My career wasn't going anywhere," he recalled. "The Orioles had two young left-handers (Steve Barber and Steve Dalkowski) … that they liked a lot more than me."16
After a look-see at Baltimore's spring training in 1960, Belinsky was assigned to Vancouver in the Triple-A Pacific Coast League. His season was interrupted he was called to Army Reserve duties at Fort Knox. Discharged in July, he returned to the club, but injured his hand in a barroom fight and logged only 32 innings all season.
At spring training in 1961, Belinsky drove Orioles GM-manager Paul Richards crazy with his late-night drinking, partying, and womanizing. Assigned to Little Rock in the Double-A Southern Association, Belinsky enjoyed a breakthrough campaign. Expectations for the 24-year-old hurler were minimal — he had logged just 123 innings in the previous two seasons and relieved in more games than he had started. Belinsky unexpectedly blazed a trail, leading the circuit in punchouts (182 in 174 innings). He also kept his own counsel. After fanning 18 in an 11-inning no-decision on July 17, he announced he was quitting baseball to study electronics in Trenton.17 He ultimately came to his senses, and returned to the club. "I hated minor-league baseball," said Belinsky later in his career. "[N]obody ever told me anything about pitching."18
Despite Belinsky's success, he was not added to Baltimore's 40-man roster, and was subsequently chosen by the Los Angeles Angels in the Rule 5 draft on November 27, 1961. Angels scout Sammy Moses had been tracking Belinsky in Little Rock, while scout Tufie Hashem was impressed with the lefty's recent pitching with Pampero in the Venezuelan Winter League.19 Belinsky mowed down competition, setting a new league record with 156 strikeouts (in 156 innings), and posted a 13-5 record and 2.13 ERA for a 21-30 club.20 He was transferred to Caracas for the postseason and won two more games, including the championship clincher.21
Belinsky was AWOL when the Angels camp opened in Palm Springs in late February 1962. He claimed he was "mentally tired" from winter ball in Venezuela.22 "Sure I'm late," he said. "But it's not when you report that counts; it's how you pitch when they ask you to show your stuff."23 Los Angeles sportswriters were soon to label the brash youngster as a kook, braggart, eccentric, and indifferent. Belinsky also objected to signing a $6,000 league-minimum contract. After pitching without a contract for two days, Belinsky faced his first ultimatum from GM Fred Haney, cut from the old school of top-down management: Either leave or sign. Belinsky acquiesced. He wouldn't take that posture many more times in an Angels uniform. The media was attracted to Belinsky for his good copy; The Sporting News even opined that "his brazen attitude was refreshing."24 Belinsky spoke candidly, touted his own greatness, and broke the mold of a deferential company man. He wore fancy clothes and dark sunglasses, and oozed a self-assurance rarely seen in unproven rookies. Braven Dyer, longtime sportswriter for the Los Angeles Times and Belinsky's future nemesis, referred to him as "Handsome Bo," a spitting image of Narcissus himself.25 Pitching coach Marv Grissom immediately recognized Belinsky's potential in spring training, but also offered some of the first words of caution, suggesting the hurler's future rests upon "how hard he cares to work, how well he looks after himself."26
The circus ride began in earnest for Belinsky on April 18, 1962, when he scattered five hits and walked five, yielding two runs in six innings in front of a sparse crowd of 7,055 at Dodger Stadium to notch a victory in his big-league debut against the Kansas City A's, 3-2. In his second start, a week later, he tossed a complete-game four-hitter to defeat the Cleveland Indians, 6-2. Belinsky's life was forever altered in his fourth start, on May 5, against Baltimore. He overpowered the visiting Orioles with nine punchouts while walking four and not yielding a semblance of a hit to record the first major-league no-hitter on the West Coast. "Hollywood … is gaga over Bo," gushed Dyer.27 Belinsky was immediately catapulted into fame and was the toast of Hollywood. Living off an adrenaline high and just a few hours sleep a night, Belinsky followed up his no-hitter by fanning a career-high 11 in 7⅓ innings against the Chicago White Sox to win his fifth straight start. He rebounded from his first loss to blank the Boston Red Sox, 1-0, on two hits in the second game of a doubleheader on May 20. Behind the scenes Haney and skipper Bill Rigney were concerned for the hottest pitcher in baseball, and implored him to cut out his "activities."28 Local sportswriter Melvin Durslag wrote that since Belinsky's no-hitter his "life that was once confused is now bedlam."29
Winless in his previous five starts, and suffering from a leg injury, Belinsky was involved in his first high-profile scandal on June 13 when he was stopped by police in Beverly Hills at 5 A.M. after a night on the town with his roommate, rookie pitcher Dean Chance. Passenger Gloria Eves claimed that Belinsky assaulted her and threw her out of the car.30 (Eves's eventual $150,000 lawsuit against Belinsky was tossed out in court).31 Belinsky was taken into police custody, but released. Belinsky's life seemed to be careening out of control. On July 6 he crossed a sacred boundary in a disastrous outing, resulting in his formal censure by Haney. After yielding four runs to Boston in one-third of an inning, Belinsky stormed off the mound before Rigney arrived and flipped off the LA crowd on his exit.32 After just three months with the club, Belinsky had transformed from a budding superstar into a problem child with whom Haney vigorously sought to cut ties. The GM was worried about Belinsky's negative influence on the team and especially the effect he had on Chance, who was quietly developing into the club's best hurler.
Haney thought he found a golden parachute when he brokered a backroom deal with the Kansas City A's, agreeing to purchase prospect Dan Osinski for a player to be named later. The clubs had a gentlemen's agreement that Belinsky would be that player. With rumors circulating, the Los Angeles Times published a story about the deal on September 5.33 Many pointed to Belinsky as the source of the rumors. No doubt the Casanova wanted to avoid Kansas City at all costs. Six days earlier, UPI ran a national story about Belinsky's guide to America after dark. He ranked Kansas City (with Baltimore) last in night life.34 One day after Belinsky's trade was announced, Commissioner Ford Frick nullified the deal, stating that the transaction had been formally submitted as a cash deal.35 Belinsky finished his tumultuous, tension-filled first big-league season with a 10-11 slate, 3.56 ERA in 187⅓ innings, and 145 strikeouts, and led the majors with 122 walks, while the Angels, in just their second season, finished in third place with an 86-76 record.
Always criticized for his work ethic and commitment to baseball, Belinsky seemed more interested in a movie career, models, and his postgame highballs. He hired an actor's agent and made some guest appearances in a few Hollywood productions, such as 77 Sunset Strip (1963), the Lloyd Bridges Show (1963), and That Regis Philbin Show (1964). He also had a minor role in one feature film, C'Mon, Let's Live a Little (1967), a campy music drama starring popular pop singers Bobby Vee and Jackie DeShannon. According to Howard Thompson, writing in the New York Times, "Bo-Bo" is the "host of (an off-campus) twist nitery (and is played by), of all people, Bo Belinsky, right off the baseball diamond. Darkly handsome in a tux, the pitcher has a bit of acting to do and does it."36
Given an ultimatum by Haney in the offseason to tone down his excessive lifestyle or risk his career, Belinsky promised to reform. However, he arrived late to spring training, citing an unspecified illness, and resumed his playboy act in Palm Springs, punctuated by an announcement of his engagement to Mamie Van Doren on April 2.37 Belinsky did not have another Cinderella story when the regular season began. He pitched terribly while rumors swirled that he'd be traded to the New York Yankees or Cleveland Indians. "[I]t's unconceivable," opined beat writer Al Wolf, "that Belinsky can stay under the same roof as Fred Haney."38 In late May, a struggling Belinsky (1-7, 6.39) was optioned to the Angels' Triple-A club in Hawaii. The Los Angeles Times reported the story in one of its wittiest headlines, "Call Him a P(lei)boy Now: Belinsky's Off to Hawaii."39 Belinsky laughed at the demotion ("Well at least Hawaii is a great place to be"40), then refused to report, setting off a seven-week soap opera. Suspended without pay, Belinsky finally reported to the Islanders on July 19. He pitched well and drew record crowds, leading the hurler to demand that the Angels reimburse him for his lost salary; an incredulous Haney laughed at the demand.41 Recalled in September, Belinsky appeared contrite only after making headlines with comments that he had no desire or obligation to help the team.42 Belinsky's second big-league season was a disaster (2-9, 5.75 ERA) as the Angels fell to ninth place. The pitcher-turned-performer's postseason began in late October when he began a seven-week gig as a lounge entertainer at the Silver Slipper club in Las Vegas.
Belinsky surprised everyone when he reported to the Angels' spring training on time in 1964. He seemed to take practice seriously; sportswriters even noted that he wore his cap and his hair was short. In his season debut, Belinsky held the Detroit Tigers to one run over eight innings, but also injured his back and was sidelined 10 days. After several ineffective starts, he tossed a complete-game seven-hitter to beat the hard-hitting Minnesota Twins, 4-1, in Los Angeles in the second game of a doubleheader on May 27, kicking off the best stretch of pitching in his career. From May 27 to July 9, Belinsky won six of eight decisions and carved out an impressive 1.82 ERA in 59⅓ innings, capped off with a two-hit shutout against the Chicago White Sox.
Five weeks later Belinsky's career with the Angels blew up. His downfall began with an interview with the AP's Charles Maher after a tough complete-game loss to the Cleveland Indians, 3-0, on August 11. "I've gotta make a move," said Belinsky. "This is my third year with the club and I'm going nowhere financially. You are never stable in this game."43 Asked to comment on Belinsky's threat to quit the team, Haney replied, "That's up to Bo. He's got to run his own life."44 By the time those words were published in a nationally syndicated story on August 14, Belinsky's fate had already been sealed. At about 1:30 A.M. the Angels and beat writers had arrived in Washington for a series with the Senators. Not long thereafter, sportswriter Braven Dyer, having caught wind of Maher's article, confronted Belinsky in his room at the Shoreham Hotel. Apparently fueled by alcohol, the episode turned personal with both men trading insults. Then Belinsky cold-cocked the 64-year-old scribe, knocking him out. Belinsky was sent back to Los Angeles that day and immediately suspended without pay. "Just what right do the Angels have to suspend me?" said the indignant pitcher, who claimed self-defense.45 Days later, Belinsky, despite his 9-8 record and stellar 2.86 ERA, was optioned to Hawaii, but refused to report. "I didn't care anymore," said Belinsky. "I figured I was never going to play baseball anymore."46 Haney's nightmare finally ended on December 4 when he shipped his problem child to the Philadelphia Phillies in exchange for pitcher Rudy May and first baseman Costen Shockley. "I never thought Bo was all bad," Rigney told Maury Allen. "I just think he was in the wrong business. He just wouldn't work."47
After his trade from the Angels, Belinsky won only seven more games (and lost 23) and logged just 266 more innings in his big-league career. Four of those victories came in a forgettable stint with the Phillies. "You want to be there when that arm comes back," said skipper Gene Mauch about Belinsky. "He could pitch. He just wouldn't work out. I wish I had a thousand guys with his arm and none with his head."48 With Belinsky's firebrand personality, Mauch quickly clashed with him. After seven horrendous starts (6.58 ERA in 39⅓ innings), Belinsky was shuttled to the bullpen and used primarily in relief. Sidelined for much of September with a broken rib, Belinsky drew a line in the sand: "I won't be a relief pitcher next year. You can count on it." Retorted Mauch, "He might be a starting pitcher in Little Rock" [the Phillies Triple-A team].49 Belinsky blamed Mauch for his pitching woes. "My arm just couldn't take it," he said of pitching long and short relief and starting. "I never really was a good pitcher after the 1965 season. … Mauch had a lot to do with that."50
Belinsky's increased drug use also had profound effects on his career. Like many major leaguers before and since, Belinsky admitted to occasionally taking greenies (amphetamines) on days he started, but a change occurred with the Phillies. According to Steve Oney in his excellent profile on the pitcher, Belinsky began taking "red juice," a type of liquid amphetamine.51 "[W]hen I got into the bullpen, I started getting loaded every day, because as a reliever, you never know when you might have to play," said Belinsky. "This chemical started coming into my life. I thought I could handle it."52 Belinsky's drug habit progressively worsened over the next decade.
Confined to the end of the Phillies bench in 1966, Belinsky's tenure with the Phillies ended about two weeks after his "pitch me or trade me" ultimatum when he was optioned to the club's Triple-A affiliate, the San Diego Padres, in mid-June.53
The Houston Astros took a chance on Belinsky (despite his 4.83 ERA in 54 innings in the PCL), selecting him in the Rule 5 draft on November 28, 1966. Just weeks before spring training in 1967, the Astros must have wondered what they had gotten themselves into by acquiring the wacky hurler. "I want to play baseball," said Belinsky, "but I don't have the desire to be a great champion."54 At 30 years old, Belinsky had become, according to sportswriter Pat Jordan, "a parody of himself."55 When asked about his expectations for 1967, Belinsky replied matter-of-factly, "I'd say just hanging around the whole season would be a good year for me."56 By that measure, his season was a grand success. He even flashed moments of brilliance, such as holding the New York Mets to just two hits and two runs over eight innings in a 3-2 victory in the Astrodome in July. Few could have imagined that it would be Belinsky's last win in the big leagues.
During spring training with Houston in 1968, Belinsky was more interested in his budding romance with Playboy model and still-married Jo Collins than baseball. Threatening to quit baseball, Belinsky was sold to his former team the Hawaii Islanders, which had become the Chicago White Sox' affiliate in the PCL. Belinsky was in his element living in Honolulu, surfing, swimming, and imbibing. He also pitched better than expected (9-14 and 2.97 ERA in 176 innings). On August 18, he tossed the first no-hitter in Islanders history, 1-0 against Tacoma, overcoming 10 walks and fanning 10.57
Belinsky returned to winter-league ball in Venezuela for the third and final time in the 1968-69 offseason. He carved out an impressive 1.94 ERA despite a 6-8 record for Navegantes del Magallanes; however, he quit the team in January and subsequently filed a lawsuit for unpaid wage and "moral damages."58 Meanwhile he had been selected by the St. Louis Cardinals in the Rule 5 draft on December 2, 1968. An antithesis to the Cardinal Way, Belinsky clashed with the conservative, staid reigning World Series champions in spring training, where his now-centerfold wife was a bigger story than himself. "I think I'd have been better off in the Babe Ruth era when this wasn't such a fragile game," said Belinsky, miffed that the Cardinals would care what he did away from the park. "[M]aybe I haven't had the temperament to be a truly dedicated player."59 At the end of camp the pitcher was sold to Hawaii, which coincidentally had just become an Angels affiliate again.
Playing for Chuck Tanner, a renowned players' skipper, Belinsky emerged as one of the PCL's best pitchers. "Bo was a fine person," said Tanner years later. "I didn't care about his reputation."60 The Pittsburgh Pirates, seduced by Belinsky's 12-5 record and 2.82 ERA, purchased the flamboyant hurler, but it was a toxic match. Maury Allen wrote that Belinsky and Pirates skipper Larry Shepard were like "oil and water."61 The last thing Shepard wanted was a distraction as the Pirates struggled to play .500 ball. Belinsky pitched sparingly, and poorly, losing all three of his decisions.
Traded to the Cincinnati Reds in the offseason, the 34-year-old Belinsky made his final three big-league appearances. In mid-May, he was optioned to Triple-A Indianapolis, where he was bothered by back pain and left the team in mid-August. Belinsky's 15-year professional career was over.
Maury Allen described Belinsky as "the reincarnation of Billy Loes."62 Both were extremely gifted pitchers who critics felt should have won more games. However, that analogy might not be entirely fair to Loes, the eccentric right-hander for the Brooklyn Dodgers in the 1950s, who once claimed he'd rather not win 20 games or else management would expect such results every year. Loes (80-63 in parts of 11 seasons) won 50 games and lost just 25 over a four-year stretch (1952-55) with the Dodgers, pitched in three World Series, and was a member of Brooklyn's only World Series championship. Belinsky had a dismal 28-51 record and logged 665⅓ innings in parts of eight seasons, and was never on a first-place club. "I ended up devoting 15 years of my life to baseball," said Belinsky, looking back on his career. "Man, I loved it. I just didn't take it seriously. … I don't take myself seriously."63
Already a heavy drinker and drug abuser, Belinsky's life was careening out of control by the time he was released by the Reds. "I didn't know what the hell I wanted to do," he said.64 Steve Oney's account of Belinsky's life after his playing days, published in Los Angeles Magazine, is harrowing in its details.65 It is a miracle that Belinsky survived the next six years, given his increasingly erratic, abusive, and dangerous behavior. Broke and living in Malibu, he and Jo divorced in 1971, exacerbating his depression and excessive tendencies. Belinsky ran with criminals and pimps, lived with a prostitute, and began using cocaine. There were numerous failed attempts to dry out. Former teammate and lifelong friend Dean Chance intervened and helped Belinsky enter a program at a hospital in Akron, Ohio, in 1972; he had a drink the day he was discharged. The next year Belinsky was once again cast into the national limelight following Maury Allen's candid best-seller Bo. Pitching and Wooing about the hurler's life, but the notoriety failed to effect change in his behavior. In 1974 Belinsky relocated to his former stomping grounds, Hawaii, where met Jane Weyerhaeuser. Their marriage in 1975 marked the beginning of Belinsky's darkest hours, filled with rage and depression fueled by cocaine and alcohol. After giving birth to six-week-premature twins in 1976, Jane returned home while the twins remained in the hospital. Oney described how a high Belinsky "snapped," brandishing a pistol, and threatened to kill his wife. He eventually shot her through the hip and pointed the gun to his head. Apparently only Jane's pleas stopped him from committing suicide. Despite her injuries, Jane did not call the police.
Oney points to 1976 as a turning point in Belinsky's life. He returned to Los Angeles, where he entered a rehab clinic in Santa Monica. Not only did Belinsky dry out, he became a born-again Christian. For the remainder of his life, Belinsky struggled to remain sober, occasionally falling off the wagon, and also battled other inner demons, like his temper. He and Jane divorced in 1981; another marriage, to a waitress in Hawaii, ended in divorce, too, in 1989. Through it all, Belinsky remained active in Alcoholics Anonymous and worked with a psychiatrist from California treating substance-abuse victims.
On November 23 2001, Bo Belinsky died at the age of 64 at his home in Las Vegas and was buried in Paradise Memorial Gardens. The cause of death was a heart attack. Belinsky had been in poor health for several years, and had been treated for bladder cancer, and had undergone hip-replacement surgery. "It's been a ball," Belinsky once said about his career in baseball. "There isn't one regret, not one. I've been there. I've done everything. I've heard the buglers. I've lived enough for two lives."68 On that occasion, the good-looking southpaw with a mean heater and mesmerizing screwball was not exaggerating.
This biography originally appeared in "From Spring Training to Screen Test: Baseball Players Turned Actors" (SABR, 2018), edited by Rob Edelman and Bill Nowlin.
Photo Caption
Bo Belinsky, a lover of the Hollywood Fastlane, being mobbed by fans; at his side is an amused Leon Wagner.
Sources
In addition to the sources noted in this biography, the author also accessed the Encyclopedia of Minor League Baseball, Retrosheet.org, Baseball-Reference.com, the SABR Minor Leagues Database, accessed online at Baseball-Reference.com, and The Sporting News archive via Paper of Record.
Notes
1 Pat Jordan, "Once He Was an Angel," Sports Illustrated, March 28, 1994: 76. Reprinted article from March 1972.
2 Jonathan Mahler, "He Was no Koufax, But …," New York Observer, December 12, 2001.
3 Myron Cope, A Dialogue Between Baseball's Bigmouths," True. [Dated 1965; player's Hall of Fame file].
4 Melvin Durslag, "Hero Worship Tough on Bo, His Laundry and Landlady," The Sporting News, June 16, 1962:44.
5 Jordan: 76.
6 Jordan: 82.
7 Cope: 58.
8 Maury Allen, "Bo Belinsky Reveals: 'How I Won and Lost Hollywood's Stars,'" Sport Today, October, 1973: 83.
9 Jordan: 76.
10 Jordan: 82.
11 Steve Oney, Fallen Angel," Los Angeles Magazine, July 1, 2006. https://lamag.com/longform/fallen-angel-1/.
12 Maury Allen, with the Uncensored Cooperation of Bo Belinsky, Bo: Pitching and Wooing (New York: Dial Press, 1973), 18.
13 Braven Dyer, "Belinsky, Ex-Pool Shark, Pockets Win for Angels," The Sporting News, May 9, 1962: 20.
14 Allen, Bo: Pitching and Wooing, 32.
15 Jordan: 82.
16 Allen, Bo: Pitching and Wooing, 40.
17 "Litte Rock Southpaw Fans 18 Batters in 11 Innings," The Sporting News, August 9, 1961: 33.
18 Braven Dyer, "Belinsky, Ex-Pool Shark, Pockets Win for Angels."
19 Braven Dyer, "Bo's Success No Surprise to Scout Who 'Found' Him," Los Angeles Times, May 24, 1962: III, 4.
20 All statistics from the Venezuelan League are from Belinsky's page at Estadisticas Beisbol profesional Venezolano. https://purapelota.com/lvbp/mostrar.php?id=belibo001.
21 Frederico Rodolfo, "Lion Slab Stars Tame Indians in Playoff Triumph," The Sporting News, February 14, 1962: 31.
22 Braven Dyer, "Belinsky, Ex-Pool Shark, Pockets Win for Angels."
23 Braven Dyer, "Belinsky Concedes He's True 'Screwball,'" Los Angeles Times, March 2, 1962: III, 1.
24 "Word of Advice to Brash Bo," The Sporting News, June 2, 1962: 12.
25 Braven Dyer, "Soaring Seraphs Sing Bravos for Belinsky," The Sporting News, May 16, 1962: 21.
26 Braven Dyer, "Belinsky, Ex-Pool Shark, Pockets Win for Angels."
27 Braven Dyer, "Soaring Seraphs Sing Bravos for Belinsky."
28 "Rigney Tells Bo to Cut Out 'Activities,'" Los Angeles Times, June 8, 1962: III, 2.
29 Melvin Durslag, "Hero Worship Tough on Bo, His Laundry and Landlady."
30 Belinsky, Chance Fined After 5 AM Ruckus," Los Angeles Times, June 14, 1962: III, 1.
31 'Woman Sues Bo Belinsky for $150,000," Los Angeles Times, August 16, 1962: I, 32.
32 Braven Dyer, "Bo Belinsky Censured by Haney," Los Angeles Times, July 8, 1962: D, 2.
33 Dan Hafner, "Angels Sell Belinsky to A's for Delivery in '63," Los Angeles Times, September 5, 1962: III, 1.
34 United Press International, "Bo Belinsky Reveals Playboy's Guide to American After Dark," Los Angeles Times, Augusts 31, 1962: III, 3.
35 UPI, "Angels Lose Pair — To Yanks, Frick," Los Angeles Times, September 7, 1962: III, 1.
36 Howard Thompson, "The Screen: 'Live a Little': Youngsters' Song Fest on Film Begins Run," New York Times, May 4, 1967: 34.
37 "Bo, Mamie Engaged; No Wedding Date Set," Los Angeles Times, April 2, 1963: III, 1.
38 Al Wolf, "If Alston Goes, Dressen Next, Not Durocher," Los Angeles Times, May 11, 1963: II, 2.
39 Braven Dyer, "Call Him a P(lei)boy Now: Belinsky's Off to Hawaii," Los Angeles Times, May 26, 1963: D1.
40 Ibid.
41 Sid Ziff, "Hickey on Spot," Los Angeles Times, September 4, 1963: III, 3.
42 Sid Ziff, "Big Train in Puddle," Los Angeles Times, September 11, 1963: III, 3.
43 Charles Maher, Associated Press, "Belinsky Wants Out," San Bernardino County Sun (San Bernardino, California). August 14, 1964: 46.
44 Ibid.
45 "Belinsky Punches Writer, Suspended," Los Angeles Times, August 15, 1964: II, 1.
46 Allen, Bo: Pitching and Wooing, 197.
47 Allen, Bo: Pitching and Wooing, 311.
48 Allen, "Bo Belinsky Reveals: 'How I Won and Lost Hollywood's Stars,'" 22.
49 Paul Zimmerman, "No One Gives Bo a 'Break,'" Los Angeles Times, August 27, 1963: III, 2.
50 Allen, Bo: Pitching and Wooing, 213.
51 Oney.
52 Ibid.
53 "Phils Ship Belinsky to Padres," Los Angeles Times, June 14, 1966: III, 4.
54 AP, "Bo Belinsky Plays Baseball for Fun," Daily Mail (Hagerstown, Maryland), February 9, 1967: 25.
55 Jordan: 78.
56 AP, "Bo Belinsky Plays Baseball for Fun."
57 AP, "Bo Belinsky Throws No-Hitter for Hawaii," Fairbanks (Alaska) Daily News-Mirror, August 19, 1968: 8.
58 AP, "Belinsky Suing Baseball Team," Abilene (Texas) Register-News, June 18, 1969: 9.
59 Bob Broeg, "Belinsky's Broke, Welcomes Chance With Redbirds," St. Louis Post-Dispatch, February 23, 1969: 23.
60 Allen, Bo: Pitching and Wooing, 317.
61 Allen, Bo: Pitching and Wooing, 278.
62 Allen, Bo: Pitching and Wooing, 235.
63 Jordan: 82.
64 Allen, Bo: Pitching and Wooing, 302.
65 Oney.
66 UPI, "Bo Belinsky Quiet Member of the Cardinals. Southpaw Talks About His Mental Depression," Terre Haute (Indiana) Tribune, March 30, 1967: 46.
67 Ibid.
68 Allen, "Bo Belinsky Reveals: 'How I Won and Lost Hollywood's Stars,'" 22.
Born
December 7, 1936 at New York, NY (USA)
Died
November 23, 2001 at Las Vegas, NV (USA)
If you can help us improve this player's biography, contact us.
https://sabr.org/sites/default/files/Screen%20Shot%202018-12-04%20at%201.10.41%20PM.png
600
800
admin
/wp-content/uploads/2020/02/sabr_logo.png
admin
2017-12-04 13:09:39
2021-09-22 16:29:54
Bo Belinsky