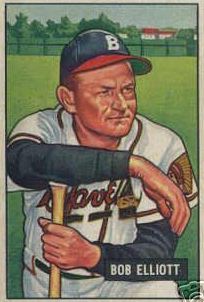 ---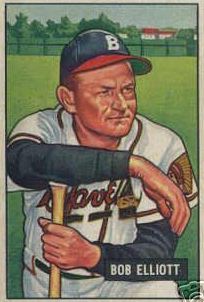 A consistent and sometimes spectacular player, Bob Elliott was the biggest everyday offensive threat on the 1948 Boston Braves. He led that pennant-winning team in games played, home runs, and runs batted in. He was very selective at the plate, striking out just 57 times while leading the National League with 131 bases on balls. The performance was not surprising; a year prior, the husky third baseman became the first Boston Brave to be named the National League's top player since Johnny Evers won the Chalmers Award in 1914. Sportswriter Harold Kaese quoted Hall of Fame second baseman/manager Rogers Hornsby as saying, "Bob Elliott made the Braves. He's the old-time type who hits and plays his best in the clutch."
It is sometimes reported that the right-handed Elliott was such an integral part of the '48 Braves lineup that New England sportswriters gave him the nickname "Mr. Team." But Kaese, a longtime Boston Globe columnist, explained later that "his teammates, without any prompting from the press, began to address him as 'Mr. Team.' If Elliott hit a home run in the clutch, they said, 'Nice going, Team.' And on the bench before games, they'd ask solicitously, 'How's the Team feeling today?'"
A profile of Elliott published by the Pittsburgh Pirates when he was with that team in 1943 had foreshadowed his success with Boston, saying that "his power, speed, and fielding skill and spirit make him look so much like a natural that there is hardly any question that he is destined to rank eventually with the greatest of his time."
Elliott was responsible for one of the greatest hits in franchise history as well — when his three-run home run off Giants hurler Larry Jansen clinched at least a tie for the NL pennant for Boston in 1948. On a 2-1 count in the first inning of the September 26 contest at Braves Field, Jansen threw a slider. "I caught this one hard," Elliott said later. "It was off to right center. I didn't think it would make it.… It went right over the visiting bullpen. We were ahead 3-0." The Braves won the game, 3-2, to end a 34-year championship drought, and Elliott recalled manager Billy Southworth telling him: "That's the best base hit you ever got in your life, Bob."
Elliott even looked the part of a hero. He was described by Kaese as "a rugged young man, blond, blue-eyed, and wearing a chin like a chisel," and was well regarded by his peers, fans, and the press. Boston Daily Record columnist Dave "The Colonel" Egan, for one, noted in 1952 that "Bob Elliott has been a big-leaguer off the field and on it for 13 years" and that he has been "a man of decency and integrity."
Robert Irving Elliott was born on November 26, 1916, in San Francisco and grew up in El Centro, California. His parents were Irving Elliott, a plaster plant superintendent, and the former Anne C. Johns; Robert was one of four children. In his early years in California, Elliott was a student at Harding Grammar School, Wilson Junior High School, and Union High School. At Union he played football and baseball, then took up these same sports at El Centro Junior College.
As a teenager, Elliott got a break that set the wheels of his career quickly in motion. According to the 1948 World Series press notes: "One afternoon when Bob was 17 years old, he received an invite to visit the desk sergeant at the El Centro, Cal. police station.… The purpose of the invitation was a dark secret until Bob reached the sergeant's desk to discover that he was Jack Stark, a former Coast Leaguer who was interested in the El Centro semipro team and wanted Bob, a good amateur player, to join the team.… Needless to say, Bob accepted and soon his playing attracted attention of scouts."
Years later, Elliott recalled: "Jack Stark ran a semipro club at El Centro…and recommended me to [former major leaguer George] Cutshaw. Cutshaw, in turn, told Mr. [William] Benswanger of the Pirates about me. Oscar Vitt, managing Oakland, offered me a contract, but George said, 'You stick with me. I can get you to Pittsburgh.' He was doing some scouting for that club. I figured that with a direct line to the National League, I would have a better chance, so I stuck with Cutshaw, who landed me with the Pirates."
Elliott began his career in professional baseball with Savannah of the Class B South Atlantic League in 1936. In 144 games, he hit 12 homers and knocked in 84 runs while batting .292. Before the 1937 campaign, his rights were acquired by the Pirates as part of a minor-league working agreement. While with Savannah during the '37 season, Elliott showed good speed in legging out 16 triples. He was chosen as a SALLY League All-Star that summer, repeating an honor earned the previous year.
Still just 21 years old, Elliott was sent back for a third season of minor league seasoning in 1938. He played 11 games with Knoxville of the Southern Association, then was returned to Savannah to play the bulk of the summer. Now a familiar face to Georgia fans, he batted .325 with 30 doubles, 11 triples, and 12 homers in his third year with the club.
In 1939, Elliott's strong batting performance in the early going propelled him to the major leagues. The Pirates had sent Elliott to Double A Louisville of the American Association to start that season, "with the notation that Bob is a brilliant prospect, just a year out of the majors." In his debut for the Louisville club managed by Donie Bush, Elliott "lashed a triple off the scoreboard" against St. Paul. Bob had another single in that game, and, according to an account on April 27, 1939, "Bush is wondering if like the absent-minded professor, he found right under his nose the power right-handed batter he had been willing to beg, borrow, or steal."
After playing only 14 games with Louisville, Elliott was optioned to Toronto of the Double A International League. In 115 games there in '39, he batted .328 with 27 doubles. Brought up by Pittsburgh at the end of the season, he made his major-league debut on September 2, an 11-3 win against the Cardinals in St. Louis. All he did in that game was homer into the left-field bleachers and collect three runs batted in. He got his first major-league hit off Clyde Shoun, a single that Cardinals outfielder Enos Slaughter misplayed, allowing Elliott to wind up on third base.
Elliott played in the All-Star game in only his second full season in the major leagues (1941), which was no sure thing since he was hit in the head by a Sam Nahem pitch during a May 24 game. In the Midsummer Classic played on July 8 at Briggs Stadium in Detroit, Elliott made a misplay in the fourth inning on a Ted Williams flyball that led to the American League scoring the game's first run in what would be a two-run NL loss. "I cried," Elliott later said. "Real tears, like a kid."
The 6-foot, 185-pound line-drive hitter came to the major leagues as an outfielder, and he played there through 1941 with the Pirates. As he told Jack Hernon of the Pittsburgh Post-Gazette, he wound up replacing both Hall of Fame-bound Waner brothers: "The Waners were in their last days when I arrived in 1939, and my first full season, the following year, I was in center field as the replacement for Lloyd Waner," Elliott recalled. "Then when the club traded Johnny Rizzo to Cincinnati for Vince DiMaggio, I moved over to right field and Paul [Waner] left the club."
Pittsburgh manager Frankie Frisch decided to switch Elliott to third base in 1942 to replace Lee Handley, who had left the team to serve in World War II. When informed of the position change, Elliott reportedly asked, "Am I that bad an outfielder?" As one account noted, "He was not, but the Pirates needed a third baseman." True to his pleasing personality, Elliott said he was willing to "give it a whirl."
As recounted by Arthur Daley of the New York Times, Frisch hit some grounders toward Elliott to give the young player some practice at third base: "Elliott gave the first couple of grounders the Pie Traynor treatment, beautiful pick-ups and throws. But the next one struck a pebble and smacked him squarely between the eyes. Down he went — out cold. The frantic Flash poured a bucket of water over him. Bob blinked and sat up.
"'Hey, Frank,' he said weakly. 'Remember what you told me about third base adding five years to my career?'
"'Yes, yes,' said Frisch.
"'I think I lost three of those five extra years already,' said Elliott."
Bob experienced a similar moment at third base during a Pirates-Chicago Cubs game on June 22, 1943, at Wrigley Field, when he was decked by a ball hit by Cubs outfielder Harry "Peanuts" Lowrey. According to a contemporary account, "The ball, hitting him on the head after a bad hop, struck with such force that it caromed close to the mound."
Another account of the incident claimed that Elliott was refused for military service in World War II because of head injuries he sustained playing baseball in 1943. In support of the war effort, Elliott joined Elvin "Buster" Adams of the Philadelphia Phillies working for Consolidated-Vultee Aircraft Corp. in San Diego during the 1943 offseason.
While never known principally for his defense, Elliott did develop into what the Times' 'Daley called "a mighty fine third baseman" in spite of his growing pains. A 1951 profile written while Bob was with Boston called Elliott "one of the coolest customers around the hot corner in the National League" and made note of his "sharp fielding." The stats support these claims; although he led the NL with 36 errors at third the year he was moved there (1942), he cut them by one-third the next year and never approached the total again.
Durability was another Elliott trademark. Once he became a regular with the Pirates in 1940, he never played in fewer than 140 games with the team through 1946. He batted in more than 100 runs in every season from 1943 through 1945, and on July 15 of '45 hit for the cycle. His speed was also evident: Elliott hit 10 or more triples in four different seasons with Pittsburgh, and his 13 stolen bases in 1940 led the team. Elliott represented the Pirates at in the 1941, 1942, and 1944 All-Star Games, and was named to the unofficial All-Star team in 1945, a season in which wartime restrictions forced cancellation of the game.
Still, he was never able to bring Pittsburgh as a team to the same level of success that he did later with the Braves. As sportswriter Al Hirshberg said: "Back in Pittsburgh, [Elliott] was known as Jumbo, because he is a gentleman of somewhat ample proportions. But back in Pittsburgh, there was no reason to call him 'Mister Team.' He couldn't pull the Pirates out of the ruck by himself."
In October 1945, there were rumors that Elliott might be traded by the Pirates to the New York Giants. He had come off a strong offensive season in which he batted .290 and knocked in 108 runs despite hitting just eight homers. Although he was approaching 30 years of age, he was clearly the fourth-place team's most desirable player in a potential trade. It is also likely that teams felt his power numbers would improve in a park that was more favorable to hitters than Forbes Field. Moreover, one report alleged, "Elliott is said to have told friends that if Frankie Frisch remained manager of the Corsairs, he would request a change of scene."
That change of scenery took place after Elliott endured a subpar 1946 season, by his standards (.263, 5 homers, 68 RBIs). On September 30, the day after the end of the season, the Pirates traded Elliott to the Braves along with Hank Camelli in return for Billy Herman, Elmer Singleton, Stan Wentzel, and Whitey Wietelmann. Even though Herman would later go on to manage in Pittsburgh, the trade really did not benefit the Pirates on the field, as Herman played in only 15 more major-league games and the other three players appeared in a total of only 127 games for the Pirates. For the Braves, however, it proved one of the best swaps in team history.
According to Al Hirshberg: "[T]he Pirates had two ball players who interested the Braves to no end. One was Ralph Kiner, a rookie outfielder whose 23 home runs led the National League in 1946 and who gave every indication of being well on his way towards fame and fortune.… The other Pittsburgh ball player who intrigued the Braves was Bob Elliott.… Of the two, Southworth's first choice was Elliott, in spite of the slugging potentialities of the youthful Kiner. The Braves manager was thinking about the empty hole that would be left at third base with Herman gone. The Pirates didn't want to give up either of their stars.…. [The Braves brain trust] pointed out that the big Californian wasn't happy in Pittsburgh, which was true.….
"Finally, they got right down to cases. 'Herman and who…do you want for Elliott?' 'An infielder, an outfielder and a pitcher,' came the reply…. 'We can use a spare catcher,' commented Southworth. The boys finally agreed on a deal.… In return for [Herman] and a half dozen nondescript ball players, the Braves acquired the classiest third baseman in baseball."
In spite of his success with Pittsburgh, Elliott, as Arthur Daley put it, "never did reach his full potentiality until he was traded from the Pirates to the Braves." Daley wrote that Southworth reportedly started envisioning a pennant when Elliott joined the team, and he made a point of motivating his new third sacker:
"'You're a very fine ball player, Bob,' [Southworth] told Elliott. 'You can make all the plays you're supposed to at third base. You have an excellent arm. You run the bases well and are a dangerous long-ball hitter. All you need to achieve true greatness is the added sparkle of more hustle. If you hustle, I'm absolutely convinced that you will win the most valuable player award this season.'
"Elliott hustled. He won the most valuable player award. That was 1947 and the lift he gave the Braves spurred them to the pennant the following season." In fact, that reputation for hustling stayed with Elliott. After the 1953 season, Chicago White Sox GM Frank Lane called Elliott "one of the greatest hustlers I ever saw. Bob played every game as if the championship hinged on it."
Although he finished in the top 10 in the National League's MVP voting in every year from 1942 through 1944, Elliott's performance in 1947 put him over the top. He batted .317, hit 22 home runs, had a career-best 113 RBIs, and seemed to always make the key hit or fielding play when the Braves needed it. In the MVP balloting, Elliott received nine of the 24 first-place votes and 205 total points, outdistancing second-place finisher Ewell Blackwell of the Cincinnati Reds by 30 points. "Mr. Team" became the first NL third baseman ever to win the award as well as the first player from a non-pennant-winning team to earn the NL honor since 1938.
A November 1947 newspaper account remarked that Elliott being voted MVP was "a surprise selection if ever the old circuit had one" and concluded that "the Boston infielder's all-around record impressed the committee sufficiently to make him the first third-sacker and the first member of the Braves to gain the official most valuable player award of the National League." During his breakthrough season Elliott did not lead the National League in any statistical category, although he was second in batting and doubles (35), sixth in on-base percentage (.410), and fourth with his career-high RBI total.
Another newspaper article, this one from October 13, noted that William H. "Billy" Sullivan, the Braves' director of public relations, had published "a comprehensive account" to "tout the third baseman as the National League's Most Valuable Player. It represents what is probably the most determined campaign on the part of a ball club to swing the writers' ballots in favor of a candidate." The article added: "The unusual part of this letter is that when you finish it, you really are convinced Elliott was the league's most valuable player."
The article said that most clubs would have preferred not to have their player win the MVP award, fearing that it might lead the winner to hold out for more money. Yet, in Elliott's case, he signed a new contract for $30,000 shortly thereafter. He was still far from the six-figure stratosphere inhabited around that time by Joe DiMaggio and Ted Williams, but he was among the top-paid players on a club filled with veterans.
After another 100 regular-season RBIs in 1948 — capped by his pennant-clinching home run — Elliott had a few more big blows in the World Series versus the Indians. With the Braves trailing three games to one, and a then-record 86,288 fans watching at Cleveland, he hit two homers to pace an 11-5 Boston win in Game Five. In the top of the first inning, his three-run shot off Bob Feller gave Boston a 3-0 lead; two innings later, he hit a solo blast off Feller. The Indians wound up winning the sixth game and the series back in Boston, but "Mr. Team" finished the fall classic with seven hits, five RBIs, and a .333 average.
His Game Five heroics made up for some defensive gaffes by Elliott earlier in the Series. He made three errors at third base during the first two games, and the press was quickly on his heels. It was unknown to the public at the time that Elliott's father was "critically ill," causing Bob to travel to California to be with his dad before the series opened in Boston. Elliott was intent on keeping the matter private at first, but an unnamed teammate revealed the situation to the media. "Maybe [Elliott] thinks it's a personal matter," said the teammate. "Or it may be he's afraid someone will think he's trying to cop an alibi. But it's time people who have been inclined to label him a flop hear it." The teammate said that Elliott and his father had an especially close relationship: "Really, they have been more like a pair of brothers sharing each other's thoughts and ambitions." After Game Two, Elliott played errorless defense and set World Series records for chances accepted at third base (28) during a six-game series as well as the most chances accepted cleanly (25).
Although the Braves fell from their lofty heights in 1949 and never captured another pennant in Boston, Elliott stayed one of the team's top offensive contributors. One highlight for Bob in his remaining years with the club was hitting three home runs in a game on September 24, 1949, and his 76 RBIs that season gave him the distinction of having driven in more runs during the 1940s (903) than any player in the majors. He started off the next decade in similar fashion (with 24 homers and 107 RBIs in 1950), but his performance slipped a bit in 1951. Although his offensive numbers were down, he was still chosen as an All-Star that summer, the third time has a member of the Braves and his seventh overall.
After this disappointing campaign came more headaches for Bob in the form of a salary dispute. Ten days before the start of the 1952 season, cartoonist and sometimes sportswriter Gene Mack reported that "Elliott acknowledges that it's a salary dispute that is keeping him and the Braves front office apart. Reports from the spring training camp hinted that the contract offered by the Tribe included the maximum pay cut of 25 percent from Elliott's 1951 stipend."
With the team trying out Willard Marshall at third, Elliott was concerned about his job security, saying: "[Salary] differences have been going on in baseball for half a century. The point is, if they don't want me, they ought to let me know one way or the other." The apparent "indifference" he was receiving from the team was, Bob said, "'bush' in my book."
The timing of his dispute couldn't have been worse for Elliott, coming on the heels of his subpar season and with the team losing money due to a dramatic drop-off in attendance. Thus "Mr. Team" was likely not surprised when, past his 35th birthday, the Braves traded him to the New York Giants on April 8, 1952, in return for relief pitcher Sheldon Jones and $50,000.
During his one season in New York, Elliott was a shadow of his former self. He played sporadically and batted in only 35 runs in 98 games. After the season, he requested and received his release from the team. He told Arthur Daley, "When the season was finished, and [manager] Leo [Durocher] wondered about my .228 average, he naturally figured I was washed up," said Elliott. "Now, I have no beef about the way I was treated at the Polo Grounds. Durocher and [owner Horace] Stoneham were fine. But when I got into only 98 games with only 272 at-bats, and I am not right on that kind of fare. I like to be in there every day. When I play only occasionally, I get rusty."
Elliott came back for one more major-league season. He thought of playing in the Pacific Coast League. "But just lying in bed one night thinking about it, I felt that I'd like to stay in the majors," he said. "There's nothing like it."
He also thought that St. Louis Browns manager Marty Marion would give him the most playing time, and managed to get himself invited to the club's 1953 spring training camp. After Elliott hit a three-run homer for St. Louis during a 10-6 exhibition loss to the Cubs, team president Bill Veeck was so impressed that he signed Elliott to a one-year contract with the team just before the season began.
The lifetime National Leaguer warmed to the idea of playing in the Junior Circuit for the first time, saying that "new company, different players gave me quite a thrill." As he said at the time, "It has been a lot of fun. It has been profitable too. I have had a happy life in baseball, and never was I thrilled more than I am right now, in the American League."
In his short stay with the Browns, Elliott got his 2,000th career hit. In fact, he later said that the attraction of getting that 2,000th safety was one reason he decided to continue playing in the majors if possible after being released by the Giants:
"I was only 33 hits away from 2,000," he said, "and that was partially it, but mostly it was my belief that I still could play major league ball. And my ability to play capable baseball, I think, depended a lot on the manager. My success, if I have had any this year, is due to the fact that Marty Marion is an outstanding manager.… Billy Southworth was wonderful at Boston because he gave me every chance to be a star. Marty reminds me a lot of Billy."
Bob Elliott had certainly stayed in baseball longer than many expected. Arthur Daley wisely remarked, "Those last five years … belong to Frank Frisch. The Flash gave them to Elliott by making him a third baseman." Elliott said his longevity could also be attributed to good conditioning: "I hunt and I play a lot of golf and am always busy with things around the home, like building a den…."
Still, his switch to the AL did not rejuvenate Elliott's skills. He played part time at third base with the Browns for 48 games in 1953, and was hitting .250 when on June 13, he was traded along with Virgil Trucks to the Chicago White Sox in return for Darrell Johnson, Lou Kretlow, and $75,000. After battling strained leg muscles during his time with the White Sox, for whom he batted .260 with little pop, he was released by Chicago after the season. Elliott finished his major league career with 2,061 hits, 170 home runs, 1,195 RBIs, and a .289 batting average.
Like many ballplayers in the days before big-salary contracts, he was itching to keep himself in spikes and paychecks when his big league days ended. In 1954 he returned to his native California and suited up for the San Diego Padres of the Pacific Coast League. In 81 games, Elliott batted .256 with 12 home runs and 39 RBIs, and helped the Padres to the PCL regular season pennant by hitting two home runs in the clincher.
The popular star next made a quick transition to managing, piloting San Diego in 1955 (a second-place finish), 1956 (seventh place), and into the 1957 season before being replaced by George "Catfish" Metkovich on May 16 with the club in sixth place. He went on to lead the Sacramento Solons of the PCL to a fourth-place finish in 1959, a half-game behind San Diego, before getting the chance to return to the majors and manage the Kansas City Athletics in 1960. Kansas City's owner, Arnold Johnson, died just before the season began, however, and it was a year of upheaval. The A's ended the '60 campaign with a 58-96 record and an eighth-place finish in Elliott's only season as a big-league manager. Two of Elliott's coaches with that team were former big leaguers Fred Fitzsimmons and Walker Cooper.
After the Athletics replaced him with Joe Gordon, Elliott went back to the West Coast to coach for the expansion Los Angeles Angels in 1961. This season was Elliott's last in major-league baseball; he went on to work for a beer distributor in Indio, California, while maintaining his home in San Diego. In his spare time, he liked to fish and bowl.
He would not get to enjoy these pastimes for long, however. Elliott suffered a ruptured windpipe in the spring of 1966, and in spite of receiving several blood transfusions and undergoing surgery for hemorrhaging in his stomach and lower esophagus, he died at Mercy Hospital in San Diego on May 4, 1966, at the age of 49. He was survived by his wife, the former Iva Reah Skipper (whom Elliott referred to as Skippy); daughters Judith and Cheryl Lynn; and two sisters.
Buried in Greenwood Memorial Park in San Diego, Elliott was posthumously inducted into the San Diego Hall of Champions in January 1967. Thirty years later, on August 30, 1997, he was similarly elected to the Boston Braves Hall of Fame by fans of the long-defunct team who had formed the Boston Braves Historical Association. His daughter Judy accepted the plaque on his behalf, on the same weekend the Braves returned to Boston to play the Red Sox in the first season of interleague play. In this and other years, Judy Elliott made sure her dad was remembered in New England by attending Braves reunions alongside his old teammates — many of whom she had babysat for back in the '40s. She need not have worried, however; nobody who saw her dad perform for that club ever had any trouble recalling "Mr. Team."
Note
This biography originally appeared in the book Spahn, Sain, and Teddy Ballgame: Boston's (almost) Perfect Baseball Summer of 1948, edited by Bill Nowlin and published by Rounder Books in 2008.
Sources
Hirshberg, Al, The Braves: The Pick and the Shovel (New York: Waverly House, 1948)
Harold Kaese, The Boston Braves (Boston: Northeastern University Press, 2004)
1947 Boston Braves Sketch Book
Rich Marazzi. Baseball Players of the 1950s
1960 Sporting News Register
NL Service Bureau, 1948 World Series Press Notes
Schiffer, Don, My Greatest Baseball Game: New York: A.S. Barnes and Company, pp. 63-66.
Elliott's biography and World Series statistics on baseball-reference.com, retrosheet.org, and thebaseballpage.com.
Clippings from Elliott's file at the Hall of Fame:
Associated Press, "Bob Elliott, 49, Ex-Braves Star: Most Valuable Player in '47 Dies — Known for Hitting."
Hugh Bradley, "Worry Over Sick Dad Cause of Elliott Lapses." 1948.
"Bob Elliott: Hub's hot corner keeper cools rivals with sharp fielding, solid hitting."
"Bob Elliott, Ex-Star of N.L., Dies at 49 On Coast" Baltimore Sun, May 5, 1966.
"Bob Elliott — San Diego, Manager." No citation information given.
"Braves' Officials Praise Elliott: Letter of Many Words from Club Seen as Effort to Influence Most Valuable Player Votes," October 13, 1947.
Robert L. Burnes, "The Bench Warmer," June 7, 1953.
Arthur Daley, "The Comeback Kid," July 6, 1953.
Dave Egan, "Braves Betray Elliott: Lockout Unfair to 'Mister Team,'" March 26, 1952.
"Elliott Hurt By Batted Ball," June 22, 1943.
"Elliott Most Valuable National League Player," November 1947.
"Elliott of Braves Most Valuable in National League Last Season," November 1947.
Gene Mack, Jr., "All-Star in 1951, Elliott 'Forgotten': Baffled by Braves' indifference," April 5, 1952.
Jack Hernon, "Homers Elliott's Trade Mark," Pittsburgh Post-Gazette, May 2, 1952.
Tommy Holmes, "Elliott of Pirates Has Right to Kick: Offensively, Bob Outdid Bill Johnson All-Star Selection at Third Base," January 14, 1944.
Harold Kaese, "Elliott Not Too Fond of Playing Outfield, but If Leo Says So…," April 10, 1952.
Harold Kaese, "Bob Elliott, Alias Mr. Team."
Ralph Kiner, "Kiner's Liners," Pittsburgh Press, June 19, 1952.
Jim McCulley, "Elliott Losing Jitters, Pays Off for Giants," June 1, 1952.
Obituaries, "Bob Elliott, MVP in 1947, Former Pilot of Athletics," May 9, 1966.
"Pirates Cashing In on Player Shifts," April 23, 1942.
Porter, David L., ed., "Robert Irving Elliott," in Biographical Dictionary of American Sports.
"Robert (Bob) Elliott." No citation information provided.
Robert Irving Elliott, Pirate Personalities, Pittsburgh Baseball Club.
J.G, Taylor Spink, "Looping the Loops: Elliott Finds Differences in Two Majors, The Sporting News, June 3, 1953, p. 2.
"Split With Phils: Bob Elliott Clouts Grand-Slam Homer," 1945.
Sunday News, May 23, 1948, p. 17. Summary and photos of Elliott's career.
"Veeck Signs Bob Elliott After Home-Run Display," March 25, 1953.
"White Sox Hand Walking Papers to Bob Elliott," 1953.
Photo Credit
The Topps Company
Born
November 26, 1916 at San Francisco, CA (USA)
Died
May 4, 1966 at San Diego, CA (USA)
If you can help us improve this player's biography, contact us.
http://bioproj.sabr.org/bp_ftp/images3/ElliottBob.jpg
600
800
admin
/wp-content/uploads/2020/02/sabr_logo.png
admin
2012-01-04 20:45:10
2012-01-04 20:45:10
Bob Elliott