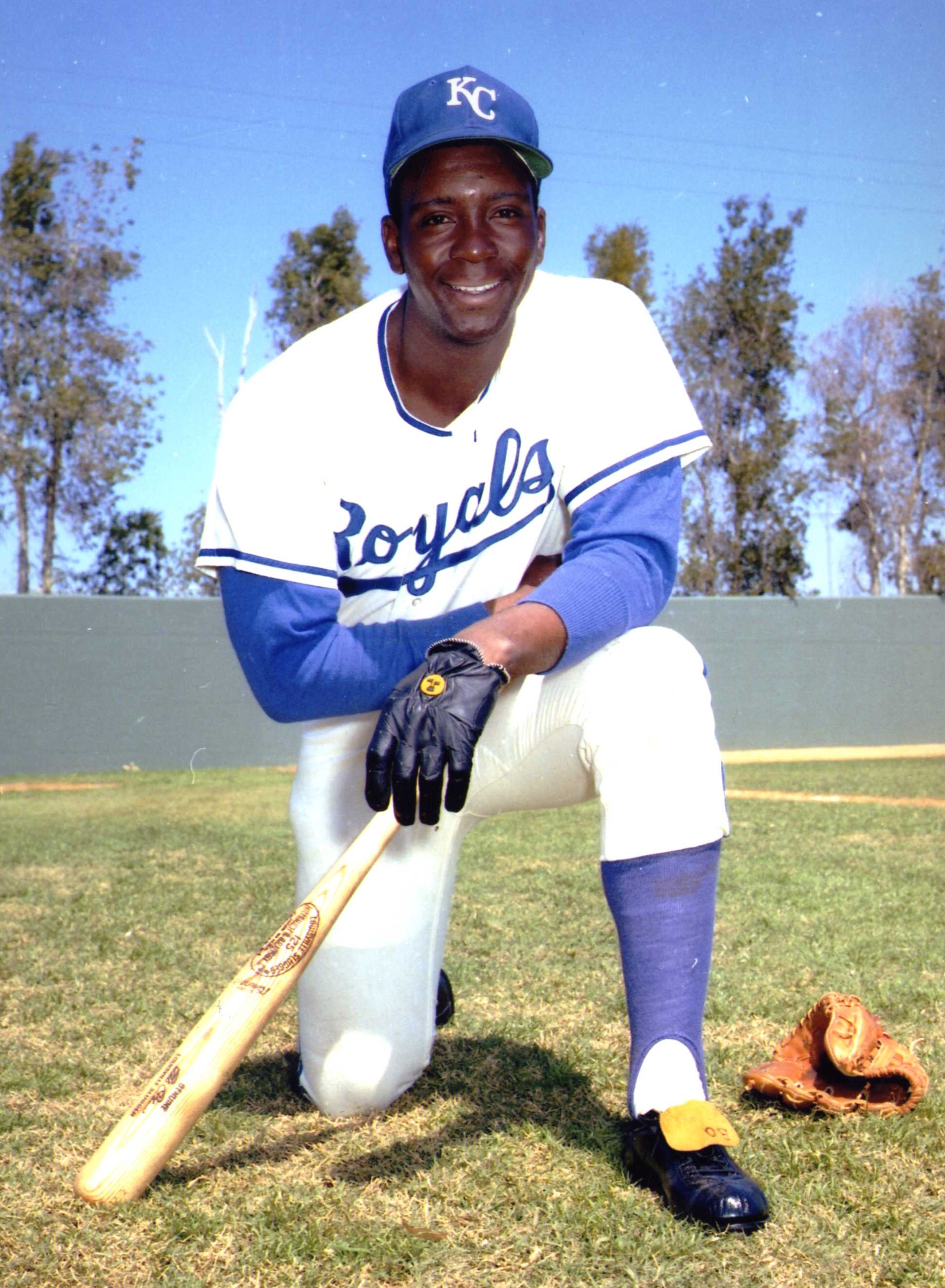 ---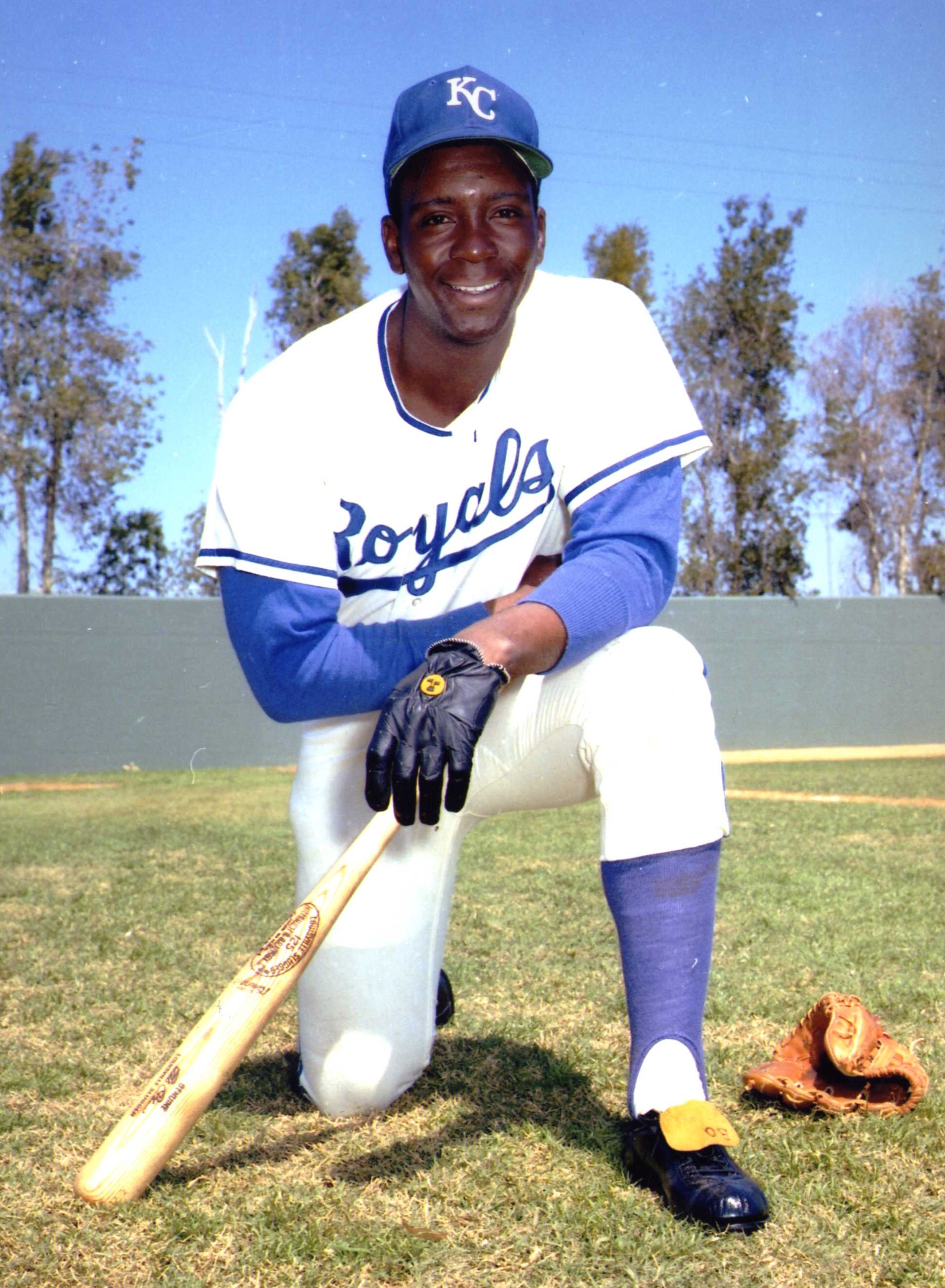 Robert Lee "Bob" Oliver played baseball with the Kansas City Royals in 1969, their inaugural season, getting his first real opportunity to show off his baseball skills at the age of 26. He toiled in the minor-league systems of the Pittsburgh Pirates and Minnesota from 1963 to 1968, receiving a cup of coffee with the Pirates as a September call-up in a 1965. For a few years he was a successful power hitter with the Royals and California Angels. However, by 1974 his skills had diminished and he was out of major-league baseball by July 1975. His story is one of perseverance, as he overcame the obstacle of race that still lingered in the Deep South and in the institution of baseball, as he began his professional career.
Bob Oliver was born in Shreveport, Louisiana on February 8, 1943. His father was a mill worker and by the late 1940s the family had located to Plumas County, in California's Sierra Nevada.1 The Oliver's subsequently moved to Highland, California, just outside Sacramento, where young Bob completed high school. His father died when he Oliver was 12 years old. At that young age he began to work in construction, mowed lawns, and delivered groceries to supplement his mother's earnings as a "domestic."2
Still, Oliver found time to letter in baseball, basketball, and football at Highland High School. In his senior year he was named to the All-Sacramento team in all three sports.3
Following high-school graduation in 1961, Oliver attended American River Junior College, where he lettered in baseball and basketball. He was named to the All-Valley Conference team in both sports in 1962. Subsequently, Oliver was elected into the school's athletic hall of fame. He also played for the Haggin-Grant Post American Legion team of Sacramento, helping it to a conference championship, hitting two home runs in the deciding game.4 He was signed to his first contract by Bob Fontaine of the Pittsburgh Pirates.
In 1963 Oliver began his professional career, playing for the Pirates' Class-A affiliate in Gastonia, North Carolina. He had immediate success on the diamond, with the Pirates winning the Western Carolinas League pennant that season. Oliver batted .281 with 13 home runs, scored 82 runs, and drove in 84 runs, leading his team in that category.5 He was chosen to the league all-star team.6 However, off the field he struggled. In a radio podcast interview with Carly Lundblade, Oliver remembered how unprepared he was for the prejudice he encountered. He called home and was prepared to quit. Oliver recalled that his mother told him, "Let this be a good lesson to you." From that conversation he learned discipline. He also said that it hardened him. He didn't look at people the same way any longer.7
Oliver moved to Kinston of the Class-A Carolina League for the 1964 season. Though his power numbers were down from the previous year, he continued to impress the Pirates' brass. And his team won the Eastern Division title with a record of 79-59. After the season, he was assigned to the Florida Instructional League.
In 1965 Oliver earned a promotion to Double-A Asheville of the Southern League. Asheville finished second with an 80-60 record, losing out by a percentage point to the Yankees' Columbus Georgia affiliate, which finished with a record of 79-59 with 1 tie. Oliver continued his development, as his power numbers improved over the previous season.
In May Oliver was named the Topps Chewing Gum Southern League Player of the Month, an honor bestowed by the league's sportswriters and broadcasters.8 Most promising for Oliver, his on-field performance earned him a call-up to the Pirates at season's end, along with Jim "Luke" Walker. Oliver played in his first major-league game on September 10, 1965. The Pittsburgh Press reported, "Rookie Bob Oliver made his debut, lifting a fly at bat and grabbing one fly ball in the field."9 Oliver saw limited action, playing only three games.
To start 1966, Oliver was promoted to Triple-A Columbus Ohio. He played in 32 games, batting a paltry .177 with two doubles in 79 at-bats. After the slow start he was sent back down to Asheville, where he heated up. In 85 games he drove in 78 runs and batted .314.
During the 1965 and 1966 seasons, Oliver continued to experience the reality of segregation in the Deep South. In a 2012 radio interview he marveled at the leadership of Joe Solimine, a white teammate from New York City. After not being allowed to dine in a restaurant, Oliver remembered that Solimine rallied his teammates, arguing, "If these guys are good enough to be on the field with us, they should be good enough to eat at a restaurant with us. So, if they can't go in here and eat I'm not going to eat either."10  This left a lasting impression on Oliver and it was a gesture that helped sustain him in the face of Jim Crow.
In 1967 Oliver was again assigned to the Pirates' Double-A affiliate, now based in Macon, Georgia. Now 24 and entering his fifth full season of minor-league play, Oliver led the team in home runs and slugging, base hits, runs scored, and runs batted in. He was among the team leaders in batting average. In the field, Oliver played first base, shortstop, third base, and the outfield.11
The Pirates traded Oliver to the Minnesota Twins for Ron Kline during the offseason. In 1968 he was assigned to the Twins' Triple-A affiliate in Denver of the Pacific Coast League. He led the team with 93 runs batted in and finish second on the team in home runs with 20. That season he also established himself in the outfield, playing only a handful of games in the infield.
Baseball expansion was Oliver's ticket to the major leagues. Now 26, he had toiled in the minor leagues since 1963. In 1969 the major leagues expanded by introducing four new teams. The Kansas City Royals and Seattle Pilots joined the American League and the San Diego Padres and Montreal Expos entered the National League. Oliver was the 19th pick by by Kansas City in the October 1968 expansion draft.12
On March 20, while battling for a roster spot, Oliver had a scare. In the ninth inning, he was caught in a rundown between second and third after he had "looped a double over first." He wrenched his ankle on the play and "was helped from the field. X-Rays were negative, and the swelling was minor."13
Oliver fought for a position in spring training. While batting only .240 through March 25, he was aided by the fact that Steve Whitaker (.148) and Ed Kirkpatrick (.172) were struggling to hit.14  
Oliver made the Royals' Opening Day roster. He got off to a slow start, with one hit in his first 23 at-bats, playing sporadically throughout April. In early May, Oliver got hot. On May 4 he went 6-for-6. He began by singling in the second inning, though he was later picked off second base to end a Royals rally. He led off the fourth inning with a double off Eddie Fisher. In the fifth, Oliver rapped a two-run homer. He led off the seventh inning with a single off Phil Ortega. This began a six-run eruption for the Royals. In his second at-bat that inning, Oliver singled off George Brunet. This plated the sixth run of the inning. Not yet finished, Oliver came to bat one more time, in the ninth inning. Facing Tom Murphy, he singled to left, making him a perfect 6-for-6.15
On July 4 the Royals played the Seattle Pilots. Entering the seventh inning, Fred Talbot and Roger Nelson were battling in a taut game, 2-2. The Royals then erupted for six runs. Their bats continued ringing in the eighth. With Jim Bouton pitching, Oliver hit a home run with the bases loaded. Oliver said of the grand slam, "I hit the ball good, but I thought it would be up against the wall (in right center). I didn't know it was in until I saw Tommy Harper stop at the fence. I'm thankful for the wind."16  It was the Royals' first grand slam.
In August the Kansas City Times reported, "Joe Gordon also plans to stick with an infield that places Bob Oliver at third base. Oliver, who has taken a refresher course in the Joe Gordon short stride batting method, seemed to have learned his lesson well in his last game. He went 4-5 in Washington. 'He can be some hitter,' Gordon sums it up."17
In his rookie campaign, Oliver played in 118 games, batting .254 in 394 at-bats with 13 homers.
Charlie Metro replaced Joe Gordon as manager of the Royals in 1970. The Royals made a concerted effort to play Oliver every day by assigning him a permanent third-base role. The Royals got off to slow start, losing frequently. Oliver also struggled at third base. During a question-and-answer session held by the Tigers and Royals a fan asked "if some of Oliver's misplays might be because of a dissatisfied attitude tracing back to a desire to play first base." Noting that Oliver couldn't break into the outfield, his most natural position, Royals GM Cedric Tallis said, "Oliver asked me, 'Do you think Kirkpatrick plays third base better?' I said, 'No' and he volunteered to play third."18
Appearing to refute Tallis's statement, Oliver was interviewed about his third-base play in mid-May. By that point he was acclimating to the position and had reluctantly come around after, he said, he had a conversation with his mother while the Royals were in Oakland: "When we played Oakland, my family was there to see me play. They asked me how I liked playing third base and I told them I didn't dig it. My mom, who's a baseball nut, told me to forget it and go out there and do my thing. She has very positive ideas. She's a great woman."19
In early May, with the Royals scuffling, they played a series against the Orioles. In eight at-bats, Oliver had six hits, including two doubles and a home run. On May 7 he knocked in four runs and hit a 430-foot two-run home run to left that broke a 4-4 tie. The Royals lost the game on a two-out walk-off homer by Frank Robinson. After the game, Oliver lamented, "Something has to turn. Our luck has to change." He said little about his drive that crashed the seats in left, a shot of about 430 feet. "Home run. He hung a slider on me."20
There was growing dissention on the team, with some teammates accusing others of lying down or not trying. Fingers were pointed at manager Metro. With a 19-33 record, he was fired on June 9. Oliver said, "First, I had to see a man lose his job. You can only get out there and do your job. The manager can't do it for you. … I just went out there and went along with the program. If he gave us exercises, I did them. If he had us get to the park at 3 o'clock, I got there. Baseball is a good job, it beats getting up early every morning and carrying a lunch pail. … We should all wake up and play the way we should."21
While the team never recovered from its slow start, it played slightly better under Bob Lemon than it had under Metro's tutelage. Still, by year's end the Royals finished with a worse record than in the previous season. By September, when Oliver had returned to first base, his hitting continued to be a highlight. Sportswriter Joe McDuff wrote that Oliver was modest about his hitting accomplishments, saying, "I'm not in a class of Harmon Killebrew, Willie Stargell, or Willie Mays.  They all have the that type of swing you need to be a consistent home run hitter." Manager Lemon, for his part, said, "There's really no telling yet how far he can go."22
By season's end Oliver led the team with 27 home runs, 83 runs scored, and 99 RBIs. In July he was batting near .300, but he finished the season batting .260. Importantly, Oliver became a spokesman of sorts, someone who spoke to issues like manager firings and team play. He expressed discomfort at situations and accepted responsibility for his play.
Oliver got out quickly to begin the 1971 season, hitting three home runs in the first two weeks. But he went into a prolonged power outage that lasted the entire season. While he slumped, the Royals were playing decent ball. They challenged Oakland early and finished second in the division with an 85-76 record, 20 games better than their 1970 record.
Oliver's loss of power cost him playing time. He played in just 128 games, down from a career-high 160 games the year before. Many of his appearances were as a pinch-hitter. He batted .244, and his other offensive numbers were down significantly from the previous season.
Oliver hit well through 1972 spring training but this did not continue in the early stages of the regular season. In an article on a luncheon sponsored by the Royals in April, beat writer Gib Twyman wrote, "Oliver was introduced by Buddy Blattner, the Royals announcer, as the club's leading home run hitter. He has one."23
Oliver never found his power stroke. The Royals were dissatisfied with his production. He too may have been dissatisfied with the team. Max Reiper wrote, "There were rumblings that Oliver was upset at the lack of African Americans on the team, particularly since the trading of Pat Kelly. However, in public, Oliver had nothing but pleasant things to say about the Royals."24
Oliver was traded to the Angels for Tom Murphy on May 5, 1972. Asked his opinion of the trade, he said, "Unhappy and happy, I guess. It's tough to leave a club that you've been with this long. It's been a long association, and I've made some good friends. … I'm not really surprised because they've been trying to trade me for me for two years."25
The trade to California was the elixir Oliver needed. He got regular playing time, primarily at first base, and rediscovered the pop in his bat. On July 30, he exacted some revenge on the Royals. "I really wanted to do something to beat that team. … I was trying with all my might to hit one out."26  And he did, an 11th-inning walk-off home run that beat the Royals, 4-3.
Oliver could be prickly. In a July interview discussing the Angels pitching staff, he said, "The pitching here hasn't done its job. … This is the major leagues? It's hard to accept those statistics. You can't pitch like that up here and expect to win."27
Oliver firmly established himself as the Angels' everyday first baseman. He hit 19 home runs with the Angels, who hit only 78 as a team.
During the offseason Oliver along with Sal Bando and umpire Chris Pelekoudas went to Germany and ran baseball clinics at US Army bases. In their spare time they enjoyed the local cuisine. Oliver apparently enjoyed the cuisine too much and gained about 20 pounds. "I drank some beer," he said. "They had quite a bit of it. It was something drinking the beer, eating the cheese and trying all the foods they had."28
This caused some consternation in spring training. One result was that new manager Bobby Winkles put Oliver through a rigorous training regimen. Winkles had Oliver running in a rubber body suit. At 6-feet-3, Oliver's ideal playing weight was 220 pounds. Initially after the regimen began he gained four pounds, getting up to 240. Oliver said, "It's not as hard now as when I started. But the first couple of days, if I'd had $600,000 in the bank, give or take a few dollars, I'd have said forget it. It's the hardest spring training I've had in ten years. … You live it up during the winter and you have to pay the price."29  Winkles was not above using other motivational means to get compel Oliver's compliance to dieting. He publicly stated that Jim Spencer had jumped ahead of Oliver for the first-base job.
Oliver got off to a slow start in 1973, not hitting his first home run until late April. He finally got his hitting stride and took off in May, tying an Angels record with 26 RBIs that month.
Oliver could be very descriptive. In an article on Wilbur Wood, he used this metaphor to describe Wood's knuckleball: "It's like riding in a DC-9, the knuckleball flight. Everything is up and down."30
Oliver finished 1973 with similar stats to 1972. He batted .265, drove in 89 runs and hit 18 home runs.
During the offseason, Oliver, like many players at the time, took on part-time work. He was interested in serving his community in some capacity. In a conversation with his barber, he learned that the Santa Ana Police Department had many job vacancies.31  After inquiring at the department, he was hired as a school resource officer. His work extended beyond the school. He and his partner, Tom Taylor, patrolled the neighborhood and responded to calls, wrote traffic summonses, and as the Los Angeles Times reported, "He has 'umpired' family fights and made arrests."32  Oliver found the work with students rewarding, by and large. He was comfortable engaging them. But the work could be difficult and traumatizing as well. On one occasion Oliver and his partner responded to a stabbing. At the scene he came on a 17-year-old youth who died at his side. Officer Taylor noted, "It was the only time I saw Bobby get tight, When the kid was lying there dying. There was nothing we could do. The heck of it was that we drove by those kids five minutes before it happened and they waved at us."33
Oliver was not sure he would return to the department when he completed his stint. Though he appreciated the experience, he said, "It was a lot different than I thought it would be. … You can't solve problems in a matter of hours. It takes time. You have to be devoted and it takes a lot of patience. … I don't know yet. I really enjoyed Tom. Your training officer makes it or breaks it. … My wife, Hazel, would prefer that I not return. She jumps every time the phone rings after I should have gotten home. …"34
The high-school principal said, "We definitely hope he returns. He really fits right in, he and Taylor. They're damn good. They're to be commended. They're not just here during school hours. They're here for extracurricular activities that I know aren't part of their normal working hours. They're dedicated and concerned."35  Taylor joked, "If he doesn't come back next year, we'll issue a warrant on him and bring him back. … I hope Bob decides to come back next year."36  Oliver left the position in February to report for spring training.
Oliver did not have a good 1974 season with the Angels. They were a poor team. Over the course of the season the players endured three managers. Whitey Herzog, in an interim role, replaced Winkles for four games. The Angels then brought in Dick Williams, who managed them through the second half of the season. Because the team was doing so poorly, Angels brass decided to play and evaluate their prospects. As a result, playing time dropped off and Oliver was frequently benched. He had no problem voicing his disappointment and bewilderment. "My name is nobody. … Everybody loves a winner. They talk to you, take an interest, you know? But when you're losing, or not playing, they avoid you."37  He went on, "I can take not playing. But what I don't like is not knowing why I'm not playing. … I don't begrudge the rookies being brought up … but I do object to them being given my position. I say let them earn it, don't just give it to 'em."38
But as much as he was upset, Oliver was also searching to understand his poor performance. "It happens every time I have a big year. It happened in 1971 after I had a big year in Kansas City. And now, it's happening to me again here. I'm a man, I can understand it if they'd only explain it to me. … I think my versatility has hurt me in some ways. It's good to be a jack of all trades, but you'd better be a master of one."39
Finally, he expressed anger, and voiced his perception of the implicit racism that held sway. "It's always their way. They don't consider what's fair for the player. … I can't speak up, though. Being black, it won't do me any good. … It's just some players can get away with things. It's like when Winkles left. He blamed Robby Frank Robinson. But why couldn't it have been (Nolan Ryan's) fault? I'm not saying it was, but it's just that type of thing that goes on in baseball."40
Playing time didn't improve.
On September 11, the Orioles claimed Oliver off waivers to help them down the stretch drive. At that point in the season the Orioles trailed the Yankees by two games, with a record of 74-67. When Oliver left the Angels, they had a record of 57-87. Frank Cashen, the Orioles general manager, was tempered in his assessment of Oliver, saying, "Oliver has not had a really good year, but he is only 31. He plays first base well, a little bit of third base, can play the outfield and is a good physical specimen with a real good arm."41
A bit more positive was Earl Weaver, who said, "Bob might give us a little power. We were fortunate to get him. Paul Blair added, "Not too bad. We need some power. Bob can give us a lot of positions."42
While Oliver played only nine games with Baltimore, he did contribute to their eventual division championship. On September 27 the Orioles and Brewers went into the 17th inning scoreless. Oliver came to the plate with the bases loaded. "I was just trying to hit a fly ball," he said. "Murphy threw me a fastball and I topped it." The ball rolled 45 feet. Don Money tried to barehand it for a play at the plate and missed it, and Bobby Grich scored the winning run. The play was ruled a fielder's choice, but as the paper noted, "Bob Oliver will probably remember this one more than he does his hits."43
By season's end the Orioles overtook the Yankees and won the Eastern Division. They lost to Oakland in the playoffs, three games to one. Oliver did not appear in the postseason.
At the winter meetings in December 1974, Oliver's contract was purchased by the Yankees. As reported in the New York Daily News, "The Yankees also got into the act. They sent Bill Sudakis to the Angels, in return for right hander Skip Lockwood to complete a complicated deal which represents payment for Bob Oliver. Presumably the Orioles owed the Angels a player for Oliver but by sending him to New York that obligation was transferred to the Yankees…."44
On July 7, 1975, Oliver was placed on the deactivated list to make room for a returning Lou Piniella. That deactivation effectively ended his major-league career. To that point in the season he had batted only 38 times. He had five hits and a .138 batting average.
Murray Chass of the New York Times commented, "When a player's most frequent position is a seat on the bench, he has two choices: He can, as Rick Dempsey did earlier in the season, complain vociferously and bitterly to the manager; or he can, as Bob Oliver did, remain silent and wait his chance to play.
"Oliver said, 'I'm disappointed, but I'm a better man than to go around ripping people. You feel like it, but what are you going to gain by doing it? … I knew the handwriting was on the wall. What bothers me is I went to (manager Bill Virdon) before the trading deadline and I'm sure he knew it was coming. Why didn't he trade me to another club or sell me or release me? He waited until now, when it's tough to catch on with anybody and it's pretty crummy. If this is the end of my career, I hate it to end like this — by the Yankees not giving me a chance. I don't think it was right or fair."45
Oliver hung around a few more seasons. In 1976 he played at Triple-A Oklahoma City, the Phillies' affiliate. Now 33, he was the oldest player on the roster. The next year he returned to the Columbus Clippers, once again the Pirates' affiliate. He hit 17 home runs. Finally, at 35, in 1978 he played in 15 games for with Iowa, the Triple-A affiliate of the White Sox. After one season with Veracruz of the Mexican League in 1979, Oliver decided to hang up his spikes.
Oliver remained close to the game. He struggled to find work coaching and did not get a chance until he managed the Sacramento Steelheads, an independent minor-league team, in 1999.46  He was an instructor in Dusty Baker's and Orlando Cepeda's baseball academies numerous times. Oliver ran his own baseball academy for many years, alongside his son Tony. His other son, Darren had a 20-year major-league career.
Oliver has also worked for an oil company and when he and his wife, Hazel, returned to the Sacramento area, took work at McKesson Health.47
He told an interviewer that two things stood out in his experience. One was the undercurrent of racism. When playing in the minor leagues the racism was overt. It came from the fabric of the community and he felt it deeply.48  Had his mother not been supportive, and for the kindness of teammate Joe Solimine, Oliver might have given up his dream. He found a resilience to carry on. But it left scars. He implicitly pointed fingers at the baseball bureaucracy for its unstated racism. Inferences to reduced opportunities, and different treatment filtered through his thinking and statements.49
A second theme was that baseball teams didn't know how to use him. He was essentially a 6-foot-3, 220-pound utilityman. He insisted throughout his career that first base was his best position. However, he was constantly moved around to third base and in the outfield. Oliver never felt as comfortable in those positions. A look at his worst seasons shows they coincided with his being shuffled from one position to another.
Off the field Oliver cared about his community. His work on the Santa Ana police force focused on children, making connections. After he was traded to the Yankees, he made several, appearances to speak to inner-city youth. As he put it, he kept it real!50  His work at baseball academies focused on teaching. His own academy specialized in at-risk children and children with diabetes.
Last revised: December 1, 2018
This biography appeared in "Time for Expansion Baseball" (SABR, 2018), edited by Maxwell Kates and Bill Nowlin.
Notes
All statistics come from Baseball-Reference.com.
1 Dave Moller, "Big League Veteran Joins Baseball Camp," Feather River (California) Bulletin, August 18, 1993: 18.
2 Steve Jacobson, "Oliver Serves as an Inspiration to Youth," Democrat and Chronicle (Rochester, New York), March 26, 1975: 47.
3 "1972." Baseball Hall of Fame Library, Bob Oliver player file.
4 Ibid.
5 1963 Gastonia Pirates, Baseball Reference, baseball-reference.com/register/team.cgi?id=b5ce4bd9.
6 "Greenville Will Meet WCL Stars," High Point (North Carolina) Enterprise, July 7, 1963: 21.
7 Carly Lundblade interview with Bob Oliver, March 6, 2012. https://blogtalkradio.com/psyched-up-radio/2012/03/06/bob-olivers-mlb-highlights.
8 "Bob Oliver Is May's Top Player," Asheville Citizen-Times, June 14, 1965: 12.
9 Lester Biederman, "Veale Keeps Pirates Hot in Pennant Race," Pittsburgh Press, September 11, 1965: 6.
10 Carly Lundblade interview with Bob Oliver.
11 1967 Macon Peaches, Baseball Reference, https://baseball-reference.com/register/team.cgi?id=7e40f88f.
12 Max Reiper "The 100 Greatest Royals of All-Time — #67 Bob Oliver," https://royalsreview.com/2018/5/25/17394868/here-are-your-1972-kansas-city-royals, February 20, 2008.
13 Sid Bordman, "Bill Butler Shows Style," Kansas City Times, March 21, 1969: 28.
14 Sid Bordman, "Royals Get Ax Ready," Kansas City Times, March 25, 1969: 23.
15 Bradford Lee, "Bob Oliver," April 16, 2018, royalsreview.com/2018/4/16/17245136/.
16 "Pilots Crash Twice," Daily Chronicle (Centralia Washington), July 5, 1969: 6.
17 Dick Wade, "Rain Gives Royals Rest," Kansas City Times, August 16, 1969: 5.
18 Bill Sharp, "Oliver, McLain Targets of Questions," Kansas City Times, April 30, 1970: 54.
19 Joe McGuff, "Oliver Does Royally at Kansas City Hot Spot," Kansas City Star, May 9, 1970, article in Bob Oliver's player file at the National Baseball Hall of Fame Library.
20 Kansas City Times, May 8, 1970: 19.
21 Sid Bordman, "Tension Follows Metro Out Door," Kansas City Times," June 10, 1970: 53.
22 Joe McDuff, "Oliver Having a Ball at Royal Gateway," Kansas City Star, September 12, 1970.
23 Gib Twyman, "Royals Play Luncheon for Laughs," Kansas City Times, April 26, 1972: 26.
24 "The 100 Greatest Royals of All Time."
25 Sid Bordman, "Oliver to Angels for Tom Murphy," Kansas City Times, May 6, 1972: 53, 59.
26 "Oliver Successful in Striking Back Against the Royals," Emporia (Kansas) Gazette, July 31, 1972: 6.
27 Phil Furer, "Oliver Blames Pitching for Poor Angels Record," San Bernardino County Sun, July 6, 1972: 61.
28 Ron Rapoport, "It Was a Wonderful Winter; Now Oliver's Paying for It," Los Angeles Times, March 19, 1973: 33, 36.
29 Ibid.
30 Staff, "Wilbur Wood's knuckleball: A Big Winner," Los Angeles Times, June 1, 1973: 47, 56.
31 "The Law and Mr. Oliver," California Angels 1974 Scorebook: 26-27.
32 Dave Distel, "Bob Oliver Swaps Uniforms: Angel Player Is Also a Cop," Los Angeles Times, February 12, 1974: 37, 43.
33 "The Law and Mr. Oliver."
34 Ibid.
35 Distel.
36 "The Law and Mr. Oliver."
37 Ryan Rees, "My name is nobody…," San Bernardino County Sun, July 28, 1974: 34, 36.
38 Ibid.
39 Ibid.
40 Ibid.
41 Lou Hatter, "Orioles Acquire Angels' Bob Oliver," Baltimore Sun, September 12, 1974: 43, 45.
42 Ibid.
43 Ken Nigro, "Orioles Win 1-0 in 17th," Baltimore Sun, September 28, 1974: 27, 29.
44 Phil Pepe, "Tug Dealt to Phils; Sudakis an Angel," New York Daily News, December 4, 1974: 103.
45 Murray Chass, "Irate Oliver Says Farewell to Yanks," New York Times, July 8, 1974.
46 "The 100 greatest Royals of All Time."
47 Ibid.
48 Carly Lundblade interview with Bob Oliver.
49 Ibid.
50 Jacobson.
Born
February 8, 1943 at Shreveport, LA (USA)
Died
April 19, 2020 at Rio Linda, CA (USA)
If you can help us improve this player's biography, contact us.
https://sabr.org/sites/default/files/OliverBob.jpg
600
800
admin
/wp-content/uploads/2020/02/sabr_logo.png
admin
2012-01-04 20:28:04
2022-11-07 20:38:37
Bob Oliver