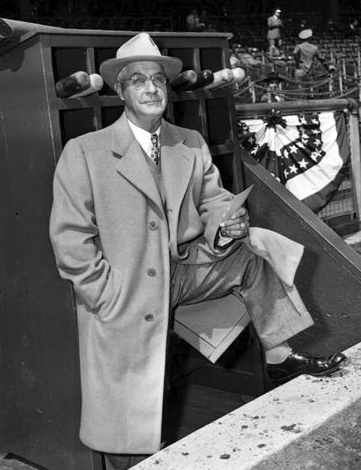 ---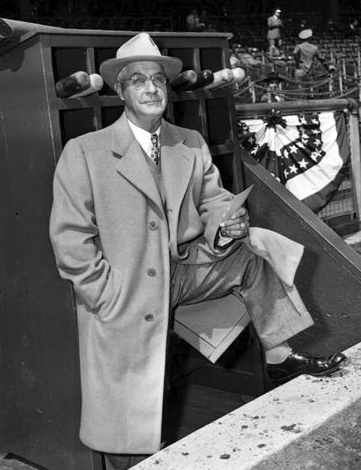 Unlike Leo Durocher, the man he replaced as Brooklyn Dodgers manager for the 1947 season, Burt Shotton was no gruff, umpire-baiting field general. He was instead a calm, serious baseball lifer who, like the more illustrious Connie Mack, wore his street clothes in the dugout during his tenure in Brooklyn. His quiet demeanor did not win him headlines or make him one of the game's beloved characters. In 1931, when he was managing the Philadelphia Phillies, New York sports columnist John Kieran described him as "one of those strong silent men."1
Even though he led the Dodgers to National League pennants in 1947 and 1949, the bespectacled, teetotaling Shotton never earned the respect of the Brooklyn fans for his managerial acumen. Perhaps this would have been different had his team topped the hated New York Yankees at least once in those Fall Classics. Or perhaps his strong and silent persona contributed to his diminished status. Arthur Daley, another observer of the New York sports scene, commented several weeks after Shotton's passing, "Successful as he was, [his] quiet and unspectacular direction left him one of the least-known of all Brooklyn managers."2 But to his credit, Shotton won more pennants than many other big league skippers, and he guided the Dodgers during one of their most momentous and controversial seasons: 1947, the year Jackie Robinson broke the major-league color line.
Burton Edwin Shotton was born on October 18, 1884, in the township of Brownhelm, Ohio, twenty-eight miles west of Cleveland. He was the second of four children born to John Matthew Shotton and Mary Alice (Bacon) Shotton. He had an older sister, Cora, and two younger brothers, John and Frank. Despite his below-par eyesight, he delighted in playing baseball. Shotton was a left-handed-hitting, right-handed-throwing center fielder, and he possessed blinding speed. He earned the nickname Barney, reportedly after Barney Oldfield, the celebrated late nineteenth-century/early twentieth-century bicycle/auto racer. As Shotton aged, he became known as Old Barney.
Shotton began his professional career in 1908, batting .244 in twenty-two games for Erie in the Ohio-Pennsylvania League. He reached the majors the following season, when he made it into seventeen games with the St. Louis Browns. In his first major-league at-bat, on September 13 in Detroit, Shotton singled off George Mullin. He had his first major league home run, an inside-the-parker, on June 22, 1912 at Comiskey Park off Joe Benz. In 1913 he had twenty-nine outfield outfield assists, second to Tris Speaker, who had thirty.
Shotton remained with the Browns through 1917, when he and shortstop Doc Lavan were dealt to the Washington Senators for pitcher Bert Gallia and $15,000. After spending the 1918 season with the Nats, Shotton was claimed on waivers by the St. Louis Cardinals. He appeared in one game with the Cardinals in 1923, his final big-league campaign. During the course of his fourteen seasons in the majors, the five-feet-eleven, 175-pounder played in 1,387 games and had 1,338 hits. His career batting average was .271, and he hit just nine home runs. As a left-handed batter, he was at his best in the leadoff spot, where he could utilize his speed; during his career, he totaled 293 stolen bases. In 1913 and 1916, he led the American League in walks.
In 1913 Shotton met and befriended the man who would have the most impact on his career. That season Branch Rickey had taken over as manager of the Browns for their final twelve games. From the outset, Rickey respected his fellow Ohioan's soft-spoken personality, grasp of the game's fundamentals, and talent for imparting them to younger players. Rickey had vowed to his mother, a deeply pious woman, that he would avoid ballparks on Sundays. He sensed that he could trust Shotton and, in 1914–15, Burt became the Browns' "Sunday manager." In 1919 after Rickey was hired by the Cardinals as vice president, general manager, and field manager, he acquired Shotton from Washington on waivers.
After retiring as a player, Shotton spent the next two decades in professional baseball. For a good portion of this time, he remained connected to Rickey. He was a Cardinals' coach from 1923 through 1925. When Rickey felt overwhelmed by the responsibilities of managing the team on the field and running its front office, he briefly considered hiring Shotton as his on-field replacement.
During the decade Rickey began investing in minor-league teams, using them to develop players for the parent club. The Cardinals thus became part owners of the International League Syracuse (New York) Stars, and Rickey named Shotton manager for the 1926 campaign. During his second season, as the Stars won 102 games and finished in second place, Shotton further enhanced his reputation for mentoring younger players. His solid effort at Syracuse led to his becoming manager of the lowly Philadelphia Phillies in 1928. He held the spot for six seasons, but all were undistinguished.
During his debut campaign, Shotton could do little to improve the team's prospects. In a baseball season preview piece, the New York Times' James R. Harrison reported, "By a unanimous vote the Baker misfits have again been consigned to their old berth in the cellar," adding that "the Phillies look as hopeless as ever."3
Despite the "amazing amount of fortitude" he brought to the job, Shotton led the Phils to a last-place finish with an abysmal 43-109 record.4 In 1932, Shotton's best season in Philadelphia, the team ended at 78-76.
During the offseason, when he was away from baseball and inquiring sportswriters, Shotton savored hunting and fishing and what for him was a new pastime: target shooting. In 1929, the novice shooter won top honors in the feature event at the Midwinter Handicap target tournament at Pinehurst, North Carolina.
Despite Shotton's belief that the Phillies would be in the mix for the National League pennant in 1933, the team finished in seventh place. In December, Shotton was let go by Phillies president Gerry Nugent, and resurfaced in Cincinnati as a coach under new manager Bob O'Farrell.
Rickey re-entered Shotton's professional life in June 1935, hiring him to take over for Eddie Dyer as skipper of the International League Rochester (New York) Red Wings, a Cardinals' affiliate. The following season Shotton began managing another Cardinals' minor-league team, the Columbus (Ohio) Red Birds of the American Association. In 1937 he led Columbus to the league championship, losing the Junior World Series to the Newark Bears. The Red Birds won the title again four years later. This time, they were the Junior World Series champs, defeating the Montreal Royals, and The Sporting News named Shotton Minor League Manager of the Year. During his time with Columbus, Shotton managed such future Cardinals stars as Enos Slaughter, Max Lanier, Mort Cooper, Mickey Owen, Harry Brecheen, Murry Dickson, and Harry Walker.
Shotton remained with the Red Birds through the 1941 season. That December he returned to the majors as third-base coach with the Cleveland Indians, working under player-manager Lou Boudreau. After the 1942 campaign, Rickey became president of the Brooklyn Dodgers and Shotton was rumored to be in line to replace the Dodgers' skipper, Leo Durocher. However, Leo remained the team's manager. Shotton, meanwhile, stayed in Cleveland through the World War II years, leaving the club after the 1945 campaign.
The following year Shotton reunited with Rickey yet again, hiring on with the Dodgers as a scout. Now sixty-two years old, the silver-haired baseball veteran began the 1947 season as supervisor of the team's minor-league training camp in Pensacola, Florida. He considered himself to be in semiretirement and assumed that his on-field baseball career was over.
Meanwhile, Durocher remained the Dodgers skipper until April 9, 1947, when baseball commissioner A.B. "Happy" Chandler meted out a one-year suspension to him "as a result of the accumulation of unpleasant incidents, in which he [Durocher] had been involved, which the commissioner construes as detrimental to baseball."5 In Durocher's absence, Clyde Sukeforth, one of his coaches, took over the team for two games. But Sukeforth preferred life in the coaching box to the daily stresses that came with managing. As a more permanent replacement, Rickey's initially tried to hire Joe McCarthy, the longtime New York Yankees skipper, who had quit the team midway through the previous season. After McCarthy turned him down, Rickey called on Shotton.
On April 17 Rickey shot off a telegram to Shotton at his home in Bartow, Florida. "Be in Brooklyn tomorrow morning," he instructed. "See nobody. Say nothing."6 Shotton complied, arriving at the Dodgers headquarters on Montague Street the next morning. Rickey apprised him of the situation and offered him the post as Durocher's replacement.
Shotton accepted the offer, and the appointment became official at noon on April 18. The announcement was brief and succinct: "Burton Edwin Shotton has accepted the management of the Brooklyn Dodgers and will take charge of the team today."7 By 1:30 p.m., the new skipper, garbed in topcoat and gray fedora, was ensconced in the visiting team's dugout at the Polo Grounds. The New York Times' John Drebinger observed that Shotton "appeared on the scene like something whisked out of a magician's closet by Prof. Branch Rickey."8 When asked to comment on the day's events, Shotton only could utter, "It was a complete surprise to me."9
The Dodgers' new skipper did not sign a contract and had no idea of his salary. "I'm just here," he added. "I haven't had a contract in all the years I've held jobs with Mr. Rickey as a player, manager, or coach, so I didn't think it necessary to bother about one now."10 He observed that he would not be dressing in a team uniform. "That's part of the deal," he noted. "I took it off for the last time several years ago. Anyway, with the bunch of coaches we have on this club, why should I?"11 While in the dugout, Shotton wore his street clothes, along with his gold-rimmed spectacles. On some occasions, he added a team cap and warm-up jacket or windbreaker with "Dodgers" emblazoned on its front. On warmer, sunnier days, he was decked out in slacks, a sports shirt, and a wide-brimmed hat.
When he came to Brooklyn, Shotton was completely unfamiliar with the team. "As soon as I think I know something about the club and can help, I'll start to work," he explained. "Until then, I'll just watch."12
Unlike in Philadelphia, Shotton was armed with a talented ball team. While the Dodgers finished the 1947 campaign with a 94-60 record and the National League flag, Shotton's impact on the team extended beyond won-lost records. Under Durocher, celebrities from George Raft to Danny Kaye to New York City mayor William O'Dwyer were a regular presence in the Ebbets Field clubhouse. Now, the atmosphere in the team's locker room and manager's office was more subdued.
Additionally, Shotton exhibited an even-handed confidence in his team, especially in his younger players. Early in the season, during the Dodgers' first Western trip, rookie hurler Harry Taylor had a rough outing against Cincinnati. The Dodgers' hierarchy wanted to dispatch the pitcher to the minors, but Shotton was convinced that Taylor had it in him to be a successful big leaguer. He expressed this view to the front office and repeated it to Taylor. The youngster responded with a slew of solid outings before pulling a tendon in his arm in August. He finished the season with a 10-5 record and a nifty 3.11 ERA.
But most significantly, Shotton had the distinction of being Jackie Robinson's first full-time major-league skipper. Robinson's reception among his teammates and opponents has been well documented. Perhaps it would have been more tumultuous had he had a firecracker for a manager. Even though Shotton was the Dodgers' skipper out of necessity rather than choice, his even temperament allowed Robinson an easier fit in the clubhouse and helped the entire team meld into a pennant winner.
On September 22 the idle Dodgers clinched the NL flag when the second-place Cardinals lost to the Chicago Cubs. "It's been a long pull, but a pleasant one," Shotton observed. "I'll congratulate the boys when they report at Ebbets Field tomorrow for the game with the Giants."13 At sixty-two years and eleven months, he was the oldest manager ever to make his World Series debut.
After the New York Yankees defeated the Dodgers in the Series, four games to three, Shotton admitted that the better team won. But he also predicted that the Dodgers "will beat the Yankees during the next ten years a whale of a lot more times than they will beat us."14 However, the question of the moment was whether Shotton would lead the Dodgers to those victories.
Throughout the 1947 season Durocher told the media that he definitely would return as Dodgers skipper once his ban was lifted. Shotton usually responded to such declarations with a polite "No comment." When the Dodgers won the pennant, Rickey told the press that he was "pleased with manager Burt Shotton."15 Yet Durocher was present for all seven World Series games. Immediately after the Series, fans and sportswriters began speculating as to who would manage the club in 1948.
Rickey began the offseason by conferring with Shotton and his coaches on the club's weaknesses and strengths. Rickey met with Durocher and his wife, actress Laraine Day, for three-plus hours on the evening before they returned to California, and the ex-skipper fully expected reinstatement.
By early December, after being assured by Chandler that the commissioner's office would not oppose the move, Rickey decided to reinstate Durocher. The announcement came on December 6. "I'm right where I was before," Shotton, ever the loyal soldier, told reporters. "I'm going back to Bartow as soon as I can leave here. I didn't expect to manage last season, nor did I expect to manage the Dodgers next year."16
Shotton remained with the club as a supervisor of minor-league managers. He said Rickey had been considering him for this position for several years. "I didn't want to take it if I had to travel all over the system looking at different minor-league managers," he noted, "but when Rick said: 'How about going back to Bartow, being your own boss and going where and when you please,' why, I said okay."17
For the upcoming season, Durocher reportedly was willing to step aside as manager of the 1948 National League All-Star team in favor of Shotton. But National League president Ford Frick announced that according to major-league rules, an All-Star Game manager must be under major-league contract. Only Durocher, the reinstated skipper, could lead the squad.
In January 1948, the New York Chapter of the Baseball Writers Association held a private party in Shotton's honor. That month, he declared, "Never again will I manage a ball club."18 With the arrival of April and the start of the baseball season, Durocher was in the Brooklyn dugout and Shotton was back at the Dodgers' training camp in Vero Beach, Florida, evaluating minor leaguers in the morning and spending the afternoon bass fishing. But this routine was fated to be upended yet again. On July 16, in a move that stunned the baseball world, Durocher abruptly left the Dodgers and signed to manage the New York Giants, who had fired their skipper, Mel Ott. Reportedly, Horace Stoneham, the Giants' principal owner, wanted to sign Shotton. However, when Rickey offered him a choice between Shotton and Durocher, he selected Durocher.
Once again it was Shotton to the rescue in Brooklyn as Rickey called on him to take over the Dodgers. The mood of the moment in Brooklyn was summed up by one anonymous fan, who observed, "That Branch Rickey sure is a smart guy. He gets rid of a manager who is liked by only half the people and hires a new one that everyone likes for a lot less money."19
Shotton joined the Dodgers in Cincinnati and immediately got down to the business of running the team. The 48-33 record he compiled was more than respectable; however, the team ended the campaign in third place, trailing Boston and St. Louis. At the close of the season—and despite rumors that just-deposed New Yankees manager Bucky Harris would be signed to lead the Dodgers—Rickey announced that Shotton would stay on as manager in 1949.
For the first time, Shotton began the new season as the Dodgers' skipper. From the outset, he confidently predicted that the team would return to the World Series. And so it did, as he led the Dodgers to a 97-57 record and a first-place finish. Despite his even temperament, Shotton was capable of spewing venom when he deemed it necessary. In mid-May, the Dodgers dropped three straight games to the Boston Braves and Shotton, according to Associated Press writer Joe Reichler, "ripped into his players with a tongue-lashing the likes of which they had not heard since the departure of Leo Durocher."20
The Dodgers again faced the Yankees in the Fall Classic, and again they were beaten, this time by four games to one. Rickey defended Shotton, whose decision making—and, in particular, his handling of the pitching staff during the Series—was questioned by fans. "The manager did not lose this series," he observed. "Both [New York skipper] Casey Stengel and Shotton played sound baseball. I have no criticism to make of the way Shotton handled our men and I daresay the players hold the same opinion."21
So Shotton remained on board as the Dodgers' skipper. Upon signing for the 1950 season, he declared, "We have a great club. It will win the pennant again and I think that it also can win the World Series."22 What Shotton did not count on was the full emergence of the Whiz Kids of Philadelphia. His former team won the pennant on the first day of October, when Dick Sisler smacked a dramatic home run off Don Newcombe in the tenth inning for a 4–1 victory. At 89-65, the Dodgers finished in second place, two games behind the Phillies.
Before the year's All-Star Game, Shotton found himself at the center of a minor brouhaha. As skipper of the league champions, he was set to manage the National League All-Stars. His starting outfielders were Enos Slaughter, Ralph Kiner, and Hank Sauer, none of whom was a center fielder. Shotton might have started Slaughter in center, because he possessed the speed to play the position, but decided to bench Sauer and replace him with Duke Snider. Of course, Snider was Shotton's player, but Sauer was a Chicago Cub, and the game was to be played in Chicago's Comiskey Park. Windy City fans were livid. When Shotton was introduced as the NL skipper, he reportedly was booed for five minutes. In the meantime, Happy Chandler ordered Shotton to play Sauer. He had no choice but to comply, and he started Sauer in right field. In the end, the NL emerged victorious with a fourteen-inning, 4–3 victory.
This controversy, and the Dodgers' second-place finish, did not necessarily doom Shotton's future in Brooklyn. What did was the event that occurred on October 16, 1950. On that date, the Dodgers failed to renew Rickey's contract. He was replaced as team president by Walter O'Malley. The following month, Rickey sold his 25 percent interest in the team and signed a five-year contract as general manager and executive vice president of the Pittsburgh Pirates.
While Shotton was Rickey's man, he still hoped to remain with the Dodgers. But O'Malley surely was not pleased when Rickey joined Shotton on a hunting trip in Virginia. This action indicated that the skipper had remained in Rickey's corner—and so he would not be the right man to manage in Brooklyn in 1951. On November 28, Shotton was replaced by Charlie Dressen.
Shotton deeply resented his unceremonious firing. "The deal I got this time made me a little sour," he declared the week after Dressen was hired.23 Yet he remained a Dodgers loyalist, and he was stunned and disappointed when the team lost the 1951 pennant to the Giants on Bobby Thomson's "Shot-Heard-'Round-the-World."
Not surprisingly, Shotton was rumored to be joining Rickey in Pittsburgh. "I would like to get back into baseball," he said in an October 1951 interview, "but no one has anything where I could fit in."24 No offers were forthcoming, and the sixty-six-year-old became a full-time retiree.
Shotton remained in Florida for the final decade of his life. He held one last baseball job. In 1960 Rickey hired him as a consultant for the Continental League, his planned third major league, and as the supervisor of managers in the Class D Western Carolina League, which would supply the new league with ballplayers.
Shotton died of a heart attack on July 30, 1962, while at his Lake Wales home. He was survived by his wife, the former Mary Louise Daly, whom he had married in 1909, and two sons, Burt Shotton, Jr. and Dr. James Shotton, a veterinarian.
History has not been sympathetic toward Shotton. However, according to accounts written during his managerial stints, he was a players' advocate. After the 1947 season, Shotton was casually referred to in Time magazine as "well-liked."25 The following year, upon rejoining the team after Leo Durocher's departure, he was vocally supported by a number of Dodgers. "I love playing for Shotton," said Jackie Robinson. "When Shotton wants to bawl out a player he takes him aside and does it in private. That gives you a sort of lift."26 While acknowledging that he was a Durocher fan, Pee Wee Reese observed, "I think Shotton has a great way with young ballplayers, maybe does better with some of them than Leo did. Burt is a good manager, no mistake about that."27
Decades later, Carl Furillo, while being interviewed by Peter Golenbock, referred to Shotton as "a prince."28 Don Newcombe called him "a damn nice man."29 Carl Erskine, while noting that Shotton was "from the old school," labeled him "an outstanding man" and "a class individual."30 Ralph Branca, however, expressed a different point of view, telling Golenbock that Shotton "just wasn't competent enough to be a big-league manager, except he was a friend of Rickey's."31
According to Branca, the Dodgers won in spite of their manager. Rex Barney added, "I was anti-Shotton. I thought the game got by him, and I didn't like the cute things he did, like not wearing a uniform on the bench." He also described Shotton as "cold and indifferent."32
This dichotomy also existed with relation to Shotton's handling of the race issue. On May 25, 1947, in what was described as his breakthrough game, Jackie Robinson spearheaded a 5–3 victory over the Phillies. Afterward, Shotton declared, "[Jackie] has finally become relaxed and is playing the kind of ball that earned him his major-league chance." After dissecting Robinson's early-season problems, he concluded, in a remark that indicated he was well aware of Jackie's anxiety, "Guess he had too much on his mind."33 Red Barber further observed that the manager was a calming influence in the Dodgers' clubhouse throughout the 1947 season. Roger Kahn, on the other hand, believed that Shotton "simply ignored the terrible racial tension tormenting Jackie Robinson."34
In November 1947, Time magazine readers offered suggestions for its Man of the Year. They included President Harry Truman, Secretary of State George C. Marshall, General Douglas MacArthur, Senator Robert A. Taft, Senator Arthur H. Vandenberg, Arturo Toscanini, Yehudi Menuhin—and Burton Edwin Shotton. W.R. Puffer of El Segundo, California, proclaimed that, by "demonstrating that the vulgar crudities . . . are not, essentially, an integral part of a winning baseball team, Mr. Shotton has given a renewed respect, a freshened impulse, to our National Pastime."35 Yet Shotton's lack of flair did not endear him to those local sportswriters who preferred covering the more flamboyant—and more quotable—Durocher. One of them, the Daily News' Dick Young, sarcastically referred to Shotton in print as KOBS (or, Kindly Old Burt Shotton).36
This point of view was emphasized in Shotton's New York Times obituary. Its unnamed author wrote that Shotton was "the kind of manager whose gentle and at times austere touch confused many. Perhaps his attitude was too kindly for hardened major-league baseball players. He led the Dodgers to National League pennants in 1947 and 1949, but the fans in Brooklyn did not accord him the tributes he deserved."37
The writer continued, "Mr. Shotton was never particularly popular with players, fans, or writers covering the game. But he had a kindness that few understood."38
Sources
Dorinson, Joseph, and Joram Warmund, editors. Jackie Robinson: Race, Sports, and the American Dream. Armonk, New York: M.E. Sharp, 1998.
Gough, David. Burt Shotton, Dodgers Manager: A Baseball Biography. Jefferson, NC: McFarland & Co., Inc., 1994.
Polner, Murray. Branch Rickey: A Biography. New York: Atheneum, 1982.
Sullivan, Neil J. The Minors: The Struggles and Triumphs of Baseball's Poor Relation From 1876 to the Present. New York: St. Martin's Press, 1990.
Thomas, Joan M; "Burt E Shotton" in "Deadball Stars of the American League". Edited by David Jones. Dulles, Virginia: Potomac Books, Inc., 2006, pp. 788-789.
Barber, Red. "How to Win a Pennant—By Two Who Did." New York Times, September 28, 1947.
Daley, Arthur. "Sports of the Times: Of Historical Importance." New York Times, August 21, 1962.
——. "Sports of the Times: Overheard at Ebbets Field." New York Times, September 1, 1947.
——. "Sports of the Times: Prophets in Distress." New York Times, December 30, 1948.
——. "Sports of the Times: The Passing Baseball Scene." New York Times, April 29, 1947.
Dawson, James P. "Durocher Pilot in All-Star Game." New York Times, December 30, 1947.
Drebinger, John. "Dodger Boss Promises Improved Club for 1950." New York Times, October 11, 1949.
——. "Durocher Elated After 'Social Call.'" New York Times, October 9, 1947.
——. "Ottmen Win, 10-4, With 6 Home Runs." New York Times, April 19, 1947.
——. "Phillies Will Not Be Follies Again if Shotton Has His Way." New York Times, March 20, 1928.
——. "Shotton Is Engaged to Manage for Another Year." New York Times, November 9, 1949.
——. "Sports of the Times: It Looks Like the Dodgers, They Say." New York Times, July 31, 1947.
——. "Sports of the Times: Managing With a Soft Pedal." New York Times, August 10, 1947.
Feeney, Charley. "Playing Games." Pittsburgh Post-Gazette, July 25, 1972.
Harrison, James R. "Baseball Season Begins This Week." New York Times, April 8, 1928.
Heller, Dick. "Dodgers Handled Unrest to Start '47." Washington Times, April 10, 2006.
Kieran, John. "Sports of the Times: The Boom in Amateur Boxing." New York Times, April 27, 1931.
——. "Sports of the Times: Mr. Shotton Spills a Word." New York Times, April 14, 1932.
——. "Sports of the Times: The Man of Few Words." New York Times, March 19, 1933.
McGowen, Roscoe. "Dodgers Reinstate Durocher As Manager for 1948 Season." New York Times, December 7, 1947.
——. "Phillies' Hopes Centre on Hitters." New York Times, March 22, 1930.
——. "Pilot of Brooks Unbowed in Defeat." New York Times, October 7, 1947.
Nack, William. "The Breakthrough." Sports Illustrated, May 5, 1997.
Reichler, Joe. "Major Loop Pilots Blow Off Steam: Burt Shotton, Joe McCarthy On Rampages." The Evening Independent, May 17, 1949.
Rendel, John. "Burt Shotton Is Retained by Rickey as Dodgers' Manager for 1949 Season." New York Times, October 9, 1948.
Sheehan, Joseph M. "Shotton, 62-Year-Old Veteran, Takes Over as Brooklyn Pilot." New York Times, April 19,1947.
Ziegel, Vic. "N.Y. Jaws Dropped When Lip Switched." New York Daily News, September 24, 1995.
"Baseball Owners Gather in Chicago." New York Times, December 11, 1933.
"Burt Shotton Pays Tribute to Leo Durocher." Los Angeles Times, January 20, 1948.
"Burt Shotton, Who Led Dodgers To '47 and '49 Pennants, Dies." New York Times, July 31, 1962.
"Burt Shotton Will Manage Columbus in '36." Chicago Tribune, November 12, 1935.
"Burt Shotton Would Like To Get Back In Baseball." St. Petersburg Times, October 19, 1951.
"Chandler Rejects Plea On Durocher." New York Times, April 22, 1947.
"Dodgers Name Grimes Pilot for One Year." Chicago Tribune, November 6, 1936.
"Durocher Hopeful of Retaining Post." New York Times, November 13, 1942.
"Durocher Says Job Still His." St. Petersburg Times, November 3, 1947.
"Fans Here Are Stunned by Sudden Shift; Reactions on Durocher Varied and Violent." New York Times, July 17, 1948.
"Flatbush Cincinnatus." Time, August 11, 1947.
"Letters." Time, November 24, 1947.
"Rickey Delighted But Not Surprised." New York Times, September 23, 1947.
"Rickey Heads Dodgers; Hints Of Changes." Chicago Tribune, October 30, 1942.
"Shotton Hopes to Stay." New York Times, October 27, 1950.
"Shotton Is Named as Coach of Reds." New York Times, January 23, 1934.
"Shotton Misses Opener." New York Times, April 21, 1948.
"The Lip Comes Back." Time, December 15, 1947.
"Through, Says Shotton." New York Times, December 2, 1950.
Notes
1. Kieran, "Sports of the Times: The Boom in Amateur Boxing."
2. Daley, "Sports of the Times: Of Historical Importance."
3. Harrison, "Baseball Season Begins This Week."
4. Drebinger, "Phillies Will Not Be Follies Again."
5. "Chandler Rejects Plea on Durocher."
6. Polner, Branch Rickey: A Biography.
7. Sheehan, "Shotton, 62-Year-Old Veteran."
8. Drebinger, "Ottmen Win, 10-4·"
9. Sheehan, "Shotton, 62-Year-Old Veteran."
10. Sheehan, "Shotton, 62-Year-Old Veteran."
11. Sheehan, "Shotton, 62-Year-Old Veteran."
12. Sheehan, "Shotton, 62-Year-Old Veteran."
13. "Idle Dodgers Take Flag."
14. McGowen, "Pilot of Brooks Unbowed in Defeat."
15. "Rickey Delighted but Not Surprised."
16. McGowen, "Dodgers Reinstate Durocher as Manager."
17. McGowen, "Dodgers Reinstate Durocher as Manager."
18. Daley, "Sports of the Times: Prophets in Distress."
19. "Fans Here Are Stunned by Sudden Shift."
20. Reichler, "Major Loop Pilots Blow Off Steam."
21. Drebinger, "Dodger Boss Promises Improved Club for 1950′"
22. Drebinger, "Shotton Is Engaged to Manage for Another Year."
23. "Through, Says Shotton."
24. "Burt Shotton Would Like to Get Back in Baseball."
25. "The Lip Comes Back."
26. "Shotton Promises Action on Players."
27. "Shotton Promises Action on Players."
28. Golenbock, Bums.
29. Golenbock, Bums.
30. Golenbock, Bums.
31. Golenbock, Bums.
32. Golenbock, Bums.
33. Nack, "The Breakthrough."
34. Dorinson and Warmund, Jackie Robinson.
35. "Letters."
36. Lowenfish, Branch Rickey.
37. "Burt Shotton, Who Led Dodgers To '47 and' Pennants, Dies."
38. "Burt Shotton, Who Led Dodgers To '47 and '49 Pennants, Dies."
Born
October 18, 1884 at Brownhelm, OH (USA)
Died
July 29, 1962 at Lake Wales, FL (USA)
If you can help us improve this player's biography, contact us.
http://sabr.org/sites/default/files/ShottonBurt.png
600
800
admin
/wp-content/uploads/2020/02/sabr_logo.png
admin
2012-01-04 20:34:50
2012-01-04 20:34:50
Burt Shotton