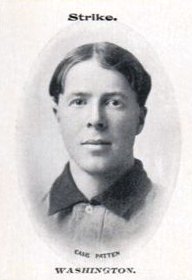 ---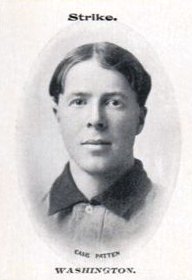 When Case Patten filled out his player questionnaire at the request of the Hall of Fame, he declared his heritage as "Scotch, Irish, English, Dutch, and Indian" — the Native American part perhaps coming from his mother Mandana's side of the family. As far as can be determined, he was one of the first players of Native American ancestry to play in the major leagues, though one suspects that rather few people knew of his ancestry. Contemporary news accounts seem not to mention a thing about his lineage in any regard. He preceded Louis Leroy (1910) with the Red Sox but was obviously of very mixed parentage and it seems safe to assume that he was never clearly identified as Native American.
His full name was Case Lyman Patten, but he was often called Pat Patten. He was a six foot tall switch-hitter who pitched left-handed, with a playing weight of 175 pounds. Patten was born in Westport, New York, on May 7, 1874. He was the youngest of four children — Frankie, Charles, and Grace were his siblings. Their father James was a farmer. He was a New Yorker, but Mandana was Canadian, as were both of her parents.
Patten's first taste of professional baseball was with Plattsburg in the New York State League in 1896, according to his obituary in The Sporting News. His first full seasons were with the Wilkes-Barre Coal Barons for whom he played from 1897 until August 4, 1899, when he was purchased by James H. Manning of the Kansas City Blues. Manning had traveled from Buffalo to try to purchase Patten, and paid $1,000 for him. While he was at it, he secured options on four other Wilkes-Barre players to be delivered in the following nine days, and the rest of the team as well. The following day, the Wilkes-Barre team simply disbanded. Patten pitched for the Blues for the next month, including pitching and winning both games of a doubleheader against Buffalo on the final day of the 1899 season.
He pitched for Kansas City in 1900 as well. It was fortunate for Manning he acted as quickly as he did; J. Earle Wagner of the Washington Senators was only hours behind Manning in trying to pick up Patten. Manning "considers that he has acquired the wonder of minor league circles," reported the Chicago Tribune. [Chicago Tribune, August 5, 1899] Manning went on to become one of the incorporators of the Washington Senators, formed in March 1901, of the brand new American League. A good part of the team was built from Manning's Kansas City club.
Patten debuted with Manning's Senators on May 4, 1901, pitching in relief of Win Mercer, who was up against Cy Young and some hot Boston batters. Mercer let in seven runs in the first four innings, and Patten got the call. He struck out two and walked three and let in three more runs. It was a lopsided 10-2 win for Jimmy Collins and the Bostons.
Controversy, however, had come to town with Patten: a bizarre case from his time in Kansas City, which played out as the season progressed. Lulu Prince had come to know Patten while he was still in the minors in 1900. On January 10, 1901, she was arrested for murdering her husband of one month, Phillip Kennedy, an agent for Merchants Dispatch Transportation. She had pumped five bullets into Kennedy, at his office, then kicked him, yelling, "You'll never ruin another girl." She told the policeman who arrested her, "Let go my hands. I want to fix my hair."
One could call the Kennedy marriage a "troubled one" and, it seems, one to which Kennedy only consented when taken to the judge by Lulu's father and two brothers, "compelled at the point of revolvers." There was an understanding that she might have been "in a delicate condition" at the time. This proved not to be the case, but Kennedy likely had taken advantage of her. He apparently refused to live with her, and in a filing for an annulment claimed duress and said he had "lost respect" for her.
After Prince-Kennedy's arrest — her father and brothers were also arrested — Dr. R. O. Cross testified at trial that Miss Prince had told him in November 1900 that she was married to Case Patten, but she did not want it known as he might lose his position on the ball team. Reading between the lines, it seems likely she asked the doctor to abort a pregnancy. As with the alleged pregnancy with Kennedy, none was ever discovered. Lulu had subsequently visited Dr. Cross on January 10, 1901, and told him she was now married to Kennedy, not Patten. She claimed insanity, and testified in court that it was Kennedy who had urged her to tell the doctor she was married to Patten. Her brother Albert, out on bond, was a "traveling mandolin player" who came by and gave concerts to Lulu in the jail. Brother Will denied in court that he had ever exercised mesmeric powers over anyone; he also denied that he had been a prizefighter. Father Prince ran a pool hall.
Lulu was convicted of second degree murder and sentenced to 10 years in prison. She secured a new hearing, meanwhile marrying local lawyer John Kramer, and in 1904 was acquitted on grounds of temporary insanity. As it was found that she had since regained her sanity, she was not sent to an asylum, but the newspaper record peters out. No comment from Patten has yet been found.
In the meantime, Patten was having a pretty good year on the mound. Though he was pitching for a sixth-place team which wound up with a 61-72 record, Patten was 18-10 with a 3.93 earned run average, the best pitcher on the staff. If not his best year, it was one of his two best. "I never saw a pitcher with a better curve," said Kid Gleason at year's end. [Washington Post, September 27, 1901] Patten was often superb with the spitball. Over seven seasons with Washington, Patten averaged over 14 wins a year (though, it must be said, more than 17 losses). He played with Washington throughout his entire major-league career save for one game that he pitched for the Boston Red Sox in 1908.
Batting was far from his strength, and the Post frequently reminded readers of this fact. He hit for a .135 average in his rookie year — and that was one of his better years. After 743 major-league at-bats, he held a career average of .127. He did have two home runs to his credit, though, and drove in 34 runs. The first home run was hit in 1901 off Chicago's Clark Griffith and it left the ballpark over the left-field fence prompting a humorous lead in the August 21 Washington Post, which suggested among other things that a doctor was quickly summoned and on hand by the time Patten rounded the bases and got back to the bench in case Case suffered any dangerous after-symptoms.
Patten had his quirks. In 1904 he had a pet white rat with pink eyes he tried to train to sit on his shoulder. Despite this, other teams made overtures toward acquiring him, but Washington held onto him. The Post repeatedly dubbed him the "willing worker", frequently capitalizing the phrase as though it were his name, lionizing him for his readiness to pitch two games in a series if need be. His won/loss total was always better than his team's. Even his 11-22 year in 1903 was better percentagewise than Washington's 43-94 record.
On July 22, 1903, he even pitched in to umpire a game. The scheduled umpire, Jim Hassett, suffered "a biff on the ear" in the July 20 game and so one player from each team was designated to officiate: Ossee Schreckengost from Philadelphia and Patten from Washington. The Athletics won, 3-1. These were difficult years, and Patten accomplished something unique in American League history: from 1903 through 1905 he had three consecutive 20-loss seasons. He was 11-22, 14-23, and 14-22. He maintained a decent earned run average throughout — 3.60, 3.07, and 3.14, though in each case he was about a half a run per inning above league average.
Patten was a 19-game winner in 1906, with a 2.17 ERA, but seemed to falter a bit in late June and early July as the 1907 season wore on and by the end of July the Post was suggesting that manager Joe Cantillon give him a couple of weeks' rest. On August 11, he was included in a large feature on Washington players who would not be back in 1908. A change in scene would pay off for him, the paper said. He was not expected to be with the team come spring training 1908. He was indeed brought back, though, and was used infrequently, finally being traded on May 31 to the Red Sox for lefthander Jesse Tannehill. Some thought that both pitchers could benefit from the deal. Neither did all that much after the trade, though reports that Tannehill was suffering from malaria were far from encouraging. At least he could hit some, remarked the Post.
The Red Sox didn't keep Patten for long. He appeared in just one game, on June 18, starting it and losing it, throwing just three innings and being bombed for five runs. The next day, the Red Sox put him on waivers. New York refused to waive, and therefore "under baseball law was entitled to Patten's services." [Boston Post, June 19, 1908] But on June 22, the Highlanders said they didn't want him and would waive their rights, in effect turning him back to Boston. Red Sox owner John I. Taylor protested to Ban Johnson, arguing that he was now New York property. "I don't know what Johnson will decide," Taylor said, but New York "refused to waive and we released Patten to [them]. That ended the matter as far as we are concerned."
Johnson proclaimed that New York management had 48 hours to change their minds, so Patten was indeed back with Boston, who clearly didn't want him. They held onto him for about three more weeks, but he was apparently unable to get into shape, so they released him unconditionally on July 10. After 232 decisions with Washington, he was 0-1 with Boston. It was a sad and sudden ending to a good career, but his major league days were over and he admitted he didn't know what he'd do next.
It seems he returned home. Patten popped up in a Washington Post story in 1915, driving an express wagon at the Westport station, and playing some local ball for Westport's town team. At least once he was hit hard, for 10 hits. He worked for a while as a truck driver. By the 1920 Census, he was a patrolman with the state highway department, married to his wife Marie and still living in Westport. On May 31, 1935 Patten died in Rochester, New York while visiting friends.
Sources
In addition to those cited in the text, the author consulted the online SABR Encyclopedia, retrosheet.org, and Baseball-Reference.com.
Born
May 7, 1874 at Westport, NY (USA)
Died
May 31, 1935 at Rochester, NY (USA)
If you can help us improve this player's biography, contact us.
http://bioproj.sabr.org/bp_ftp/images4/PattenCase.jpg
600
800
admin
/wp-content/uploads/2020/02/sabr_logo.png
admin
2012-01-04 20:01:09
2012-01-04 20:01:09
Casey Patten