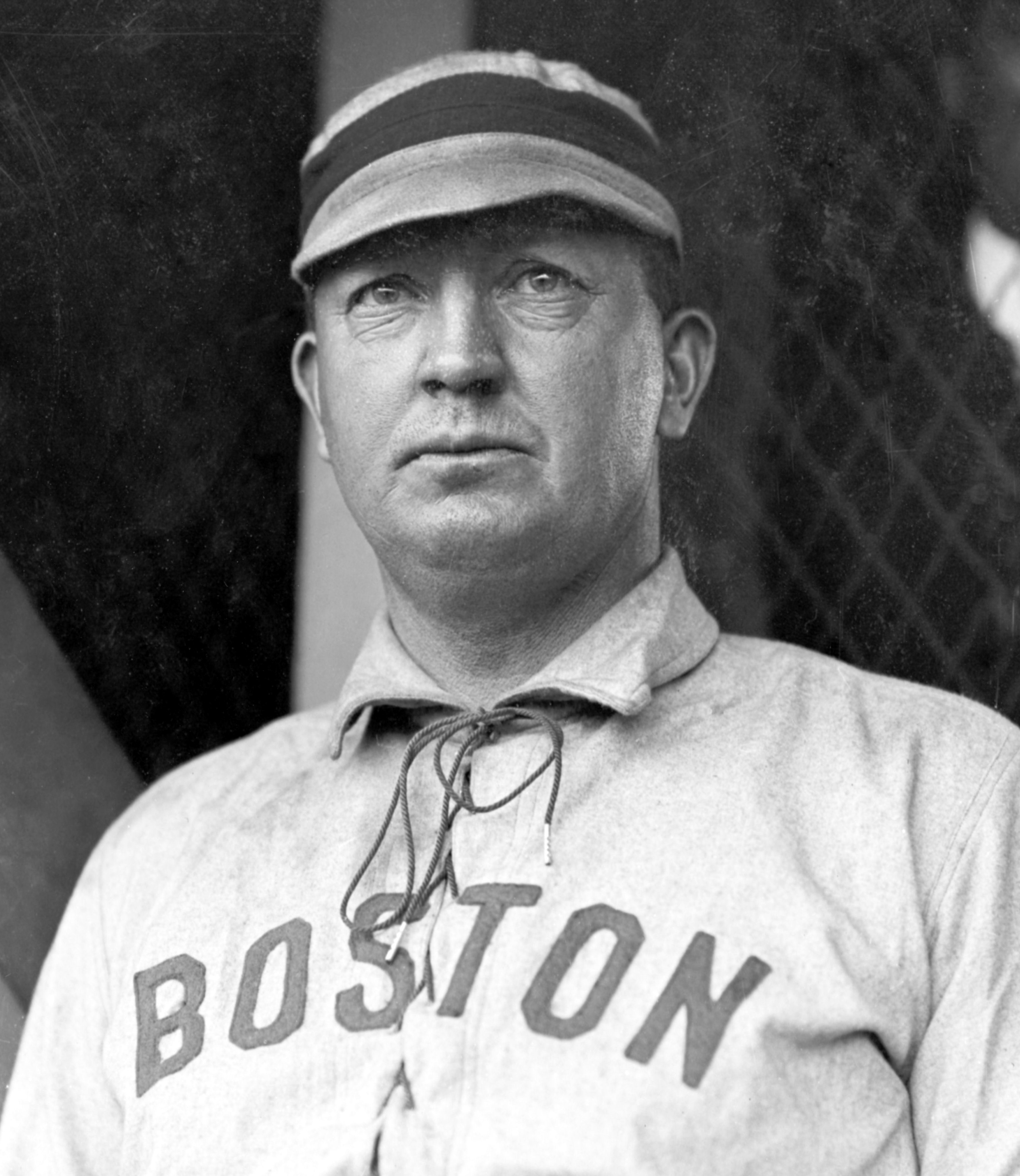 Along with that of Napoleon Lajoie, Cy Young's defection to the American League in 1901 generated instant credibility for the upstart circuit, as the league gained one of the game's greatest pitchers. The winner of 286 games in his first 11 seasons, Young had established himself as a model of consistency and excellence, pitching more than 300 innings every year from 1891 to 1900, and ranking among the National League's top five in earned-run average six times during that span. Still, cracks were starting to show in the great pitcher's façade. At 34 years of age, Young had already entered the phase of his career when most pitchers start to break down. Indeed, in 1900, Young suffered through one of his worst seasons to that point, failing to win 20 games for the first time since his rookie season, and pitching fewer innings than he had in any previous full season. Opposing batters attested that Young was more hittable than ever, and newspaper reporters began routinely affixing the adjective Old in front of his name. By all appearances, then, when the Boston Americans signed Young to a $3,500 salary, the acquisition represented more a public-relations coup than a legitimate pitching upgrade.
As it turned out, Boston, not to mention the rest of the American League, got much more than it ever could have expected. During his eight years with the Americans (later renamed the Red Sox), Young won 192 games, becoming the first pitcher in baseball history to pitch effectively into his 40s. In 1901, his first season with the Americans, he led the league in victories, strikeouts and earned-run average in 1901, a feat now called pitching's Triple Crown, and tossed the first perfect game in American League history. The many photos of Young that survive from this period portray a man advancing in years and gaining in weight. But as his girth expanded, his control sharpened; five times after 1900 he led the league in fewest walks per nine innings. And though his fastball lost some of its effectiveness, the wily Young more than made up for it with a pair of curveballs, one thrown overhand with a sharp break, the other thrown sidearm with a sweeping arc. Both pitches were delivered from a variety of arm angles; occasionally Young even threw submarine-style to upset the batter's timing. In his continued mastery of opposing batters in the face of declining strength and advancing age, Young raised pitching to an art form, and earned his place in baseball's pantheon of all-time greats. "If I were asked who was the greatest pitcher the game ever knew, I would say Cy Young," sportswriter Francis Richter wrote in 1910, when Young was 43 years old. "Cy is now pitching as good ball today as he did twenty years ago."
Denton True Young was born on March 29, 1867, in Gilmore, Ohio, the oldest of five children of McKinzie Young, Jr. and Nancy (Miller) Young. Gilmore was a small farming community about 100 miles south of Cleveland, and the Young family was raised on a farm owned by McKinzie's father, McKinzie Sr. Cy's education stopped at the sixth grade so he could help his parents with farming chores, but it was also at this time that he discovered the game of baseball. Encouraged by their father, the Young boys played baseball every chance they got. Developing into a better pitcher than hitter, Denton practiced throwing during lunch breaks from farm work. Besides practicing and playing in recreational games, he organized his own team in Gilmore, then in the summer of 1884 he played on semipro teams in Newcomerstown, Cadiz, and Uhrichsville, Ohio.
Having to make a living after his marriage to Robba Miller, and believing he could make money playing baseball, Young signed with Canton, Ohio, of the Tri-States League in 1890. After he compiled a 15-15 record in his rookie season, the right-hander's contract was sold to the National League's Cleveland Spiders for $500. Young's quick ascendancy to the majors was the result of the emergence of the ill-fated Players League, which forced National League teams to dig deep into the minor leagues for any available talent.
Young pitched with the Spiders through the 1898 season, winning 30 games or more three times, and capturing the 1892 ERA title with a 1.93 mark. The following year, the pitcher's mound was moved back five feet to its present distance of 60 feet 6 inches, and Young responded well, finishing the year with a 34-16 record and a 3.36 ERA, third best in the league. He was able to compensate for the increased distance with his terrific fastball. It had been the pitch that reportedly gave rise to his nickname, Cyclone (or Cy for short). Honus Wagner, who regularly faced Young in the National League toward the end of the decade, thought it the greatest fastball he had ever seen. "Walter Johnson was fast, but no faster than Rusie," Wagner observed. "And Rusie was no faster than Johnson. But Young was faster than both of 'em!" Another contemporary, Cap Anson, observed that when the 6-foot-2, 210-pound Young unleashed his speed, it seemed as if "the ball was shooting down from the hands of a giant."
When the syndicate of owners that controlled both the Cleveland and St. Louis franchises shifted Young to St. Louis in 1899, the pitcher's overpowering fastball began to lose some of its steam. He collected 26 wins that year, but only 19 in 1900, as a bruised rib suffered in a collision with the New York Giants' Ed Doheny caused him to miss significant playing time for the first time in his career. Additionally, as the summer progressed and Young suffered his share of tough losses, the normally quiet and reserved star uncharacteristically vented his frustration, charging into the stands on August 20 to confront a heckler who had accused him of quitting on the team. Young finished the year with a lackluster 19-19 record, and the Perfectos slumped into fifth place, ten games below .500.
After the season ended, several St. Louis players defected to the American League, including catcher Lou Criger, Young's batterymate, who signed with Boston. Though he was hounded by Boston's owner, Charles Somers, for several weeks, the cautious Young did not sign with the Americans until the March 19, 1901. St. Louis owner Frank Robison had declined to match Boston's offer of $3,500, insisting that Young, about to turn 34, was just about "all washed up."
Young soon demonstrated otherwise. Though, like Napoleon Lajoie, he had the advantage of facing competition watered down by the sudden addition of eight new major-league teams, Young enjoyed one of the greatest pitching seasons in baseball history. He led the league in victories (33), ERA (1.62), strikeouts (158), and shutouts (5). In 371? innings, he walked just 37 batters. Asked to explain his success, Young said, "I have almost perfect control of the ball this year, and I try to keep it bumping over the plate. If two or three men get on bases, I put on a little more steam and shoot 'em over as fast as I can – but I try all the time to keep 'em over."
Over the next three seasons, the American League's talent pool expanded vastly as more players made the jump to the junior circuit, but Young remained unfazed by the new arrivals, leading the league in victories in 1902 and 1903, and finishing second in 1904. Though he began to rely more exclusively on his assortment of breaking pitches, Young's control remained as sharp as ever: In 1904 he walked just 29 in 380 innings. His success helped the Americans win back-to-back pennants in 1903 and 1904, and though teammate Bill Dineen stole the spotlight in Boston's eight-game victory over Pittsburgh in the first modern World Series (1903), Young aided the cause with a 2-1 record and 1.85 ERA in the inaugural fall classic.
Young's greatest achievement, however, may have come on May 5, 1904, when at the age of 37 he pitched the first perfect game in American League history – just the third in major-league baseball and the first from the 60-foot-6-inch pitching distance – against Rube Waddell and the Philadelphia Athletics. Before the game Waddell, who had defeated Young in their previous encounter a weak earlier, taunted the old pitcher, promising to beat him again. After Young pitched his masterpiece and Boston won, 3-0, Cy uncharacteristically returned fire, shouting to Waddell, "How did you like that one, you hayseed?" It was his second career no-hitter (his first came in 1897); he would pitch a third in 1908, against New York.
Young's perfection against the Athletics came in the midst of a major-league record 24 consecutive innings in which the pitcher did not allow a single hit, as well as a scoreless innings streak that stretched to a then-record 45 innings. "And they said Uncle Cy was all in, did they?" observed Boston catcher Duke Farrell of his 37-year-old teammate. "He fooled them, didn't he?" Down the stretch, Young continued to impress, pitching shutouts in each of his last three starts to help the Americans to their narrow pennant victory over the New York Highlanders.
In the wake of Young's historic accomplishments, much of the baseball world began to acknowledge his unparalleled place in the pantheon of great pitchers. "Rusies have come and gone, in their turn, by Cy Young still pitches on," observed the Detroit Tribune. "Perhaps no ballplayer ever lived who paid stricter attention to business and who came out of a long series of honors showered on him with lesser opinion of himself and with such strict attention to temperate habits." For his part, Young placed no special emphasis on his remarkable durability and longevity. He downplayed the significance of his offseason conditioning program, which consisted mostly of splitting wood at his Peoli, Ohio, farmhouse. "It isn't any secret," Young said, "just outdoor life, moderation, and a naturally good arm. I don't know that I take any better care of myself than any other pitcher does, it just happens, this thing of my lasting. It isn't the result of any system."
In an era when ballplayers were often regarded as dissolute, inveterate slackers, Young won praise for his clean living and moderate temperament. He prided himself on his work ethic, and reacted with indignation when accused of easing up with a big lead. "When you see me let any club make runs off my pitching on purpose," he snarled, "come around and I'll give you a brand new hundred dollar bill." Easing up, he declared, placed the game "on the level with lawn tennis, tiddle-de-winks, or some other schoolgirl frivolity." Later in life Young articulated a personal philosophy for playing the game the right way by enumerating five rules of conduct: 1) Be moderate in all things; 2) Don't abuse yourself; 3) Don't bait umpires; 4) Play hard; and 5) Render faithful service to your employer. Adhering to this creed, Young continued to enjoy success long after other pitchers had left the game. Thus, his unbreakable career records (511 victories, 7,354? innings, 749 complete games) were the product not just of exceptional talent and good fortune, they were also the result of his own exacting standards.
As Young approached and then passed his 40th birthday, he continued to rank among the game's best pitchers, thanks in large part to the wide assortment of breaking pitches and arm deliveries he employed to fool opposing batters. "If a right-hander crowded my plate," Young said after retiring as a player, "I sidearmed him with a curve, and then, when he stepped back, I'd throw an overhand fastball low and outside. I was fortunate in having good speed from overhand, three-quarter, or sidearm. I had a variety of curves – threw a so-called screwball or indrop, too – and I used whatever delivery seemed best. And I never had but one sore arm." After enduring the worst season of his career in 1906, when he finished the year 13-21 for the woeful (49-105) Americans with a terrible 3.19 ERA, Young came back strong in 1907 and 1908, winning 21 games in each season and posting ERAs of 1.99 and 1.26, respectively.
In February 1909 Young, then 42, was traded by Boston to the Cleveland Naps for Charlie Chech, Jack Ryan, and $12,500 cash. Back in the city where he had started his big-league career 19 years before, Young enjoyed one more solid season, going 19-15 with a 2.26 ERA. The following year, he started only 20 games, finishing with a 7-10 record. Still, he resisted calls for him to retire from the game. "Quit the game, well, I guess not," he told a Cleveland reporter. "I'd be awfully lonesome, and you know this is a healthy game. I'll not quit until I have to."
In 1911 the 44-year-old Young fared even worse, going 3-4 with a 3.88 ERA in seven starts before drawing his release on August 15. He was quickly picked up by the Boston Braves of the National League, who wanted him, according to one writer, "just to draw the crowd." Young started 11 games for Boston down the stretch, going 4-5 with a 3.71 ERA. Despite much speculation that he would retire, Young attempted to hang on with the Braves for the 1912 season, remaining with the team through spring training and warming the bench for the first month of the campaign. But a chronically sore arm prevented him from ever taking the field; when he attempted to do so, on May 23, he gave up after a brief warm-up session, declaring, "It's no use. I'm not going on. These poor fellows have lost too many games already." Finally, at the age of 45, Young's major-league career was officially over.
In retirement, Cy returned to his home in Peoli, where he lived out a quiet retirement on his farm, growing potatoes and tending to his sheep, hogs, and chickens. He and his wife, Robba, did not raise any children; their only offspring, a daughter, died a few hours after her birth in 1907, leaving, in the words of Young biographer Reed Browning, "an almost inexpungeable hole" in their lives. When Robba died in 1934, a grieving Young sold his farm. "Somehow, after she died I didn't want to live there any more," he said. Elected to the Hall of Fame in 1937, Young was formally inducted with the Hall's first class at the museum's opening in 1939. Despite his frugal habits and status as a baseball legend, however, Young was beset by financial problems late in life. In 1935 he traveled to Augusta, Georgia where he joined a group of baseball veterans looking to make some money during the Great Depression by playing exhibition games. When this venture failed, Young returned to Ohio, where he found work as a clerk in a retail store and lived with a local couple, John and Ruth Benedum. He was still living with the Benedums when he died of a coronary occlusion on November 4, 1955, at the age of 88. He was buried in Peoli Cemetery. The next year, baseball instituted the pitching award that bears his name.
An updated version of this biography appeared "New Century, New Team: The 1901 Boston Americans," edited by Bill Nowlin (SABR, 2013). The biography originally appeared in "Deadball Stars of the American League" (Potomac Books, 2006), edited by David Jones.

Sources
Books

Browning, Reed. Cy Young: A Baseball Life. (Amherst, Massachusetts: University of Massachusetts Press, 2003).
Ivor-Campbell, Fred, editor. Baseball's First Stars. (Cleveland: SABR, 1996).
Masur, Louis P. Autumn Glory: Baseball's First World Series. (New York: Hill & Wang, 2003).
Periodicals
Boston Globe

Boston Post

New York Times

The Sporting News

Washington Post
Websites

Baseball-reference.com
Baseballhalloffame.org
Retrosheet.org