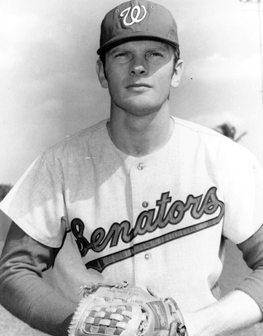 ---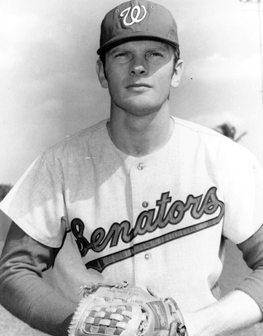 Charley Walters says there were two things he always wanted to do: "Be a newspaper guy and a major-league ball player." He got to do both. Now a sports columnist for the St. Paul Pioneer Press, Walters also had a seven-year career in professional baseball that included six games at the major-league level, with the Minnesota Twins in 1969.
Walters grew up in northeast Minneapolis and delivered the Minneapolis newspaper. "I couldn't wait to get it at 5:30 in the morning. I'd rip it open before I'd start delivering it." One of the items he looked for first was the insider's news column by Sid Hartman in the sports section. "I always wanted to be a newspaper guy. And then baseball happened."
Baseball happened because Walters was a big man (6-foot-4, 190 pounds) with a strong right arm.
Charles Leonard Walters was the oldest of five children born to Charles and Bertha Walters, on February 21, 1947. Walters's dad was a custodian for Minneapolis public schools, and his mom, a nurse until he was born. Walters's siblings, in order of age, are a sister, Yvonne, and three brothers, Danny, Steve, and Dick. The family lived in a home at 3234 Hayes Street in northeast Minneapolis.
Walters grew up playing basketball and baseball, often at Waite Park, near his home. Through eighth grade, he attended St. Charles Borromeo, where the baseball coach was Lou Mitteco, who became the longtime athletic director at Totino Grace High School in Fridley, Minnesota. After a year at Northeast Junior High School, Walters began at Edison High School in 10th grade, setting school scoring records that still stand in basketball and pitching and playing the outfield on the baseball team. He also wrote for Edison's newspaper.
Growing up, Walters "threw all he could, bouncing balls off the wall, steps—always throwing." He tried different pitches while playing catch with friends but says he never had much of a curve ball. "But I could throw hard" with "average control."
Walters played American Legion baseball in the summers for a team coached by Lefty Cyson and was playing the summer following his graduation from Edison in 1965. He enrolled at St. Cloud State University in central Minnesota and planned on playing basketball and baseball there.
In August of 1965, the Minnesota Twins held their annual two-day tryout camp. Lacking confidence, Walters didn't attend. "I didn't think I'd be good enough to even be considered." However, the evening of the first day, he received a phone call from Hal Younghans, an assistant principal at Edison High and former professional baseball player, urging Walters to attend the camp the next day.
"My dad said, 'That's awfully nice of Hal to do that. If Hal was nice enough to ask you to go out there, just because Hal asked you should go.' It wasn't because I had aspirations of signing a contract. But I went out there and ended up signing a contract."
Walters recalls going to Metropolitan Stadium, the home of the Twins, being given a number, sitting in the stands until his number was called, and reporting to the bullpen, where he warmed up and then threw in the presence of Twins scout Angelo Giuliani. Soon after he pitched in a scrimmage involving the other players who had survived the tryout camp to this point. Walters recalls striking out all nine batters he faced.
Afterward, he was offered a contract by Twins executive vice president Joe Haynes. Walters received a $100 signing bonus and $400 a month. Of the signing, he said, "It had always been a dream of mine, like so many kids."
Since he had already committed to St. Cloud State, which is about 70 miles northwest of Minneapolis, Walters attended school there for two quarters before leaving for the Twins' minor-league spring-training camp in Melbourne, Florida, in March of 1966, just after turning 19. He was then assigned to Thomasville (North Carolina) in the Class A Western Carolinas League, where he pitched in four games before being shipped out to the Twins rookie team in Sarasota, Florida, in the Gulf Coast League.
After the 1966 season, Walters enrolled at the University of Minnesota and spent the entire school year there, which was necessary to receive a student deferment from the military draft. When classes concluded in the spring of 1967, the Twins sent Walters to St. Cloud (where he had first gone to college) to play for their farm team in the Class A Northern League, the Rox, under manager Ken Staples. Walters had a 7-2 record with a 1.94 earned-run average as the Rox won the pennant that year.
Walters then returned to the University of Minnesota and planned on enlisting in the Marine Reserves as a way of meeting his military commitment. George Brophy, the assistant farm director for the Twins, had connections for getting players into the reserves, a popular alternative to the draft but not an easy one to get into during the Vietnam War.
Walters prepared to leave for San Diego for six months of active duty in the Marine Reserves. However, he was unable to pass a hearing test during his physical, a result of childhood ear infections, and thus received a medical deferment from the military.
Walters started the 1968 season with Wilson (North Carolina) in the Class A Carolina League. He pitched just 12 innings before being sent down to Wisconsin Rapids in the Class A Midwest League. The Burlington Bees, an Oakland farm team in the Midwest League, produced the league leader that season in batting average, George Hendrick, along with its most spectacular pitcher, Vida Blue, who led the league with 231 strikeouts in just 152 innings pitched. "He was blowing everybody away," recalled Walters, who also displayed a pretty good fastball, striking out 143 in 161 innings. "Blue used to say to me before a game, 'Hey, Walters, how many did you punch out last time?'"
Walters went to the fall instructional league in Florida after the 1968 season and pitched in 13 games, completing nine and winning four. The strong performances at Wisconsin Rapids and in the instructional league earned Walters an invitation as a non-roster player to the Twins major-league spring-training camp, in Orlando, in 1969. Walters continued doing well in spring training and also picked up a nickname that is still with him. With his fastball, he produced infield chatter such as "Shoot it in there. You're the shooter."
After one strong performance, Bob Allison walked up to Walters in the locker room and said, "You are the big shooter." Arno Goethel, then a beat writer and later the executive sports editor for the St. Paul Pioneer Press, was standing nearby and picked up on the nickname. From then on, Walters was the "Big Shooter" or just "Shooter."
Walters made the Twins' major-league roster to start the 1969 season. In an interview with Goethel that appeared in the April 19, 1969 The Sporting News, he explained why he made the team. "I could always throw. But I was weak. I got stronger last year. Lifted weights. Worked hard. Gained 25 pounds. The fastball is my pitch. My curve is all right, but it's not like my fast ball, which I like to keep down, in and out. But I can throw a curve for a strike when I have to. Actually, I just learned how to pitch this spring."
Walters pitched in six games for the Twins and did not allow a run in his first five. His first outing was April 11 at California. With the Twins trailing, 5-1, he came into the game in the seventh, gave up one hit and one walk in pitching the final two innings for the Twins. The first batter he faced, Bobby Knoop, reached on an error and was sacrificed to second by George Brunet. Walters then retired Vic Davalillo and Jim Fregosi.
Five nights later, on a misty evening in Seattle, Minnesota manager Billy Martin brought Walters into a game with the Twins down 4-3 in the eighth with two runners on and no out. Jack Aker, the opposing pitcher, was at bat. Walters recalls the incident with a laugh. "Billy brings me in and says, 'Aker is going to bunt. Field the bunt. It's slippery out, so don't try to throw to second, just get the out and I'll bring somebody else in.' So I went into the stretch, Aker squared around to bunt, just like Billy said he would, and I hit Aker on the knee." Walters then retired Tommy Harper before being relieved by Ron Perranoski, who got the win when the Twins scored three runs in the top of the ninth.
Walters's final game in the majors was at home at Metropolitan Stadium on May 14. The Twins fell behind 5-0 to Baltimore. Starter Dick Woodson was taken out for a pinch-hitter in the last of the third, and Walters started the fourth. With two out, he gave up a home run to Paul Blair, the first run he allowed. In the fifth, the Orioles loaded the bases off Walters with one out. Bob Miller relieved and allowed all three runners to score.
Walters was then sent to the minor leagues. "They needed a guy and didn't feel I was the guy. I didn't have a breaking ball. They threw me up there because I was young and had a strong arm."
Rather than being sent to Class AAA Denver, Walters went to Charlotte in the Class AA Southern League, prompting an outburst from Martin about the decision by farm-director Sherry Robertson and his assistant, George Brophy. "Here he [Walters] is almost good enough to pitch for us, and he's not good enough to pitch for Denver," said Martin. Robertson replied, "I don't tell Martin how to manage, and I don't need him to tell me how to run the farms." Martin later apologized to Robertson and Brophy for aiming his complaints to the press instead of to them personally.
Walters was fine with going to Charlotte, even though the Southern League was known as the "bus league" because of the long road trips by bus. "That was fun," he said. "Good competition. Lots of trips—Birmingham, Nashville, Montgomery. I was just 22 years old. It was fun. I loved it. Single. Nothing but fun."
His first appearance for Charlotte was in relief on May 20. Three days later he started and won 3-0 against Savannah, striking out 11 in a game stopped by rain after five innings. He struck out 11 batters in five innings. Walters started 18 games for Charlotte and had a 7-10 won-lost record with a 4.03 earned-run average.
He finally found himself in Denver in 1970, but with a different organization. He had been traded to the Washington Senators with Joe Grzenda for Brant Alyea shortly before the season opened. By this time, Denver was Washington's top farm team. It was a season marred with injuries for Walters, who pulled an adductor muscle in his thigh in the season opener and was put on the disabled list. He re-injured the muscle later in the season and then had his season finished when he was hurt during a brawl between Denver and the Wichita Aeros on July 3, damaging his knee ligaments and ending up in a cast.
Walters started the season in Denver in 1971 before being sent to Pittsfield (Massachusetts) in the Class AA Eastern League, where he pitched again in 1972, making $1,200 a month. After that season, Hal Keller, the farm director for the Texas Rangers (the parent team having moved from Washington), sent him a contract for $1,200 a month.
Walters, who was working in the offseason at the Leamington Hotel in Minneapolis, which was owned by Texas Rangers owner Bob Short, wasn't happy about the contract offer. "I decided, 'I'm 25, seven years in the minors,' I was going to need $1,500 or $1,600 a month to keep going." Walters figured he'd get a counteroffer around $1,400 a month, which he would accept, but Keller wouldn't even offer that. "When I told him what I'd need to keep playing," Walters said, "Keller said, 'Then it's all over, pal.'"
Walters called the University of Minnesota, registered for classes, went back to school full-time, and got his journalism degree. While he was in school, he got a job as a stringer for the Minneapolis Star and then as a copy boy for the Minneapolis Tribune. He also wrote for the Minnesota Daily (the college newspaper) and the St. Paul Pioneer Press and Dispatch.
Eight days after he graduated, he was hired by the St. Paul Pioneer Press and covered local college sports, his first assignment being a football game between Macalester and Bethel. He also was a beat writer for the Minnesota Vikings and then for the Minnesota Twins.
In August of 1981, when the Twins were in New York for a series with the Yankees, the Pioneer Press-Dispatch executive sports editor, Loel Schrader, suggested that Walters take Twins pitching coach Johnny Podres to the former site of Ebbets Field—where an apartment building now stood—the home of the Brooklyn Dodgers. Podres had won two games in the 1955 World Series, including the third game, at Ebbets Field, and the decisive seventh game, at Yankee Stadium.
Walters wrote an article about the trip:
"At first, he didn't want to do it. Johnny Podres is supposed to be too tough to be sentimental. . . . But when Johnny Podres stepped out of a cab and onto Bedford Avenue the other day, when he saw the big black and white sign that said, 'Ebbets Field Apartments,' the tough guy melted. . . . It was at Ebbets Field that Podres, on his 23rd birthday in 1955, beat the mighty New York Yankees 8-3 in the third game of the World Series. Podres would defeat the Bombers again—2-0 in the seventh game at Yankee Stadium—and become the Series Most Valuable Player. And now he was back. But there was no Ebbets Field."
The pair encountered "a burly, mean-looking blue-uniformed guard for the apartments [who] skillfully twirled a night stick in his right hand" and wanted to know what they wanted. When Walters told the guard who his companion was, "The guard's eyes also got moist. . . . 'I've still got an old uniform of yours up in my house. I was a catcher for the Dodgers in the minor leagues for a little while . . . it's got your name sewn on it on the side on the bottom. When you're in the minors, they give you old Dodger uniforms to wear. I'll go home and get it for you if you want. I really will. You can have it. God, can you believe this?'
The guard introduced Podres to the building superintendent, who picked up a large map of the apartments that was superimposed on a layout of Ebbets Field and figured out where the pitcher's mound was. "He led Podres to a concrete hallway painted in red and white. 'Right here is where the Ebbets Field pitching mound was,' the superintendent said, pointing to a brass covering on the floor. 'Right here on this sewer line.' Podres smiled, then laughed. This was it. He stood on the sewer cover as though he were taking a sign from Roy Campanella, toed the cover with his shiny black shoes as if were toeing dirt on the mound."
The story won a Minnesota Associated Press Sports Editors award for features although Walters modestly says that "the story wrote itself."
Schrader, who had written a sports notes column for the Long Beach Press-Telegram in California, liked the extra notes Walters regularly generated from the Twins beat. Schrader asked Walters to write an occasional column with the notes and eventually took him off the sports beat and gave him his own sports insider's column.
Walters began writing a 30-inch column three times a week, then increased it to four a week. Even then, he was still having to cut seven-to-eight inches from every column, enough for an additional column each week. At his suggestion, the Pioneer Press began having him write five columns a week, which he still does. He works the phones for scoops and has an electronic personal data assistant that contains more than 3,500 telephone numbers.
Walters normally eschews writing in the first person. But after Johnny Podres died in January of 2008, he got a call from Schrader, now living back in California. He resisted his former editor's suggestion to write about the trek he and Podres had made to Ebbets Field more than 26 years before, but Schrader persisted, even invoking his former role as Walters's mentor. "You had a prime seat at what his homecoming was like," Schrader told his protégé in an e-mail. "Do it!" Walters did, including an item about it in his column on the day of Podres' funeral.
Walters lives in Mendota Heights, Minnesota. His wife, Paula Kelly, is a pediatrician at Healtheast Care System in Woodbury, Minnesota. They were married May 25, 1974, and have a son, Charles (born September 25, 1978), and two daughters, Caitlin (born May 30, 1981), and Kelly (born September 10, 1989).
Note
A version of this biography appeared in the book Minnesotans in Baseball, edited by Stew Thornley (Nodin, 2009).
Sources
Interviews with Charley Walters, November 28, 2003 and January 18, 2008.
E-mail correspondence between Loel Schrader and Charley Walters, January 2008.
The Sporting News:
"Twins Hit on 1,000-to-1 Shot Walters" by Arno Goethel, April 19, 1969, p. 10.
"Calm Restored After Martin's Blast," May 31, 1969, p. 25.
"Walters Shows Stuff," June 7, 1969, p. 41.
"Walters Trying Slider," June 28, 1969, p. 46.
"Walters Reactivated," May 16, 1970, p. 36.
"Bears, Aeros Short Fused" by Frank Haraway, Denver Post, Saturday, July 4, 1970.
"Memory Razed: When Ebbets Field Died, So Did a Part of Johnny Podres" by Charley Walters, St. Paul Pioneer Press, Sunday, August 30, 1981, p. 1 Sports.
Charley Walters column, St. Paul Pioneer Press, Tuesday, January 16, 2008, p. 2D.
Born
February 21, 1947 at Minneapolis, MN (USA)
If you can help us improve this player's biography, contact us.
http://bioproj.sabr.org/bp_ftp/images4/WaltersCharlie.jpg
600
800
admin
/wp-content/uploads/2020/02/sabr_logo.png
admin
2012-01-04 20:49:47
2012-01-04 20:49:47
Charlie Walters