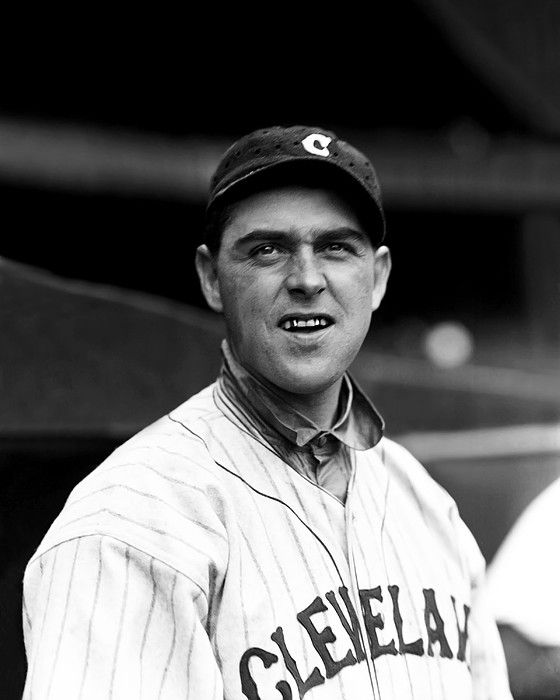 ---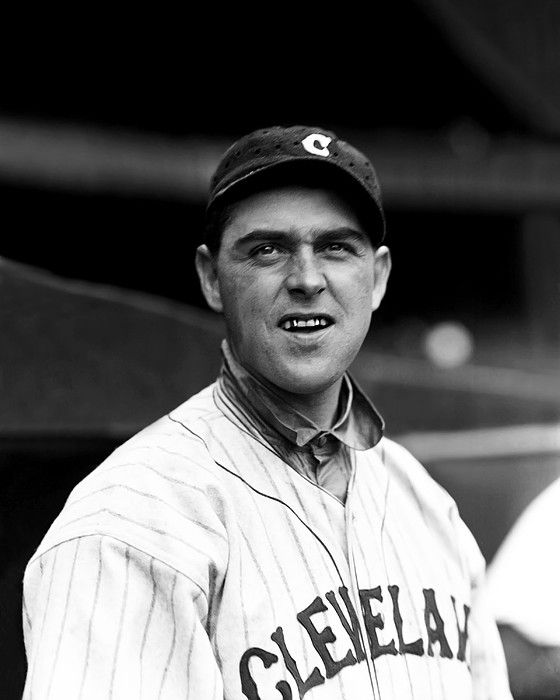 Clint Brown was a member of the Cleveland Indians starting staff for four years before a broken wrist sidelined him in 1934. He was relegated to the bullpen and eventually was sold to the Chicago White Sox. With Chicago he established records (all since broken) for relievers by appearing in 220 consecutive games without a start, including a record 61 in 1939.  Statistical/analytical guru Bill James took note of Brown's performances in his 2010 Historical Abstract, labeling Clint the epitome of a reliever in the 1930's and 1940's.1
Clinton Harold Brown was the second of three sons born to Hugh L. and Minnie M. (Hall) Brown. Clint's older brother, Floyd, was a talented baseball player who was called to serve in World War I. The Brown family resided in Crawford County, Pennsylvania. At Clint's birth on July 8, 1903, Hugh Brown was farming near Black Ash. However, due to the Browns' proximity to the nation's first oil fields in Titusville, Hugh left farming to work in the oil business. Clint attended Wayne Township schools through the eighth grade. He entered the work force as an oil driller and a mechanic.
Clint grew to be 6-foot-1, weighed 190 pounds, and would later be known as the "Black Ash Flash." Brown batted left-handed while throwing right-handed. He was schooled in baseball by his father, who had played semipro ball. Clint became a pitcher/outfielder2 and in 1924 he played for the Titusville Independents. Titusville faced the Homestead Grays, who were playing independent from the Negro Leagues that season. Titusville was down 8-0 when Brown entered the game in relief to start the fourth inning. He allowed one run in the team's 9-0 loss to Dizzy Dismukes.3 Brown's play with Titusville caught the attention of Herb Moran who had a team in the independent Bi-State League.
In 1925 Brown became an integral piece of Moran's Catasauqua, Pennsylvania team. The six-team league staged a tight pennant race with three teams holding the top spot during the final month before Nazareth surged to the top with a 26-9 mark. Catasauqua finished at 23-12. Clint often told reporters that his career started in 1925. That pronouncement could explain why Baseball-Reference currently lists him as the Brown who appeared in one game with Harrisburg in the Class B New York-Pennsylvania League (NYPL). There is ample contemporary evidence that the pitcher was Myrl Brown of Harrisburg and not Clint.4
While the Bi-State was not regarded as a minor league the players were still well-paid. Over the winter the Catasauqua management proposed that teams in the league hold their salaries to $2,500 a month.5 That would suggest that Brown and his teammates each made $200 or more a month. The Rochester Tribe of the International League purchased Brown's contract and took him to camp in the spring of 1926.
Brown made the Rochester roster as a relief pitcher, but after seven appearances he sported a 7.07 ERA and was sent to Harrisburg. He made the start on June 8 but was relieved in the fourth inning up, 7-3. He registered one other appearance before being sent to the Cambridge, Maryland Canners in the Class D Eastern Shore League. With Cambridge he appeared in 26 games and posted a 9-6 record. He is credited with a 2.45 ERA and a WHIP of 1.214 which placed him in the league's top 10.
Brown went to spring training with Rochester again in 1927 but in early May he returned to the Eastern Shore League, this time with the franchise in Parksley, Virginia. The Spuds were the dominant team in the league with a 60-28 record. Clint posted a 16-4 record with a sparkling ERA (1.72) and WHIP (1.046).
In March 1928 former collegiate football star Glenn Killinger was preparing his roster for the new NYPL campaign. Killinger represented the Harrisburg franchise but there was a court case pending that would determine if he maintained control.6 Killinger won the legal battle and took his troops, including Clint Brown, to Petersburg, Virginia for spring training. Harrisburg had acquired the contact of Brown over the winter.
Brown improved upon his 1927 performance and led the circuit with 23 wins. His "chief stock in trade is uncanny control, supplemented by an excellent curve, a fairly good "hard one" and a clever pitching head."7 He worked 272 innings for the champion Senators. His ERA (2.15) and WHIP (1.199) were both top 10 in the league. Brown was such a fan favorite in Harrisburg that he easily won a contest as "most popular" and was thereby presented with a new Pontiac roadster.8
With one game left in the season, Harrisburg led Binghamton by three percentage points. The finale was held in Binghamton and Brown took the hill for the Senators. He had been overworked in the final stages of the campaign and lasted less than an inning in the crucial game. Harrisburg rallied in the ninth for a 5-4 win and the pennant.9 Manager Killinger had alerted Billy Evans of the Cleveland Indians to Brown's talent. Charlie Hickman followed the team and watched Brown work.10 On September 17 the Indians paid $5,000 for the rights to Brown.
Brown reported to the Tribe and made his major-league debut on September 27 with two scoreless innings against Boston. Two days later he earned his first start versus the Red Sox, opposing rookie Merle Settlemire, who was making his last appearance in the majors. Brown had a 5-2 lead after seven innings but began to tire; nevertheless, manager Roger Peckinpaugh left him in the game. In the ninth Brown issued his only walk, along with a single and two doubles to fall behind, 6-5. Cleveland failed to rally, handing Brown the loss.11
The 25-year-old Brown joined the Indians in New Orleans for spring training in 1929. With him in camp were youngsters Wes Ferrell (age 21) and Mel Harder (age 19) along with the other Tribe hurlers. Ferrell went north with the team and proceeded to win 21 games. Brown and Harder were assigned to the New Orleans Pelicans in the Class A Southern Association.
At midseason Brown was 12-7 and sportswriter Gordon Cobbledick labeled him a "star" and suggested he was certain to be on the Indians' staff the following year.12 New Orleans finished second behind Memphis as Brown posted a 20-12 record with a mere 36 walks in 244 innings. The brass added him to the Tribe roster for the final weeks of the season. He faced the Red Sox in Fenway Park on September 21 when he entered the game in the fifth with the score tied and the bases full. He coaxed a pair of groundouts to retire the side.
Cleveland took the lead 3-2 in the eighth, but in the ninth Brown allowed two singles and then saw the tying run score on an errant throw to home. The game continued into the 12th when opposing pitcher Bill Bayne drove home the winning run for Boston. Brown's next appearance was at home against the White Sox before he earned the start in St. Louis in October 6. He tossed a complete game against the Browns but lost, 4-2.
As predicted, Brown was in the starting rotation in 1930. He opened the year with three complete game victories in April. Now 26 years old, he struggled with consistency. The New York Yankees were especially tough on him as they pounded him for 13 runs in two June starts. He had a measure of revenge with a victory over them in September. Brown finished the year 11-13 for the fourth-place Indians.
In the spring of 1931 as Clint went to camp with the Indians, his brother, Carl, joined the Decatur Commodores. Like his brother, Carl was right-handed and about the same size. He was cut by Decatur before the regular season began.
Brown maintained his spot in Cleveland's rotation the next three seasons. He won 11,15, and 11 while seeing his ERA drop each year from 4.71, to 4.08, then 3.41. Walter Johnson took over as manager in 1934 and decided to use Brown in the bullpen. He was pounded by the White Sox early in the season but found his groove and recorded two wins over Boston in the second week of May. On May 15 he was throwing batting practice when fellow hurler Willis Hudlinslammed a line drive back at him that shattered a bone in his left arm. The injury put him out of action for about nine weeks. Upon his return he struggled, as in 11 appearances, there was only one where he did not allow a run.
Brown was in the pen again in 1935 and won his first two relief stints. On May 31 he returned to a starting role with a victory but was treated roughly in his next two starts. As Independence Day approached the Indians were plagued by injuries, some of them courtesy of their own fans. Both Brown and Earl Averill were sidelined by firecrackers that were thrown from the stands and exploded. In Brown's case the blast was close to his face and he had a blood clot in his eye, which made him very sensitive to light.13 He went 60 days between appearances.
When the season ended, he bought a share of a restaurant business in Cleveland. He stayed in town for the winter and joined a bowling league with some of his teammates. The camaraderie must have been positive for Brown because he reported to camp in New Orleans looking "lighter than usual at this time of year and fit to wage a real fight for his job."14He earned a spot on the roster heading north, but ultimately management chose to keep 24-year-old Denny Galehouse.Brown was sold to the Chicago White Sox on April 11.
Manager Jimmy Dykes looked to Brown for bullpen work and only used him as a starter twice;  he posted an 0-1 record. In relief, Brown faced anywhere from one batter (a save on August 28) to 32 batters (in a win on June 2). He finished 29 games and was 5-2 with five saves in relief.15
Bill James labeled this sort of usage as the "Clint Brown pattern." The reliever would be used whenever the starter had been knocked out of the game and the reliever was not fatigued. "In other words, his workload was regulated by chance, and by his own fatigue." James conducted a computer simulation to verify his consideration.16
Dykes liked the results and used Brown exclusively in relief the remainder of his career with Chicago. In 1937 he pitched 100 innings in 53 games. He finished 48 of them and has been credited with 18 saves in 21 chances. He won seven and lost seven. He started the 1938 season in the bullpen and relieved in five of the first six games. His arm began to bother him and after a loss on May 6 he visited a doctor. Bone chips were discovered in his pitching arm and he underwent surgery which ended his season.17
Brown rehabbed over the winter and returned to action showing nearly the same level of expertise as in 1937. In 1939 made 61 appearances, 56 of them to finish a game. Once again, he recorded 18 saves while posting an 11-10 record. He finished 11th in the MVP vote.
The following season his usage dropped off to 37 games and 66 innings. After a sparkling August where he went 3-1 with two saves, he tailed off in September and took the loss in each of his last three appearances. On February 7, 1941 he was traded to Cleveland for pitcher Johnny Humphries. He and his wife joined his new teammates in Fort Myers, Florida for spring camp.
In March a large entourage of players and their families sailed to Cuba for an exhibition series with the Brooklyn Dodgers. Brown was fortunate to not pitch in the March 7 game as the Dodgers piled up 15 runs against four Tribe hurlers. Brown did not see action in a doubleheader staged two days later, as manager Peckinpaugh concentrated on getting his starters some innings.
When the season began, the Cleveland bullpen paired the 37-year-old Brown with 40-year-old Joe Heving from the right side. Young Harry Eisenstat (age 25) provided the bulk of southpaw relief. The trio finished 55 games and posted 12 saves for the fourth-place team. Brown's performance fell off precipitously in 1942, leading to his release in June.
Clint had wed Mary B. Anderson (née Gates) on September 10, 1934, in Chautauqua County, New York while he was recovering from the broken arm he sustained in the spring.18 The two married so Mary could accompany Brown to Japan on the 1934 All-American barnstorming Expo. The couple made their home in Pennsylvania, not far from Brown's birthplace, then moved to Westlake, Ohio, when Brown rejoined the Indians. He knew that a pitcher could not last forever and planned for retirement.
Brown purchased 20 acres and erected a 3,000 square-foot barn to raise chickens. When his release came, he went into the chicken business fulltime. Within a year he was supplying 450 chickens a week to local businesses on a wholesale basis. His plan was to eventually triple that amount. The Plain Dealer even did a full-page photo spread on his operation in early 1943.19
Sadly, World War II took its toll on Brown's business. The Office of Price Administration (OPA) placed price controls on what he could charge, but prices for feed continued to escalate. Brown griped, "Between the OPA ceiling prices on poultry and the high price of feed there is no margin left for the poultryman." By December 1943 he had laid off his two full-time employees and was trying to maintain 4,000 birds on his own.20 He left the chicken business before the following summer.
He and Mary left Westlake and moved to Rocky River, Ohio. Over the years he would serve as a manufacturer's representative and sales manager in the foundry industry. In 1949 the Cleveland Indians decided to stage an old-timer's game between the 1920 championship team and a fan selected squad of Indian all-stars. A large list of eligible players was made available in the Plain Dealer along with a ballot for fans to vote. The list included 18 pitching candidates including Brown. When the votes were cast, he came in fifth among the hurlers.
The game was played on September 4, 1949 for the benefit of over 35,000 fans. Brown pinch-hit, flying out to Tris Speaker, then stayed in the game and pitched a scoreless inning despite allowing three singles. His all-stars won, 6-1.21
Brown died suddenly from a heart attack in his Rocky River home on December 31, 1955. He was buried in Lakewood Cemetery. Mary lived until 1996 and was then buried beside her husband.
Acknowledgements
This biography was reviewed by Bill Nowlin and Joel Barnhart and fact-checked by Kevin Larkin.
Notes
1 Bill James, The New Bill James Historical Abstract (Simon & Schuster, New York: 2010), 223.
2 "Obituary Hugh L. Brown," News-Herald (Franklin, Pennsylvania), March 5, 1962: 16.
3 "Colored Chaps Shut Out Boys of Titusville," Titusville (Pennsylvania) Herald, August 24, 1924: 6.
4 References to Myrl Brown can be found in the Evening News (Harrisburg, Pennsylvania) on June 1, June 3, and July 29.
5 "Catasauqua A.A. to Favor Salary Limit," Morning Call (Allentown, Pennsylvania), November 12, 1925: 22.
6 "Senators Will Leave Sunday," Evening News, March 22, 1928: 24.
7 Gordon Cobbledick, "All-American Back Sends Clint Brown to Indians," Cleveland Plain Dealer, December 30, 1929: 17.
8 "Pennant Hinges on Today's Fray at Binghamton," Harrisburg Sunday Courier, September 9, 1928: 1. And "Brown Wins in Popularity," Evening News, September 10, 1928: 21.
9 "Play-by-Play Account," Evening News, September 10, 1928: 21.
10 Cobbledick, December 30, 1929: 17.
11 "Boston Rallies to Win," Cincinnati Enquirer, September 30, 1928: 30.
12 Gordon Cobbledick, "Three Kids Star on Bush League Farms," Plain Dealer, July 21, 1929: 27.
13 "C. Brown Out 2 or 3 Weeks; Don't Bring Fireworks, is Plea," Plain Dealer, July 4, 1935: 17.
14 Gordon Cobbledick, "Clint Brown Fights to Save Job with Indians," Plain Dealer, February 28, 1936: 17.
15 Saves have been determined retroactively as they did not become an official statistic until 1969.
16 James, 2010 Historical Abstract.
17 "Brown Undergoes Operation; Out Three Months," Chicago Daily Times, May 10, 1938: 10.
18 Some sources list her last name as Gates but on the marriage license she lists herself as Anderson. The license also shows Clint's birthplace as Guys Mills which most likely was the post office for his home in Black Ash.
https://www.ancestry.com/interactive/61377/TH-1-16101-25526-1/1102142?backurl=https://www.ancestry.com/family-tree/person/tree/83207988/person/46483075946/facts/citation/1022147858711/edit/record
19 "Clint Brown, Former Indian Pitcher, Operates Broiler Chicken Factory," Plain Dealer, February 7, 1943: 5.
20 "Caught in Poultry Squeeze Play, Ex-Pitcher Brown Says," Plain Dealer, December 15, 1943: 6.
21 "Old Indians Take to Warpath, Drub 1920's Champs 6-1," Canton (Ohio) Repository, September 5, 1949: 9.
Born
July 8, 1903 at Blackash, PA (USA)
Died
December 31, 1955 at Rocky River, OH (USA)
If you can help us improve this player's biography, contact us.
https://sabr.org/sites/default/files/Brown%2C%20Clint.jpg
600
800
admin
/wp-content/uploads/2020/02/sabr_logo.png
admin
2020-02-21 11:02:49
2022-09-02 06:55:54
Clint Brown