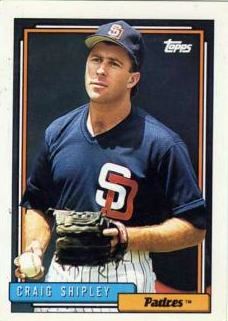 ---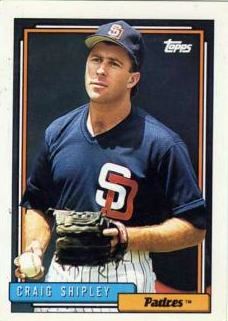 In 1986, Craig Shipley became the first player trained in Australia to reach the big leagues. In the ensuing decades, more than 20 other Aussies have made it to the top level – many encouraged by Shipley's example. After four fractional seasons in the majors, the infielder established himself as a useful reserve over seven full years. After his playing days ended, Shipley became a prominent global talent evaluator. With the Boston Red Sox and Arizona Diamondbacks organizations, he helped to broaden the game's international pool still further.
Craig Barry Shipley was born on January 7, 1963 in Parramatta, New South Wales. "Parra," as the town is known for short, is a suburb of Sydney. Craig's father, Barry Shipley, was a salesman of plastic goods, as well as an inventor.[1] Barry and his wife, Marlene, had two other children besides Craig, who was their first born. His younger brothers were Mark and Grant.
Although baseball enjoys relatively modest popularity Down Under, it does have a long history there, allegedly dating back to 1857. (The most detailed work on the subject to date is A History of Australian Baseball, by Joe Clark, published in 2003.) There was one big-leaguer born in Australia before Shipley: Joe Quinn, who played from 1884 to 1901. However, Quinn moved from Australia to Dubuque, Iowa at the age of 11.[2]
Barry Shipley (1936-2009) was also a baseball player. Starting at age 16, he played with the Auburn Orioles – the nation's foremost club team – for over 20 years. Barry later established stores called "The Baseball Dugout" in Sydney and elsewhere in Australia. They became the retail headquarters for the game there.[3]
Barry also passed on his knowledge to Craig. In 1983, he said, "Compared to the United States, baseball is more of a social sport in Australia. I played baseball and cricket and I took Craig with me at every opportunity when he was young. He just naturally took to baseball and he had a very pronounced ability at a young age. I tried to give him the proper foundation for the game and provided him with all the information and instruction I'd gained from friends who play the game in the States."[4] All three brothers benefited. Mark made it to spring training with the Atlanta Braves in 1988, although he never played in the U.S. minors. He was a standout for many years in Australia, though, and Grant also played in the New South Wales Major League.
In 1986, Craig Shipley recalled, "When I started playing baseball in kindergarten, I used to catch a lot of flak because I was the only kid in school to play. I was a batboy [for his father]."[5] When Craig was age seven, he had to join a league for 12-year-olds. "They now have a league for 7-8-9 year-olds," he said in 1983. He added, "I played in an open league in Sydney that had 12 teams in it. Most of the players were 16-17 year olds. We would play every Sunday and sometimes on Friday night."[6]
Shipley, who went to Epping High School, followed his father to Auburn. As early as 1981, the Sydney Morning Herald wrote a feature about "the brilliant 18-year-old shortstop" as he was named to the national team that faced a visiting Japanese squad. "I've got my heart set on playing top-line baseball in the United States," he said. Auburn coach Dick Shirt said, "The kid is a genius on the baseball diamond," and New South Wales assistant coach Barry Holland added, "Craig Shipley is the most gifted young player NSW has produced in the past decade . . . there isn't a more talented player of his age in Australia today."[7]
Craig had first come to the U.S. at the age of 16; he was with a group of Australian players attending a summer baseball camp.[8] In 1982, he came to America again with the Australian under-19 team to take part at the World's Fair tournament in Knoxville, Tennessee. While there, Roger Smith, an assistant coach at the University of Alabama, noticed and recruited him. Smith, who had conducted clinics in Sydney in 1980, had also been an assistant at Auburn for several weeks. In 1981, Smith had said, "Craig has the right kind of temperament, dedication and drive . . . but he will need to work very hard . . . particularly [on] his batting."[9]
In Alabama, Shipley lost much of his Australian accent – the Los Angeles Daily News later described it as "an odd mix of Australian and southern."[10] Among his university teammates was Dave Magadan, the deft spray hitter who enjoyed a 16-year big-league career from 1986 to 2001 and several more years as a respected hitting coach.
The Crimson Tide went to the College World Series in 1983, and Barry Shipley made the 30-hour trip from Sydney to see his son play. Craig delivered a game-winning hit in the 11th inning against Arizona State, beating out a grounder with his speed.[11] Alabama made the final game, but lost to the University of Texas, who featured Roger Clemens and Calvin Schiraldi. After the Series, Shipley played baseball in Alaska for the summer. His team was the Peninsula Oilers.[12]
As Shipley was not a U.S. citizen, he was not subject to the amateur draft and was free to sign with the team that made him the best offer. After his junior year at Alabama, in late May 1984, the Los Angeles Dodgers signed him for $90,000. According to the Sydney Morning Herald, the Dodgers organization stated that he had "the arm, hands, and quickness" necessary to make it in the big leagues.[13]
After playing 85 games with Single-A Vero Beach in 1984, Shipley jumped to Triple-A Albuquerque in 1985. He batted .242 in 124 games; one of the biggest obstacles the young player encountered was adjusting to the grind of a heavy game and travel schedule.[14] That year, Craig also got engaged to Denee Fitzmorris, whom he met at Alabama (she was the Tide's number-one women's tennis player). They eventually married and had two children: daughters Amanda and Kylie.
The Dodgers suffered a rash of injuries in June 1986, so they called Shipley up from Albuquerque. He made his major-league debut on June 22. "I realize that it was an emergency that I'm here," Craig told a Texas paper, the Victoria Advocate, in July. "When the regulars come back I might be sent down. But I can accept that. I'm just going to try and make the most of it while I'm here. If you play well enough, they will give you a chance or some other team will want you. And I'm having fun so far."[15]
That first cup of coffee lasted a little less than three weeks (3 for 27 in 12 games), and then he returned to Albuquerque. After the season, Shipley told the Sydney Morning Herald, "I must admit I got into the major league a lot quicker than I thought, and I was very proud of the fact when I played my first game for the Dodgers. I received quite a lot of publicity when that happened. But now I want to be recognized as a good player and not just as the one Australian who made it there."[16]
According to the Los Angeles Daily News, Shipley was "the best-looking shortstop in Vero Beach" in the spring of 1987. Mariano Duncan and Dave Anderson were ahead of him at short, though, so he had to start the season at Triple-A again. He suffered a mysterious ailment at Albuquerque and hit only .223 there; as a result, he went to Double-A for the first time. But when injuries struck the big club again in August, Shipley was recalled from San Antonio to Los Angeles. Shortly thereafter, the Dodgers acquired Glenn Hoffman from Boston and sent Craig back down. He had to fly right back, though, since waiver-related technicalities delayed Hoffman. The reprieve lasted the rest of the season, and Shipley batted .257 in 26 games.
In 1988, Shipley was 11-for-18 in spring training and won the Jim and Dearie Mulvey Award as the team's top rookie in camp. Nonetheless, the Dodgers shipped him back to Albuquerque near the end of March, and Shipley was not pleased. "Bitter is more like it. I want to be traded," he said.[17] A few days later, the front office obliged, sending him to the New York Mets for catcher John Gibbons, who also needed a change of scenery.
"I love the guy," manager Tommy Lasorda said [of Shipley]. "He's a helluva player and a great guy. There was no attitude problem. When he threw the bat after I took him out for a pinch hitter (in the ninth inning of an exhibition game against the Montreal Expos), I told him I didn't like it, but that had nothing to do with the move."[18]
The Mets asked Shipley to take a step backwards, to Double-A Jackson. "Craig Shipley is an outstanding talent who already has made it to the big leagues," Mets vice president Joe McIlvaine said. "The reason we are asking him to go to Jackson is that we already have Gregg Jefferies and Keith Miller at Tidewater and we want him to get as much playing time as he can."[19] That August, McIlvaine indicated that either Jefferies, Miller, or Shipley – "versatile young stars" – might be called up to fortify the Mets, who won the National League East that year.[20] The call went to Jefferies; Shipley did not play at all in the majors in 1988, spending 89 games with Jackson and 40 with the Mets' top farm club, Tidewater.
During the offseason, Shipley coached the New South Wales Patriots, winners of Australia's Claxton Shield championship tournament. He competed for a job with the Mets in spring training, but a bad shoulder disabled him for a month early in the 1989 season. He was limited to just 44 games at Tidewater, though he did make it up to New York during September, getting into four games. However, the 1990 season was a near-total washout, as a sore throwing arm turned out to be a slight tear in his rotator cuff that required arthroscopic surgery. The recovery took longer than anticipated, and he made it back for just four games with Tidewater near the end of the season.[21] During the off-season, Shipley was also divorced. That December, though, the San Diego Padres picked him up in the minor-league draft.
Shipley started the 1991 season with San Diego's top affiliate, Las Vegas in the Pacific Coast League. He hit .300 in 65 games there and so the big club called him up in late July. He got into 37 games over the remainder of the season, hitting .275 in 91 at-bats. A highlight was his first big-league home run, off Cincinnati's Tom Browning on September 28 at Riverfront Stadium. Craig said, "It's just a good feeling. I guess if you play long enough, you're going to get one. . .Sometimes I doubted I'd ever play again."[22]
Except for a handful of games on injury rehab assignments in 1996 and 1997, Shipley was in the big leagues to stay. In 1992, he saw limited duty, hitting .248 in 105 at-bats across 52 games. His playing time roughly doubled in 1993, as he hit .235 in 230 at-bats over 105 games. He also played the outfield for the first time as a big-leaguer that year (he appeared in 12 games there during his career). He was also the emergency catcher if needed, but he was never called upon in that role.
Shipley blossomed with the bat during the strike year of 1994. His average jumped to .333 in a career-high 240 at-bats. That spring, Buster Olney, then of the San Diego Union-Tribune, wrote about how Shipley was harnessing his intensity and making it work for him.[23]A factor in his success was hitting coach Merv Rettenmund, whom Craig has called his most influential coach. Rettenmund added praise for Shipley in the field. "If he played every day, Ship could be one of the best shortstops, one of the best third basemen and probably one of the best second basemen. He comes in on balls better than most people I've seen."[24]
On December 28, 1994, the Padres made a 12-player deal with the Houston Astros – the majors' biggest in terms of men involved in 37 years. The most prominent names involved were Derek Bell, Ken Caminiti, and Steve Finley, but Shipley was also included. Although the Astros' prime motive was perceived as dumping payroll, club president Tal Smith claimed, "Leaving the salary cap and budget considerations out of it, I would still have made this deal."[25]
Shipley spent the 1995 season in Houston, playing mainly third base – spelling his old Alabama and Mets teammate, Dave Magadan – and hitting .263. That December, he rejoined the Padres as a free agent, signing a one-year deal. Although a hamstring injury limited him to just 33 games in 1996, and kept him off the playoff roster, he re-enlisted with the Padres after the season. He hurt the hammy again in spring training 1997, which kept him out of action until mid-May. Thereafter he appeared in 63 games, "displaying the short but stout stroke that has kept him on the team."[26] In just 148 plate appearances, he hit a career-high five homers.
Following the 1997 season, however, Shipley and the Padres parted ways. In January 1998, the St. Louis Cardinals signed him to a minor-league deal and invited him to spring training. He never played a game in St. Louis, as the Cards traded him near the end of spring training for Chip Hale. Shipley's new team, the Anaheim Angels, wanted him to shore up their bench. The Angels used him as part of a committee at second base early on, but as the season developed, he played mainly at third.
It was the usual story after the 1998 season: Shipley became a free agent again. He re-signed with the Angels on a minor-league contract that December, but in early March 1999, he surprised his teammates by deciding to retire at age 36. Although injuries had been bothering him, he pointed to personal motivation rather than physical problems. He said, "I had been going over this for a long time — it wasn't a spur-of-the-moment thing. I just don't have the desire to play anymore, that's the No. 1 reason. When you keep trying to go every day and fake the desire, that's telling you something."[27]
Shipley returned to baseball as an infield and baserunning coordinator for the Montreal Expos in 2000. During spring training in Palm Beach that March, he was standing on a practice field with fellow Aussies Graeme Lloyd and Shayne Bennett, and "the rarity of the moment dawned on Shipley. 'We were shagging balls during (batting practice) and it was Shayne, Graeme and me and I said, 'What are the odds that you have three Australians – there's only been nine [to that point] ever to play in the big leagues – and three of them are standing here.'"[28]
In October 2000, Shipley returned to the Padres as a scout. There he became reacquainted with Theo Epstein, who had risen to become San Diego's baseball operations director in 2000. When the Boston Red Sox promoted Epstein from assistant general manager to GM in November 2002, Shipley joined the organization the following month as Epstein's special assistant. His particular niche was player development.
When Epstein resigned from the Red Sox for several months (from October 2005 to January 2006), Shipley was part of a committee of team executives that handled high-level affairs. In February 2006, he was named vice president of professional and international scouting. In 2009, he became senior vice president of international operations. In February 2011, he received yet another promotion, to senior vice president of player personnel and international scouting.
Shipley also remained connected to his native land. In 2000, he helped Jon Deeble, who was then head coach of the Australian national team, to prepare the squad for the Olympics in tournaments leading up to the Games. He was also a coach in the 2006 World Baseball Classic.
Just one example of how widely Shipley cast his net for the Red Sox was Nicaraguan pitcher Devern Hansack. The Astros had cut Hansack in March 2004, but "Shipley – tipped off by the third-base coach for the Nicaraguan national team, who scouts for the Red Sox – saw Hansack pitch in an international tournament in the Netherlands in 2005." Playing it cagey, Shipley didn't contact Hansack in Holland, but waited until the pitcher was home fishing for lobsters in the Caribbean town of Pearl Lagoon. He then dispatched Latin American cross-checker Jon Dipuglia.[29]
Among other things, Shipley was instrumental in the December 2006 signing of Daisuke Matsuzaka, whom he had first seen while scouting Japan in 2003. As the Boston Herald wrote, "Craig Shipley's neck is hanging out there for roughly $103.1 million. … He convinced Epstein he would be bringing a stud into the rotation."[30] Dice-K delivered one outstanding season (2008) under his six-year contract, as injuries diminished his effectiveness.
Along with his fellow Australian, Jon Deeble, Shipley also signed Hideki Okajima out of Japan. He also handpicked Mike Lord as an international scout for the Red Sox; Lord found Xander Bogaerts in Aruba and got Shipley down to sign the talented young shortstop. In November 2009, the website Soxprospects.com posted an illuminating Q&A session with Shipley, in which he discussed his broad international responsibilities, the organization's tactics, how to assess a player's makeup, and player development trends in various parts of the world.
By the time the Bogaerts find helped Boston, Shipley and the organization had parted ways. It happened In November 2011, about a month after Theo Epstein went to the Chicago Cubs. The new Red Sox GM, Ben Cherington, said, "I wanted to try to develop a little bit more of a Boston-based infrastructure for international," whereas Shipley had worked out of the Pacific Rim. Cherington also said, "[Shipley is] someone that I have great respect for. He's a really good evaluator, passionate baseball guy. Through the course of conversations with him, it just became clear to me that it might be time for a fresh start."[31]
Alex Speier, a columnist for the website of Boston sports radio station WEEI, had broken the story four days before the announcement became official. His assessment was critical yet balanced: "Shipley's scouting eye and the information-gathering processes he established prior to signing players were and are widely respected, both inside the Sox organization and by other members of the industry. However, the tangible big league results of the Sox' international operations under him have been mixed."[32] If for no other reason than Bogaerts, that assessment must be viewed differently.
In November 2012, Shipley was appointed special assistant to Kevin Towers, then general manager of Arizona Diamondbacks. Towers left the Arizona organization in October 2014, but Shipley remained with the Diamondbacks as of 2016, advising the GM (Dave Stewart succeeded Towers), assisting the Baseball Operations Department in international and special assignment scouting, and evaluating the farm system. He also played an instrumental role in the team's decision to travel to Australia and open the 2014 season in Sydney.
On the website of the Australian Baseball Federation, Shipley's page says that the best advice he was ever given was "Focus on the things you can control." In turn, the best advice he has given to players is "Dedication will result in success, although it may not be on the baseball field."
Thanks to Nicholas Henning for his input.
Sources
www.baseball-reference.com
www.retrosheet.org
www.soxprospects.com (http://news.soxprospects.com/2009/11/q-with-craig-shipley.html)
http://www.baseball.org.au/?Page=23084
Notes
---
Born
January 7, 1963 at Parramatta, New South Wales (Australia)
If you can help us improve this player's biography, contact us.
http://bioproj.sabr.org/bp_ftp/images5/ShipleyCraig.JPG
600
800
admin
/wp-content/uploads/2020/02/sabr_logo.png
admin
2012-01-04 20:35:01
2012-01-04 20:35:01
Craig Shipley