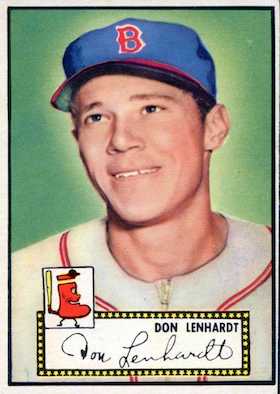 ---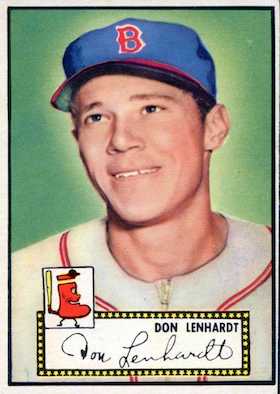 "It'll be kinda tough to do a story on me," Don Lenhardt once said, "because I lead an ordinary life. Nothing really exciting ever happened to me."1 For literally millions of people, of course, the opportunity to get a time at-bat in one baseball game would be pretty exciting, even if they were to strike out on three pitches right over the plate.
Don Lenhardt mainly played left field but he also played 93 major-league games at first base and 17 at third. He batted .271 and drove in 239 runs over five seasons in the big leagues, wearing five different team uniforms (two of them twice).
Lenhardt was originally signed by the St. Louis Browns in 1946. The Browns and the Boston Red Sox were the two teams with which he played two stints.
He was a native of Alton, Illinois, a city about 25 miles upriver from St. Louis. He was born on October 4, 1922, to Henry R. and Nettie A. Lenhardt, their only child. Both parents were Illinois natives. Nettie's father was an immigrant from Germany, but Don's other three grandparents were all from either Illinois or Missouri. Henry worked as a stillman in an oil refinery.
Don attended Alton High School, and then took up work (at the time of the 1940 census) as a sign painter for a wholesale grocery concern. He didn't have a lot of experience playing any form of organized youth baseball when he was younger. There was no Little League, and there was no American Legion team in Alton. "Even the high school I went to didn't have a ball team," he said. "So I started with a sort of sandlot, semipro team – the Owens Illinois Glass Company team in Alton. Well, the president of the league we were in sent a letter to some of the scouts about me. Then, the first thing I knew, Lou Maguolo, a scout for the Browns, came out to look me over one day. He went away sorta disgusted because the day he came to see me, I was playing softball."2 Fortunately, Maguolo took another look a couple of weeks later, and saw Lenhardt have a pretty good day playing baseball.
The scout made an offer, telling him he could start right away at Class D. But Lenhardt demurred.Asked why, he said, "Because, first, I wanna go to college to get an education, and second, I think I can skip a few of those low minor leagues when I finally do decide to play pro ball."3
Lenhardt later credited his father for encouraging him in the game. "My Dad always helped me as long as I can remember. He'd always get out the bat and a couple of gloves and he'd show me things about the game. He had a lot of faith that I'd make good and it sure pleased him when I did."4
He went to the University of Illinois and played freshman basketball and baseball, but then enlisted in the U.S. Navy and played no baseball at all the next three years. He was assigned to a gun crew and was kept busy. The Baseball in Wartime website reports, "He served as part of a Naval Armed Guard Unit on Merchant ships that were transporting supplies for the war effort. He spent time in the North Atlantic, was often in London and also served in the Pacific Theater."5 He was on a gun crew, his widow explained in 2016, and he had also spent time in North Africa. He was very lucky, she added, to be able to play baseball after so many years in the military.6 (He later went back to Washington University in St. Louis for one semester during an offseason, but said, "That's as far as I went.")7
Bill DeWitt of the Browns contacted him near the end of the war, and asked him again about signing to play after he was discharged. Again, he declined if it meant starting in Class D.
The Browns sent him to the Class-C Aberdeen (South Dakota) Pheasants of the Northern League. After 39 games in the first part of the 1946 season, Lenhardt was perhaps a bit humbled, with a .265 average, and accepted a reassignment to the Pittsburg Browns, of Pittsburg, Kansas, in the Class-D Kansas-Oklahoma-Missouri League. There he appeared in 63 games, batting .368. He'd originally been a shortstop but was converted to an outfielder, and earned himself another shot at Aberdeen in 1947.
This time, he hit .303 and was ready to move up to Class B. Lenhardt spent almost all of 1948 playing third base for the Springfield Browns in the Three-I League, batting .305 with an impressive 22 homers, which tied for the league lead. He was named to the league's All-Star team. He also got into four games for the San Antonio Missions and was 5 for 11.
He spent 1949 with San Antonio (Double-A Texas League). He hit for a lower average — .258, but was able to bang out 26 homers and 76 RBIs for the sixth-place Missions.
After playing winter ball in Cuba, Lenhardt went to Burbank for spring training with the Browns and made the team. Indeed, the St. Louis Post-Dispatch wrote years later, "It was the excellent 1949-1950 winter ball season Don had in Havana, Cuba that set the stage to make it to the big leagues with the Brownies in 1950, a rookie at the age of 27. Playing for Havana, Don led the Cuban League in homers while batting .314."8
Lenhardt was 2-for-4 with a double in his first game and hit a home run as part of a 3-for-5 second game. He cooled off quickly, however, and was batting under .200 as of May 21 before righting his ship and hitting for a .273 final average at the end of the year. His 22 HRs and 81 RBIs both led the seventh-place team.
At season's end, he might have been a serious candidate for Rookie of the Year honors, except that Walt Dropo and Whitey Ford were such outstanding rookies that year. Dropo hit 34 homers and drove in 144 (one shy of the all-time rookie record set by Ted Williams in 1939).
After the season, Lenhardt had an operation to eliminate varicose veins.
Lenhardt had played 86 games at first base and 39 in left field, with another 10 at third base. For the rest of his career, he rarely played any other position than in the outfield. It's not that he was a poor fielder. He did prefer playing the outfield, though. "Why? Because I feel more relaxed out there. At first base, I was too tense, too tight. I can't explain why, but I was," he said. "The outfield is my natural position, and if I played there steadily I think I'd improve my general over-all play." Manager Zach Taylor agreed: "Lenhardt definitely belongs in the outfield."9
Lenhardt only played three games in the infield in 1951, but most of the games he did play were for the Chicago White Sox. He got in 31 games for the Browns (.262) but was traded to the White Sox on June 4, in a package for Paul Lehner, Kermit Wahl, and cash as part of a three-club deal. The money was quite possibly the most important ingredient for the cash-strapped Browns. The White Sox wanted Lenhardt.10 He played in 64 games for the White Sox (.266.) He hit 15 homers, proportionally split (five for St. Louis and 10 for Chicago).
After the season, but before the year was done, he was traded again; on November 13, Randy Gumpert and he were traded to the Boston Red Sox for Mel Hoderlein and Chuck Stobbs.
Lenhardt had just married less than three weeks earlier, to Isabelle Fracchia, a nurse, on October 27. She later pursued a career as an elementary teacher and school administrator.
The Red Sox were interested for his bat, but wary of his defense. He was, in any event, intended as the team's fourth outfielder – and as insurance should the team trade Ted Williams. That notion was discussed in the press, if not elsewhere, at the time.11
There had been some gaffes. On August 11, 1950, a dropped throw had cost the Browns a game in the 10th inning, and on August 26 he had frozen with the ball at first base, rather than throwing home, as the Yankees scored the winning run in the ninth inning. On September 28 his wild throw had allowed the Tigers to win a game in the 12th. These three plays in a month and a half may have convinced managers that he was not as well suited for infield play. As an outfielder, he wasn't perfect. After a wild throw, Dan Daniel wrote, "Lenhardt leaves much to be desired in mobility and accuracy. However, if there is one field in which an American League manager could afford to risk playing Don, it is that skimpy left terrain in the Fens."12
For what it's worth, he retired with a .984 career fielding percentage.
May 26 was a big day for Lenhardt with the Bosox. He drove in five runs to beat the Yankees at Fenway Park, 6-3. On June 2, on the road, he hit a grand slam to beat the White Sox in the 10th. The next day, he was traded to the Tigers.
Where he had played for one team in 1950, and two teams in 1951, he played for three teams in 1952. He began the year with the Red Sox, asked to be prepared to take Ted Williams' place in left field as Williams was called back to Korean War duty as a Marine Corps pilot. Lenhardt actually got off to a pretty good start, batting .295 in 30 games, with seven homers and 24 RBIs. But the Red Sox and Tigers put together something of a monster nine-player trade on June 3. Walt Dropo, Fred Hatfield, Johnny Pesky, and Bill Wight went to Detroit – with Don Lenhardt – and the Red Sox got Hoot Evers, George Kell, Johnny Lipon, and Dizzy Trout.
Lenhardt played in 45 games for the Tigers, but struggled at the plate, batting just .188. On August 14 he was on the move again – back to the St. Louis Browns. It was another large multi-player deal, this time involving eight players. Dick Littlefield, Marlin Stuart, and Vic Wertz went with Lenhardt to the Browns; the Tigers received Bud Black, Jim Delsing, Ned Garver, and Dave Madison. It was at the time dubbed "the largest waiver deal in baseball history."13 He recovered from his midseason doldrums and hit .271 in his 18 games for the Browns, though only drove in five more runs. His season totals included a .239 average with 42 runs batted in. Among the homers he hit in 1952 were three grand slams, the first an inside-the-park one on April 19 against the Athletics, then a walk-off slam in the bottom of the 10th against the White Sox, and finally – after he had gone to the Tigers – a grand slam against the Red Sox, just six days after the trade, on June 9. The next time any player both hit a grand slam for one team, and then against that very same team in the same year, came in 2012 off the bats of Kevin Youkilis on April 26 and August 21.
He hit for the highest average of his career in 1953, batting .317, but he was less productive – 10 homers and 35 RBIs, in 97 games.
In 1954 he put on his fifth team uniform, but whether he was playing for another team or not is perhaps a matter of semantics. He played for the Baltimore Orioles, but it was the same franchise as the St. Louis Browns. The team moved from St. Louis to Baltimore during the offseason.
He wasn't with the Orioles long. In 13 games, he hit .152 with one run batted in. The Red Sox felt they could get some value from him and purchased his contract from Baltimore on May 12.
Lenhardt played in 44 games for the '54 Red Sox, batting .273 and driving in 17 runs. He tied or won four of those games.14 It was his last year in the big leagues, but he found a long-term home with the Red Sox in scouting and coaching.
He did have two more years of minor-league ball, however, both in the Red Sox system. In 1955 he played for the Triple-A Louisville Colonels. In 104 games he hit .265 with 12 homers and 55 RBIs, and in 1956 he played in the Pacific Coast League for the San Francisco Seals. There he hit .299, with 16 homers and 49 RBIs before a broken ankle on July 30 put an end to his season. "The doctor that fixed my ankle said I should go pursue something else, so that's what I did."15
The Red Sox asked him to scout for them and he did so for a first stretch running from 1957 through 1969. Dick Mills was his most notable signing. Both he and Frank Malzone were given credit for the work they did scouting the St. Louis Cardinals for the 1967 World Series.16 Lenhardt also worked as a minor-league hitting instructor.
When Eddie Kasko was named manager of the Boston Red Sox – a position he held for four seasons, 1970 through 1973 – he asked Lenhardt to serve as his first-base coach. He was back in uniform on a big-league diamond.
After Kasko was let go, Lenhardt returned to scouting from 1974 through 1992. He is credited with signing Al Nipper, Scott Cooper, and Cory Bailey. "I've enjoyed baseball," he said in 1991. It's the one thing that I was able to do, fortunately, for my whole life."17
As a baseball lifer, he once confided during his fourth year as first-base coach for the Red Sox, "I still dream of being thrown out at first base on a single to right field. I wake up trying to make my feet go faster. I told Harmon Killebrew about it and he said, 'I have the same dream.'"18
He scouted four more seasons for the Red Sox, from 1999 through 2002, and then spent two final years as a scouting consultant for the team. He was over 80 years old at the time, and with the Red Sox having won the World Series in 2004, perhaps it seemed to all like the perfect time to retire. Even after 2002, though, he was called upon for advice. His widow, Isabelle, said, "As far as I know, he scouted constantly. They always called him a consultant until he died. Sometimes he'd get a call from somebody asking him about this or that."19 It wasn't an intrusion of any sort. "You don't mind sharing, especially with a group you enjoyed working with. They always kept him on as a consultant."
Don Lenhardt died on July 9, 2014, in Chesterfield, Missouri, at the age of 91. He was survived by his wife of 62 years, Isabelle, and one daughter, Patricia He is buried in St. Louis.
Sources
In addition to the sources noted in this biography, the author also accessed Lenhardt's player file and player questionnaire from the National Baseball Hall of Fame, the Encyclopedia of Minor League Baseball, Retrosheet.org, Baseball-Reference.com, Rod Nelson of SABR's Scouts Committee, and the SABR Minor Leagues Database, accessed online at Baseball-Reference.com. Thanks to Isabelle Lenhardt for reading this biography prior to posting.
Notes
Born
October 4, 1922 at Alton, IL (USA)
Died
July 9, 2014 at Chesterfield, MO (USA)
If you can help us improve this player's biography, contact us.
http://sabr.org/sites/default/files/LenhardtDon.jpg
600
800
admin
/wp-content/uploads/2020/02/sabr_logo.png
admin
2016-12-09 13:50:33
2021-09-24 10:03:07
Don Lenhardt