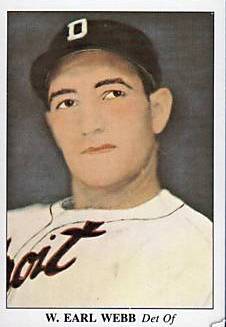 ---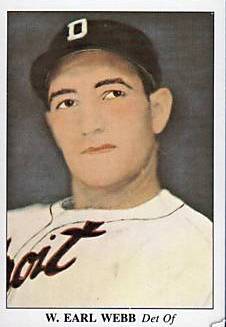 Since 1931, Earl Webb has held the major-league record for the most doubles hit in a single season – 67. It is one of the longest-lasting records in baseball, despite the fact that when it was set, the season was eight games shorter than today's 162-game schedule. As it happens, Earl's team that year – the Boston Red Sox –played only 152 games, not the scheduled 154. Webb also drove in 103 runs and batted an even .333. The Red Sox finished the year 62-90, in sixth place. And Webb himself was someone who had twice been waived by major-league teams. He was on his fifth club when he set the record. The Sporting News said, "Webb topped off a checkered baseball career by placing his name in the record books with a mark that is likely to stand for some time to come." [The Sporting News, September 24, 1931] It did earn him a nickname: The Earl of Doublin'.
William Earl Webb was born on a farm in Blue Spring Cove, White County, Tennessee, right near the community of Bon Air, more or less halfway between Nashville and Knoxville, and less than 10 miles from Sparta. He was born on September 17, 1897, or 1898 (his death certificate gives the later date). His father, William Matthew Webb, worked as a "coal digger," in Earl's words, and when Earl was 6, the family moved to Ravenscroft, another seven miles or so from Sparta. Earl's father not only mined but served as assistant deputy sheriff. And he pitched and played the outfield for the Ravenscroft baseball team, and also taught singing in the local school. Earl's mother was the former Helen Victoria Palmer, and she is listed in the 1920 Census as a "matron" in a hotel; she ran the coal company's boardinghouse. (The death certificate named his mother Ellen, but she apparently went by the nickname Vic.) By 1920, William Webb was a foreman in the mine. Both Earl, then 22, and his brother Clifford, 18, were coal miners. There were seven other children in the family: sisters Alice, Willie Bell, Ina, Betty, and Margaret, and younger brothers named Carl and Duncan.
Earl's daughter Iris Webb Glebe wrote a biography of her father, in which she lets us know that there was another ballplayer in the family – Alice Webb. Glebe recounts her Aunt Alice's memory of winding string to make their own baseballs while using hickory sticks for bats, adding, "Alice eventually captained the Ravenscroft girls' ball team, and still chuckles over their uniforms – black bloomers and stockings, white middie blouses with red ties." [Iris Webb Glebe, The Earl of Dublin, p. 3]
Webb was involved with coal mining before baseball and after baseball. He claimed to have begun working in the mines at the age of 11, for 5 cents an hour. A profile by Harry Brundidge in The Sporting News was where Earl characterized his dad as a coal digger. He spoke with Brundidge at length, and said that he himself had started working in the mines at an early age. "I roamed the mountains, haunted the mines, and attended school," he said. "In those days I could think of no work as thrilling as laboring in the coal mines, and during my school days I idled away my time, waiting until I would be big enough to go down in the ground. I was eldest of nine children and at the age of 11 quit school and went down into the Ravenscroft mine to labor 10 hours a day, at five cents an hour, as a trapper, a boy who looks after the doors and switches." [The Sporting News, February 18, 1932. Glebe suggests that going to work at age 11 may have referred to a summer job, and perhaps was a bit of hyperbole, in that Earl did attend school for quite a few more years.] Webb was introduced to baseball a year later: "I didn't begin to play baseball until I was about 12 years old, maybe 13, when the mine doctor advised me to get exercise and fill my lungs with fresh air after breathing coal dust all day. At 14 years of age, I began to drive a blind mule in the mine that had not been up in the daylight for 12 years. I was paid eight cents an hour for that. About this time I began pitching for the Ravenscroft team." [Ibid]
Ravenscroft's rival was the Pleasant Hill team. Left-hander Walter Stewart, who hailed from the Sparta area, too, and who'd begun pitching minor-league ball in 1919 (and made the St. Louis Browns in 1921), was the star pitcher for Pleasant Hill and the two often faced off. "We used to walk eight miles to pitch against each other," Webb told Brundidge. [Ibid] By the time he was 17, Earl began mine work as a coal digger himself but on Sundays was beginning to pick up a little extra cash as a country pitcher. In 1918, he signed with the Memphis Chickasaws (Southern Association), but he never reported. He cited two reasons: "I was scared stiff at the idea of going to a big city, [and] I was in love with Miss Blanche Matthews, and I didn't want to leave Blanche or my native mountains." [Ibid. It is worth noting that Iris Webb Glebe reports that Earl's sister Willie Bell suggested that Earl sometimes embroidered accounts he gave the press. For instance, he stayed in school much longer than his account would indicate. Glebe's book is an exceptionally well-written account packed into one slim volume.]
A couple of years later, Earl bit. He'd taken another job in 1919, at a mine in Jellico, and pitched there for two years, playing against Earle Combs during the summers. He and Blanche married at the end of 1920 and his father took Earl aside, suggesting that coal mining was a rough life and he should pursue the possibilities of playing baseball professionally. There was still interest from Memphis, so he signed on again and was farmed out to to the Clarksdale Cubs in the Class D Mississippi State League. We don't know his earned run average in 1921, but he was 12-8 and surrendered only 1.075 walks and hits per inning pitched. It was a good beginning and Webb impressed New York Giants manager John McGraw in an April 1, 1922, exhibition game against the Giants. The Giants purportedly paid $10,000 and a couple of players to the Memphis club for the rights to his contract, though he continued to play with Memphis (8-6, with a 4.78 ERA). [The Sporting News, May 11 and 25, 1922] He hit well, .282 and .284 those first two years. There was another hitch in his progress, though. His contract was sold to the New York Giants in August 1923 but once again he refused to report. Over the wintertime, a Giants scout visited Earl at home and convinced him that he would not be alone; there were other greenhorns in a similar position and he'd be matched up with them.
In 1922, Earl and Blanche had their first child, a daughter they named Earlene. The couple had five children in all, the others being Jessie Iris (1925), Helen (1928), Patricia (1930), and Gilda (1932).
Earl traveled to New York and became completely lost, claiming (no doubt hyperbolically) that it took him two full hours to find his way out of Penn Station. When he finally emerged, he coincidentally ran into Babe Ruth, who drove him to his hotel. Giants manager John McGraw optioned Webb out to play with the Eastern League's Pittsfield Hillies in Massachusetts. When he wasn't pitching, Webb was asked to play the outfield – and he excelled at hitting, putting up a .323 average at the plate (and an 8-18, 4.64 record on the mound). Webb was recalled to the Giants on September 14, but saw no action.
The last year in which Webb pitched was 1924, again he was optioned out to Pittsfield after a look with the big-league club in spring training. With the Hillies that year, he was 9-15 (4.22 ERA) but he hit .343 in 114 games with 14 homers. He was sold to the Toledo Mud Hens on September 6, departing Pittsfield about a week later, and hit .333 in 17 games with Toledo (Double A), where he pitched not at all.
Webb told Brundidge that he had declared, "I'm an outfielder or nothing from now on and if you don't like it, I'll go home." [Brundidge article, op. cit.] He was making a mark with his bat. The Hartford Courant observed in April 1925 that the Hillies had "no slugger to take the place of Earl Webb." [Hartford Courant, April 19, 1925] He was a right-handed pitcher but a left-handed hitter. Earl stood 6-feet-1 and weighed 185 pounds. The Courant's Albert Keane called him a "hustling aggressive ballplayer … a gentleman on and off the field" who made a lot of friends who were pulling for him when he returned to the majors in 1927. [Courant, May 26, 1927. Keane even went so far a month later as to compare the Hack Wilson/Earl Webb duo to Gehrig and Ruth, who were tearing up the American League that year.]
Webb was given a chance to make the Giants (in fact, traded by Toledo for Hack Wilson and a player to be named later). "The Giants need new faces," said McGraw. [New York Times, August 9, 1925] Webb appeared in four games beginning with a fruitless pinch-hitting role on August 13, 1925, but he fell short, hitless with one walk and one strikeout in four plate appearances. He otherwise spent 1925 with Toledo (.329) and all of 1926 with Louisville (.333) – the Giants had sent him there in December 1925. There was one odd game in September, in which he and two other Giants played under assumed names for the semipro Englewood (New Jersey) Madonnas, helping them defeat their Hackensack rivals, with permission from the Giants. He wasn't making a lot of progress, but he was making a lot more money than he would have in the Tennessee coal mines.
On August 28, 1926, Webb was sold to the Chicago Cubs, as Chicago president Bill Veeck looked ahead to the 1927 season. [Chicago Tribune, August 29, 1926] It was the break he needed. Playing for manager Joe McCarthy, who cited the "hard-socking outfielder" (per the February 2, 1927, Los Angeles Times) as part of his hopes to contend for the pennant, Earl spent all of 1927 and 1928 with the Cubs, and acquitted himself pretty well the first year. After training on Santa Catalina Island off the Southern California coastline, and outhitting all the other Cubs, he played in 102 major-league games and batted .301, hitting 14 homers and 18 doubles, and driving in 52 runs. Two of those home runs came on Opening Day as he homered twice and walked twice against the Cardinals to kick off the season. Needless to say, Webb immediately won favor among the fans at Wrigley Field. His first major-league home run was hit off future Hall of Famer Grover Cleveland Alexander, in his first Cubs at-bat, and the second off Eddie Dyer, who later managed the Cardinals for five years after World War II. The Cubs placed fourth again, 8½ games behind the pennant-winning Pirates. Interestingly, but coincidentally, one of Cubs owner William Wrigley's investments included the Bon Air and Ravenscroft mines; he was the chairman of the board. Earl lived in company-owned housing until 1929, when he bought his first house. He worked during the offseasons both in the mines and as a motorman.
The Cubs added a future Hall of Famer, the established Kiki Cuyler, in November 1927, and Webb was reduced to a backup role. In 1928, he got into only 62 games and hit only .250. (Cuyler had an offyear and his .285 average wasn't as good as Webb had hit in 1927, though he did lead the league in stolen bases. He recovered his form and then some for the next three seasons. The team as a whole improved, finishing in third place just four games out of first.)
In 1929, Webb played for Los Angeles in the Pacific Coast League. They'd been after him before the '28 campaign, and were pleased that Earl wasn't dealt to the Boston Braves to help acquire Rogers Hornsby, but stayed in the Wrigley fold instead. He had an excellent season, batting .357 and banging out 37 homers and 58 doubles. He played in 188 games of LA's 202-game PCL season that year, so the extra-base totals might appear inflated, but to maintain that high an average that long against Triple-A competition was a real achievement. Earl had to follow the action from afar as the Cubs won the pennant; they lost the World Series to the Philadelphia Athletics in five games.
Webb was drafted in the fall of 1929 by the Cincinnati Reds, who looked him over in spring training but then placed him on waivers and traded him to the Washington Senators near the end of the exhibition season. Just 22 days later, on April 26, Washington (with a surfeit of left-handed hitters) sent Webb to the Red Sox for Whispering Bill Barrett. Webb said that Washington, "after a look, told me to be on my way, and I started the 1930 season with the Boston Red Sox." He'd been with three major-league ballclubs in the month of April, but never appeared in a game for either the Reds or the Senators. John Kieran joked about Webb's travels: "Every time he sees a club secretary he starts packing his bag." [New York Times, May 4, 1930]
Webb homered in his first game of 1930, against the Yankees at the Stadium. He felt he'd finally found the right home. "I've found myself at last because I am working for a man who understands me, sympathizes with me, and does his best to make me a better ballplayer. That man is John "Shano" Collins, manager of the Red Sox, who, like myself, was just an average player, a steady, hard worker, who never became a great star. Other managers had little, if any, interest in me, and until I went to work for Collins, I was never inspired." [Ibid]
With Boston, Webb joined Tom Oliver and Russ Scarritt as the primary outfielders for the Red Sox in 1930. Webb played right field, and he really improved his outfield play. It hadn't been good. It was hitting that had kept him in the game. "Earl always could hit," wrote The Sporting News. "but his fielding left so much to be desired that it over-balanced his ability with the stick." [September 24, 1931] One reporter that Glebe quotes wrote, "He looked the worst of all the bad right fielders who have been tried out at Fenway Park. … Webb dropped them, misjudged them, and almost had his head knocked off by fly balls. He was hooted by the fans, and it seemed as if he might not last a month with the Red Sox." [Glebe, p. 23] Webb talked about his switch from pitching: "As an outfielder … I became the All-American Stumbler. I have seen some mighty bad outfielders but none of them had anything on me until I landed in Boston. Even then, I could do a pretty fair job of stumbling. Seems queer that none of the managers ever had been able to make me a better outfielder. …. It came to me all at once. I had tried and tried to discover why it was that fly balls were just falling a yard or two out of my reach and I finally tumbled to the fact that I was not getting the jump on the ball." [Hartford Courant, March 6, 1932] He taught himself how to react at the crack of the bat. "I can no longer boast of being baseball's worst outfielder." [Ibid]
Webb appeared in 127 games for the Red Son in 1930 and accumulated 449 at-bats. His .323 average led the team by a sizable margin. Not one of the other regulars hit over .293. Sixteen of Webb's hits were homers, helping drive in 66 runs. He hit 30 doubles. For the "hero-starved fans" in Boston (the phrase is Iris Glebe's), he was a breath of fresh air.
One massive blow helped kick off Webb's 1931 season, a reported 550-foot home run on March 22 that struck the outfield wall at Pensacola in a game against the House of David team. It was in 1931 that Webb set his record for doubles in a single season. He appeared in all but one of the games the Red Sox played, wearing No. 15. (It was the first year that the Red Sox wore uniform numbers.) Webb had 154 more plate appearances than in 1930, but hit more than twice as many two-baggers: 67 to 1930's 30. He drove in 103 runs. His .333 batting average (ranking seventh in the league) was supplemented by a career-high 70 walks, boosting his on-base percentage for the year to .404. His 14 homers ranked him 10th in the league, the same rank he'd held in 1930. It was a remarkable season and he was well aware of the doubles record as the season unfolded.
There were some who suggested that Webb went for doubles at the expense of some triples, pulling up at second base instead of trying to get three bases out of a long drive to the outfield. In 1930, he'd tripled six times, while in 1931 he tripled just three times. Given the additional 140 at-bats he enjoyed, perhaps the law of averages would suggest that he might have hit eight or nine triples in 1931 instead of the three he recorded. He was, of course, a year older but he hit nine triples in 1932, so speed on the basepaths is probably not an issue. Of course, it was well into the season before Webb would have ever dreamed of setting a single-season record for doubles. It's not the sort of thing one goes into a season thinking about, particularly when his career high was 30 and the existing record was more than twice that amount. He didn't double until the third game of the year, and he probably didn't really notice the accumulation of two-base hits until the end of May when he hit two doubles in the May 26 game against the visiting Washington Senators, and then doubled twice in both games of the May 27 doubleheader against Washington. (Despite Earl's four doubles, and a triple, the Red Sox lost both games, however.) Six doubles in two days helped bring him to 20 for the still-young season, and attracted some notice (particularly in the Washington Post, which noted the devastation he had wreaked against the Senators – seven doubles, one triple, and two homers in one series in Boston. The paper miscalculated his number of doubles so far as 22, and said that he batted right-handed, but advised readers that the league record was 64, set by George Burns. [Washington Post, May 29, 1931]
Then Webb hit only one double in the next nine games.
There never was a game in which he hit more than two. There were eight games, aside from the May 26-27 games, when he hit a pair. Fans began turning out in bigger numbers at Fenway Park, noted the Christian Science Monitor on July 19, in part because of the growing number of doubles Webb was accumulating. He missed the July 21 game because he mistakenly put iodine into his eye instead of the eyewash he'd reached for, but he came back and hit a double the following day. His daughter Iris Glebe suggests that this was not a mistake, but that an envious unknown Red Sox player had deliberately placed iodine in the eyewash bottle.
The Associated Press began to tally the two-base hits. When Webb hit two as part of a 4-for-4 day on July 28, the subhead in the New York Times read "46th, 47th doubles for Webb." One of the doubles everyone thought he had was taken away on August 4 when American League officials realized that a single on May 1 had mistakenly been counted as a double. That still left him with an even 50 and August was only beginning. There were nearly two months left to play.
Webb might have hit a lot more doubles had he not slumped badly in August. It wasn't a bad slump overall – he entered the month hitting .369 and exited it batting .344 – but there were 14 games in a row, from August 5 through the 21st when he didn't double even once. He had 10 other hits, but no doubles. He didn't have a hit on August 8, though – Bobby Burke no-hit the Red Sox. There had been one game earlier in the year when Webb's single denied Willis Hudlin a no-hitter. This time he joined the rest of the Red Sox, going hitless in Washington. Frank H. Young of the Washington Post said there was a lot of talk around town as to whether Webb deliberately took strike three to help out Burke (Webb was the last Boston batter of the game), but Young noted the slump Webb was in and suspected he had not let up. [Washington Post, August 10, 1931]
For the entire month of August, Webb hit only six doubles, down from 18 in July. Fortunately for the record, he laid it on and doubled 13 times in September. On the 15th, he doubled twice and helped the Red Sox beat Chicago, 2-1, bringing Boston out of last place in the process. He was one double away from tying Burns's record. The very next day – his birthday – he doubled twice more, both tying and then surpassing the record, hitting one in each game of the doubleheader against the visiting Indians. And he hit No. 66 the next game. Webb failed to double in any of the next seven games, but hit No. 67 in the last game of his year.
The Red Sox finished the 1931 season in sixth place, just barely behind the fifth-place Browns. They had no chance at reaching the first division, 15 games behind fourth-place Cleveland. Should one fault Webb if he pulled up two or three times at second base instead of tearing on toward third base in hopes of stretching a double into a triple?
His splits are worth looking at. Most of his doubles were hit at home – 39 of the 67. Of those, 33 were hit at Fenway Park, and six were hit at Braves Field, where the Red Sox played all of their Sunday home games because of an old Blue Law forbidding playing baseball near a church. The doubles on the road were fairly evenly distributed; the six hit at Yankee Stadium were the most in any one ballpark outside Boston.
Was Webb's mind on second base? He led the league in errors at his position, 16. He'd made nine the year before, and 11 the year after; though he did play many more games in 1931 than in either of the seasons before or after, it was still a statistically significant increase, albeit with rather small numbers. Shano Collins said, "The reason he hits so many doubles is that he's hitting a long, hard ball this year and he's too darned slow on the bases to get to third." [Numerous sources, including Glebe, p. 37]
Webb's record remains an oddity – doubling 30 times in 1930 and 28 times in 1932, he hit more doubles in 1931 than in those two years combined. The 67 he hit in his big year were more than 43 percent of the 155 doubles he hit over his seven seasons of major-league ball.
After the season, Webb declined the opportunity you go on a baseball tour of Japan. He signed his 1932 contract without a hint of hesitation.
At the end of April 1932, he'd hit three doubles. At the end of May, he had a total of six. The year was not shaping up like 1931. He had nine by the time he was traded to the Tigers on June 12 for Dale Alexander and Roy Johnson. Webb was pleased. He correctly perceived that the Tigers were on the way up, and stood a better chance to finish in the money than did the Red Sox that year. [See Glebe, p. 45] Once more, the Red Sox lucked out by getting a player in a dramatically anomalous year: Alexander won the American League batting championship in 1932, hitting .367. The next year, he suffered a burn and hit only .281. It was his final year. Webb himself only had one more major-league season in him.
For the 1932 Red Sox, Webb hit .281. For the Tigers, he had a terrific start for manager Bucky Harris (who also had experience as a coal miner), with nine hits in his first five games and his arrival "inspired the attack of the whole team." [The Sporting News, June 23, 1932] In the end, he hit .287. At year's end, he had 28 doubles. Tigers management was disappointed, but understood that his "decline was a more or less natural reaction to his big year" and that he would return to his former power numbers. [The Sporting News, October 13, 1932]
In 1932, Paul Waner set a new National League record, hitting 62 doubles. The following year, 1933, Webb hit only five – all for the White Sox who claimed him on May 9 after Detroit placed him on waivers. He'd been with the team as a reserve outfielder, but now was deemed expendable. Fortunately, White Sox skipper Lew Fonseca really wanted a left-handed hitter, and Webb did hit .290 but with only six extra-base hits – the doubles and one home run. It was a sharp decline. On February 20, 1934, the White Sox released him to Milwaukee in the American Association. He had a career major-league batting average of .306 and had driven in 333 runs.
At Milwaukee, Webb hit a grand slam on Opening Day and hit throughout the year, including one 31-game hit streak. He tore some cartilage in his knee in late July, but came back late in the year and won the league's batting crown by the narrowest of margins (.3679 to Vernon "George" Washington's .3672) on the strength of several hits on the last day of the season. Earl hit .338 for the Brewers in 1935. In November, his contract was sold to Knoxville of the Southern Association, and he was able to play just 85 miles from his home in east Tennessee. Webb had another good year for the Smokies, a Boston Braves-affiliated ballclub, batting .348 with a league-leading 20 homers. He struggled a bit in 1937, and though he was hitting .278, he quit the club on July 29, announcing, "I asked to be suspended because I haven't done the club any good. I hope to get back with the boys next year if I feel I can help them win." [Atlanta Constitution, July 10, 1937] It wasn't to be. He'd returned to his home to farm "after 17 years of hearing the crowds cheer" and never re-entered the ranks of organized baseball. [The phrase is from Ed Harris in the July 30, 1937 Knoxville Journal.]
Webb took a position with the Consolidated Coal Company of Jenkins, Kentucky, both working as a foreman in the mines and managing the company baseball team. A number of interviews show him as a perceptive student of the game, and he managed teams in Kentucky and West Virginia into his 50s. He died of coronary thrombosis on the night of May 23, 1965. The death certificate described him as a "laborer" in the coal mines. His daughter reported, "He had spent the day fishing a stream that meanders through the hills that he loved."
Sources
Glebe, Iris Webb. The Earl of Dublin (Ann Arbor, Michigan: McNaughton & Gunn, 1988)
Earl Webb player file at the National Baseball Hall of Fame
In addition to the sources indicated within the text, the author also consulted the online SABR Encyclopedia, Retrosheet.org, and Baseball-Reference.com. Thanks to Kathleen Ragsdale and Ed Washuta for assistance with this biography.
Born
September 17, 1897 at White County, TN (USA)
Died
May 23, 1965 at Jamestown, TN (USA)
If you can help us improve this player's biography, contact us.
http://bioproj.sabr.org/bp_ftp/images4/WebbEarl.jpg
600
800
admin
/wp-content/uploads/2020/02/sabr_logo.png
admin
2012-01-04 20:30:44
2012-01-04 20:30:44
Earl Webb