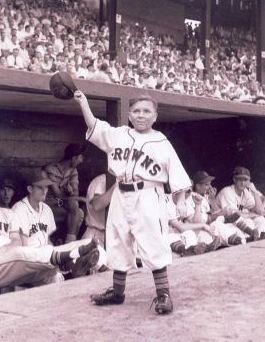 ---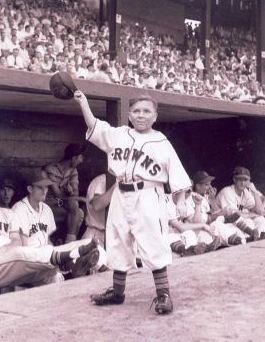 Few men have made an initial splash into the world of baseball as Eddie Gaedel did in August 1951. When the 3-foot-7 pinch hitter walked to the batter's box, St. Louis Browns fans erupted with amazement and amusement. Gaedel's single at-bat polarized those within baseball, as all contemplated at what point entertainment in sports becomes a farce. Gaedel worked his fame as best as he could, booking appearances and collecting fees. In the end, his lifelong perception of himself as a little person, and the abuse he suffered from others because of it, led him to drink heavily. The drinking ultimately led to an altercation and beating which ended his life.
Edward Carl Gaedel was born on June 8, 1925, in Chicago. He was the second of three children born to Carl and Helen Gaedel. (The family name may have actually been Gaedele.) Carl Gaedel was born in Lithuania and immigrated to the United States in 1902, settling in Chicago. Helen Gaedel, nee Janicki, was born in New York or New Jersey to Poland-born parents. The Gaedels were married in 1919 and had three children. Carl supported the family by selling shoes in a department store.
Around the time Eddie turned three years old, his parents noticed that his growth was stunted; whether it was from a thyroid problem or some other abnormality is not known. He grew to a maximum height of 43 inches, 3'7″, and weighed approximately 65 pounds for much of his life. Gaedel's parents and siblings were all of normal stature.
As a consequence of his height, Gaedel was continually picked on and taunted as a child. The incidents often escalated into fist fights and other maltreatment. Despite the taunting and abuse, he persevered and graduated from high school. However, throughout his life, he was continually insecure and combative about his height and related issues. He also did not like to travel, feeling ill at ease and fearing for his physical well-being away from his comfort zone.
Gaedel was able to find employment in a variety of fields that welcomed his uniqueness. He was an errand boy for a local newspaper, the Drover's Daily Journal, and performed in circuses, rodeos and other entertainment shows. During World War II he worked as a riveter crawling into plane engines, wings and other locales where bigger people couldn't fit.
Gaedel's baseball legacy has been told and retold. It started in the mind of Bill Veeck; at least Veeck said so. Author James Thurber had published a short story in the Saturday Evening Post in 1941 that told a similar tale. Veeck was a showman always looking for the next bright idea to spark fan interest. In August 1951, as owner of the American League St. Louis Browns, he needed to attract fans for a club that was perennially at the bottom in attendance. He focused on a celebration to honor the 50-year history of the American League, a birthday party of sorts. And for good measure, he decided that his main sponsor, the Falstaff Brewing Co., should be celebrated as well.
When, why and how Veeck got the idea of putting a midget on the field is open for conjecture; surely any story he ever told about it was full of embellishments. He started by asking a booking agent to find the right individual. This wasn't as easy at it seemed, as Veeck was continually dissatisfied with the men presented to him. He was adamant about hiring a "midget" not a "dwarf," because he wanted a man who would look somewhat athletic in a baseball uniform. Veeck dispatched his publicity man, Bob Fishel, to find the right candidate. Finally they settled on Gaedel. Veeck sent his traveling secretary, Bill Durney, to Chicago to pick up Gaedel. As they neared the Chase Hotel in St. Louis, Durney had Gaedel hide under blankets to protect the project's secrecy.
Gaedel was smuggled up to the hotel room wrapped in blankets. He was outfitted in a uniform belonging to Bill DeWitt Jr., the nine-year-old son of the club's vice president. The jersey had number 6 on the back, but Veeck had it changed to 1/8, as the scorecard (now a valuable collector's item) shows.
In a pre-game strategy session Veeck ordered Gaedel to squat low at the plate without swinging so he could draw a walk. Gaedel crouched, wielding a toy bat and displaying a strike zone described as 1.5 inches in height. By game time Gaedel, a showman himself, was revved up for the performance. He was swinging the bat and getting into his role. Veeck and crew became worried that the unlikely ballplayer would set aside the plans and try to hit. In the famous picture of his at-bat Gaedel actually stands somewhat erect, expanding his strike zone. This probably concerned Veeck and the others involved, who may have feared for his safety.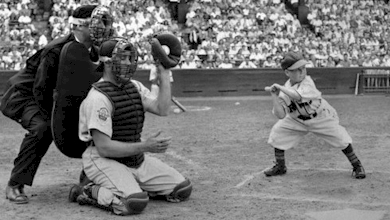 Gaedel was given a contract for $15,400, which came out to $100 for the day, minimum-scale wage for a midget act. Gaedel waived the normal thirty-day clause that guaranteed severance pay after he was released. Veeck also took out a $1,000,000 life insurance policy on Gaedel in case something went awry. Since it was the weekend, Gaedel's contract wouldn't be reviewed by the American League office before Monday at the earliest.
Between games of a doubleheader on Sunday, August 19, 1951, Veeck had a seven-foot birthday cake wheeled onto the field. Gaedel popped out, to the joy of the crowd. Detroit Tigers pitcher Bob Cain took the mound in the bottom of the first inning and warmed up. Browns' manager Zack Taylor then signaled for a pinch-hitter, Gaedel in for outfielder Frank Saucier. As Gaedel strode to the plate, umpire Ed Hurley turned and yelled, "What the hell?" Taylor presented Gaedel's contract to the umpire and, after some confusion and all-around amusement, Hurley called for a pitch. Gaedel, a righthander, walked on four pitches and took his base. Jim Delsing was sent in to pinch-run. Gaedel ran off the field to a standing ovation.
The whole affair was nearly botched. Bob Fishel claimed that, with all the commotion and in his nervousness, he forgot to alert the photographers that something special would be happening in the second game. When Gaedel came to the plate, only one cameraman from the St. Louis Post-Dispatch was present; Veeck had tipped off the paper's reporter, Bob Broeg. That explains why there are so few pictures of the event.
The aftermath shook baseball. While many found the incident amusing, about as many were offended. American League president Will Harridge voided Gaedel's contract two days later, citing the "best interests of baseball." Gaedel played along, claiming to be the wronged party. He blasted Harridge for ruining his chance at a baseball career. He even bemoaned the fact that baseball didn't have a commissioner to appeal to, as Happy Chandler had recently left office. The following spring seven midgets from Hollywood showed up at the Browns' camp and asked for a tryout. The club's new manager Rogers Hornsby, a no-nonsense type, wouldn't allow them to suit up.
Gaedel capitalized on his instant fame. He appeared on radio and television shows and made personal appearances. Within a few weeks, he had raked in a substantial $17,000. Over the years he appeared at ballparks during promotional stunts. On September 6, a few weeks after his initial at-bat, Gaedel again strode to the plate for a fee during an amateur game in Sycamore, Illinois. He took two quick called strikes, berating the umpire for both. The pitcher balked and threw another pitch which Gaedel swung at and missed. He left the plate trash-talking the umpire.
Throughout the years, Gaedel found work because of his fame. He served as the Buster Brown shoe man, appearing at store openings in Chicago and St. Louis. He also landed a gig with Ringling Brothers Circus and did promotional work for Mercury Records. He could have made a lot more money, but he refused to travel extensively. Hollywood directors wanted him to appear in movies and Mercury Records wanted him to tour California, but Gaedel wouldn't go.
He did reappear for Veeck a couple more times. On May 26, 1959, Gaedel and three other little people landed in a helicopter at Comiskey Park. They emerged dressed as Martians and carrying ray guns. They ran to the dugout and captured diminutive middle infielders Nellie Fox and Luis Aparicio, and took them to home plate for a ceremony. On April 19, 1961, two months before his death, Gaedel and seven other little people worked as box seat vendors at Comiskey Park. Veeck hired them after hearing complaints that his usual vendors were too tall, blocking the view of some fans.
Gaedel struggled with the way some people treated him, mixed with his perceptions of imaginary slights and offenses. Two weeks after appearing on the diamond for the Browns, he was arrested for disorderly conduct in Cincinnati, where he was performing in a rodeo. He had verbally abused some policemen after they mistakenly asked why "a little boy" was out so late at night.
Gaedel was combative, especially after drinking, which became more and more prevalent. He continually engaged in fights and altercations. One relative described him as having "beer muscles." It didn't help that he worked as a bartender at the locally famous Midget Club. He lived at home with his indigent mother and brother in an apartment in the Southside of Chicago. Gaedel stuck close to home and was said to be very fond of his mother. His health was failing due to high blood pressure and an enlarged heart, which was compounded by the drinking.
On June 18, 1961 Gaedel, unemployed, got drunk at a bowling alley. As usual, he became combative with either some fellow patrons or others he came across on his route home. He was followed home and beaten. His mother found him lying in bed, dead. He had bruises about his knees and on the left side of his face. An inquest discovered that he had a heart attack, which was obviously brought on by the beating. He had just turned 36 years old. Pitcher Bob Cain, saying he felt obligated, was the only person from baseball to attend the funeral. Gaedel was interred at Saint Mary Catholic Cemetery and Mausoleum in Cook County, Illinois.
Sources
Ancestry.com
Chicago Tribune

Findagrave.com
Los Angeles Times
New York Times

Veeck, Bill and Ed Linn. Veeck as in Wreck. New York: G. P. Putnam's Sons, 1965.
Washington Post
Photo credits
National Baseball Hall of Fame Library

Born
June 8, 1925 at Chicago, IL (USA)
Died
June 18, 1961 at Chicago, IL (USA)
If you can help us improve this player's biography, contact us.
http://bioproj.sabr.org/bp_ftp/images3/GaedelEddie.jpg
600
800
admin
/wp-content/uploads/2020/02/sabr_logo.png
admin
2012-01-04 20:49:53
2012-01-04 20:49:53
Eddie Gaedel