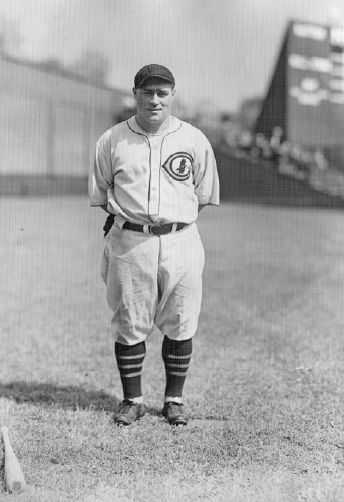 ---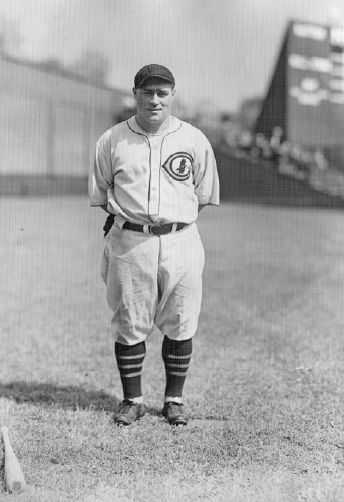 A few guys populate Baseball's Hall of Fame who deserve the title of "hard luck hero." Addie Joss comes to mind, a superb right-handed pitcher from the first decade of the 20th century who died of tuberculosis at the age of 31 after nine seasons, 160 wins, a perfect game, a no-hitter, seven one-hitters, and the second lowest career ERA (1.89) ever. Or Ross Youngs, an equally superb outfielder for the New York Giants in the '20s, ten seasons, .322 lifetime hitter, and dead at age 30 of Bright's disease. An on-field foot injury shattered Dizzy Dean's career, chronic arm problems truncated Sandy Koufax's, while catcher Roy Campanella was crippled in an auto accident after playing only ten major-league seasons. 
We might be tempted to add Lewis Robert "Hack" Wilson to this list. (The most convincing tale of how he earned his nickname has him named after a professional wrestler George Hackenschmidt, whom he resembled.) Wilson's 12 seasons in the big leagues added up to only about ten full seasons. His claim to a place among baseball immortals rests on five seasons —four excellent ones from 1926 through 1929, and a fifth for the ages in 1930 when his star rose to the outer edge of the firmament. Yet he too had a disease-shortened career: For through all of those seasons and till the end of his short life, Wilson was an incorrigible alcoholic. You cannot read anything longer than 500 words about the man that doesn't mention the problem. And yet even today, the disease that killed Wilson's baseball career and eventually the man himself still carries about it the whiff of moral opprobrium and illegitimacy, despite its ravages and untold number of victims.
Lewis Robert Wilson was born in Ellwood City, Pennsylvania, a steel town some 30 miles northwest of Pittsburgh, on April 26, 1900, of undistinguished parents, both alcoholics, who never married. Mom Jennie Kaughn was only 17 years old, a street kid from Philadelphia, who died of appendicitis when her son was only 7 years old. Hack's father was a 24-year old steelworker named Robert Wilson, who after paying for Jennie's funeral, pretty much abandoned his son to be raised by the woman known as Grandma Wardman who owned his boarding house. Her son Connie, in turn, became a mentor of sorts to Hack and introduced him to the game of baseball.
Without warning one day, Robert Wilson took his son and moved to Chester, another gritty industrial town on the other side of the state, just southwest of Philadelphia. Then they took off to nearby Eddystone. At the age of 16, having progressed through the sixth grade, young Lewis quit school to go to work, not an uncommon course for a poor kid living a rough childhood. For two years, 12 hours a day, and for $4 a week, Wilson labored as a printer's devil at an Eddystone print works. It was hot, dangerous work: While there, Hack said, "I had carried a million pounds of lead and was getting to be a big husky lad."1
Which, to say the least, was an understatement. Hack's appearance elicits as much comment as his drinking. He was built like an oil barrel. He stood 5-feet-6-inches tall, had a huge torso with short, stubby legs and weighed between 190 and 230 pounds depending on the year. He had a large head, flattened in the face, 16-inch biceps, and an 18-inch neck, but small hands — his bat handles had to be skinnied down for him to get a good grip — and even tinier feet. Sources put his shoe size no larger than 5½. Although people considered him odd-looking at the time, today we recognize in Wilson all the telltale signs of fetal alcohol syndrome, which in addition to physical peculiarities can also result in various mental disorders, such as delayed development, learning disorders, and behavioral issues like short attention span and poor impulse control. In other words, Hack Wilson entered life, and baseball, with the proverbial two strikes already against him. That his life was tragic is beyond question; that he succeeded to such an extent against the odds is remarkable.2
In 1921 Wilson moved to Martinsburg, West Virginia, the town of record for him and his family, to begin his rise to stardom. By this time he had played a lot of baseball, mainly as a catcher, on sandlots, amateur, and semipro teams. In his first game with the local club, the Martinsburg Blue Sox of the Class D Blue Ridge League, Hack broke his leg sliding into home, an event that had a pronounced effect on his life. For it led to his meeting a local woman, 34-year-old Virginia Riddleburger, whom he married in the following year, and the injury messed up his leg for a couple of years so he had to switch from catching to the outfield.
A talent like Wilson's — in 114 games, he averaged .364 with a 1.050 OPS (a statistic not calculated at the time) and 35 homers — could not remain in Class D long. Shortly after the start of the 1923 season, the Portsmouth Truckers of the Class B Virginia League bought him for the princely sum of $500, and by the end of the year, John McGraw of the New York Giants, urged by the Truckers' owner, had bought him as the tag-along player in a deal for a pitcher he really wanted from Portsmouth. Thus did Hack Wilson, "a loud vulgarian draped in a $17.95 checkered suit," make it to the bigs. He appeared in three games, debuting on September 29, 1923.3
McGraw wasn't much impressed the following year, and Hack, despite some flashes of power and speed in the outfield, which amazed observers, began the 1924 season on the bench. Stubby and pudgy, he just didn't look like a big leaguer, and even when he produced as a substitute player, he didn't earn a starting job until mid-June. A month later he had to be carried off the field after spraining an ankle in center field and was out for a week. (Ever after, Wilson taped his ankles for every game.) He reinjured the ankle in early September, but finished out the season and played in all seven games of the World Series against the victorious Washington Senators.
In 1925, despite hitting the longest home run in the history of Ebbets Field on April 19, and two homers in one inning on July 1, Hack's troubles hitting the curve, which had begun the year before, continued. With Wilson struggling in a 5-for-26 slump and batting just .239, McGraw finally lost patience with his chunky center fielder and sent him down to the Giants' Double-A farm club at Toledo in early August. And although the ambitious young outfielder was thoroughly humiliated, the demotion opened the doors of the Hall of Fame for him by allowing the Chicago Cubs to draft him in the offseason, "one of the most infamous blunders on the part of McGraw and the Giants."4 The Giants failed to exercise their option on Wilson, thus opening him up for the draft. The last-place Cubs jumped on him for the bargain price of $5,000. It seems clear now that McGraw simply didn't want him — he had been mistaken, he told reporters, in "rushing him along" — though other explanations have been advanced.5
Wilson found the brawling City of the Big Shoulders (and the domain of Al Capone's mob) congenial to his rollicking spirit.6 But the sentiment would not have been possible without the enabling influence of the new Cubs manager, Joe McCarthy. The two men had what we would call chemistry. McCarthy, who liked Wilson anyway, knew just how to apply discipline. He would exact punishment in sweat equity, rarely dollars, and he refused to use curfews or after-hours spies on his players.7 For his part, Wilson displayed an almost childlike compliance when it came to team strictures on alcohol. "I never played a game drunk," he told Gabby Hartnett. "Hung over, yes. But drunk, no."8 And because he always came to the park ready to play, McCarthy would bail him out of jail, something he would never do for other famous carousers like Grover Cleveland Alexander.9 "What could a manager say to such a loyal player," he once mused, "who had a weakness he could not handle?10
Wilson would have strained his resources anyway. During his first year with the club, Hack got stuck in a window trying to escape a police raid on a Capone speakeasy — for which he was fined one dollar, only one of many incidents involving Wilson, cops, and Demon Rum. Hack and his drinking buddy pitcher Pat Malone proved to be a source of endless trouble. The center fielder had never, from his earliest days, ducked a fight, and his time in Chicago was punctuated by several celebrated ones. He charged into the stands once and pummeled a foul-mouthed heckler, and later survived a retaliatory lawsuit. During the second game of a July 4 doubleheader at Wrigley Field in 1929, he raged into the Cincinnati Reds dugout after pitcher Ray Kolp called him a "bastard" several times (a particularly sensitive slur for Hack). Later that evening and connected to the same incident, he decked another Reds pitcher, Pete Donohue, on a railroad platform, knocking him out, splitting his lip, and earning a three-day suspension and $100 fine from the league. McCarthy managed around this and a lot more for five years. According to sportswriter Frank Graham, McCarthy shielded Hack from the teetotaling Cub owner William Wrigley, and he "understood [Wilson], made allowances for him when he failed and rewarded him with praise when he did well." And although he could be "strict and stern" with players, "he never was with Hack, and Hack repaid him by playing as he never had before, nor would again."11
Wilson's remarkable five years with the Chicago Cubs during the Prohibition Era have earned enough ink over the years that the outline of them is known to most baseball fans. From 1926 through 1930, he led the league in home runs four times and RBIs twice. During those five years, he averaged per season: 183 hits, 117 runs scored, 35 home runs, 142 RBIs, and .331/.419/.612 with a 1.031 OPS. He was off the charts in 1930, setting the modern NL record for home runs (56) that stood until steroids, and the practically impervious mark for RBIs in a season, 191. (Originally counted as 190, the latter figure was upped to 191 in 1999 as a result of research and documentation by SABR members. The missing RBI, originally credited to Charlie Grimm, came from the second game of a doubleheader against the Reds on July 28.)12 Moreover, in a situation that could not happen today, Wilson lost credit for an additional homer and RBI when he crushed a ball in Cincinnati into the right-field bleachers that hit the seats so hard it ricocheted back onto the field. Reds backup catcher Clyde Sukeforth saw it happen from the bullpen. "The umpire had a bad angle on it and ruled it hit the screen and bounced back." Naturally, Sukeforth said nothing, "[b]ut Hack really hit 57 that year."13
Aside from the extracurricular activities, brawls, and brushes with umpires, one other on-field blemish mars Wilson's five golden seasons; indeed, it may be as famous as the RBI mark. This would be his notorious flubs in center field during the 1929 World Series. In Game Four, with the Cubs looking to tie the Series at two games apiece and leading the Philadelphia Athletics 8-0 in the bottom of the seventh, Wilson lost two fly balls hit to center in the sun, both instrumental in opening the floodgates for a ten-run rally by the A's. The Cubs lost that game and the Series two days later, four games to one. According to his teammate Kiki Cuyler, Hack was "inconsolable" about the mistakes, uncharacteristically brushing through the crowd after the game, eyes glistening with tears. Wilson never forgot it. The nightmare inning played endlessly in his memory.14
Had Wilson realized what the Fates had decreed for him after his magical 1930 season, he might have had to stifle another sob or two. Both his career and his life headed south in a swift, seemingly pre-ordained decline. Wilson's guardian angel Joe McCarthy left to pilot the Yankees in 1931, and Hack was thrust into the none-too-tender mercies of new Cubs manager Rogers Hornsby, an abstemious, stern disciplinarian who instituted curfews, weight controls, and tighter discipline at the plate on free-swinging sluggers like Wilson. He was everything the gregarious, hard-drinking and partying Wilson was not. Hack had a reciprocal arrangement with the fans and the kids: He loved them and gave freely of his time to sign autographs and banter; they in turn made him "the most loved player anywhere … the toast of the town," according to his son Robert. Hornsby had "the coldest eyes I ever saw," said rookie Billy Herman. The two men couldn't stand each other.15
And it wasn't long before Hornsby brought the hammer down. After a lousy spring, Hack started the 1931 season in his customary slow fashion and didn't improve. Hornsby benched him for a few games at the end of May and continued to throughout the summer. Finally at the end of August, he relegated Wilson to a few pinch-hitting appearances, after an ugly August 24 incident at the Polo Grounds when after being thrown out of the game by plate umpire Beans Reardon, Wilson refused to leave and had to be dragged off the field by his teammates. A couple of weeks later, he was fined and suspended without pay for the rest of the season for not intervening while his teammate Pat Malone beat up two baseball writers in a train station.
Altogether it had been a miserable year. In addition to $6,500 in fines, the mighty Hack Wilson had put up dismal season numbers. In 112 games only 13 homers, a .261 average, and 61 RBIs. It was as if the Superman of 1930 had been exposed to kryptonite the following year. To some observers, Hack's season-long slump was inexplicable, but in fact, Wilson's own reckless behavior as much as Hornsby's management style, or perhaps more accurately, McCarthy's absence, had spawned this disastrous season.16
Obviously, Wilson's days with the Cubs were numbered. On December 11 the club traded him to the St. Louis Cardinals. Stunned by the tone of Wrigley's announcement of the trade, Hack received an even bigger shock when his new team's general manager, Branch Rickey, proffered a contract of $7,500 — a 77 percent cut. Wilson indignantly refused to sign; he would not work for that under "any conditions," he said. After more than a month of public bickering and endless speculation about Wilson's worth in the papers, Rickey traded him to the Brooklyn Dodgers for a minor-league pitcher and cash. Hack still took a huge pay cut — he signed for $16,500 — but he had salvaged his pride somewhat, and he repaid the Dodgers by having a solid year in 1932 — .295/.366/.538 with 23 homers and 123 RBIs in 135 games — but hardly the kind of year to reestablish his credentials as a premier slugger, not with the kind of numbers others were putting up that decade.17
On record as saying he was "not going to sign any pledge or make any drastic changes in my mode of living," Hack lived up to his word in 1933.18 The drinking got worse, his weight ballooned to around 230 pounds: he looked about five years older than his 33 years. And his performance on the field fell off badly. He could no longer hit for power or even consistently. He slipped more frequently into the role of pinch hitter and part-time player. He ended up with numbers slightly worse than those of the fateful 1931 season. And yet he had the audacity to hold out the following winter when the Dodgers offered him a contract for $11,000. According to one writer, Dodger management considered Hack "just a fat and fussy little fellow who hit for a meager .266 last year and covered the outfield like a man with a trunk on his back." In fact, the club had "challenged Wilson to arrange a trade for himself. … Which ever [sic] way Hack turns, he bumps into the fact that nobody wants him."19
It wasn't quite literally true, because Brooklyn took Wilson on again for 1934, but he didn't make it through the season; the club released him on August 9. He claimed no animosity between him and new manager Casey Stengel — "as grand a fellow as I ever worked for" — but confessed to being "disappointed."20 He thought the club would let him finish out the season. Hack managed to hook on with the Philadelphia Phillies for seven more games. On August 25, 1934, he appeared in his last major-league game, singling in two runs as a pinch-hitter. The following year he played 59 games for Albany in the International League. And then it was over.21
All that remained were what Wilson's biographer calls "the wandering years." Hack went back home to Martinsburg, played some ball with the town's semipro team, opened a rec and pool hall in town with a partner, and spent a lot of time with his old drinking buddies, all the while drifting further from his wife and son, Bobby.  A terrible businessman, Hack gave away too many things for free at the pool hall, and eventually his partner bought him out. In 1937 his troubled marriage gave way, and Virginia filed for divorce, claiming that she had been deserted by her husband who was immorally cohabitating with one Hazel Miller, a girl who worked at the pool hall. Both charges were true. Wilson later married Hazel, and she spent the rest of her life waiting for her husband to get home.
Hack Wilson spent the balance of the 1930s an aimless drifter, working odd jobs up and down the East Coast. He and Hazel moved to Baltimore in 1941 and he went to work in an aircraft assembly plant. In August of 1942, he quit the defense industry and began bartending near his apartment. Amazingly, this job lasted until June 1948, when he quit it. The city of Baltimore took pity on Hack and gave him work in the parks and recreation department. His last job was as an attendant at a public swimming pool.
As the fates sometimes so weirdly have it, Wilson got a final chance to speak publicly from his heart just days before his death. Already a sick man, he accepted an invitation to travel to New York and appear on We, the People, a CBS radio talk show (famed for its unusual testimonies of real people). During the course of the interview, Wilson frankly admitted to drinking his life away. He had had a lot of time to think during a recent hospital stay, he said. "There are kids, in and out of baseball, who think because they have talent, they have the world by the tail. It isn't so. In life you need things like good advice and common sense. Kids, don't be too big to take advice. Be considerate of others. That's the only way to live."22 A week after the interview, Wilson took a fall in his apartment, and he was taken to Baltimore City Hospital. A few days later, on November 23, 1948, his alcohol-ravaged body gave up the ghost. He was 48 years old.23 
In an almost perfect metaphor of his fall from the heights of fame to obscurity, Wilson's body lay in the mortuary unclaimed for three days; his son refused to accept responsibility for it. His drinking buddies up and down the North Street taverns in Baltimore tossed into a hat to help pay for a funeral service, with enough left over for a gravestone; the National League sent a check for $350. Originally scheduled to be interred in Baltimore, Wilson was buried — in a donated plot —in Martinsburg on November 28 at the request of his widow. One of the numerous floral arrangements came from Joe McCarthy. The funeral procession, according to reports, was "one of the longest seen here in many years."24
Election to the Hall of Fame eluded Wilson for 40 years. He finally achieved that honor in 1979 when the veterans committee voted him in. Even today some experts would argue that he doesn't deserve inclusion.25 But if Hack Wilson doesn't deserve the title "hard luck hero" and a place alongside Joss, Koufax, and Campanella, who does?
Notes
1 Biographical references from Clifton Blue Parker, Fouled Away: The Baseball Tragedy of Hack Wilson (Jefferson, NC: McFarland, 2000), 7-10.
2 Mark Kram, "Why Ain't I in the Hall?" April 11, 1977, sportsillustrated.cnn.com/vault/article/magazine/MAG1092281/index.htm; Wickersham's Conscience, "Book Review: Fouled Away, the Story of Hack Wilson," wickershamsconscience.wordpress.com/2010/05/11/book-review-fouled-away-the-story-of-hack-wilson/; "Fetal Alcohol Syndrome," mayoclinic.com/health/fetal-alcohol-syndrome/DS00184 (all accessed, November 12, 2013).
3 Kram, "Why Ain't I in the Hall?"
4 Parker, Fouled Away, 42-43.
5 Parker, Fouled Away, 39.
6 Wilson and Capone knew each other. Hack would frequent Capone's club, and the gangster would come to ballgames. On one occasion after Hack greeted Capone in his seat behind the Cubs dugout, Commissioner Kenesaw M. Landis called him on the carpet and complained. What was he doing talking to thugs, Landis demanded angrily. "Well, Judge," Wilson replied, I go over to his place, so why shouldn't he come to mine?" Kram, "Why Ain't I in the Hall?"
7 Arthur Daley, "A Tragic Figure," New York Times, November 25, 1948.
8  William F. McNeil, Gabby Hartnett: The Life and Times of the Cubs' Greatest Catcher (Jefferson, North Carolina: McFarland, 2004), 98.
9 Art Ahrens, Chicago Cubs, 1926-1940, (Charleston, South Carolina: Arcadia, 2005), 117.
10 Alan Howard Levy, Joe McCarthy: Architect of the Yankee Dynasty (Jefferson, North Carolina: McFarland, 2005), 105.
11 Parker, Fouled Away, 54; Brooklyn Eagle, February 12, 1930.
12 "Remaking history: Hack Wilson's RBI record turned up—69 years later," cnnsi.com/baseball/mlb/news/1999/06/22/wilson_rbi/index.html (Accessed November 13, 2013).
13 Donald Honig, A Donald Honig Reader (New York: Simon & Schuster, 1975), 141-42. See also Walt Wilson, "Hack Wilson in 1930: How to drive in 191 runs," Baseball Research Journal 29 (2000): 27-29.
14 David F. Neft and Richard M. Cohen, The World Series: Complete Play-by-Play of Every Game, 1903-1989 (New York: St. Martin's, 1990), 130; Ronald T. Waldo, Hazen Kiki Cuyler: A Baseball Biography (Jefferson, North Carolina: McFarland 2012), 138.
15 Parker, Fouled Away, 131, 133.
16 Parker, Fouled Away, 127-41; "Cubs' Play Boys Feel Iron Hand of Hornsby for Breaking Rules," unidentified newspaper clipping, July 2, 1931; Thomas Holmes, "If Hack Stands Up Through May, Club Should Regain Money," Brooklyn Eagle, January 25, 1932, both in National Baseball Hall of Fame Library, Cooperstown, New York.
17 "Hack Wilson Balks at $25,000 Pay Cut," New York Times, January 9, 1932; Parker, Fouled Away, 149, 155.
18 "'I'll Be in Condition,' Says Hack as He Trains in Home Gym He Built," Brooklyn Eagle, January 24, 1932.
19 Harold Parrott, "Club Challenges Hack to Make His Own Deal; Wright to Be Released," [c. January, 1934], unidentified clipping in HOF Library.
20 Tommy Holmes, "Hack's Heart Strong as Body Was When He Made Diamond History," Brooklyn Eagle, August 10, unidentified clipping in HOF Library.
21 "Hack Wilson" baseball-reference.com/players/w/wilsoha01.shtml and baseball-reference.com/minors/player.cgi?id=wilson001lew (both accessed November 12, 2013).
22 "60 Years Ago — 'We, the People' Ushered in the Radio-Television Simulcast" emmytvlegends.org/blog/?p=1101 (Accessed March 17, 2014); Wilson quoted in Parker, Fouled Away, 191.
23 Parker, Fouled Away, 165-92.
24 Edwin A. Lahey, "Hat Passed in Saloon for Wilson Burial Fund," and G. C. McKown, "Wilson Laid to Rest in Blue Ridge Town Where He Started Climb to O.B. Fame," both in The Sporting News, December 8, 1948, clipping in HOF Library.
25 Bill James, Whatever Happened to the Hall of Fame? Baseball, Cooperstown, and the Politics of Glory (New York: Free Press, 1994), 72.
Born
April 26, 1900 at Ellwood City, PA (USA)
Died
November 23, 1948 at Baltimore, MD (USA)
If you can help us improve this player's biography, contact us.
http://sabr.org/sites/default/files/Hack%20Wilson.JPG
600
800
admin
/wp-content/uploads/2020/02/sabr_logo.png
admin
2012-01-04 20:45:46
2020-10-18 22:39:02
Hack Wilson