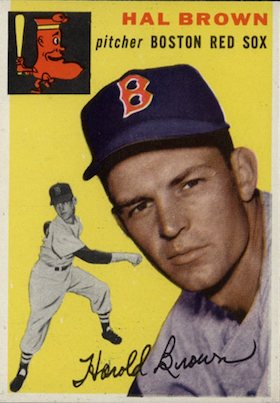 ---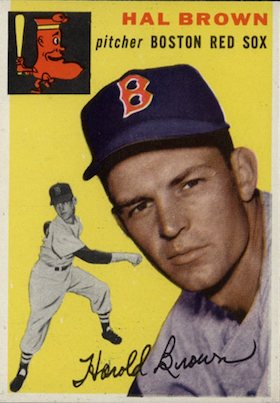 Pitching in a pennant race must have seemed tame to Skinny Brown; when he was 19 years old, he jumped out of a shot-up bomber into the cold waters of the English Channel. Brown took the game seriously, but not himself. He said, "It takes a lot of guts to walk out there with the stuff I throw."1
"Crafty" usually describes a left-handed pitcher. Brown was a crafty righty. He had his best years in his 30s when he learned to control his knuckleball, although he was never a pure knuckleballer. With knuckler Hoyt Wilhelm, he was the veteran mentor to the Baltimore Orioles' "Baby Birds" who challenged the Yankee dynasty in 1960 and 1961.
He was called Skinny because he wasn't. "I was real fat as a baby," he explained, "and being in a southern town and one of eight children, you know, everybody had to have a nickname."2 He grew up to be 6-foot-2 and 180 pounds, a quiet man with dark, curly hair. An excellent athlete, he was occasionally used as a pinch-runner and was one of the best-hitting pitchers for several years. He even played one inning at third base for the Orioles.
Hector Harold Brown was born on December 11, 1924, in Pomona, a section of Greensboro, North Carolina, that was a company town for workers at the Pomona Cotton Mill. He fought a lifelong battle against his first name. "Call me anything, but don't call me Hector," he said. "No one but my mammy can get away with that."3 Newspapers called him Hal, but he was Skinny or Brownie to his teammates.
His parents, William Hamilton Brown and the former Pearlie Chasen, had five sons and three daughters. The boys grew up playing ball. Skinny recalled, "[E]very cotton mill in the Carolinas sponsors some sort of baseball team, and the weather lends itself to baseball."4
As a hard-hitting shortstop on high school and American Legion teams, he attracted the attention of Bunn Hearn, head baseball coach at the University of North Carolina and a part-time scout for the Boston Red Sox. Hearn was able to serve both his masters: The Red Sox agreed to pay Brown's way through the university if he would sign with them after graduation.
Brown spent only one semester on the Chapel Hill campus. In early 1943 he learned that he was about to be drafted, so he enlisted in the Army Air Force. He served as a gunner on bombers based in England. During one attack on Nazi submarine bases in France, his plane took heavy fire. "We got hit and didn't make it back to England," Brown said. "We had to bail out. They picked us up after a few hours in the (English) Channel."5
When Brown was discharged in December 1945, he was 21 and ready to start his baseball career. Coach Hearn arranged a $1,750 bonus from the Red Sox. "It was a whole lot of money," Brown said. "In fact, I gave it to my daddy and we had a bathroom put in our house for the first time instead of water from the well and an outhouse."6
The Red Sox sent Brown to play shortstop at Class B Roanoke, Virginia, in 1946. When the team ran short of pitchers, he was put on the mound. And stayed there. Sent down to the Class C Durham Bulls, he won 15 consecutive decisions with a 2.48 ERA. Brown was converted to pitching because he was good at it, not because he couldn't hit. He batted .352 for Durham.
Before the 1947 season Brown married a hometown girl, Maxine Joyce. He climbed through the Boston farm system, reaching Triple-A Louisville in 1949. There is no record of when he picked up the knuckleball, but he was using it by the time he got to Louisville along with what was described as an outstanding fastball and a curve. He went 8-13 for the seventh-place team, but his 3.31 ERA was good enough to be in the top ten in the league. After the season he was traded to Seattle of the Pacific Coast League as partial payment for catcher Sammy White.
The deal was life-changing. Seattle manager Paul Richards became his mentor, his biggest booster, and his ticket to the majors — twice. Richards made his reputation by developing young arms and turning losing pitchers into winners. He taught Brown the slip pitch, a changeup that Richards insisted every pitcher try to master.
Brown's 1950 season was less than impressive: a 4.66 ERA and 13-13 record for a sixth-place club. But when the Chicago White Sox hired Richards as manager, he brought Brown with him.
Taking over a perennial loser, Richards tried out pitchers by the truckload in the spring of 1951. Brown worked only 8 2/3 innings before he was sold back to Seattle. This time he showed promise: 16-6 with a 3.05 ERA for a Seattle team that won the pennant under manager Rogers Hornsby. Brown capped his season with three victories in a week in the final round of playoffs.
Richards brought him up to Chicago as a reliever in 1952, but a sore elbow interrupted his season. Traded to the Red Sox in February 1953, he got his first chance to pitch regularly in the majors at age 28. Primarily a starter, he won seven straight decisions and compiled an 11-6 record, but an ugly 4.65 ERA. Manager Lou Boudreau wrote him off as "a five or six inning pitcher"—a damning indictment of a starter in those days—although he worked at least seven innings in 12 of his 25 starts.7 He also hit .293, fourth best among big league pitchers.
Boudreau parked Brown in the bullpen in 1954 and used him as a mop-up reliever in games the Red Sox were losing. Discouraged, Brown told a writer, "I've got the stuff to win in the big leagues. I know I have."8 In May 1955 Boston sold him to Oakland of the Pacific Coast League. Thought he was just 30, Brown feared he had blown his chance at the majors for good. There were only about 160 jobs available—most teams carried nine or 10 pitchers—with plenty of competition for them. Brown thought about quitting, but after visiting his family in Greensboro, he reluctantly reported to Oakland.
He stayed there just two months, long enough to turn his career around. He reeled off a 9-2 record and 2.95 ERA in a dozen games. Paul Richards, now manager and general manager at Baltimore, brought Brown back to the big leagues in July. (Brown's younger brother Lindy was a pitcher in the Baltimore farm system.)
The Orioles, the former St. Louis Browns, had lost 100 games in two straight seasons. Richards took over in 1955 and faced a long road to respectability. Typical of the club's problems, Brown lost his first start, 1-0. On August 30 Cleveland battered Baltimore starter Bill Wight for five runs in the first inning before he got anybody out. Brown relieved and pitched eight no-hit innings while striking out 10, a career high.
Brown found his niche as a dependable swing man, a spot starter and reliever. In his first five years in Baltimore, he compiled a 34-33 record and 3.79 ERA while the team reached .500 just once. Richards told him to use his knuckleball more: "He used to be afraid to throw his knuckler until he got ahead of the hitter. Of course the hitters wouldn't let him get ahead. They swung at his first few pitches all the time. Now he starts off with the knuckler a lot of the time and gets it over."9 More important, Brown cut his walks almost in half, to a little more than two per nine innings. Outstanding control was his calling card for the rest of his career.
Brown and other veteran pitchers were place-holders while the Orioles signed and developed a new generation. In 1959 20-year-old bonus baby Milt Pappas won 15 games, and 20-year-old Jerry Walker and 26-year-old Billy O'Dell rounded out the rotation with Brown and Hoyt Wilhelm. Three more youngsters joined them in 1960—Chuck Estrada, Steve Barber, and Jack Fisher. Suddenly the Orioles were soaring into the pennant race.
The Baby Birds' Opening Day lineup included six players under age 26. Brown and catcher Gus Triandos were the only ones on the roster who had been with the team continuously since Richards' first year in Baltimore. The Baltimore Sun's Ed Brandt described Brown as "a solid old pro in a group of precocious youngsters."10
Brown shared a house near Memorial Stadium with Estrada, rookie shortstop Ron Hansen, and 23-year-old third baseman Brooks Robinson. "Skinny looked after us, kept us out of trouble," Hansen remembered.11 But Brown had little patience with more gifted teammates who wouldn't match his hard work. "You haven't even scratched the surface," he told one.12 Richards said, "Harold Brown helped those young pitchers by not only telling them, but showing them, the value of strike one."13
The Yankees, after finishing third in 1959, were wounded and hungry. When they came to Baltimore for the first time in 1960, they trailed the Orioles by one game. On June 1 the second Yankee batter, Mickey Mantle, touched Brown for a home run. It was New York's only hit. Brown retired the final 16 batters to complete a one-hitter, throwing about 50 percent knucklers. Afterward he was disgusted by his single mistake; he said Mantle hit a fastball that was far above the strike zone.
Mantle was Brown's nemesis. The Yankee superstar slammed seven home runs off him, more than anyone else, and batted .403 in their matchups. But the hitter Brown dreaded most was Mantle's teammate Yogi Berra. "You might get Yogi out the first two or three times but in the latter part of the ball game he'd come up and the winning run would be out there somewhere and if he didn't hit a home run he'd bloop it in somewhere," he said. "Everybody talked that Yogi was a bad ball hitter, but I said, 'Yeah, you ought to see what he does with a good ball.'"14 Berra hit .323 against him.
Baltimore stayed close behind the Yankees all summer. The teams were virtually tied for first place when the Orioles went to Yankee Stadium for the final time in September. New York put the Baby Birds in their place by sweeping the four-game set. The Yanks went on to win their last 15 to claim the pennant that the pinstripes regarded as their birthright. "I mean, the Yankees were supposed to win," Brooks Robinson said. "They were the kings at that time, and we didn't feel bad. We felt like, 'Well, you know, there's next year."15
The Orioles' 89 victories left them eight games back. While the young arms got the publicity, Brown quietly turned in the best season of his career: 12-5 with a 3.06 ERA, third best in the league. He allowed the fewest base runners and led the league with the fewest walks per nine innings for the second straight year. Asked if he was doing anything different, he said he was throwing "the same old slop I've thrown since the first time you ever saw me."16
The next spring the Orioles handed out bumper stickers with the slogan "It Can Be Done in '61." Brown won his first five decisions, but the young pitchers were inconsistent. Estrada and Pappas missed some starts with arm trouble. The club fell under .500 in June. After the first All-Star break in July, they turned it around and played .610 ball the rest of the way. Even though they won a franchise-record 95 games, the Orioles were never in the pennant race; New York and Detroit topped 100.
Brown enjoyed the best month of his career in July and August. He pitched 36 consecutive scoreless innings with three shutouts and two relief appearances. After he blanked the Yankees on July 28, throwing 99 pitches in exactly two hours, he said, "I mixed 'em up—knucklers, sliders, fastballs and changeups."17 When a reporter wanted to interview him about his streak, Brown protested, "Write about the kids. Nobody wants to read about the old men like me."18 He finished 1961 with a 10-6 record and 3.19 ERA in a career-high 166 2/3 innings. The performance won him a raise to $32,000, the most he ever earned in baseball.
After two seasons in pennant contention, the 1962 Orioles collapsed to seventh place in the 10-team league. Richards had left to become GM of the expansion Houston club, the first big league team in his home state. His successor, the amiable Billy Hitchcock, could not control the hard-living Baby Birds. All the young pitchers went backwards; the staff ace was 35-year-old Robin Roberts, who had lost his fastball but registered a 2.78 ERA with a variety of junk. Brown's ERA swelled to 4.10 as he failed to complete any of his 11 starts.
In September Baltimore sold him to the Yankees, who wanted the veteran for pennant insurance down the stretch. Brown pitched just twice for New York, losing his only decision. As a September acquisition, he was not eligible for the World Series, and he knew he didn't figure in the team's plans for 1963. The Yankees kept him on the roster for the first few days of the season, when Paul Richards came calling again. Richards bought him for the Colt .45s, a second-year expansion club.
Brown once said he became a Richards favorite because he was the favorite player of Richards' younger daughter, Lou Redith. Back in Seattle the four-year-old "used to come and hug me after the games," he said. "I just loved that little kid." Lou Redith Richards died before her sixth birthday of a congenital heart ailment. When a reporter asked her father about Brown's theory, Richards blew him off: "The reason Skinny Brown is on this ball club is that he can play."19
The Colts, a mix of the young and the feckless, had lost 96 games in their first year, finishing eighth in the National League ahead of the Cubs and Mets. In 1963 Richards promoted several young prospects who were overmatched in the majors, though a few—Rusty Staub, Jimmy Wynn, and September call-up Joe Morgan—eventually grew into stars.
The team's feeble offense scored the fewest runs in the league. "If we gave up one run we had a good chance of winning," pitcher Ken Johnson said. "Two runs, our chances were about 50-50. Give up three runs and we couldn't win at all."20 (Johnson became the first pitcher to lose a no-hitter when Cincinnati beat him, 1-0, on a couple of errors, including one of his own.)
Relying mostly on his knuckleball, Brown took advantage of the expanded strike zone in 1963 and didn't walk a batter in his first 36 innings. He finished with only eight bases on balls in 141 1/3 innings, the best control of any pitcher since 1900 up to that time.21 His record was 5-11 despite a 3.31 ERA, close to the league average. Three of his five victories were shutouts. On June 14 he held the Giants to one hit in seven innings, but the hit was a home run that beat him, 1-0. On August 11 he took another shutout into the ninth in Pittsburgh, but the Colts hadn't scored, either. The Pirates' Jerry Lynch won the game with a walk-off homer. It was enough to break a man's spirit, but not Brownie's. The 38-year-old signed for another year with Houston. "I'll keep pitching as long as someone will pay me," he said.22
His run support was again comically awful in 1964. On July 19 the Giants beat him, 1-0, when Willie McCovey reached on an error and scored on Willie Mays's single, only the third hit off Brown. It was his ninth loss in his first 10 starts. He wound up 3-15, dragging his lifetime won-lost record below .500.
At the end of the season Richards offered him a coaching job. "Skinny would have been a superb pitching coach," the general manager said.23 But Brown had bought part ownership in a heating-oil distributor in Greensboro. He went home to work in the business, which became McBane-Brown Heating & Air Conditioning. Besides perfecting his golf game, Skinny and Maxine raised two daughters, Suzanne and Lisa. In 1991 he was elected to the Orioles Hall of Fame. "I consider it quite an honor," he said. "It's something I didn't expect."24
Brown went into Greensboro's Moses Cone Memorial Hospital in December 2015 with an undisclosed illness. He was joking with family members on his 91st birthday, but died six days later, on December 17.
"I had an ambition to be a major-league ballplayer," Brown said late in his life. "I have been so blessed, I couldn't begin to describe it. There are not many kids that ever have that kind of ambition and reach it."25
Photo Credit
The Topps Company
Additional Sources
Baseball-reference.com
Corbett, Warren. The Wizard of Waxahachie: Paul Richards and the End of Baseball as We Knew It. Dallas: Southern Methodist University Press, 2009.
Mills, Jeff. "Greensboro knuckleballer Skinny Brown lived Hall of Fame life," Greensboro (North Carolina) News & Record, December 18, 2015, http://www.greensboro.com/sports/greensboro-knuckleballer-skinny-brown-lived-hall-of-fame-life/article_a6ecc0cc-1f68-5cc4-8cc8-af1c1def5dec.html, accessed October 1, 2016.
Obituary, Greensboro (North Carolina) News & Record, December 19, 2015.
Notes
Born
December 11, 1924 at Greensboro, NC (USA)
Died
December 17, 2015 at Greensboro, NC (USA)
If you can help us improve this player's biography, contact us.
http://sabr.org/sites/default/files/BrownHal.jpg
600
800
admin
/wp-content/uploads/2020/02/sabr_logo.png
admin
2016-11-17 18:23:41
2021-09-22 18:53:23
Hal Brown