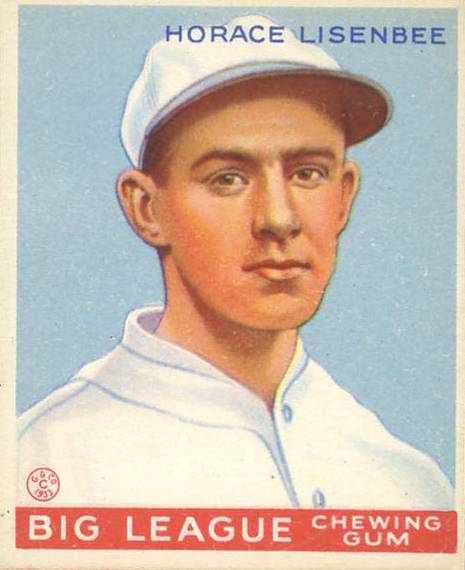 ---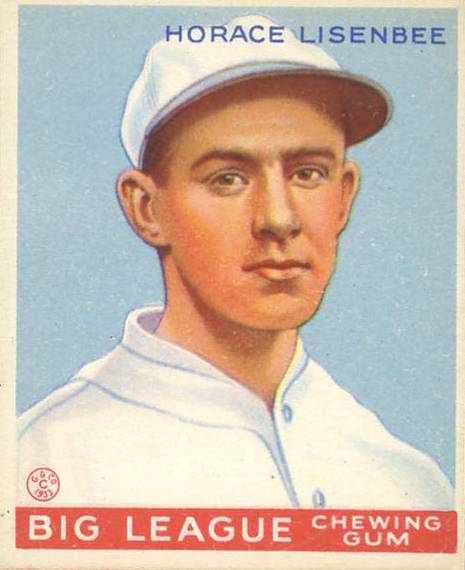 For a guy who'd never even touched a baseball before he reached high school at the age of 21, and then got cut from the team anyhow, to be pitching professionally at 51, and then to have Hod Lisenbee Memorial Boulevard named after him well after his death, that's an accomplishment. If you happen to be taking the last train to Clarksville and glance out the window and see the road sign, you'll know that it's named after a pitcher from the Tennessee community who surrendered home runs to both Babe Ruth and Jimmie Foxx but forged a good career in baseball for himself nonetheless. Homers happen.
He was born as Horace Milton Lisenbee in Clarksville on September 23, 1898, to farmer John M. Lisenbee and his wife, Sallie. He was the fourth of eight children: Pearl (1892), Ruby (1894), Lonnie (1896), twin girls Ora and Ira (1901), Tye (1903), and Malcolm (1908). The family lived in Montgomery County, Tennessee, close to the Kentucky state line and about 50 miles northwest of Nashville. Sallie's maiden name was Sarah Riggins, though it was reported differently in alternating censuses. In 1900 and 1920, she was Sallie. In 1910 and 1930, she was Sarah and then Sara. Even as late as the 1920 Census, Horace (listed as "Harris" that year) was a "farm laborer." He was known familiarly, and in baseball, as Hod or, predictably, Lizzy.
The last interview Hod gave was in 1981, to the Leaf-Chronicle of Clarksville, "Tennessee's oldest newspaper – established in 1808." He told the story of his late start in baseball: "I never had a baseball in my hands until I was 21 years old. That's when I first went to high school. I finished grammar school when I was 13, but then I had to go to work helping out on my family's farm. But I had a pretty good throwing arm. … I probably filled the Cumberland River with rocks I had thrown." [Reprinted in the Leaf-Chronicle, November 15, 1987]
When he got to high school, the baseball coach came to notice his arm and urged him to try out for the team. "I wanted to be a pitcher," Hod remembered. "But the first thing he did was put me in the outfield and hit fly balls to me. I knew how to throw, but I had no experience at catching balls, so I kept misjudging them. Then he put me at shortstop. That ball hit me everywhere but in the eye. Then the coach told me, 'We can't fool with you' and cut me from the team." It wasn't that many years later that he was pitching professionally.
Southwestern Presbyterian University (renamed Rhodes College in 1984) gave him a baseball scholarship, and he played there for a couple of years.
Lisenbee's professional baseball career began in 1924 in the Cotton States League (Class D) with the Brookhaven (Mississippi) Truckers. Former Yankees and Red Sox outfielder Sammy Vick was the manager. For the Truckers, Lisenbee threw 82 innings and had a 5-5 record. At the plate, he hit .222, one of his better seasons as a batsman. His 20-year minor-league batting average was .126. He claimed he'd once been a good hitter but had broken a couple of ribs swinging at a ball and had never been the same since. [Washington Post, February 15, 1927]. This same article confusingly places Lisenbee with three teams, teams for which he never played, Pittsfield in 1922, Albany, and Birmingham. Then again, newspaper reports are not always reliable. Arthur Daley quotes Lisenbee himself in a September 13, 1948, New York Times column as saying he clearly remembered a time in 1926 when he was pitching for Cleveland against Babe Ruth. Hod hadn't even made the majors in 1926, and there is no indication that he was ever affiliated with Cleveland in any capacity.
Fortunately, Lisenbee pitched better than he hit, though after his first two full seasons, journeyman is probably the best word to use. In 1925, after pitching for Southwestern Presbyterian, Hod joined the Tupelo, Mississippi, Wolves, where he was 10-5 in 145 innings of work (Tri-State League, Class D). After winning his last six games, he was invited to join the Memphis Chicks of the Southern Association and joined them late in the season. He appeared in only a couple of games and was 1-1. In 1926, he had his best year, 17-9 for the Chicks, with a 2.48 earned-run average, until his season was cut short by a broken collarbone suffered in a collision while covering the bag at first base during a game in Birmingham on August 6, the same week he was signed by Washington Senators scout Joe Engel for spring delivery. [Washington Post, August 15, 1926. Lisenbee had apparently tried out for the Pirates, who liked him, but it was Engel who snuck in and closed the deal. See the February 21, 1927, Post.] Senators owner Clark Griffith had reportedly paid $24,000 in cash for his contract, the highest-priced of all the minor leaguers purchased by the Senators. [Washington Post, October 1, 1926]
Lisenbee immediately proved he could bring it in the major leagues, too. Manager Bucky Harris was pleased with his new man, and even in mid-February at Tampa declared him ready for the major leagues. He had a number of rough outings as he fought to regain his control after the previous summer's accident, but the fastball was there and the talent seemed to be as well. No less than fellow Senator Walter Johnson called him one of their team's best signings ever.
In 1927 the 5-foot-11, 170-pound right-hander was pitching in the nation's capital. He won his first decision, at Yankee Stadium on April 25, throwing the final three innings of a 5-4 win over Waite Hoyt, allowing three hits without a walk. Lisenbee's debut had come two days earlier, at Fenway Park, when he walked the first batter but then threw two hitless innings of middle relief against the Red Sox. His third game (and first start) was a shutout against the Red Sox at Griffith Stadium and it was only in his fifth game (riding a 3-0 record) that he gave up his first earned run. That was also the game when Lisenbee got his first base hit, a single. By the end of his first season, he'd come out of seemingly nowhere to become the ace of the staff, 18-9 with a 3.57 ERA (second on the Senators to Bump Hadley) – beating the reigning American League champion Yankees five times. By midseason, some were even talking about him as Walter Johnson's successor. A front-page photograph in the July 21 issue of The Sporting News, for instance, wrote that Lisenbee "looks like a great star of the future, if not already one. He is billed as Walter Johnson's successor, for the Big Train is no longer running on schedule." Lizzy's four shutouts led the American League. He gave up six homers, the last one being No. 58 of that magic season hit by Babe Ruth. Lisenbee also struck out Ruth on three pitches on another occasion.
On January 28, 1928, Lisenbee married Carrie Bell West of Paris, Tennessee, a student nurse at a Clarksville hospital. He was battered around in spring training, and lost for a while due to injury, but started the season strongly. In his second and third games, though, he gave up a total of three home runs to Mr. Ruth and found himself 1-2, then 1-5 a month later. He just didn't have it; on July 8, with his record 2-6 (and a poor 6.08 ERA), he was optioned to Minneapolis. On his departure, Frank H. Young of the Washington Post wrote, "What affected him between seasons never will be known, but the fact remains that Lisenbee apparently lost most of his stuff and his control, which previously had been his fort (sic)." Even with his fastball and curve working well, he kept finding himself in hot water. [Washington Post, July 9, 1928] He was recalled to the Senators on September 12, but never appeared in a game. With the Millers, he'd been 8-6 (4.64 ERA). In December, the Red Sox decided to give him a try, and traded Buddy Myer back to Washington on the 15th, getting five ballplayers in return: Milt Gaston, Bobby Reeves, Grant Gillis, Elliot Bigelow, and Lisenbee, the key acquisition for Red Sox owner Bob Quinn along with pitcher Milt Gaston, who could now join his brother Alex as batterymates. Washington manager Walter Johnson commented that only Reeves and Lisenbee really had much of a chance of being retained by the ballclub, saying of Lisenbee, "He looked like a great pitcher in 1927, but fell down badly last year. He may come back." [Washington Post, December 16, 1928] The paper's Frank H. Young underscored that two days later, saying that negative reaction among fans was really based on little more than a hunch that Lisenbee could come back: "He flopped badly last season, and will be a gamble next."
Doctors could find nothing wrong with Hod's arm, but he continued to complain of soreness through spring training of 1929. There may have been some sense of psychosomatic pain; the prescription was to pitch through it. [Washington Post, April 13 and 19, 1929] He appeared in only five games for Red Sox manager Bill Carrigan, from July 17 through August 3, with 8 2/3 innings of work, touched for five earned runs. He was sent to Pittsfield in the Eastern league, where he appeared in two games, going 1-1, before being brought back to Boston on September 4. Brought back, but to see no action. It was a dud of a year.
In 1930 and 1931, Lisenbee got in pretty full seasons for the Red Sox. Whatever weak arm he had had in 1929 healed up enough that the Red Sox let him throw the first 12 innings of a 15-inning Patriots Day game for his first start of the season. Boston beat the Yankees in both ends of an April 19 doubleheader, giving new manager Heinie Wagner a bit of hope. But it was a hot-and-cold season for Hod, who appeared in 37 games, with 31 starts, and threw 237 1/3 innings. There were seven games in which he surrendered six or more earned runs. There were 15 times he allowed two or fewer. At season's end, his ERA was 4.40 and he had won 10 games and lost 17. His 10 wins were third highest on the team, as were the 17 defeats (Boston had two 20-game losers in Milt Gaston and Jack Russell). Lisenbee's ERA was a bit better than the overall team's 4.68. His last appearance of the season was against the Yankees on Sunday, September 28, at Braves Field, where the Sox had to play since they were (until 1932) prohibited from playing at Fenway park on Sunday. It was the last game of the season, and the starting pitcher for New York was Babe Ruth, taking the mound for the first time since October 1, 1921. Ruth went nine, and won the game 9-3. Lisenbee (the last starter for the cellar-dwelling Red Sox to not wear a number on his jersey) bore the loss; Ruth was 2-for-5, both singles.
In 1931, Lisenbee got less work. Used more as a reliever (17 starts in 41 games), he finished 5-12 (5.19 ERA) in 164 2/3 innings. Shano Collins was the Red Sox skipper, and he thought he had some good pitchers and a real chance to climb out of last place for almost the first time in a decade. Quickly, though, he found he had reasons for concern from the get-go once the Red Sox dropped three consecutive spring-training games to Indianapolis of the American Association, 8-3, 4-1, and (with Lisenbee pitching) 11-6. The Red Sox wore numbers on their uniforms for the first time and Lizzy wore No. 24. His first start was in the season's third game, April 16, at Yankee Stadium, and he pitched a gem: After one first-inning run, he held the Yanks scoreless until the bottom of the ninth when his own wild throw to home plate failed to cut down Tony Lazzeri, who scored the tie-breaking run on Bill Dickey's roller back to the mound.
Lisenbee started the 1932 season with the Red Sox and lasted through most of June; his mop-up work in the first game on June 27 was his last before he was sent out to Buffalo. He was 0-4 with a 5.65 ERA. He wasn't getting the job done. His first start for the Bisons was on July 3, when he struck out 10 but gave up a double, a triple, and two home runs, losing to Montreal, 7-2. In International League play, he was 6-6 (5.93) for Buffalo.
Three teams – the Bisons, the Birmingham Barons, and the Jersey City Skeeters – all had Hod pitching for them in 1933. He had losing records with all three (3-10) combined, with a 4.22 earned-run average. Buffalo had him in 1934 and 1935 (8-9 and 9-8), with higher ERAs in both years. In 1936, his record shows him with Buffalo and with St. Paul, just seven games each with a combined 0-1 record … but on July 21 he was released by the Nashville Vols. And nine days later, he was back in the major leagues with the Philadelphia Athletics, retiring the two batters he faced to finish the game on the 30th. He kept busy enough through August and September but wound up with a truly disappointing 1-7 record and a 6.20 earned-run average. On September 11, he gave up an astonishing 26 hits to the White Sox in a game at Chicago, and was allowed to play the full game, losing 17-2 (and probably glad the White Sox didn't need to bat in the bottom of the ninth); 14 of the runs were earned, sufficient to bump his ERA from 4.91 up to 6.03. He was unconditionally released on December 15. At 37, he'd been granted another shot at the major leagues but missed the mark. Strangely enough, nine years later he was back in the major leagues once more.
Montreal hired Lisenbee for 1937 and he was back in the International League (8-6, 4.93 ERA), then spent 1938 with the Royals, with Rochester, and with Indianapolis (4-8 combined). In 1939, he was 0-5 for Indianapolis. In 1940, at the age of 41, he won three and lost five for Shreveport, and was made a free agent once more when given his release after the season. In 1941 he rebounded again, suddenly getting a lot of work (244 innings worth) and posting a 14-10 (3.43) record for the Portsmouth Cubs in the Class B Piedmont League. He'd applied to manage Portsmouth, but was given more of a player/coach position with the team.
Lisenbee retired back to his farm for 1942 and 1943, raising crops for the United States Army, but was lured out or retirement by the Syracuse Chiefs of the International League, who asked him to join them for March 1944 spring training in Bedford, Indiana. On August 8, he enjoyed something that had eluded him in 20 years of pitching, and more than 400 appearances: a no-hitter. Only one man reached first base, on a second-inning throwing error by a fill-in player at second base, as Lisenbee beat Montreal 8-0 in the seven-inning first game of a doubleheader. He finished the year 15-15, having led the league in starts (32) and innings (248).
In 1945, Bill McKechnie, the manager of the Cincinnati Reds, invited the 46-year-old player to spring training. It was wartime. A number of unusually old, and young, players were brought onto major-league rosters. On the Reds team, training in Bloomington, Indiana, Lisenbee joined a pitching staff that included Guy Bush (age 43, born in August 1901) and 16-year-old Joe Nuxhall, born July 30, 1928. By the time Nuxhall had been born, Hod already had his big year with the Senators in the rear-view mirror. It had been thought that Lisenbee was 42 at the time, but during spring training he corrected his age. He laid the blame for the discrepancy in ages on others, saying that when Memphis sold his contract to the Senators back in 1926, someone cut a couple of years off his age. [The Sporting News, March 29, 1945] Not only was Lisenbee much more than twice as old as Nuxhall, he was very close to three times as old. "I never felt better in my life," he told McKechnie. AP Newsfeatures sports editor Chip Royal said the veteran ballplayer was "a former Sunday school teacher who never drank or smoked." [1945 clipping in Lisenbee's player file at the Baseball Hall of Fame] Royal quoted him: "I never worry about a batter. I'm too old to start now. My weight has never changed since the day I first pitched for Washington back in 1927. I guess that was my best year." He declared he'd never had too much trouble with Ruth and Gehrig; it was Earle Combs who gave him fits.
Lisenbee got into 31 games in 1945, and pitched 80 1/3 innings. He won a final major-league game – on Opening Day – as he came on in relief and saw the Reds beat the Pirates in the bottom of the 11th inning. It was Lisenbee's last major-league victory, going with three defeats. His earned run average was 5.49 and he was finally finished with a major-league career that saw him 37-58 (4.81 ERA).
But he wasn't finished playing baseball, and for three years (1947-49) he pitched for the Clarksville Colts in the Kitty League. It wasn't just that he pitched. He was also the manager, and even owned part of the team. In the May 19, 1948, game against the Fulton team, Lisenbee struck out six and drove in the tying and deciding runs with a fifth-inning double. [The Sporting News, June 2, 1948] In June 1948, Lisenbee assumed complete control of the Clarksville team and was reportedly trying to form a working agreement with the New York Giants. [The Sporting News, June 30, 1948] At the age of 50, in 1949, he pitched 13 games without ever walking one batter. He lost money on the team, though, and gave it up.
After the 1949 season, Lisenbee retired and returned to farming on his 800-acre farm in Clarksville, where he'd started buying up land in 1928. Though he never smoked, tobacco was one of the crops he raised, as was corn. He became a successful breeder of polled Hereford cattle. He died on November 14, 1987, in Clarksville after a lengthy illness. He was 89.
Lisenbee was remembered in town, and 10 years after his passing a school gymnasium in town was named after him. The next year, Hod Lisenbee Memorial Boulevard was dedicated. He and Carrie, who survived him, raised two daughters, Carolyn and Shirley. Carolyn's husband, Charles Bryant, wrote about his father-in-law in a book, Ramblings of a Tennessee Boy. "Mr. Horace, as I called him, was to me the personification of everything that a man should be. He was a Christian and a loyal member of Liberty Cumberland Presbyterian Church, a devoted husband to his wife, Carrie, and father to his two daughters … and was a man in every sense of the word."
Bryant added an appreciation of the raising that had given Lisenbee the strength to play as long as he had. "I think about a young man who, after working in the tobacco fields for a 12-hour day, would then run from his home to New Providence and back with only the moon and the stars to illuminate his path. This built a stamina that carried over into his later years, for when I was in my twenties and he was in his fifties, I had a rough time keeping up with this older man while we were bird hunting." [Clarksville Leaf-Chronicle, August 13, 1998]
Sources
In addition to the sources indicated within the text, the author also consulted the online SABR Encyclopedia, Retrosheet.org, and Baseball-Reference.com.
Born
September 23, 1898 at Clarksville, TN (USA)
Died
November 14, 1987 at Clarksville, TN (USA)
If you can help us improve this player's biography, contact us.
http://bioproj.sabr.org/bp_ftp/images4/LisenbeeHod.jpg
600
800
admin
/wp-content/uploads/2020/02/sabr_logo.png
admin
2012-01-04 20:41:48
2012-01-04 20:41:48
Hod Lisenbee