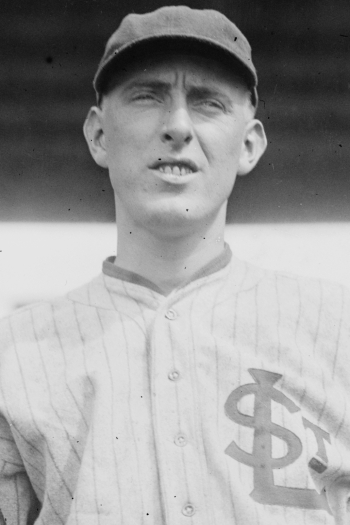 ---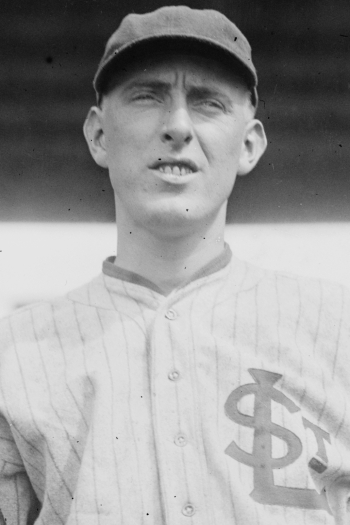 Hugh Miller was a quiet man with a penchant for strife. His life was a constant seesaw ride—minor-league phenom, big-league flop, decorated war hero, hobbled veteran. His lows were lengthy and commonplace, his highs brief and extraordinary.
Miller, born in St. Louis on December 22, 1886, was the second of four sons of John and Elizabeth Miller, Scottish immigrants who reared their family in the Cote Brilliante (Shining Hill) neighborhood of St. Louis. John Miller was a carpenter and builder. Young Hugh learned to play baseball on the sandlots around nearby Christian Brothers College, then in the Trolley League, a topnotch semipro circuit. Two of his pals made it to the big leagues: Dee Walsh with the St. Louis Browns and Lefty High with the Detroit Tigers and New York Yankees.
Hughie was over 6-feet-1, weighed 175 pounds, and had black hair and a hunter's gray eyes. His regular job was bookkeeping in a soap factory, but on local diamonds he was a rangy first sacker. Miller signed in 1908 with Springfield in the Illinois-Indiana-Iowa (Three-Eye) League but never played there. Instead, he spent three seasons at Keokuk, Iowa, in the Central Association, where he excelled in the field and on the basepaths, although he was weak at the plate.
First baseman Miller won notice even in opposing parks. He played "spectacular ball" at Waterloo, Iowa, a local newspaper noted, "pulling down a number of bad throws with one hand and covering his position in elegant style." When Philadelphia picked him up late in 1910, Sporting Life reported that Miller was a "natural born ball player and one of the greatest fielding first basemen the minors have produced in a long time."
Miller competed with Fred Luderus the following spring to break into the Phillies' lineup. "For a while it was nip and tuck, but Miller was a light hitter, and [Luderus] found himself covering first base for a big league team," Baseball Magazine later wrote. According to St. Louis sportswriter J.B. Sheridan, however, Miller "did not get along with Charley Dooin, who was then managing that club, and there was some trouble. . . . He never could get away from the Phillies and never could get along with Dooin."
The rookie got into just one game, in Chicago on June 18, 1911, pinch-running for the Phillies' catcher in the ninth inning of a road loss. Like Archibald "Moonlight" Graham of the New York Giants six years earlier, Miller didn't bat and never again played in the National League. He toiled in the minors at Buffalo, Sacramento, and Montreal during 2½ seasons after Philadelphia. The formation of the Federal League in 1914 offered a fresh start. Miller signed with the hometown St. Louis Terriers.
Sportswriter Hugh S. Fullerton saw in Miller "a corking man who can hit in slashing solid fashion." The first baseman started the year fast, but soon slumped with the rest of the team. The Terriers finished last in the eight-team league, Miller hitting just .222. The season's highlight was probably a bizarre June contest with Brooklyn. The visiting Tip-Tops scored seven runs in the top of the 12th inning, only to see St. Louis storm back. "Hugh Miller was sent up to bat as pinch hitter and he came through with a ripping single that sent over the eighth and winning tally of the game," Sporting Life reported.
Fielder Jones, who had replaced Mordecai Brown as the Terriers' manager late in the season, cleaned house the following spring. This included the team's notoriously weak infield. "Years of squabbles with his managers and absences from the game handicapped Miller, and he failed as a player even in the Federal League," Sheridan, the St. Louis sports scribe, wrote later. While "a very good ballplayer," the first baseman had a weakness "for late hours and good times that seriously interfered with his success at his chosen profession."
Miller was sent down to the new independent Colonial League, called by Sporting Life "the dumping-off place for the Feds' excess baggage." He performed well there with Taunton and Springfield (the former team folding during the season). "The fine hitting of outfielder Hugh Miller, of the Springfield Colonials, this season, has assured his recall for active duty to the St. Louis Feds," Sporting Life reported. In fact, he hit .500 in seven late-season appearances with the big club, including a game-winning double in another 12-inning game with Brooklyn.
The much-improved Terriers lost the breathless 1915 pennant race to the Chicago Whales by one percentage point. When the Federal League then folded after two seasons, Miller became the property of the St. Louis Browns. The American League club tried unsuccessfully to send him to Spokane for 1916, then to Memphis. Miller didn't report and abandoned baseball.
He had been "a very quiet player," Sheridan wrote. "Indeed, it was held against him that he always kept his head down, never said a word and while he played good ball, he also played 'dead' ball. His friends are wont to hold that Miller would have been a very successful player had he shown any 'life.'"
The first baseman had been out of the game for a year when America entered the World War in April 1917. In June enlisted in the United States Marine Corps. If "not a shining light" (Sheridan's phrase) as a ballplayer, he became an excellent Marine. Private Miller acknowledged that military discipline was good for him. "Had I kept in the condition when I played ball that I am in now," he wrote from the corps, "I could have been a better man than [Hal] Chase."
Miller shipped out with the newly formed 6th Marines that fall. In France the regiment was assigned to the 4th Brigade (Marines), 2nd US Division, which was largely composed of Army troops. The 4th Brigade entered the trenches in March 1918, and moved with the rest of the division to the Château-Thierry region two months later to block an enemy thrust toward Paris.
"What made us fight harder than anything else at Château-Thierry probably was the sight of the refugees we passed going in," Miller said. "There was a continuous stream of them for miles, old men and women and children, and the most woebegone objects of humanity you ever saw."
The Doughboys helped stop the Germans, then counterattacked on June 6 at Belleau Wood. Miller had been hospitalized with a high fever, but defied doctors' orders and rejoined his company. The vicious battle entered Marine Corps lore. ("Come on, you sons of bitches! Do you want to live forever?" bellowed Gunnery Sergeant Dan Daly, twice a Medal of Honor recipient.) Coming under heavy machine-gun fire, Miller's platoon might justifiably have fallen back to regroup. "Cut that stuff about retiring," Miller barked. "I am too weak and too tired to do all this work over again. Come on. Let's go."
"He dashed for the machine-gun positions," Sheridan wrote. "His company went after him. The men who were with him say that he performed prodigies of valor, tore right into a machine-gun crew, bayoneted two Huns and took two more prisoner, made them carry their gear and march back to the rear."
Miller was awarded the Distinguished Service Cross for his "extraordinary heroism" at Belleau Wood. The citation read in part: "Private Miller captured two of the enemy single-handed. Although ordered to the rear twice because of illness, he returned to his command voluntarily and continued to fight with it vigorously throughout the advance." (Miller later received an equivalent medal, the Navy Cross, which was authorized specifically for sailors and Marines in 1919.)
General John J. "Black Jack" Pershing shook Miller's hand after presenting the Distinguished Service Cross on July 12, 1918. "It was the greatest moment of my life," the ballplayer wrote. "I shall never forget it." The Marine now received all the attention—in the news and sports columns alike—that had eluded him as an athlete. "HAIL HUGH MILLER, HERO WITH MARINES," trumpeted The Sporting News.
Miller returned to the hospital after Belleau Wood, recovered, and went back to his company, only to be wounded on July 18. "I was hit by a machine-gun bullet, which entered my shoulder, and was laid up in the base hospital almost a month," he wrote to a friend in St. Louis. Again, he recovered and returned to his company. Ten days later, on September 12, he was wounded again. "A Boche airplane which was flying high, almost out of sight to the naked eye, dropped a bomb down on us and it exploded near to where I was," Miller wrote. "Part of the steel struck me in the leg below the hip and tore the flesh away and broke the bone."
Doctors managed to save the leg, but Miller was still hospitalized when the Armistice came on November 11, 1918. "I am very thankful that I am alive, for the shell exploded right behind me, wounding others severely, including my officer whom I assisted back to safety," he wrote home.
Miller returned to the United States in January 1919. "The poor chap won't be able to play baseball any more," said Army Lieutenant Colonel T. L. "Cap" Huston, part owner of the Yankees, who had sailed to New York on the same troop transport. Newspapers reported that Huston was "going to urge his colleagues in the big show to take steps toward caring for ballplayers who were disabled in the war. He believes the club owners would provide employment for all such players and mentioned Hugh Miller." The noble scheme didn't materialize.
Published reports on Miller's condition ranged from "cripple for life" to "a slight limp." The truth lay in between. The Marine received an honorable discharge in May 1919 and returned to his parents' home in St. Louis. "Miller brought home decorations, medals, and citations, but refuses to talk about his honors and his wounds. He shed his uniform the first day home," several newspapers reported. A Missouri paper added that Miller "wanted to get back in civilian clothes so that he could put his foot on the bar and order as he pleased, but his friends say it was just modesty and that he did not want to be 'heroed' over."
As The Sporting News noted a quarter-century later, the old first baseman was nonetheless a hero. With his Distinguished Service Cross, a medal from the French, and a citation for gallantry in action, Miller "received more decorations in World War I than any other soldier from the ranks of Organized Baseball."
Miller worked for a while as a newspaper sports reporter in St. Louis, but that winter planned an active return to baseball—as an umpire. "Having absorbed a flock of bullets and a mess of shrapnel and other German impedimenta, Hughie thinks he could handle anything the fans might have to offer," sports columnist L.C. Davis wrote in the St. Louis Post-Dispatch. Miller landed a job with the Texas League in the spring of 1920.
His bad leg didn't hold up, and Miller was gone before summer. Remarkably, he then managed to re-enlist as a Marine. Promoted to sergeant, he was a recruiter in downtown St. Louis. Eventually, his wound again brought him low. The Marine Corps honorably discharged him a second time in January 1922, for a disability "originating in line of duty."
Miller largely slipped from public notice after brief speculation in the newspapers that he might run for alderman. In 1927, he married Margaret Icenhower, a beauty-salon operator with two young children. Three years later, at the age of 43 and with limited mobility, Miller listed his occupation as "Ball-Player." He belatedly received the Purple Heart medal in 1932 for the wounds suffered in France.
After Prohibition ended, the ex-infielder operated a tavern in St. Louis. He was briefly joined in this trade in 1936 by another old ballplayer affected by the World War—Grover Cleveland Alexander, a former Army artilleryman who should have avoided any bar. "'Old Pete' has become a partner of Hughie Miller, his old first baseman pal when both were with the Philadelphia Nationals," a Missouri newspaper noted, "and spent his first day in the business yesterday in a 'back room' listening to the Yankee-Giant broadcast."
Little more was heard from Hughie Miller. He worked as a salesman during the middle of the following war-torn decade. Miller then fractured his hip in November 1945 and entered a veterans hospital, his health further compromised by heart disease. He died on Christmas Eve 1945, two days after his 59th birthday. The athlete The Sporting News had once called "about the greatest living hero in the [first] war that baseball has produced" was buried in Jefferson Barracks National Cemetery in St. Louis. A veteran's simple white stone marks his grave.
August 14, 2011
Sources
Cowing, Kemper F., and Courtney Riley Cooper, "Dear Folks at Home—": The Glorious History of the United States Marines in France. Boston: Houghton-Mifflin, 1919
Jones, William K., A Brief History of the Sixth Marines. Washington, D.C.: History and Museums Division, US Marine Corps, 1987
Steinberg, Steve, Baseball in St. Louis: 1900-1925. Charleston, South Carolina: Arcadia Publishing, 2004
Baseball Magazine
Jefferson City (Missouri) Post-Tribune
Military Times
Moberly (Missouri) Democrat
New York Times
Oakland Tribune
Ogden (Utah) Standard
Recruiters' Bulletin
St. Louis Post-Dispatch
San Francisco Call
Sporting Life
The Sporting News
Washington Times
Waterloo (Iowa) Times-Tribune
Ancestry.com
Baseball-reference.com
Hugh Miller player file, National Baseball Hall of Fame Library
Missouri State Archives, Soldiers' Records: War of 1812 – World War I
Born
December 22, 1886 at St. Louis, MO (USA)
Died
December 24, 1945 at Jefferson Barracks, MO (USA)
If you can help us improve this player's biography, contact us.
http://bioproj.sabr.org/bp_ftp/images5/MillerHughie.jpg
600
800
admin
/wp-content/uploads/2020/02/sabr_logo.png
admin
2012-01-04 20:45:49
2022-05-30 17:51:41
Hughie Miller