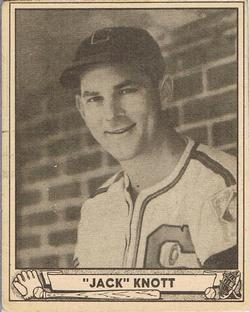 ---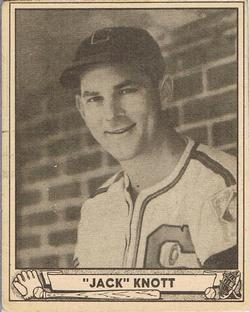 After a rough rookie season with the lowly St. Louis Browns in 1933, Jack Knott emerged as a rubber-armed swingman-reliever. He appeared in more games over a four-year stretch (1934-1937) than any other AL hurler, and later transitioned into a once-a-week-type starter for the Chicago White Sox and Philadelphia Athletics. Like those of many players of his generation, Knott's baseball career was interrupted by World War II. As an infantryman he experienced fierce combat in the final stages of the war in Europe, earning a Purple Heart and Bronze Star. Knott had a brief comeback in 1946 after a three-year absence from the big leagues, and retired with an 82-103 slate in parts of 11 seasons.
John Henry Knott was born on March 2, 1907, in Dallas, which was then a rapidly expanding boom town of about 75,000 residents. His parents were John Henry Knott, a prominent contractor and builder, and Myrtle (Harris) Knott, a homemaker; he also had an older brother, Everett, and a younger sister, Ruth. The Knott family lived on the fast-growing east side of city, where young Jack attended local public school and then Forest Avenue High School. By all accounts, Jack was an excellent athlete, always big for his age, and played both football and baseball. A powerful switch-hitter, Knott began playing semipro baseball by the time he was 16, in 1923.1 Over the course of the next few summers, his coaches discovered that he was even more valuable as a heat-throwing right-hander on the mound, and gradually the teenager was converted to a pitcher. Upon graduation from high school, Knott attended Southern Methodist University, while continuing to play amateur and semipro ball in the summers.
Knott's professional baseball career got off to a rousing start in 1926. Signed by Dallas of the Class A Texas League and longtime player-manager Snipe Conley,2 the 19-year-old hurler was optioned to the Corsicana Oilers in the Class D Texas Association in late June.3 Less than two months later, the recruit dazzled competition, tossing a no-hitter on August 13 against the Terrell Terrors, wining 1-0, on a ninth-inning home run with two outs.
For the next six years, Knott chased his dream of big-league baseball, toiling in the minors with only fleeting success. A 5-11 slate with Corsicana in 1927 resulted in his release the following spring.4 After posting a 13-8 mark with the Palestine Pals of the class D Lone Star League in 1928, he was sold to the (San Francisco) Mission Reds of the Pacific Coast League and missed almost all of the 1929 campaign with a sore arm.5 Following a dismal season with the Missions in 1930 (7-11, 5.46) and a brief option to Chattanooga in the Southern Association, Knott was released again, in the spring of 1931.6 With his career at a crossroads, the 24-year-old caught a break when the Milwaukee Brewers sign him on scout Willis Butler's recommendation.7 After a sturdy reckoning (11-9) in his maiden season in the American Association, Knott began his seventh year in Organized Baseball on a roll. He won 10 of his first 11 decisions in 1932 before a broken finger on his right hand sidelined him for three weeks. He limped to a 17-12 slate but logged a career-best 238 innings, earning a ticket to "The Show" when the St. Louis Browns acted on scout Ray Cahill's glowing report and purchased him.8
After a successful decade of the 1920s, with five winning seasons, the Browns were coming off three losing campaigns and morphing into the laughing stock of the league, and in perpetual financial straits. If anything, the Browns, who burned through three skippers in 1933, needed pitching. Standing 6-feet-2 and weighing 210 pounds, Knott was a big man for the era, whose control (averaging about 2.5 walks per nine innings with Milwaukee) and confidence boded well. Nonetheless, Knott was a long shot to make the staff until he fashioned a streak of 18 scoreless innings in spring training to secure a spot in the rotation.9 Taking the mound against the Chicago White Sox in the season's opening series, on April 13, Knott hurled seven innings, scattering 11 hits, but was undone by a porous defense that resulted in three of four runs being unearned, and escaped with a no-decision. Bombed in his next two starts, Knott was shunted to the bullpen, and subsequently missed two months for what St. Louis newspapers described as an illness. Wins were few and far between for the cellar-dwelling Brownies (55-96) and Knott (1-8, 5.01 ERA in 82⅔ innings).
Over the next four seasons, Knott emerged as a rubber-armed reliever and swingman and pitched in an AL-most 178 games, including 74 starts, for moribund Browns teams. Knott began that stretch by relieving in 11 games in May and gaining the trust of Rogers Hornsby, in his first full season as Browns skipper. The big Texan won his first game as a starter on July 17, tossing seven innings, yielding four runs against the Philadelphia A's at Sportsman's Park and garnering national attention by surrendering three consecutive home runs. It was just the fourth time in major-league history, and first since 1922, that the feat had been accomplished.10 While the baseball world was mesmerized by the Gateway City's other baseball team (and, incidentally, the Browns' tenant), as the Gas House Gang Cardinals captured the pennant and World Series in 1934, Knott quietly produced a strong season (10-3, 4.96 ERA in 138 innings) and was the only winning pitcher for a sixth-place club (67-85).
Expectations were raised for Knott in 1935, though few St. Louisans saw him pitch as the Great Depression tightened its viselike grip on the nation. The seventh-place Browns' average attendance at Sportsman's Park was just 1,065 per game, marking the eighth of 18 consecutive seasons the team finished last in attendance. Almost doubling his starts (19 among his career-high 48 appearances), Knott twirled his first two shutouts, blanking the White Sox on each occasion. Knott "stole the show" and "curved ciphers around the Sox sluggers," gushed the St. Louis Star and Times about his stellar two-hitter on June 5 in St. Louis.11 While the Browns produced the worst team ERA in the majors (5.26), Knott's importance transcended his statistics. "Jack was a much better pitcher than [his] record would indicate," said team VP L.C. McEvoy about the hurler (11-8, 4.60 ERA in 187⅔ innings), noting, "[H]e saved many of the contests that were credited to other pitchers." McEvoy also added, "I am in favor of a new column in the statistics about pitchers," and he suggested "games saved."12 The save became an official statistic in 1969; Knott was retroactively rewarded with a league-best seven saves in '35.
After spending the offseason building playgrounds in his hometowns of Brownwood as part of projects financed by the federal Public Works Administration (PWA) to combat the Depression, Knott added a new pitch to his repertoire as the '36 campaign got underway.13 He called it a "sailer," which he learned from Ted Lyons on a barnstorming tour in Mexico the previous October. "I hold the ball loosely with the first and second fingers spread apart," he explained about a pitch which seems like an early cut fastball or slider. "I throw it at about three-quarters speed and it breaks close to the batter. … It looks like it's going over, until it's close to the plate; then it sails."14 It doesn't appear that the pitch helped Knott much as he "took some terrific pastings," opined the Star and Times, and produced one of the worst seasons for a pitcher in major-league history.15 Knott (9-17, 192⅔ innings) led the big leagues in several dubious categories, including highest ERA (7.29), runs (174), earned runs (156), and WHIP (1.894); and yielded the most hits per nine innings in the AL (12.71). In a game that perhaps best captures in microcosm his season, Knott went the distance and was "highly erratic" (noted the Star and Times in all seriousness),16 surrendering 12 hits and 11 earned runs, walking seven, committing one balk, and hitting a batter in a 13-11 victory against the lowly A's on September 2 in front of a "few hundred" spectators at Shibe Park in Philadelphia.17 A lifetime .120 batter on 58 hits, Knott impersonated the "Rajah" in this game, collecting two hits, scoring twice, and driving in two runs. (For his career he had 23 RBIs.)
Thanks to Connie Mack's A's, the Browns escaped the cellar in 1936, but even Philadelphia's 97 losses the following season couldn't save the Browns from landing in last place in 1937. While the Brownies set a new team record with 108 losses, only to be eclipsed by 111 in 1939, Knott provided some semblance of stability on a staff with the majors' highest ERA (6.00).
Coming off an 8-18 slate and 4.89 ERA in 191⅓ innings, Knott staged a holdout in 1938 when the Browns cut his salary by 25 percent to $6,000.18 St. Louis sportswriter John E. Wray noted that Knott "occasionally pitches brilliantly," and lamented how teams determined salaries in an almost sabermetric-like gripe: "Unfortunately for ballplayers club owners base salaries on past performance rather than on future promise."19 Knott finally reported to spring training in San Antonio several days late, angering new manager Gabby Street, the former Cardinals pilot who promised a more disciplined team. After making just seven appearances in the first two months of the season, Knott was shipped to the White Sox on June 11 for pitcher Bill Cox.
White Sox skipper Jimmy Dykes installed Knott in the starting rotation, where he was reunited with Sunday Teddy Lyons. Knott went the distance, but lost his first start for the South Siders, then took his frustrations out against his former teams in successive starts, yielding just 10 combined hits and two runs in complete-game victories in five days. "Who in the world would suspect," quipped St. Louis sportswriter Vernon Tietjen, "[that Knott] would come back to dust off his former teammates?"20 Knott might have been a 20-game winner if he hurled against only the Browns and A's, but he didn't, and lost eight consecutive starts in August and early September before winning his last two of the campaign against the aforementioned also-rans.
Under the guidance of Jimmy Dykes, affectionately known as the professor and one of the great handlers of pitchers, Knott had two almost identical seasons in 1939 and 1940, winning 11 games each campaign, fashioning six-game winning streaks, and hurling about 150 innings. Dykes's approach to conditioning his pitchers clashed with the norms of the times, as sportswriter Irving Vaughan in the Chicago Tribune explained, "His preference is one pitcher for every three innings [in spring training], an idea that is not subscribed to by many managers who fret themselves into a cold sweat unless they can uncover one or more nine inning workers."21 Knott worked himself into condition slowly in camp, battling arm fatigue and soreness. Though he was no "Sunday Teddy," Knott pitched about once a week, making 23 starts each season and relieving twice. He finally picked up his first win for the Chisox in his seventh appearance, tossing a three-hitter to whip the A's, 12-1, at Comiskey Park, on June 5. In his next outing, 10 days later, his hurled a two-hitter with "uncanny skill" (noted Vaughan) to beat the Senators at Griffith Stadium in the nation's capital.22 Dykes's six-man rotation (Thornton Lee, Johnny Rigney, Eddie Smith, Bill Dietrich, Lyons, and Knott, each of whom started between 19 and 29 games) overcame a low-scoring offense to lead the club to a fourth-place finish (85-69), marking the first time Knott played on a winning team in his big-league career.
The offseason was a contentious one for the White Sox, but not due to the players. Team owner J. Louis Comiskey, the son of the club's founder Charles Comiskey, had died on July 18, 1939, setting off a legal battle among heirs and the First National Bank of Chicago. During spring training, a judge awarded ownership of the team to Grace Comiskey, J. Louis's wife. Ignoring the financial squabbles among millionaires and tied to a shoestring baseball budget, Dykes once again relied on the same sextet of starters and a pair of relievers to record another fourth-place (82-72), first-division finish in 1940. And once again, Knott was in the mix of things. Detroit sportswriter Charles P. Ward quipped poetically that "when [Knott] is good, he is very, very good and when he is bad, he is ousy-lay."23 Ward was probably still smarting that Knott stole the show on the 37th birthday celebration of Tigers icon and future Hall of Famer Charlie Gehringer at Briggs Stadium in the Motor City on May 11. Knott handcuffed the eventual pennant-winners by hurling the first of his two two-hit shutouts in 1940.
Knott was shipped to Connie Mack's A's on December 16 in exchange for versatile infielder Dario Lodigiani. Coming off their fourth last-place finish in six seasons with the major leagues' highest team ERA (5.22), the Mackmen were in perpetual need of pitching. It was unclear what a 34-year-old, once-a-week hurler could provide. Beginning with a complete-game seven-hitter to beat the White Sox, 9-3, in the Windy City on June 5, Knott began an unlikely stretch, winning eight of 10 decisions and completing six of 11 starts, culminating with his third victory of the campaign over his former Pale Hose teammates in a distance-going affair on July 31. That win at Shibe Park kept the upstart A's (47-49) in fourth place, marking the first time since 1933 that they had been in the first division so late in the season, at the tail end of Mack's second dynasty. The feel-good feeling dissipated, as the A's won only 17 more games the rest of the season to occupy the cellar again. A big reason for the club's swoon, according to Philadelphia sportswriter Stan Baumgartner, was the knee injury Knott suffered on September 6 in a collision with Buddy Lewis of the Washington Senators, forcing him to miss the rest of the season.24 Knott set personal bests in numerous categories including wins (13), innings (194⅓), starts (26), and complete games (11).
Knott's 1942 campaign was as disappointing as his '41 season was surprising. After struggling through spring training, the 35-year-old Texan was bombed for eight earned runs and 10 hits in just 4⅓ innings in his first start of the season and never got on track. By the end of June he was 2-8 with an ERA north of 5.00, was shuffled to the bullpen and made only six more appearances the rest of the season.
With his career in the crossroads, Knott enlisted in the US Army on November 24 and was stationed at Camp Wolter, in Mineral Springs, Texas, the largest infantry training center in the country. In his award-winning website, Baseball in Wartime, researcher Gary Bedingfield offered a detailed account of Knott's career as a soldier in World War II.25 Assigned to the 104th "Timberwolf" Division at Camp Carson in Colorado, Knott was shipped to Europe, landing in France in September 1944. He was involved in a number of important battles, including the Battle of Scheldt in northern Belgium and the fierce, deadly Battle of the Hürtgen Forest on the Belgian-German border, the longest battle on German soil and the longest single battle the US Army fought. In January 1945 he received a battlefield commission and was promoted to second lieutenant. Several days later he was wounded in the Battle of the Bulge, the final major offensive by the Germans, as the US Army marched into the Rhine Valley. Knott remained with the 104th through Germany's surrender on May 7. He returned to the United States in late June and was discharged on November 19 at Ford Ord, in Monterey County, California. He was the recipient of a Purple Heart for injuries suffered on the battlefield and a Bronze Star for heroic achievement in a combat zone.
At the age of 39, Knott returned to the A's in spring training in 1946, having played little baseball since he hurled for a base team at Camp Adair in Corvallis, Oregon, in the summer of 1944. According to the Philadelphia Inquirer, he battled through arm and then leg injuries, but broke camp with the team. On May 6 at Shibe Park in the City of Brotherly Love, Knott made an emotional return to the mound for the first time in more than 3½ years, tossing a scoreless inning of relief and yielding a hit against the Tigers. He made two more appearances and was given his unconditional release in mid-May.26 After three brief appearances with the Jersey City Giants of the International League, he called it a career.
In parts of 11 seasons in the majors, Knott compiled an 82-103 record, started 192 of his 325 games, and posted a 4.97 ERA in 1,557 innings.
Knott, a lifelong Texan, returned to his home in Brownwood with his wife, Alice (née Marshall), a local whom he had married on October 15, 1927, when he was 20 years old. Knott hung up his spikes, but remained close to baseball and sports. For two years (1947-1948), he served as an area scout for the Cincinnati Reds, and beginning in 1948 scouted for the Dallas Eagles of the Double-A Texas League. He was the first manager of the Brownwood Coliseum, a 4,000-seat multipurpose arena built in 1963, and served as an officer in a number of organizations, such as the Downtown Brownwood Merchants Association, the local Lions Club (president), and the local VFW post (commander).27
Knott died on October 13, 1981, in Brownwood at the age of 74. He was buried at Greenleaf cemetery.
Acknowledgments
This biography was reviewed by Len Levin and fact-checked by Alan Cohen.
Sources
In addition to the sources noted in this biography, the author also accessed Knott's player file and player questionnaire from the National Baseball Hall of Fame, the Encyclopedia of Minor League Baseball, Retrosheet.org, Baseball-Reference.com, the SABR Minor Leagues Database, accessed online at Baseball-Reference.com, The Sporting News archive via Paper of Record, SABR.org, the archives of the Chicago Tribune, St. Louis Post-Dispatch, St. Louis Star and Times, and the Philadelphia Inquirer; and Ancestry.com.
Notes
1 Knott reported on his Hall of Fame questionnaire that he was a switch-hitter, and played semipro/amateur baseball from 1923 to 1926.
2 "Training Camp Notes," Waxahachie (Texas) Daily Light, March 14, 1927: 6.
3 "Knott Reported to Oilers Friday P.M.," Corsicana (Texas) Daily Sun, June 24, 1927: 2.
4 "Jack Knott Given Release by Dallas," Corsicana (Texas) Daily Sun, May 7, 1928: 8.
5 Associated Press, "Palestine Lets Texarkana Down by 10 to 8 Score," Waco News Tribune, August 26, 1928: 11.
6 Associated Press, "Hurlers Given Their Release," Reno Gazette-Journal, April 15, 1931: 9.
7 J. Roy Stockton, "Extra Innings," St. Louis Post-Dispatch, February 1, 1933: 18.
8 Ibid.
9 Associated Press, "Baseball Briefs," Moberly (Missouri) Monitor-Index, April 5, 1933: 2.
10 The A's Bob Johnson, Jimmy Foxx, and Pinky Higgins hit the home runs against Knott. James M. Gould, "Athletics Hit Three Homers Off Knott on Four Pitched Balls," St. Louis Post-Dispatch, July 18, 1934: 14.
11 "Brownies Going to Cleveland for a 3-Game Series," St. Louis Star and Times, June 6, 1935: 20.
12 J.R. Stockton, "Pitcher Knott Sign Browns' 1936 Contract," St. Louis Post-Dispatch, January 26, 1936: 15.
13 "Knott of Browns Keeps in Condition Through PWA," St. Louis Post-Dispatch, January 31, 1936: 20.
14 "Wray's Column/Knott Has 'Sailer,'" St. Louis Post-Dispatch, March 13, 1936: 24.
15 "Russ Van Atta and Jack Knott Filled 'Iron-Man' Roles in '36," St. Louis Star and Times, December 16, 1936: 25.
16 "Hornsbymen Move Into 7th Place as Knott Gains Victory," St. Louis Star and Times, September 2, 1936: 18.
17 "James M. Gould, "Browns Win, 13-11, Solters, Clift and Bell Hit Home Runs," St. Louis Post-Dispatch, September 2, 1936: 15.
18 George Kirksey (United Press), "Lou Gehrig Rejects Yanks' Offer of $36,000, Demands $41,400," St. Louis Star and Times, February 8, 1937: 17.
19 "Wray's Column," St. Louis Post-Dispatch, February 2, 1928: 15.
20 Vernon Tietjen, "Knott Traded by Browns, Defeats Old Mates, 11 to 1," St. Louis Star and Times, July 1, 1938: 16.
21 Irving Vaughan, "Dykes Uses Day Off to Ponder Pitching Plan," Chicago Tribune, March 28, 1939: 19.
22 Irving Vaughan, "Knott Defeats Senators, 5-1; Yields 2 Hits," Chicago Tribune, June 16, 1939: 27.
23 Charles P. Ward, "Knott Blanks Tigers With Pair of Blows," Detroit Free Press, May 12, 1940: 55.
24 Stan Baumgartner, "A's and Washington Divide Double Bill," Philadelphia Inquirer, September 7, 1941: 39.
25 All of the information about Knott's military career come from Gary Bedingfield's invaluable website Baseball in Wartime, baseballinwartime.com/
26 "Knott Released," Philadelphia Inquirer, May 18, 1946: 12.
27 "Ex-Major Leaguer From B'Wood Dies" and "Jack H. Knott, 74," unattributed obituaries from player's Hall of Fame file.
Born
March 2, 1907 at Dallas, TX (USA)
Died
October 13, 1981 at Brownwood, TX (USA)
If you can help us improve this player's biography, contact us.
https://sabr.org/sites/default/files/KnottJack.jpg
600
800
admin
/wp-content/uploads/2020/02/sabr_logo.png
admin
2018-05-10 13:30:04
2020-04-09 14:40:20
Jack Knott