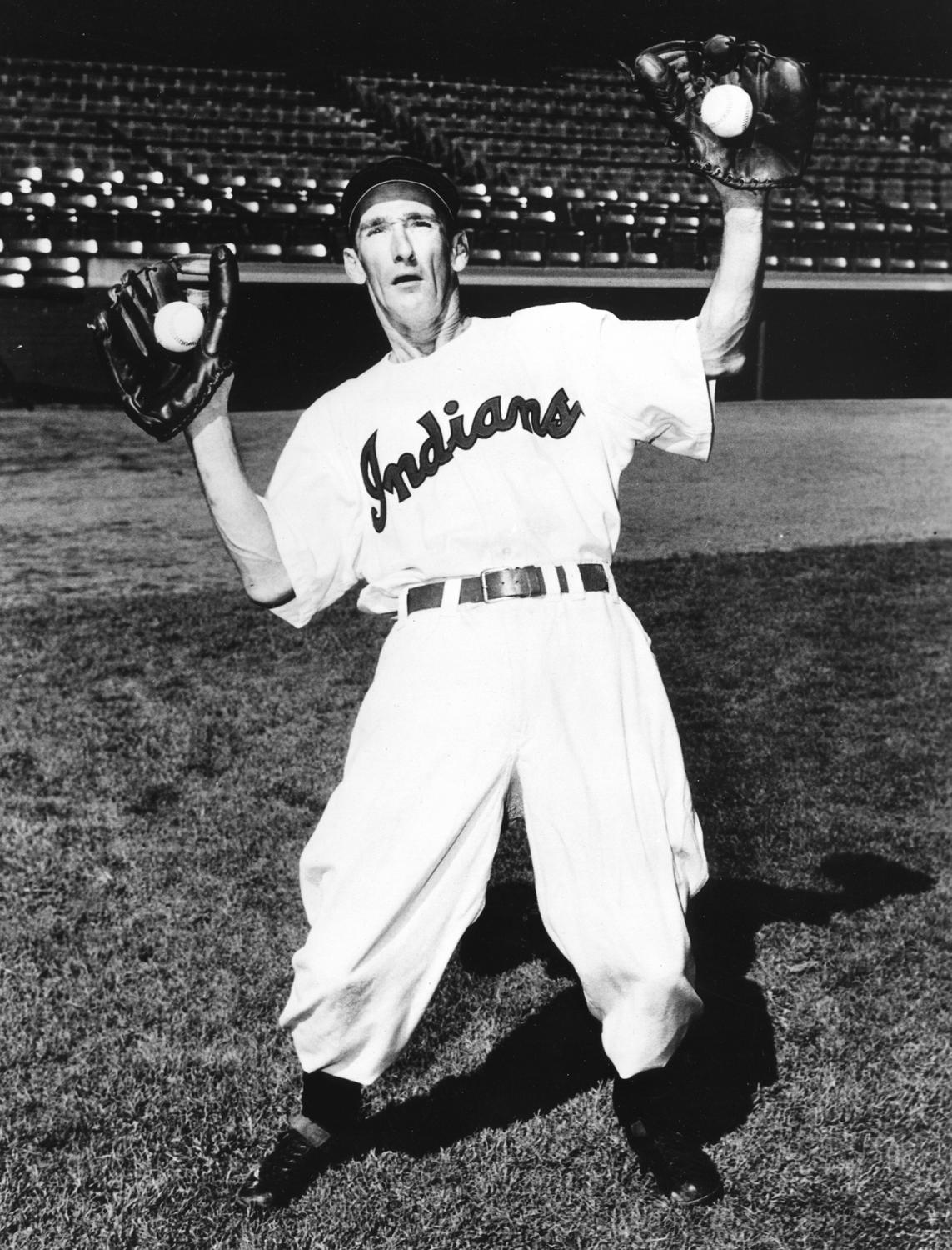 ---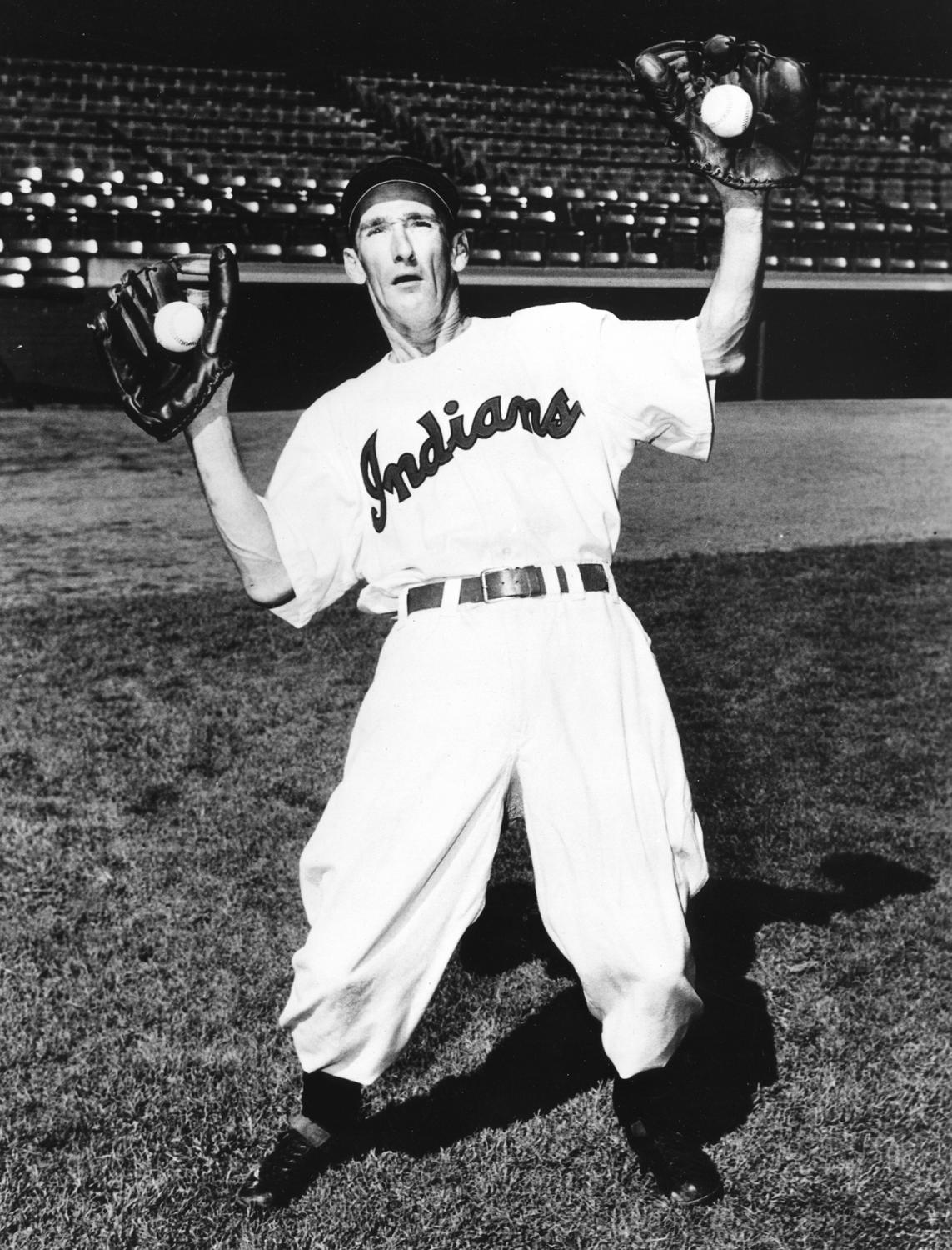 If somebody claimed that a person could simultaneously throw three baseballs with one hand accurately to three different catchers, or, with one hand could throw two balls, one a curve and one a fastball, accurately to two catchers, it would sound too weird to be believed.
How about a claim that a person, suspended upside down by his ankles or standing on his head, could hit fast pitches, batting right-handed or left-handed? Sounds crazy, doesn't it?
But if the person being described was Jackie Price, all that — and more — would be true. In the post-war 1940s through the 1950s, a Price pre-game performance was a major attraction at minor-league ballparks and many major-league stadiums, all across America.
The annals of baseball make note of a few well-known entertainers, such as Nick Altrock, Al Schacht, and Max Patkin, Price's partner for two seasons in Cleveland. Yet Price is largely forgotten.
Although often compared with those comedians, Price relied on a jaw-dropping assortment of skills. He was a professional ballplayer who toiled for most of a decade in the minors before appearing in seven games with the Indians late in the 1946 season. By then, he was already known for his baseball acrobatics, which is why Bill Veeck, then the new owner of the Indians, brought him to Cleveland.
Even though Veeck said Price "played good enough shortstop to win the pennant for me at Milwaukee," the flamboyant team owner was in awe of what Price could do to entertain fans. "I can hardly believe my eyes when I watch that fellow perform," Veeck said after he acquired Price from Oakland in the Pacific Coast League. "He simply can do things with a ball, a bat and a glove that nobody else in the world can do."1
That was hardly an exaggeration. As Tris Speaker, who occasionally accompanied Price on public appearances on behalf of the Indians, said, "If I hadn't seen these things, I wouldn't believe them. And I'm still not sure that I do."2
John Thomas Reid Price, who went by Jackie during most of his performing career, was born in the northern Mississippi town of Winborn, south of Memphis, on November 13, 1912. His parents were Walter M. and Ruth (Reid) Price, both of whom were born in Alabama.3 His mother was 14 and his father 19 when they wed. They had five children, a daughter two years older than Jackie and three daughters younger, all born in Mississippi between 1910 and 1921.
Walter Price was a farmer, raising cotton, vegetables and livestock, when his son was born. Johnny, as he was known then, worked on the farm as a child. The father was a Ku Klux Klan member and frequently was abusive to his son, who did not share his father's gruff personality.4 Walter eventually moved the family to Memphis, where he worked as a carpenter for the local transit company until he retired, while retaining ownership of his farm.5
Price, who batted left-handed and grew to 5-foot-10 and 150 pounds, pitched and played the infield for Messick High School in Memphis. However, his father's abuse became so intolerable that Johnny quit school before his senior year and for a time became a hobo, hopping freight trains and playing with semi-pro teams across the South.6
Johnny began practicing tricks with ball and bat during those years, but became serious about becoming a baseball performer after watching Joe E. Brown in a 1933 film version of "Elmer the Great."7
"Joe had a trick way of somersaulting the bat on the ground and making it jump back into his hand," Price told Ed McAuley for The Sporting News in 1946, while demonstrating how to do it. "That gave me the idea. Then I saw Al Schacht and was surer than ever that folks liked some sideline entertainment with their baseball."8
Price was a good enough shortstop playing ball the normal way for the Cardinals to sign him and send him to Union City (TN) in the Class D Kentucky-Illinois-Tennessee (Kitty) League for the 1935 season. In 70 games and 306 at-bats, the 22-year-old hit .255. After starting the season at Union City, he spent most of 1936 at Asheville (NC) in the Class B Piedmont League where he hit .266 in 56 games. Despite the improvement, he found himself back in Class D in 1937 with Daytona Beach in the Florida State League. There, he hit .268 in 74 games.
During 1937, Price married Lavera Follis, an 18-year-old from Tennessee, who gave birth that year to a daughter, Patricia.9 With the country deep in the Great Depression and Price in the low minors, he stopped playing professionally to find a job that paid enough to support a family.
"I starved for three years under Branch Rickey in the Cards system," Price recalled in 1949. After giving up the game, but not his acrobatic tricks, he took a job in a grocery store and later as a truck driver for Gordon's Transport in Centralia, Illinois, and then for a transport company in Memphis.10 Price played ball for local semi-pro teams when his work schedule allowed.
By 1942, with the age for conscription expanded as the war raged, Price, now 29, was drafted into the U.S. Army. Sent to Camp Santa Anita in California to train for the ordnance corps, he was able to persuade his superiors that his tricks with bat and ball could entertain troops.11 It's not clear whether a hip injury was related to his performances, but it earned him a medical discharge in 1944.12
Price and his first wife divorced that year, supposedly over his unwillingness to give up his baseball stunts.13
Once his hip injury healed, and given the player shortage because of the war, Price was re-signed by the Cardinals and sent to Columbus, Ohio, in the American Association during the 1944 season. Price signed two contracts, one as a player and one as a stunt performer.14 At age 31 and not having played professionally since 1937, he hit .269. He split 1945 between Columbus and the unaffiliated Milwaukee team, owned by Veeck, and hit a career-best .293. There, Veeck had a first-hand look at Price's ability to perform, as the shortstop already had made a name for himself. His act involved catching balls in his uniform and throwing balls accurately with his back turned or lying on the ground, batting while standing on his head or suspended by his ankles from an overhead bar, and catching fly balls while driving a jeep across the outfield.
Although he developed a following in 1946 with his pre-game program in Pacific Coast League parks, Price was playing sporadically and hitting .171 for manager Casey Stengel at Oakland. Veeck, as the Indians' new owner, offered to buy the player. "I sold him to Bill Veeck for $10,000," Stengel told Bob Addie in 1958. Casey lamented what he said was Price's inability to lay down a bunt in a game, even though Price's act included bunting with the knob of a bat.15
According to Veeck, he outbid the Yankees' Larry MacPhail for Price. "He won't hit much but is the greatest baseball entertainer in the country," Veeck said.16 Price, 33, joined the Indians' active roster on August 12.
Veeck had tried to persuade Jack Zeller, the Tigers' general manager, and officials of the Cubs to acquire the services of Price to perform during the 1945 World Series. Veeck offered to pay Price's expenses to travel to Detroit and said he'd pay Zeller $5,000 if the Tigers didn't think Price was sensational. But both teams turned Veeck down.
"Right then, I said to myself that Price would entertain at a World Series someday if it was the last thing I arranged," Veeck said.17 It turned out to be a promise he would keep.
Price unveiled his act in Cleveland on August 13 before 65,765 fans at a game honoring the Indians' longtime team trainer. Still known in the newspapers as Johnny, he was an immediate sensation.18
On August 18 against the White Sox in Cleveland, Price made his major league debut as a player. Pinch hitting for catcher Jim Hegan in the ninth inning, he laid down a sacrifice bunt against Earl Caldwell of the White Sox. Stengel would have appreciated Price's bunt.
By the time the Indians arrived in New York on August 28 to play the Yankees, Schacht, the longtime "Clown Prince of Baseball," had to see what the fuss was about. "He's worth whatever they pay him," Schacht said after watching Price perform.19
"Nineteen finger joints I've broken; nineteen fractures and 14 years of hard work. That's the secret of what you call my success," Price told reporters about his spreading renown.20
In a letter to The Sporting News in 1965, Wes Cunningham, a former minor league teammate, told of the toll that performing took on Price. "Jackie and I were … roomies at Columbus … in '44 and '45 …. We were together again at Oakland in '46," Cunningham wrote. "At nights in our room, he was always thinking of ways to improve his show. I have seen his body black and blue and seen him so tired after a show and game that he would shower and go to bed without drying off."
With the Yankees leading, 8-1, on August 29, player-manager Lou Boudreau took himself out and put Price in as shortstop. This was Price's first inning in the field. His first big league hit, a pinch single, came on September 15 against right-hander Bill McCahan of the Athletics in Cleveland.
Price started three games in a row at shortstop on September 18 and 19 against Washington and September 20 against Detroit, He had two more singles and scored a run. Those games, all at home, were his final appearances in the majors. He ended up hitting .231 with 3 hits in 13 official at-bats. He never struck out.
Veeck was criticized for adding Price to his team as a player. But in the context of hundreds of other players who had a so-called cup of coffee in the big leagues — whether he belonged there purely on ability or not — Price certainly didn't embarrass himself.
The Indians released Price as a player on September 30, but kept him under contract as a performer. In February 1947, an eight-and-a-half minute MGM film titled Diamond Demon, showing Price performing many of his tricks, was released in movie theaters, vastly increasing his fame. (Turner Classic Movies often shows the film at the start of baseball seasons, and it's on YouTube.21)
Price was with the Indians for spring training in 1947 until a widely reported incident led Boudreau to banish him from the team. On the train carrying the Indians between Los Angeles and San Diego on March 23, Price was egged on by teammates to show them one or more of the snakes he owned. They wanted them used to scare members of a female bowling team that earlier had been whistling at the players.
Indeed, Price once had owned 21 non-venomous bull snakes, most of which he captured in the Mohave Desert while he was in the Army. He had used them in his act as recently as 1945 in Milwaukee, but not since. Price admitted he had two snakes in his luggage in the baggage car, planning to take them to the San Diego Zoo. Finally, he agreed to retrieve one of the snakes, which he claimed he had tamed, and walked through the passenger cars with the snake inside his shirt. The sight of the snake had the desired alarming effect on the bowling team.
An enraged conductor came looking for the person with the snake. He grabbed Price, who told the conductor to unhand him because the man who owned the snake was named Boudreau. When the railroad detectives confronted the Indians manager, who was playing cards, and told him about the snake, it was the end of the line for Price's days as part of the team.
After being kicked off the train, Price was summoned to a meeting with Veeck, who gave him a stern warning: No more snakes. But Veeck knew how valuable Price was to the Indians. Price's tour of major and minor league parks continued without interruption through 1947, during which he logged 125,000 miles making 173 appearances.
Aside from the snakes and the perilous feats during his performances, Price provided other reasons to prove his eccentricity. Once he began to make money, he became a flamboyant dresser. In 1947 it was reported that "at last count, he had 35 outfits, mostly sports coats and jackets and 122 shirts, not a single one white and most very gaudy."22 Earning more than most active players, Price bought a lavender Cadillac convertible, which served as his home-away-from-home, carrying his many props. It reportedly was equipped with a toilet.23 Price would buy a new Cadillac every couple of years during the 1950s.24
When the 1947 season ended, Price joined a group of players led by Bob Feller on a barnstorming tour. Price was the opening act. For a similar tour with major league stars in 1950, the ads billed Price as "America's Greatest Entertainer."25
The next season was a momentous one for the Indians. Veeck's team led the league in attendance, drawing 2.62 million fans. One of the biggest crowds – 73,494 – was on hand on August 8 to watch Price's act between games of a doubleheader with the Yankees.26 Cleveland won a three-way fight for the pennant and beat the surprising Boston Braves in the World Series. Keeping his promise, Veeck had Price perform before Game One in Boston.
In March 1948, Price married the former Martha Abraham of Athens, Ohio, a woman 16 years his junior. In the fall, she accompanied him to Venezuela, where he had signed as a player and performer.27
In 1950, Price incorporated into his act an air-powered "bazooka" he would use to shoot baseballs 600 feet in the air so he could catch them while riding in his jeep. Or he would blast the balls completely out of the stadiums in which he performed.28 Today, at almost every professional game anywhere, a mascot of some kind will use such a device to shoot T-shirts or wrapped hamburgers into the stands as the crowd screams in delight. Thank Price for providing the inspiration.
That season, Price performed at 132 ballparks in 48 states. Repetition and constant practice must have paid off. "It's the first year he hasn't suffered any broken bones," a Binghamton, N.Y., paper reported.29
His act clearly was a big hit, drawing large crowds at minor league parks – and boosting attendance at some big league venues. After he performed before a Washington Senators game on July 22, 1950, before a crowd of 24,228, "Price … bowed out to the loudest fan-salute ever given a pre-game act in Griffith Stadium."30 The stadium's capacity that season was just 25,000.31
That fall, Price accompanied a group of major leaguers on an exhibition tour of Japan before traveling to Korea during the Korean War to entertain the troops. At one point, not far from enemy-held territory, he set up his air-gun and shot baseballs over toward the Communist sentries. "We could see them land behind the Red Lines," he told a reporter. "They studied the balls for a long time. Guess they thought they were mines or booby traps." Price had written on each of them, "Bring this ball to Cleveland Stadium. Good for two admissions."32
The popular TV show You Asked for It, based on requests from viewers, broadcast a segment in 1951 showing Price's act. The segment was repeated several times at least through 1954.33
In 1952, Price grossed $34,000 — the equivalent of more than $317,000 in 2019 — during the season, traveling over 54,000 miles.34
At first, his wife Martha accompanied Price as they drove from venue to venue, earning between $150 and $500 a night, depending on the size of the ballpark. The couple had a daughter, Cynthia, in March 1949.
Although Price's father had sold off parts of the family farm over the years, Jackie took over ownership of what was left when his father died. Jackie and his family began living on the farm.35 His wife and daughter usually stayed there while Price toured. Jackie and his wife had a second daughter, Marsha, in July 1951. Martha Price died in 2001.
As many minor leagues folded in the 1950s, the demand for Price's services gradually declined. "The places to show are getting fewer and farther between," he said in 1959. "Everywhere I go, the minor league people tell me they're worrying how long they can survive."36
In addition, Price's tricks and hours of practice were more physically demanding than the training regimens of active players. He had turned 40 years old before the 1953 season. His physical skills declined with age.
By the early 1960s, Price could no longer earn enough to justify the preparation and days of long drives to distant minor league parks. Approaching age 50, he took a job at J&J Bar in San Francisco, where he and his wife had moved, and faded from public consciousness.
"He was a gentle soul who would give you the shirt off his back," his daughter Marsha said of her father. "He was so generous, he gave away a lot of his money. He loved baseball so much and became depressed when he couldn't play anymore."
In the 1960s, Marsha was married to Greg Errico, the drummer for Sly and the Family Stone, whose members later were inducted into the Rock & Roll Hall of Fame. Errico's success and fame had the effect of increasing her father's depression, Marsha said, knowing that Price's own fame had faded.37
His one-time partner, Max Patkin, even wrote to The Sporting News in 1962, wondering what had become of Price. Although a subsequent letter from Hall of Fame historian Lee Allen in the next issue noted that Price lived in San Francisco, Patkin apparently never reconnected with him. Years later, recalling Price, Patkin told a writer erroneously that Price had died in 1962.
No longer able to find work doing what he alone could do, Price became increasingly despondent and began drinking heavily. In recent years, much attention has been given to the long-term effects of head injuries to professional athletes. Over the years practicing his act, Price admittedly was hit in the head many times by fly balls he was trying to catch in his uniform.
"Every time I misjudged [one]," he told author Al Stump in 1952, "the ball drove my head down an inch into my neck. Time after time I left the park with a bloody scalp, so punchy I was swinging at shadows."38 Given what is known today, Price by the 1960s could have been suffering from chronic traumatic encephalopathy (CTE) or the long-term effects of concussions.
Whatever the cause, on October 2, 1967, Price took his own life by hanging himself at the home he shared with his wife in San Francisco. An autopsy revealed that Price's blood alcohol level was .28, more than three times the legal limit for driving.39 His body was cremated and his remains interred at Golden Gate Cemetery in San Bruno, California.
His death went unnoted in the San Francisco newspapers. "Isn't it a shame that baseball bypasses really great performers like Jackie?" former teammate Cunningham wrote in his 1965 letter to The Sporting News.
Jackie Price clearly had a unique talent. Baseball almost certainly will never see another like him.
Acknowledgments
This biography was reviewed by Warren Corbett and Norman Macht, and verified for accuracy by the BioProject fact-checking team.
Sources
BaseballReference.com
Retrosheet.org
The author gratefully acknowledges the help of Price's granddaughter Lisa Heersink, and his daughter Marsha Fecteau with this essay.
Notes
1 Ed McAuley, "Indian Stands on Head to Entertain Fans," The Sporting News, August 14, 1946: 13.
2 Stump, Al J., "Jackie Price: Crazy at the Bat," from Champions against Odds (Macrae-Smith Company, Philadelphia, 1952): 84.
3 Jackie Price's death certificate, which is in his Hall of Fame research center's clip file.
4 Telephone conversation with Marsha Fecteau, Price's daughter, July 22, 2019.
5 Conversation with Marsha Fecteau and 1930 U.S. Census, accessed through familysearch.org.
6 Conversation with Marsha Fecteau.
7 Ed McAuley, "Veeck Presents Varieties on Hilarious Road Trip," The Sporting News, September 11, 1946: 5.
8 Ibid.
9 1940 U.S. Census, accessed through familysearch.org, and conversation with Marsha Facteau, July 22, 2019.
10 Bill Niepoetter, "Niep's Notes" column, Centralia (Illinois) Evening Sentinel, October 26, 1967: 4, and 1940 U.S. Census.
11 McAuley, "Veeck Presents….
12 Neal Russo, "Price Goes High in His Stunt Role; Jackie Pays on $20,000 Income," The Sporting News, February 2, 1949: 11.
13 Stump, Champions against Odds, 87. Later in his career, Stump's accuracy was called into question in regard to his writings about Ty Cobb. Many of the biographical facts presented in Stump's chapter about Price are contradicted by other sources, so I have limited my reliance on Stump, who died in 1995.
14 Matt Rothenberg, "#Shortstops: The Amazing Jackie Price," https://baseballhall.org/discover/short-stops/amazing-jackie-price, accessed July 16, 2019.
15 Bob Addie, "Bob Addie's Atoms," The Sporting News, September 10, 1958: 13.
16 Associated Press, "Bill Veeck Adds Another Act to Cleveland Baseball Circus," Boston Globe, August 2, 1946: 4.
17 McAuley, "Indian Stands…"
18 Howard Preston, "65,765 Doff Chapeau to Tepee Trainer Weisman," The Sporting News, August 21, 1946: 13.
19 Al Schacht, "Clown Prince Investigates His Heir Apparent," The Sporting News, September 11, 1946: 5.
20 Ed McAuley, "Veeck Presentes Varieties on Hilarious Road Tour," The Sporting News, September 11, 1946: 5.
21 Diamond Demon video link: https://www.youtube.com/watch?v=_Jflun5CyIc
22 Herman Goldstein, "No More Snakes, Price Promises," Cleveland News, April 5, 1947, page unknown, from Price's Hall of Fame clip file.
23 Hal Lebovitz, "Price to Polish Acrobatics While Indians Are Drilling," The Sporting News, February 2, 1952: 19.
24 Conversation with Marsha Fecteau.
25 Dan Daniel, "Bush Bucks Lure Major Barnstormers," The Sporting News, September 13, 1950: 1.
26 "Whooping Crowd Whooping It Up for Flag-Chasing Indians," The Sporting News, August 18, 1948: 11.
27 "Bridegroom Jackie Price Off to Tour, Minus Snakes," The Sporting News, May 12, 1948: 20, and conversation with Marsha Facteau, July 22, 2019.
28 "Jackie Price's Howitzer Ball Scares Mongrel From Pups," Rochester Democrat and Chronicle, September 11, 1950: 35.
29 Ibid.
30 "Price Wows Fans At Stadium With Baseball Act," Washington Post, July 23, 1950: C3.
31 Lowry, Philip, J., Green Cathedrals (New York: Walker and Company, 2007): 236.
32 Lebovitz.
33 TV listings in newspapers across the country, accessed through ProQuest and NewspaperArchive.com.
34 Oscar Ruhl, "From the Ruhl Book" column, The Sporting News, October 15, 1952: 26.
35 Conversation with Marsha Fecteau.
36 Vince Guerrieri, "Jackie Price, Baseball's Sad Clown," https://didthetribewinlastnight.com/blog/2014/04/15/Jackie-price-baseballs-sad-clown/, accessed on July 15, 2019.
37 Conversation with Marsha Fecteau.
38 Stump, Champions against Odds, 87.
39 Price's death certificate.
Born
November 13, 1912 at Winborn, MS (USA)
Died
October 2, 1967 at San Francisco, CA (USA)
If you can help us improve this player's biography, contact us.
https://sabr.org/sites/default/files/PriceJackie.jpg
600
800
admin
/wp-content/uploads/2020/02/sabr_logo.png
admin
2019-08-20 01:58:15
2022-01-31 13:37:36
Jackie Price