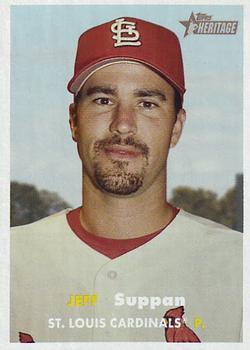 ---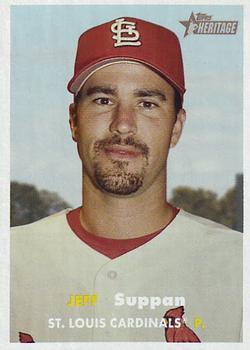 During the first seven seasons of the 2000s, no team in the National League won more games or enjoyed more success than the St. Louis Cardinals. Guided by Hall of Fame manager Tony La Russa, the Cardinals won 658 games, five division titles, and one World Series. During the 2004-2006 seasons, La Russa handed the ball in some of the team's biggest games to a determined, cunning pitcher, Jeff Suppan, who delivered some of the more memorable performances of that remarkable run.
The youngest of five children of Larry and Kathleen Suppan, Jeff was born on January 2, 1975, in Oklahoma City, Oklahoma. Larry Suppan was an air-traffic controller. His career had taken him from the nation's capital to Oklahoma, and by the time Jeff was six months old, the Suppans, their four boys, and their daughter were headed west to Southern California. "I was the only one of us who basically got to grow up in one place," Jeff Suppan said with a chuckle.1 For Larry Suppan, the move began a 20-year stint in the control tower at Los Angeles International Airport.
The Suppans settled in the suburban community of West Hills, 35 miles northwest of Los Angeles in the burgeoning San Fernando Valley. Jeff became immersed in a variety of sports, but whether he joined others from the neighborhood in soccer, flag football, or basketball, it was baseball that captured most of his attention. He began playing the game as a 6-year-old in a T-ball league at Shadow Ranch Recreation Center. When Jeff was 10, his father arranged for him to receive pitching lessons from a Kansas City Royals minor-league pitcher, Guy Hansen. "I used the curveball he taught me my entire career," Suppan recalled. For the next six years, Hansen and the Suppans would get together once a year for a refresher session. The area was a youth-baseball hotbed that included future major leaguers Randy Wolf, Ryan McGuire, and Brad Fullmer.2
When Suppan was 13 his development expanded. His sister, Karen, had become involved in college athletics and shared what she learned. "She talked to me about mental preparation, about focus and concentration. Because of her, I read The Mental Game of Baseball," Jeff Suppan said. In 1987 Karen Suppan was a member of the Cal State Northridge volleyball team that won the NCAA Division II National Championship.
In the fall of 1989 Suppan enrolled at Crespi Carmelite High School in Encino. The school's baseball program had been made a Southern California power by its legendary coach, Scott Muckey. As a freshman, Suppan made the varsity. Muckey stressed throwing strikes and getting ahead in the count. "Pitchers had to have a two-to-one strikes-to-balls ratio in practice, or you didn't pitch in games," Suppan said. The young pitcher not only thrived, he rose above others in the region. The summer after his junior season placed a stamp of excellence on his reputation. The teen, who was as one scout described "a bit out of shape," had lost weight. In American Legion ball, Suppan, now in better physical condition, amassed an 8-1 record, an 0.93 earned-run average, and struck out 120 batters in 69 innings pitched.3 At every game that Suppan pitched, his mother, Kathleen, was in the bleachers behind home plate keeping score. "It was a way to calm her nerves," the pitcher said.
Throughout the American Legion season, scouts and college recruiters began to come around. Most were impressed. "Puts the ball where he wants. Moves the ball around, changes speeds well," wrote Bob Bishop of the Kansas City Royals, who rated Suppan highly.4 During the November signing period in 1992, Suppan inked a letter of intent to attend UCLA. "I feel Jeff is a high school pitcher who I could hand the ball to, and he could pitch against anybody we play right now and win," UCLA's coach, Gary Adams, told the Los Angeles Times.5 The 17-year-old's choice of school closed an intense recruiting battle between the Bruins and their arch-rivals, USC.
Perhaps the most ardent of Suppan's followers was the legendary San Francisco Giants evaluator George Genovese. Genovese had Suppan rated high on his draft list. In March of 1993, just weeks into the high-school season, he asked the Giants director of scouting, Bob Hartsfield, to travel south to get a firsthand look at Suppan.
Crespi was to play Long Beach Millikan in the El Segundo Tournament. The day before the game a blood drive was held at Crespi High School. The organizer pressed Suppan to donate. "I can't. I'm pitching tomorrow," he said. The woman continued her persuasive efforts, finally telling the teenager that his body would replenish the blood in 24 hours. On her word, Suppan rolled up his sleeve and donated. That evening, when he informed his father what he had done, Larry Suppan became alarmed. "He ran out and bought a steak for me for dinner," Jeff recalled. The next afternoon with Genovese and Hartsfield in the stands, a weakened Suppan struggled on the mound. "I was terrible. I had nothing," Suppan said. Crespi lost, 3-1. "It was my only loss of my senior year."
In the stands, Hartsfield was so unimpressed that he burst into an expletive-filled tirade directed at Genovese.6 After just two innings he shouted, "Take me back to the airport!"7 Hartsfield insisted to Genovese that the Giants would not consider Jeff Suppan. The scout phoned Joe Stephenson, the Boston Red Sox area scout. "Joe lived 40 miles away in Anaheim and rarely traveled north to the San Fernando Valley. I thought he probably didn't know about Suppan but would like him once he saw him," Genovese said.8
Suppan bounced back from the defeat to throw a two-hitter and strike out 14 in a win over St. Paul and then followed it with a no-hitter and a 6-0 win over Harvard-Westlake. After throwing a three-hitter at Chaminade High, Suppan had compiled four consecutive shutouts, two shy of the area record held by Scott McGregor.9 The pitcher had also amassed a string of 39 consecutive scoreless innings. Both streaks ended in Suppan's next start. By the time he concluded his senior season, Suppan had pitched Crespi to the semifinals of the area playoffs. He tallied 11 wins against just one defeat, sported an earned-run average of 0.92 and had struck out 127 batters in 91 innings.10 He also batted .480 with 11 home runs. Suppan was named Mission League Player of the Year, San Fernando Valley Player of the Year, and Southern Section CIF Division I Player of the Year.11
When the first day of the major-league amateur draft arrived on June 3, 1993, Suppan did not know what to expect. "I was naïve to what was going on," he said. That evening he received a call from Joe Stephenson telling him Boston had selected Suppan in the draft's second round. He was the 49th overall pick and the first player chosen that year from Southern California.12 "It's awesome, unbelievable. I don't know what else to say," Suppan told the Los Angeles Times.13 For more than three weeks the Suppans and Red Sox negotiated before agreeing on a deal. The signing bonus was reported to be worth $240,000. "It's a substantial amount," Stephenson told the Los Angeles Times. "[The Suppans] are happy and I am happy."14
After taking a senior trip to Cancun, Mexico, then pitching in an area all-star game, Suppan signed and then began his professional career in Fort Myers, Florida, with the Red Sox farm club in the Rookie Gulf Coast League. The cross-country move and professional baseball lifestyle brought sharp change to a previously structured routine. "I was homesick for probably two years," the pitcher said. It was at Fort Myers that Suppan was introduced to a coach whose teaching and advocacy would put him on a fast track to the big leagues. "Al Nipper was an incredible developer. That's when I started learning." Nipper urged Suppan to keep a journal, and the young pitcher was soon filling pages with notes, scouting reports on opposing hitters, reminders about things he had done well as well as poorly, diagrams of arm angles and pitching mechanics, and advice about professional comportment, focus, and concentration. "Nip spoke a lot about the mental part of the game," Suppan said.
Suppan finished the short season campaign with a 4-3 won-lost record, an earned-run average of 2.18, and 64 strikeouts in 57⅔ innings pitched. The following spring, he was assigned to Sarasota of the Class-A Florida State League. Suppan lost his first five decisions and surrendered eight home runs. Nipper suggested he add a new pitch to his arsenal. He called the pitch the "fosh," a mixture of split-finger fastball and changeup. The repertoire addition helped Suppan go on a tear. He won 11 of his next 12 starts and ended the season with a 13-7 record.15 "He's already learned what some pitchers in Triple A haven't, and that's to control the hitter's bat speed by changing speeds," Nipper explained.16 The results got the attention of the Red Sox front office.
Suppan's results and Nipper's advocacy saw the young prospect begin the 1995 season with the Red Sox' Double-A team in Trenton, New Jersey. As Suppan shone for Trenton, starting pitching became a problem in Boston. The two hurlers that the Red Sox counted on the most couldn't be counted on. Roger Clemens had an earned-run average of 5.30 and a fast ball that was being clocked at 86 miles an hour. Aaron Sele was on the disabled list with shoulder tendinitis. Ideas for help were weighed. Trades and call-ups were debated. In mid-July it was decided that Jeff Suppan would be summoned. In only his second full season of professional baseball, Jeff Suppan was in the major leagues. He was the youngest pitcher in the majors. On July 17, 1995, the 20-year-old made his major-league debut. "I said to myself, This is real, not something you dream about," he recalled.
Suppan was given a start against the Kansas City Royals. He was greeted by Keith Lockhart, who lined the sixth pitch Suppan threw in the big leagues over the right-field wall for a home run. Suppan was removed with two outs in the sixth inning. He had given up three runs, struck out four, and allowed nine hits. Boston lost, 4-3. Suppan made two more starts. The Red Sox were defeated in each. He acknowledged that he had let Fenway Park's Green Monster, the sometimes intimidating 37-foot-high wall that stands just 310 feet from home plate, affect his style of pitching. At the close of July, the Red Sox returned Suppan to the minor leagues.
One month later he was back in the big leagues. He made five relief appearances as the Red Sox fought to catch the Yankees in the American League East pennant race. Suppan was especially stellar in a September 19 appearance against the Milwaukee Brewers. He faced seven batters and struck out five of them.
The young pitcher's performances raised eyebrows around baseball. In January, when Boston engaged in trade talks with Montreal to try to pry Wil Cordero from the Expos, Montreal's front office insisted on receiving Suppan in return.17 The request was rejected.
Over the next two seasons, Suppan shuttled between Pawtucket and Boston. In 1996 he won 10 games for the PawSox to earn promotion to Boston. In his first start, Suppan pitched one-hit ball through six innings against the Minnesota Twins. "He should, and I think he does, feel good about the way he threw the ball," praised his manager, Kevin Kennedy.18 In 1997 Suppan was 5-1 at Pawtucket, then made 22 starts for the Red Sox and compiled a 7-3 record.
During the winter of 1997-98, the major leagues added two expansion teams, the Tampa Bay Devil Rays and the Arizona Diamondbacks. Buck Showalter was hired to manage the Diamondbacks and embarked on an ambitious plan to construct the new club. "Arizona hired a lot of scouts the year before," recalled Los Angeles Dodgers advance scout John Van Ornum. "They had guys out scouting at every level of the minor leagues from A ball to Triple A."19 The Diamondbacks placed a premium on young pitchers, and on the day of the expansion draft, the second player they chose was Jeff Suppan. "I was surprised," Suppan recalled. "I'd been told I was Boston's number-one prospect."
The change of organizations represented a new opportunity. Suppan's standing with his new club turned sour before the team had ever played its first game. "I got chicken pox. I got the flu twice. I had a bad spring. I got sent down," Suppan recounted. What impacted his performance most, however, was a bout of tendinitis in his right shoulder.
Four weeks into the 1998 season, Suppan's position in the big leagues became tenuous. He had lost all three of his decisions. His earned-run average was in the 7's. Pitching to avoid demotion, he impressed Showalter with six strong innings in a start against the Florida Marlins. It proved only a temporary stay. Over the next two months Suppan shuttled between Phoenix and the Diamondbacks' Triple-A team at Tucson. Finally, on September 3, the Diamondbacks sold Suppan's contract to the Kansas City Royals.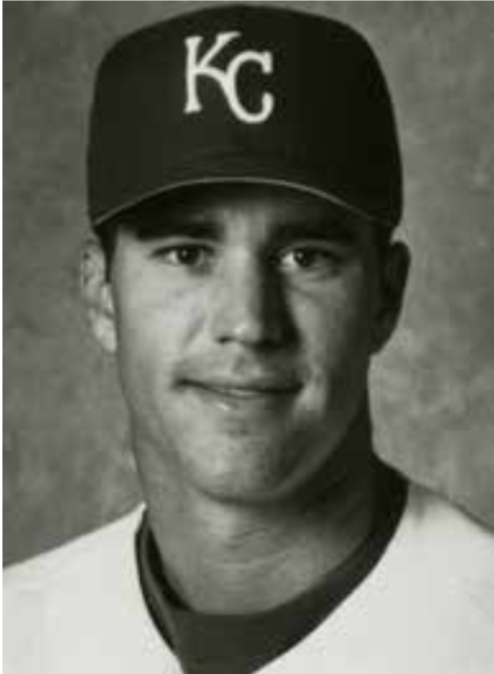 With Kansas City, Suppan found stability and success. He became a mainstay of the Royals' starting rotation. As Suppan's career blossomed, his life away from the game brought bliss as well. In 1996 he had met Dana Ozark. After dating long-distance for four years, the couple married in November 2000.
Suppan spent four seasons with Kansas City. He pitched an average of 213 innings per year. In three of those four years, Suppan led the Royals pitching staff in wins.
The winter of 2002-2003 put Suppan on the free-agent market for the first time. He accepted a one-year offer from the Pittsburgh Pirates for a reported $1 million.20 Expectations were not high in the Steel City for either Suppan or the Pirates, but the newcomer won over fans by winning his first four starts. By the All-Star break, rumors were rampant that the Pirates were shopping several of their veteran players. Suppan, with eight wins, was mentioned prominently.21 On July 28, Suppan pitched a shutout to beat the St. Louis Cardinals 3-0. Three days later, at the July 31 nonwaiver-trade deadline, Pittsburgh dealt Suppan to his original organization, the Boston Red Sox, in a five-player swap that brought Mike Gonzalez and Freddy Sanchez to the Pirates.
When Suppan rejoined the Red Sox, they were chasing the New York Yankees for the American League East championship. Boston trailed the Yankees by 3½ games and had fallen into what would become a four-game losing skid. Suppan's first start came against the California Angels, who managed to score seven times against him over five innings. In his next start, Suppan pitched into the seventh inning but surrendered five runs in a loss to Baltimore. On August 15, the Seattle Mariners scored four times in five innings against Suppan. "He can't pitch in the American League," a scout observed.22 Suppan didn't agree but said, "I felt like the National League suited my style better. The American League is more of a stuff league. Those hitters are swinging for the fences. The National League is more situational. There's more bunting. There's more taking. You have a pitcher you pitch to. I enjoy that game." Suppan finished 2003 with 13 wins, 10 with Pittsburgh and three with Boston.
Again, Suppan found himself on the free-agent market during the offseason. This time, however, his 13-win season brought larger offers and from several teams. The Detroit Tigers and Pittsburgh Pirates tried to entice the pitcher.23 The offer that Suppan elected to accept, however, distinctly changed his career — it was from the Cardinals.
It was in St. Louis that Suppan would flourish and his career would reach a zenith. The change of scenery did not change Suppan's habit of starting slowly. He lost his first two starts with the Cardinals but soon turned things around in a big way. Suppan won four of his next six decisions, then cemented himself as a new fan favorite with a brilliant performance against the Seattle Mariners on the Fourth of July 2004. That afternoon, Suppan pitched into the eighth inning. He scattered four hits, walked just two batters, struck out seven, and induced eight groundball outs in a 2-1 St. Louis victory.24 "Having four or five Gold Glovers behind you was great for a contact pitcher," he said. In his next start, Suppan beat the Chicago Cubs, 5-2, for his eighth win in 13 decisions, which helped to push the Cardinals out to an eight-game lead in the National League Central Division.
"I really liked the way he worked," recalled advance scout Van Ornum. "He had the four pitches. None of them was really outstanding, but he got the most from what he had. He flat got you out." Mixing superior control with an ability to change speeds and locations, Suppan won 16 games, which led the Cardinals staff and tied Randy Johnson, Greg Maddux, and Carlos Zambrano for fifth best in the National League.
St. Louis won the Central Division title, and for the first time in his career, Suppan pitched under the bright lights of the postseason. His first playoff experience came against his hometown team, the Los Angeles Dodgers, in Dodger Stadium. The Cardinals had won the first two games of the best-of-five National League Division Series, in St. Louis. When the series moved to Los Angeles, the Dodgers won Game Three. Suppan drew the start for Game Four. Knowing that his parents, brothers, sister, and many friends would be in the stands, Suppan allowed himself a brief 10-minute pregame interlude to listen for encouraging shouts, wave to fans, and soak up the excitement of the moment, then he calmly shut it all out to focus his attention on the challenge before him.
The early innings of the game were back and forth. The second batter Suppan faced, Jayson Werth, hit a home run that gave Los Angeles a 1-0 lead. In the third inning, St. Louis scored a run to go on top, 2-1. Their lead was short-lived, however. In the bottom half of the inning, the Dodgers evened the score on a walk, a single by Steve Finley, and a sacrifice fly by Adrian Beltre. Whatever fervor was building about Dodger Stadium, however, soon evaporated. Finley was the last Dodger to reach base against Suppan. Albert Pujols crushed a three-run home run one inning later, and Suppan retired 13 Dodgers in a row before exiting the game for a pinch-hitter in the top of the eighth inning. St. Louis triumphed, 6-2, to win the series and advance to the National League Championship Series.
Following the final out the visitors' clubhouse erupted in revelry. At the center of the celebration was a jubilant Jeff Suppan. Donning goggles, the pitching hero was drenched with champagne and showered with praise. "This is probably the biggest and best outing of his career, something he'll remember forever," said fellow pitcher Matt Morris, who added, "I'm proud of him."25
The Cardinals faced Houston in the NLCS. Suppan made two starts in the series. He was defeated by Houston in Game Three, then with a trip to the World Series on the line, was given the ball to start the decisive seventh game against the Astros ace, Roger Clemens. The first batter of the game, Houston's Craig Biggio, tagged Suppan for a home run. Once the cheers of the Astros fans abated, their decibel level never rose again. For six innings Suppan changed speeds and mixed pitch locations to keep the Astros at bay. When he walked off the mound after the sixth inning, he had surrendered just three hits, walked only two, allowed one earned run, and struck out six. All around Busch Stadium, 52,140 Cardinals fans were chanting "Soup! Soup! Soup!" Nine outs later, the Cardinals had won, 5-2, and were on their way to the World Series. "You need to give credit to Suppan," said Cardinals first baseman Albert Pujols. "I mean, this guy made some pitches out there."26
The 2004 World series was a historic and emotional event. It was the 100th World Series. The American League champion Boston Red Sox had not won the World Series since 1918. Suppan drew the start against his former team in Game Three. After retiring the first two batters, he surrendered a home run to Manny Ramirez, and the Cardinals fell behind. David Ortiz then singled. Though Suppan shrugged it off and retired seven of the next eight batters, it was a miscue on the basepaths that he would be most remembered for in the Series. In the bottom of the third inning, Suppan beat out a roller toward third base for the Cardinals' second hit of the game. Edgar Renteria then doubled, sending Suppan to third base. The next hitter, Larry Walker, hit a smash to second base and was thrown out at first. On the play, protocol called for Suppan to dash for home on a ball hit to the second-base side of the diamond. However, the pitcher thought that instead of "Go!" he heard the Cardinals third-base coach yell "No!", so he stopped. After a momentary pause, he broke for home but again stopped then tried to retreat to third base. Seeing the mistake, Boston's first baseman, David Ortiz, fired the ball across the diamond and Suppan was tagged out as he dove toward the third-base bag. "It was a big break, and we took advantage of it," said Boston's pitcher, Pedro Martinez, who would retire 13 Cardinals in a row after the gaffe.27 The Red Sox won, 4-1, and went on to sweep the Cardinals and claim baseball's crown.
In 2005 Suppan was again a mainstay of the Cardinals pitching staff and among the top hurlers in the National League. He replicated his 2004 feat of 16 wins. The Cardinals again won the National League Central Division. They swept San Diego in the Division Series, but in six games fell to Houston for the pennant. Suppan started Game Four and pitched five innings of three-hit ball with five strikeouts. He left with the game tied, 1-1. Houston added a run in the seventh inning to win, 2-1.
Suppan helped the Cardinals make a third consecutive trip to the postseason in 2006. He won 12 games during the regular season to help St. Louis win its third straight National League Central Division title. Against San Diego in the Division Series, Suppan was given the start in Game Three. His teammates had little success against San Diego's pitching that afternoon and lost, 3-1. The following night, however, St. Louis won to eliminate the Padres. The National League Championship Series elevated Suppan to a stage to which few players ascend. After his teammates had split the first two games of the NLCS with the New York Mets, Suppan's heroics almost single-handedly changed the momentum. In the top of the second inning of Game Three, Suppan sent a long fly ball over the outstretched glove of New York left fielder Endy Chavez. It bounced off the top of the wall and caromed over for a home run. "I swung, it ran into my bat. I don't know why that is," Suppan said after the game.28
On the mound Suppan was even better. For eight innings he did not allow the Mets to score. When he left the game for a pinch-hitter, he had scattered three hits and did not allow a walk until the eighth inning. St. Louis won the game, 5-0.
Five nights later Suppan went to the mound trying to send the Cardinals into the World Series for the second time in three years. A crowd of more than 56,000 packed New York's Shea Stadium for the deciding seventh game of the series. Suppan pitched seven innings. He allowed only two hits and one first-inning run. The Cardinals triumphed, 3-1. For his efforts, Suppan was named the Most Valuable Player of the NLCS.
In the World Series, Suppan started Game Four against the Detroit Tigers. He pitched six strong innings and the Cardinals won, 5-4. The next night St. Louis prevailed, 4-2, and claimed its first World Series championship in 24 years.
While the 2006 season brought awards and rewards, away from the ballpark it brought pain. When the Cardinals were in San Diego during the season for a series with the Padres, Larry and Kathleen Suppan traveled to visit their son. It was there that Kathleen Suppan broke the news to her son: She had been diagnosed with cancer. Her optimism was reassuring. And subsequent updates were positive.
After the World Series, Suppan's contract with the Cardinals expired, and he again became a free agent. Several teams extended offers, but one made by the Milwaukee Brewers proved too good to pass up. The pitcher agreed to a four-year contract worth $42 million.29 "He gives us a big-game pitcher," Brewers general manager Doug Melvin told reporters.30
After losing his first two starts for the Brewers, he won his next five starts of the 2007 season. His third start as a Brewer came in St. Louis, where the Cardinals presented him with his World Series ring. Then Suppan went out and pitched strong baseball into the seventh inning to help Milwaukee win, 3-2. As hot as he was to start the season, Suppan soon went cold. He lost four consecutive starts. He rallied to win 12 games, which was tied for tops on the Milwaukee pitching staff.
During the winter of 2007-2008, the Suppans' world collapsed. Kathleen Suppan, whose condition had greatly improved since her 2006 cancer diagnosis, took a turn for the worse. On January 2, 2008, Jeff's 33rd birthday, his mother succumbed to pancreatic cancer. "It was devastating for our whole family," Suppan said. "She prayed for me before every game. We talked all the time. We had a great relationship. It was a big hit." Though he felt he was giving his all on the mound throughout the season, Suppan admitted that grief shadowed him: "I was sort of going through the motions. I was not really there." In late May elbow pains began to bother him. On July 7, he was placed on the 15-day disabled list. He finished the season with a 10-10 record and an earned-run average of 4.96.
In 2009 Suppan struggled. He gave up six runs in four innings and lost on Opening Day to the San Francisco Giants. The Chicago Cubs parlayed six walks into five runs and chased Suppan in the fourth inning of his next start. His skills were beginning to wane from age. (Suppan was 34 years old.) He was routinely booed. Suppan received regular criticism from the media. "Rich Donnelly once said, 'There are two types of players in this game. Those who have been humbled and those who are going to be humbled.' That was a humbling experience," Suppan said. The pitcher felt the weight of the big-money contract. He sought advice and perhaps internalized too much of it. The pitcher finished the season with a 7-12 record.
When Suppan's form did not improve after the first two months of the 2010 season, the Milwaukee Brewers bought out the remainder of his contract and released him. The Cardinals took a chance and signed Suppan for the remainder of the 2010 campaign. With St. Louis his form improved. He had left Milwaukee with a 7.84 earned-run average in 15 games pitched. With the Cardinals, he pitched 15 games and had an earned-run average of 3.84. On the final day of the season, Suppan showed flashes of his old self. He pitched six innings against the Colorado Rockies, did not allow a run, walked only one batter, and helped St. Louis to a 6-1 victory.
During the offseason, Suppan was left to wonder if his win over the Rockies was his final game in the major leagues. There were no calls with offers of a major-league contract. He accepted an offer of a minor-league deal with the San Francisco Giants. When the Giants informed him late in spring training that they wanted to send him to the minor leagues, Suppan asked for his release. Days later, Kansas City offered a similar deal, and Suppan spent 2011 with their Triple-A club in Omaha, where he went 11-8.
Before the 2012 season the San Diego Padres offered Suppan a minor-league contract. He accepted but told his agent, "This season is it; I'm done." In spring training Suppan suffered an injury to his right triceps. While he was still nursing the injury in the minor leagues with Tucson, the Padres were beset with injuries to several pitchers. At the end of April, Suppan received a phone call from his agent. "Hey Soup," he blurted, "They want you for a start in the big leagues."
On May 2, needing all the guile he could muster to make an 87-mph fastball an effective weapon, Suppan beat the Milwaukee Brewers, 5-0. The performance drew a second opportunity, and on May 8, Suppan pitched the Padres to a 3-1 win over Colorado. He remained in the Padres' starting rotation through the month of May before a downturn in results brought a phone call from the Padres' general manager, Josh Byrnes, with Suppan's release.
Six months later Suppan asked his agent to submit his retirement papers to Major League Baseball. He asked that the end of his 17-year career be dated January 2 at 2:00 P.M. Pacific Time, the anniversary of his mother's passing in 2008.
During his minor-league season in the Kansas City organization, in 2011 the Royals gauged Suppan's interest about working for the club once he retired. In 2013 he attended scout school but felt he wasn't cut out for the role. In 2015 he accepted an offer from the Royals and became the pitching coach for their short-season Class-A farm club at Idaho Falls. In 2018 he entered his fourth season in the role.
In 2007, Jeff and Dana Suppan entered the restaurant business when they opened Soup's Sports Grill in Woodland Hills, California. The restaurant was popular with locals. In 2016 Suppan was approached by a real-estate investor who made an offer for the building that housed the restaurant, and the decision was made to sell and close.
Suppan has been actively involved in his alma mater, Crespi High School. He has served on the school's board of directors and for three seasons coached freshman baseball.
Jeff and Dana Suppan are parents of one son and one daughter. Jeff helps to coach his son's youth baseball team and his daughter's softball team.
As of 2018 the Suppans continued to call the San Fernando Valley home, residing in Calabasas, California.
Last revised: December 1, 2018
This biography appeared in "Time for Expansion Baseball" (SABR, 2018), edited by Maxwell Kates and Bill Nowlin.
Sources
In addition to the sources cited in the Notes, the author also consulted Retrosheet.org and Baseball-Reference.com.
The author wishes to thank Jeff Suppan for his time and participation in this project.
Notes
1 Unless otherwise noted, information for this story is from a telephone conversation with Jeff Suppan on February 14, 2018.
2 Eric Sondheimer, "Valley Newsbeat," Los Angeles Times, January 5, 1998.
3 Jeff Fletcher, "It All Falls Into Place for Suppan," Los Angeles Times, April 7, 1993.
4 Bob Bishop, telephone interview with author, February 21, 2018.
5 Jeff Fletcher, "Crespi's Suppan Has Turned on the Power," Los Angeles Times, May 5, 1993.
6 George Genovese with Dan Taylor, A Scout's Report. My 70 Years in Baseball (Jefferson, North Carolina: McFarland and Company, 2015), 210.
7 Ibid.
8 Ibid.
9 "Atmosphere Is Businesslike at Quartz Hill," Los Angeles Times, May 7, 1993.
10 Different editions of the Los Angeles Times reported his ERA as 0.85 and 0.92.
11 "Crespi's Suppan Named Division I Player of the Year," Los Angeles Times, June 27, 1993.
12 Jeff Fletcher, "Area Supplies Ample 2nd Helpings in Draft," Los Angeles Times, June 4, 1993.
13 Ibid.
14 Jeff Fletcher, "Crespi's Suppan Agrees to Sign with Red Sox," Los Angeles Times, June 29, 1993.
15 Mike Hiserman, "Suppan Wins Faster by Throwing Slower," Los Angeles Times, June 12, 1994.
16 "A Notes," The Sporting News, June 20, 1994.
17 Bob Nightengale, "Baseball Report," The Sporting News, January 15, 1996.
18 Joe Giuliotti, "Suppan's Start," The Sporting News, August 12, 1996.
19 John Van Ornum, telephone interview with author, February 15, 2018.
20 Dennis Tuttle, "Spring Training Preview," The Sporting News, February 17, 2003.
21 Ken Rosenthal, "Short on Starters," The Sporting News, July 21, 2003.
22 Ken Rosenthal, "Inside Dish," The Sporting News, August 25, 2003.
23 Ed Engle, "Team Reports," The Sporting News, December 1, 2003.
25 Bill Shaikin, "Suppan Gets the Job Done," Los Angeles Times, October 11, 2004.
26 Ben Bolch, "Cards Are All In," Los Angeles Times, October 22, 2004.
27 Mike DiGiovanna, "Riding a One-Away Train," Los Angeles Times, October 27, 2004.
28 Tim Brown, "Cardinals Pounce on Mets Early for 5-0 Win," Los Angeles Times, October 15, 2006.
29 "Suppan Goes from Series to Brewers," Los Angeles Times, December 25, 2006.
30 Ibid.
Born
January 2, 1975 at Oklahoma City, OK (USA)
If you can help us improve this player's biography, contact us.
https://sabr.org/sites/default/files/SuppanJeff.jpg
600
800
admin
/wp-content/uploads/2020/02/sabr_logo.png
admin
2012-01-04 20:39:19
2012-01-04 20:39:19
Jeff Suppan