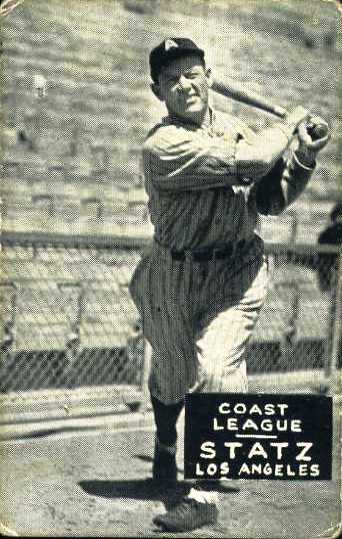 ---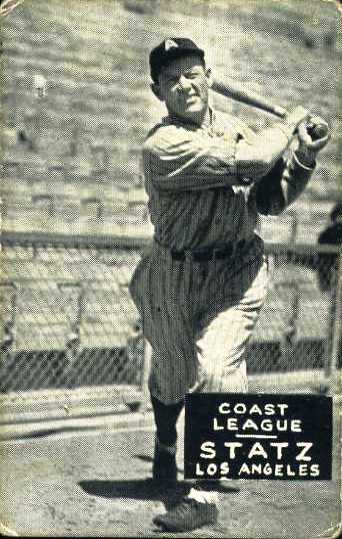 One of a very few ballplayers to ever collect more than 4,000 hits in Organized Baseball, Arnold Statz collected 737 of those hits in his eight seasons in the major leagues and another 3,356 in his 18 seasons in the minors. His career saw him in the majors before he played minor-league ball. Only Pete Rose played more games professionally. Statz still holds three records as a professional ballplayer: most runs scored, most outfield putouts, and most seasons played with one minor-league club. 
Statz first broke in with the New York Giants in 1919, on July 30. He was a graduate of Holy Cross College in Worcester, Massachusetts, where the family moved when he was 12 years old. His father, John, was a machinist, born in Wisconsin from two parents who had come to the United States from Germany. At the time Jigger started in the majors, his father was a master mechanic with the South Works of American Steel and Wire Company of Worcester. Arnold's mother, Sarah (Tooman) Statz, was also born in the Badger state; both of her parents were from Ireland. Arnold was born on October 20, 1897, in Waukegan, Illinois, north of Chicago and not far from the Wisconsin state line. He was one of five children – Margaret was two years older and Mary was about 18 months younger. He also had two younger sisters, Helen and Anita, and a younger brother, John. Arnold was named after his uncle Arnold, another machinist and John's brother, who lived in the house. As he raised his own family later in life, Arnold named three of his children after his sisters and himself.  
Before moving to Worcester, the Statz family had apparently lived very briefly in Alabama and young Arnold picked up the nickname Chigger, which became transformed the way nicknames sometimes do to become Jigger. [Los Angeles Times, November 1, 1939]
Jigger started playing baseball at a pretty early age. Soon after he arrived in Worcester, he did two things: He began playing baseball in the grammar school league for St. Paul's and, at the age of 13, he became a caddy at the Worcester Country Club. [Hartford Courant, May 21, 1923. He told the Courant in 1923, "Baseball is all right, but I like golf much better."] He went on to play baseball for Classical High School until he graduated in 1917. After completing high school, Statz entered Holy Cross but soon enlisted in the United States Navy and served until the Armistice.
Jigger played two years at Holy Cross under baseball coach and future Hall of Famer Jesse Burkett, right from opening day his freshman year until he was signed by John McGraw's New York Giants. He started at third base, but it was as an outfielder that the Giants signed him. Sportswriter Bill Ballou reports that Holy Cross's record in those two years was 47-4, with one tie, and that the Holy Cross Crusaders won a New England title and an Eastern college championship. [Worcester Sunday Telegram, July 21, 1985] Though Statz signed with the Giants and played for the New Yorkers during the summers of 1919 and 1920, he completed his course of studies and graduated from Holy Cross with his class in 1921.
Some of his earliest headlines came from his golf. "High School Boy is Star Just Now" was the subhead on a Hartford Courant article in 1917 that said Statz was "shooting remarkable golf … the most consistent golf of any Worcester municipal links player." [Hartford Courant, August 21, 1917] That fall, his team won the Eastern municipal golf title, falling only to a team from St. Louis for the national title in September. Statz won his title match against Missouri's James Manion; Statz "simply refused to be beaten," reported the September 29 Courant. Even as he played baseball for Holy Cross, leading the league in hitting both years, there were more headlines about his triumphs at amateur golf. On July 2, his father, John, said that he'd agreed to sign a contract to play baseball with the Giants. [Boston Globe, July 3, 1919]
His professional baseball debut came on July 30, 1919. He entered late in the game, making one putout but not getting an at-bat. He batted an even .300 that first year with the Giants, 18 hits in 21 games. His biggest hit was a triple in the second inning against Cincinnati on September 15 but he was thrown out at the plate while trying to score on a long sacrifice fly. A postseason wrap-up said he'd be back in 1920: He "showed encouraging ability as an outfielder, and will be retained next season. He has had no minor league experience but, like Frankie Frisch, he doesn't need any. He is a fine fielder and a good hitter." [New York Times, October 15, 1919]
The Giants trained in San Antonio, Texas, in 1920, and Statz showed well in spring training. Before he hurt an ankle, one account had his playing as "phenomenal." Almost all of the games the Giants played during the 1920 preseason were against the Boston Red Sox – 15 games in all, in six Texas cities, and in cities in Louisiana, Alabama, Mississippi, Tennessee, North Carolina, Virginia, and two at the Polo Grounds in New York. It was a Red Sox team without Babe Ruth, recently sold to the Yankees. As anticipated, Statz stuck with the Giants as one of four outfielders, and was given the Opening Day gig in center field facing the Boston Braves at the Polo Grounds. He had a 2-for-4 day, including a fruitless triple in the fourth and a two-RBI single in the eighth in what was a 6-3 loss. It was his best day with the Giants that year; he collected only two more singles before being placed on waivers after the June 3 game, hitting .133 at the time. He was a right-handed hitter, 5-feet-7½-inches tall and weighing 150 pounds, and had been platooning with Benny Kauff in center, but Lee King had a shot, too, and came in with a couple of three-hit games. King won the position in the Giants' outfield, and McGraw thought Statz would benefit from getting more work, so the team placed him on waivers, then was a little surprised to find him claimed by the Boston Red Sox on June 7. The Red Sox had seen Statz a lot in those spring training games and felt he'd give them some good support in their outfield.
He didn't have much opportunity. He got all of three at-bats, made outs all three times, and within two weeks was gone – sold by Boston's manager Ed Barrow to the Los Angeles Angels of the Pacific Coast League.  The sale was "almost certain that he goes back with strings attached so that he may be recalled in the Fall," noted the New York Times, adding, "Statz is remarkably fast and is an exceptional outfielder, but his lack of major league experience has stood out prominently in his batting." [New York Times, June 22, 1920]  One could never have known it at the time, but Arnold Statz would never play in the American League again and would play with the Angels – and no other minor-league team – from 1920 all the way through the 1942 season, other than for his forays into six seasons of major-league play with the Cubs and Dodgers. It was in Los Angeles that he married, in 1921, and established his home.
His first home run in pro ball was a ninth-inning blast that won a 1-0 game for the Angels on August 1 in Seattle. If there were strings attached, they were never pulled. Statz played in 101 games, batting .236. He was just getting started; it would be more than 20 years before he hit for such a low average again. He finished his years with the Angels with a career .315 batting average. In 1921, he approached that mark, batting .310 in 153 games, with a league-leading 13 stolen bases; the Los Angeles Times enthused that he was "destined to be a second Ty Cobb."  [Los Angeles Times, September 14, 1921] The Angels were owned by the same man who owned the Chicago Cubs, William Wrigley, so the transition back to the big leagues should have been simple, though the Angels had more need of Statz than the Cubs. The decision was more or less left to Statz himself, and he chose to return to the major leagues. [Los Angeles Times, December 15, 1921] The Cubs traded five players and cash (later reported as $50,000) to acquire "Twin Six" Statz and pitcher Vic Aldridge.
Jigger played well for the Cubs, and was hitting .293 when he broke his right wrist in a game in Pittsburgh on July 5. He was out until August 8 but remarkably consistent on his return, never going lower than .292 and never higher than .302. He finished the year with a .297 average in 110 games. Statz didn't know it, but had he hit .300, the Angels would have picked up a $10,000 bonus. He was hitting .301 four games before the end, but had only three hits in his last 16 at-bats.
In 1923, he played in every single game of the year and his 655 at-bats (he walked 56 times) led the league, too. He hit for a .319 average, with 10 homers to the one he'd hit in 1922. All his numbers scaled back in 1924 (.277, three homers, and more strikeouts than in 1923). Statz was barred from playing winter ball, but before November was out he won a championship golf match at a Hollywood invitational, beating Max Behr, who was once the runner-up for the national amateur golf title. Statz made his winter home in the area.
In 1925, he played with the Cubs through May 30 but his hitting dropped off further, to .259, and the Cubs had a good number of outfielders. Statz was given his unconditional release back to the Angels after just 38 games. There was a pay cut for Statz, though, and he refused to report, saying he might go into the insurance business instead. It took two weeks to work out, but he resumed duties later in June. The spirit may have gone out of him a bit; he hit only .264 for the Angels.
After another offseason winning or placing high in numerous golf tournaments, Statz seemed to have found new vigor and hit .364 in the 1926 season for the Angels. The Coast League played exceptionally long seasons and Statz took part in 199 games in 1926, committing only two errors all season long. He was named league MVP. His exceptional defense and his high average convinced the Brooklyn Robins to do a deal with the Angels, acquiring the rights to his contract in mid-September. Statz played out the season and finished fourth in the Pacific Coast League in batting average; his 291 base hits ranked him first. His 18 triples led the league, as did his 68 doubles.
After another winter of golf, Statz decided during spring training to let go of his work on the links and focus on baseball. How many times he'd have the opportunity to play major-league baseball no one could know, but he was prepared to give it his full focus during the season.
Right at the beginning of the year, Brooklyn had offered to trade Statz to the Oakland Oaks for Buzz Arlett, but the Coast League team turned them down. The Angels offered $8,000 to Brooklyn to get Statz back, but that was rejected. He appeared in 130 games for the Robins. He hit .274, and scored a respectable 64 runs. He just didn't drive them in. For a center fielder to drive in only 21 runs in the year the Yankees' first baseman drove in 175 was remarkably low production. Statz was, not surprisingly, low man on the Robins.
Statz was a holdout in 1928, and held out so long that the Robins asked waivers on him on March 3. He turned up a few days later. Many considered him the best outfielder in the game (see, for instance, the March 25, 1928, Los Angeles Times), but Brooklyn wanted him to work on his hitting. Longtime veteran (and future Hall of Famer) Max Carey got the lion's share of the work in center field, though Jigger played the full season, appearing in 77 games and hitting .234. On December 11, his contract was sold to the Los Angeles Angels. His time in the major leagues was over. He finished with a .285 average, largely due to his 1922 and 1923 seasons with the Cubs. For the next 14 seasons, Statz played for the Angels and no one else.
He had moved to Los Angeles; the 1930 Census showed Statz living in the city with his wife, Grace, a native Californian, and four children: Mary (7), Margaret (6), Virginia (4), and Arnold (2). Virginia, known as Janie, became a rodeo performer and trick rider. [Los Angeles Times, April 4, 1954]
Statz was a steady, consistent performer with the Angels, averaging more than 157 games a season and typically batting well over .300 (save for 1937, when he had some leg troubles), fading only in the last three years (ages 42-44). He tied for the league lead in runs scored with 141 in 1931 and held sole title with 153 in 1932, making the PCL All-Star team both years. The Angels won the pennant in 1933 and 1934, though Statz wasn't among the league leaders. In 1936, his 134 runs ranked first, as did the 131 runs he scored in another pennant-winning season, 1938. He never was a home run threat and through July 15, 1939, he'd hit only two all season – but on the 16th, he hit out two in the Angels' 10-run first inning.
On Halloween 1939, Statz was named player/manager of the Angels, a position he held through 1942, the latter being his last year as a player (and as the Angels manager, a year in which they fell short by just one game to Sacramento). The number of ballplayers Statz played with or against over the years would comprise a most impressive list. On May 12, 1940, he played in his 2,500th game. It was Mother's Day and Statz's mother was present for the game; both parents had moved from Worcester to Los Angeles in 1939. Through a mixture of longevity and talent, Statz held numerous league records – more than any other man in the league. When he played on May 6, 1942, against Hollywood on Navy Relief Night, he was the only active ballplayer who had served in the World War I. [Los Angeles Times, May 5 and 7, 1942] He was a gamer right up to the end. His 11th-inning pinch-hit triple on September 23 kicked off a rally to beat the Padres in San Diego. The Angels fell one game short of winning the pennant, and apparently Statz was asked to resign – which he did on October 6. He expressed his desire to continue to work in the Wrigley organization in some fashion. (The Wrigleys owned the Angels as well as the Chicago Cubs.)
In early 1943, Statz became personnel counselor for the Plomb Tool Co., which was manufacturing hand tools for the armed forces.
At the end of December 1946, the Cubs signed Statz to serve as West Coast scout. He reportedly scouted for 25 years and most notably signed a couple of Lous for the Chicago Cubs – both Lou Stringer and the "Mad Russian," Lou Novikoff.  In 1948 and 1949, Statz co-managed the Visalia Cubs (California League).
He died of prostate cancer at home in Corona Del Mar, California, on March 16, 1988. He was 90 years old. His wife had preceded him in death.
Last revised: March 17, 2023 (zp)
Sources
In addition to the sources cited in this biography, the author consulted the online SABR Encyclopedia, retrosheet.org, and Baseball-Reference.com. Thanks to Dick Beverage.
Born
October 20, 1897 at Waukegan, IL (USA)
Died
March 16, 1988 at Corona Del Mar, CA (USA)
If you can help us improve this player's biography, contact us.
http://bioproj.sabr.org/bp_ftp/images4/StatzJigger.jpg
600
800
admin
/wp-content/uploads/2020/02/sabr_logo.png
admin
2012-01-04 20:45:14
2023-03-17 08:08:58
Jigger Statz