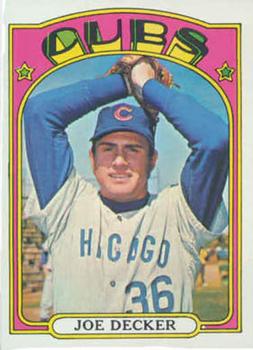 ---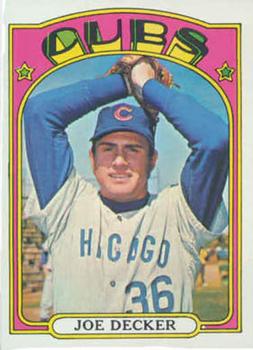 George Henry "Joe" Decker Jr. compiled a 36-44 record over nine seasons as a pitcher with the Chicago Cubs, Minnesota Twins and Seattle Mariners. Coming up to the Cubs in 1969, Decker spent parts of the next four seasons with the parent club, making a total of 23 starts. But he could not crack a starting rotation that included veterans such as Bill Hands, Ken Holtzman, Milt Pappas, and future Hall of Famer Ferguson Jenkins.
Before the 1973 season the Cubs traded the young right-hander to the Twins, where he and Bert Blyleven formed a formidable 1-2 mound duo for a couple of seasons. Thereafter, Decker fought control problems and spent most of his time with the triple-A affiliates of the Detroit Tigers, Cubs, and Mariners before getting a final shot in Seattle in 1979.
Decker was born in Storm Lake, Iowa, on June 16, 1947, the son of George Henry Decker Sr. and Lorraine Decker. He had one sister, Lorrie, born in 1949, and one brother, Kim, born in 1955.
In 1959 Decker and the rest of his family moved from Sioux Rapids, Iowa, to Eldora, Iowa, where his father was a barber instructor and boys chapel choir director at the Iowa State Training School for Boys. Decker pitched for Eldora High School; he started in Eldora's first baseball game in 10 years against Ackley High School in June 1961. However, Eldora lost, 4-0.
A multi-sport athlete, Decker won the football throw with a toss of 204 feet, one inch at the Class B district track meet at Cedar Falls, Iowa, on May 11, 1963. He also was a member of Eldora High School's 440-relay team that finished in 48.7. He placed eighth in the football throw at the state Class B track meet in Iowa City, Iowa, a week later with a mark of 205 feet 4 ½ inches.
After his 37-year-old father died from a heart attack on March 7, 1962, while looking for runaways, the Decker family moved to San Anselmo, California, in the summer of 1963 to be closer to relatives."It was a real shock to us," Lorrie [Ross] said when asked about their father's unexpected death. "My brother [Joe] was really good in baseball in junior high and the beginning of high school. My uncle lived out here in California and had a lumber yard. He sponsored a baseball team and he said, 'If you guys move out here, then I'll give you some connections with major league people and see what we can do for Joe.'"1
Decker attended one semester of school in San Anselmo before he and his family moved to Petaluma, California, for his junior and senior years of high school. He lettered in baseball, basketball, and football both years.
As a Petaluma High School senior, Decker compiled a 3-2 record and had a 1.00 ERA. In 84 innings he struck out 119 and walked only 24. In addition, he was named Student Athlete of the Year as a senior and was chosen the most valuable pitcher in the North Bay League II in 1964 and 1965.
Decker was drafted by the Chicago Cubs in the ninth round of the 1965 Major League Baseball June Amateur Draft after graduating from Petaluma High School. He received a $50,000 bonus upon signing with the Cubs after getting written assurances that the Cubs would pay his college expenses.2
"One of the first things he did with the bonus was pay for my dental work," Lorrie said. "He also painted the dentist's house so we could get a break on the work. He didn't splurge on craziness. He was very conservative. You know, we didn't have a lot of money growing up. Joe and I were very frugal. We'd buy what we needed."3
By signing a pro baseball contract, Decker disqualified himself from playing in the Redwood Empire All-Star Football Classic on August 28, 1965, in Eureka, Calif.
He made his professional baseball debut at Treasure Valley in the Pioneer League at age 18. In 13 games, he compiled a 5-4 record, with 50 hits, 39 walks and 58 strikeouts in 59 innings. He pitched for class-A Lodi in the California League in 1966 and 1967. He split the next season between Lodi and triple-A Tacoma in the Pacific Coast League.
Decker married Nancy Curtis on September 14, 1968. The couple had two children, Jeffrey, born in 1969, and Brooke, born in 1973. He and Nancy divorced in the early 1980s.
After helping Tacoma win the PCL title in 1969, Decker made his major league debut against the Philadelphia Phillies on September 18 of that season. The 22-year-old hurler pitched six innings, allowed two earned runs and four hits, walked four and struck out six. His first major league victory came two weeks later when he threw four scoreless innings in the Cubs' 5-3 victory over the New York Mets to cap a gut-wrenching season for the Bruins.
"I really didn't learn how to pitch until 1969," he said four years later. "I just threw the ball until then. I didn't know anything about hitting spots or changing speeds."4
Decker's best experience as a starter with the Cubs came on April 27, 1970, when he tossed 8.1 innings of six-hit, shutout ball to beat the Pittsburgh Pirates, 1-0, at Forbes Field. After pitching in the Puerto Rican League during the winter of 1970-71, Decker was called back up to the Cubs from Tacoma on May 28, 1971. Used as a spot starter and reliever, he finished the 1971 season with a 3-2 record and a 4.73 ERA.
When the Cubs acquired veteran relief pitcher Tom Phoebus from the San Diego Padres, they optioned Decker to triple A-Wichita in the American Association on April 20, 1972. The Cubs' bullpen had managed only 13 saves the previous season.
"What complicated the situation [in 1971] was a morale problem," said sportswriter Edgar Munzel. "The relievers were a frustrated group. Nobody really knew what was expected of him, whether he was a short man, long man or no man. Manager Leo Durocher finally lost confidence in his bullpen and wouldn't use the strong young arms. That didn't help matters, either."5
"[Decker] and Leo Durocher had some issues because my brother was really good looking," Lorrie recalled. "Leo Durocher considered himself the ladies' man. So I think they had a little bit of conflict about that. But he [Joe] never said anything bad [about it] to us. He just played baseball. That was his life."6
Decker won his first four starts for Wichita and was named to the American Association All-Star team in 1972. On August 8, he picked up his 10th win of the season and struck out 10 Denver batters. He was the losing pitcher in Game 1 of the American Association playoffs September 5-7. Evansville, the East Division champion, ultimately beat Wichita, the West Division champs, to advance to the World Baseball Classic in Hawaii that year.
The Cubs traded Decker, Hands and pitcher Bob Maneely to the Twins for veteran hurler Dave LaRoche on November 30, 1972. Ironically, LaRoche developed a sore shoulder in spring training a few months later, was placed on the disabled list, and remained at the Cubs' minor league camp in Arizona when the 1973 season opened.
"I felt I wouldn't get a chance to start in Chicago because the Cubs had good starters, so the trade was a break for me," Decker said midway through 1973.7
Finishing with a 10-10 record in 1973, Decker made his first American League start on June 6 and went six innings as the Twins beat the Cleveland Indians 13-9 in the second game of a doubleheader. On June 26 he shut out the Chicago White Sox 4-0 and struck out 15, which tied a Minnesota record set by Camilo Pascual in 1961. Decker later blanked the Milwaukee Brewers on four hits on August 24, 1973.
Before 1974 Decker had difficulty getting left-handed hitters out.
"Then last year [1973] in the bullpen, I started messing around and holding the ball across the seams. I always had held it with the seams," he told sportswriter Bob Fowler in May 1974. "Well, this way the fast ball breaks in the opposite direction, or into a left-handed hitter. It has been very effective for me."8
He evidently thought the 1973 season could have been even better, too. "One problem I had last year was a five-day Army Reserve stint," he told Fowler. "It came right in the middle of spring training and it threw me off so much I didn't regain the lost time until June."9
Decker was reunited with former Cub battery mate Randy Hundley when the Twins traded catcher George Mitterwald for Hundley on December 6, 1973.
A month later, Mitterwald said Decker "has more stuff than any pitcher I've ever caught. You never knew what his ball was going to do, and I know more than half of my passed balls came with him on the mound."10
Decker got off to a fast start in 1974 and had the best year of his career, finishing 16-14 and completing 11 of 37 starts. He had a 3.29 ERA and pitched 248.2 innings for the Twins.
At the end of his most successful season, Decker said, "This has been quite a year for me. It's my first full season in the majors as a starter, and it has enabled me to develop my confidence. I think I've proved I can pitch in the majors as a full-time starter. It will be nice to go to spring training with an established position."11
Going into 1975, Decker had one goal: "I want to pitch my way right into arbitration."12
However, Decker did not pitch from April 13 to June 6, 1975, as the result of a viral infection. During the All-Star break, he was sent to Wisconsin Rapids to work on his control with the Twins' minor league pitching coach, Ray Berres. Due to wildness, though, he was seldom used the rest of the season. He finished with a 1-3 record and an 8.54 ERA. In 26.1 innings, he walked 36 and struck out only eight batters.
The next season was another up-and-down year for the Iowa native. When the 1976 campaign began, he was back in the Twins' starting rotation. After going 2-7, walking 51 in 58 innings, and developing a sore back, Decker refused to take a 20 percent pay cut and go back to Tacoma in the PCL. So Evansville, the Detroit Tigers' triple-A affiliate, signed him as a free agent. As a result, he became the first player to play out his option and become a free agent able to sell his services to any team since Andy Messersmith.
"There's nothing wrong with Joe's arm. He still has good stuff. Everything moves. He doesn't have command yet, but he will. All he needs is control and work," former Cub minor league pitching coach Fred Martin said after Decker lost his second appearance for Evansville on July 7, 1976.13
As for Decker's back injury earlier that season, Martin said, "Maybe because of that injury, Joe started throwing straight over-handed instead of his normal three-quarter arm. Some pitchers compensate that way."14
The Tigers released Decker after the 1976 season, and the Cubs invited him to spring training in 1977. Eventually, he ended up again in Wichita. The Aeros released him in July after he had gone 5-7 to that point.
Sportswriter Jerome Holtzman observed in early March that "there was a time when Decker had the best stuff on the Cub staff, but he was traded to Minnesota and never really bloomed."15
The next year, Decker pitched for San Jose, the Mariners' triple-A affiliate in the PCL. He finished the 1978 season with a 6-13 record and a 4.89 ERA.
Decker started the 1979 season on the Spokane roster in the PCL, but the Mariners purchased his contract midway through the season. The high point for Decker that year came on June 11 when he threw seven innings of shutout ball against Toronto in relief of starter Floyd Bannister. He appeared in his last major league game on July 7, 1979, against Boston.
"When he was with the Mariners we actually got to see him pitch a couple of games, which was a lot of fun," Lorrie recalled. "We got to go out and eat dinner with his teammates, so that was a very exciting time."16
The 33-year-old Decker was still not done, however. He pitched for Nuevo Laredo in the Mexican League in 1980.
For the most part, though, 1980 and 1981 were difficult years for Decker, according to Cheryl Streib, who kept a scrapbook of Decker's career when he played in Tacoma.17
"After his release from the Mariners, Joe toiled at several occupations, mostly sales-oriented," Streib recounted. "Although he gave it his all, his heart was still with the game of baseball. With the support and encouragement from friends and family, Joe survived this trying time."18
Decker got a second chance when former major league player and manager Rene Lachemann helped him get a job as a pitching coach for Salt Lake City in 1982 and 1983.
"Although Joe still pitched occasionally, his main responsibility was to help develop upcoming pitchers so they could reach their full potential and someday reach the major leagues," Streib said.19
As a pitcher, he compiled a 2-0 record with a 6.57 ERA for Seattle's Triple-A affiliate in 1982. The 35-year-old finished two of eight games and pitched 12.1 innings, allowing 16 hits, nine earned runs, four homers, and nine walks while striking out eight. The next season, Decker appeared in 13 games, starting one and finishing four. In 34.2 innings, he gave up 42 hits, 31 earned runs, seven homers and 22 walks while fanning 26.
Then in 1989 and 1990, he played for the Gold Coast Suns and San Bernadino Pride in the Senior Professional Baseball Association, which lasted only 1 ½ seasons. Besides Decker, the short-lived league in Florida, Arizona and California included Hall of Famers Jenkins and Rollie Fingers as well as Vida Blue and Dave Kingman. Curt Flood served as commissioner.
Overall, Decker played 17 years in professional baseball, including nine in the major leagues and 14 in the minors.
Although he won at least 10 games only twice in the major leagues, he played with eight future Hall of Famers on the Cubs and Twins: Ernie Banks, Billy Williams, Ron Santo, Jenkins, and Hoyt Wilhelm with the Cubs, and Blyleven, Rod Carew, and Harmon Killebrew with the Twins.
After his playing days, Decker also worked as a pitching coach in the Detroit Tigers' farm system and for the Boise Hawks in Boise, Idaho.
In 1996 Decker met his future fiancée, Roxanne Szczesniak, a Michigan native, at a training facility for 16- to 24-year-olds at Marsing, Idaho.
"I was the recreation director and Joe worked in the dorms helping the students make daily and life choices to be productive citizens," Szczesniak said. "Students loved him and opened up because he was non-judgmental and he listened to them. He always had a group of students around him."20
Decker also coached the flag football and softball teams at the training facility. In 1999 he coached the Marsing High School baseball team.
In 2001 Decker, Szczesniak and their young son Joey moved back to Michigan. Decker then worked for the Environmental Screening Technology Laboratory in Clinton Township, Michigan. He also was a distributor for Advocate Health and Nutrition Products.
Decker passed away from a brain aneurysm on March 2, 2003, at age 55 at his home in Fraser, Michigan.
Decker's son Joey and two other children from a first marriage, Jeffrey and Brooke, live in Arizona. Joey attends Grand Canyon University in Phoenix, Arizona.
Roxanne's tribute to Decker was terse but telling. "One thing about Joe was that he was loved by everyone," she said.21
Acknowledgments
This biography was reviewed by Joe DeSantis and fact-checked by Kevin Larkin.
Sources
Books
Chicago Cubs 1972 Official Roster Book Press-Radio-TV, 8.
Chicago Cubs 1971 Official Roster Book Press-Radio-TV, 8-9.
Chicago Cubs 1970 Official Roster Book Press-Radio-TV, 10.
Online
https://Affotd.com/2016/02/25/the-history-of-the-senior-professional-baseball-association/
Baseball-almanac.com
Baseball-reference.com
Chicagotribune.com
Findagrave.com
Newspaperarchive.com
PaperofRecord.com
Thedeadballera.com
Notes
1 Lorrie Ross, telephone interview with author, July 24, 2018.
2 "Former Drake H.S. player signs contract with Cubs," San Rafael Independent-Journal, July 6, 1965, 19.
3 Ross, telephone interview.
4 Bob Fowler, "Whirlpool Doubles Decker's Fun as Twin Hurler," The Sporting News, July 21, 1973, 19.
5 Edgar Munzel, "Bruins Bolstered by New Bullpen Beef," The Sporting News, May 6, 1972, 5.
6 Ross, telephone interview.
7 Fowler, "Whirlpool Doubles Decker's Fun as Twin Hurler," 19.
8 Fowler, "Decker's Sparkling Pitching Gives Cal Chance to Chuckle," The Sporting News, May 11, 1974, 20.
9 Fowler, "Decker's Sparkling Pitching Gives Cal Chance to Chuckle," 20.
10 Richard Dozer, "Mitterwald Eyes Ironman Cub Role," The Sporting News, January 12, 1974, 34.
11 Fowler, "Joe Aiming for Top Decker Role on Twins' Hill," The Sporting News, October 12, 1974, 19.
12 "Insiders Say," The Sporting News, April 19, 1975, 6.
13 A.A. Atoms," The Sporting News, July 31, 1976, 30.
14 Ibid.
15 Jerome Holtzman, "Trades Give Cubs a Stronger Look," The Sporting News, March 5: 1977.
16 Ross, telephone interview.
17 Cheryl Streib, telephone interview with author, September 9, 2018.
18 Streib, telephone interview.
19 Ibid.
20 Roxanne Szczesniak, email to author, August 6, 2018.
21 Szczesniak, email to author.
Born
June 16, 1947 at Storm Lake, IA (USA)
Died
March 2, 2003 at Fraser, MI (USA)
If you can help us improve this player's biography, contact us.
https://sabr.org/sites/default/files/DeckerJoe.jpg
600
800
admin
/wp-content/uploads/2020/02/sabr_logo.png
admin
2018-10-18 15:07:42
2020-04-09 14:38:40
Joe Decker