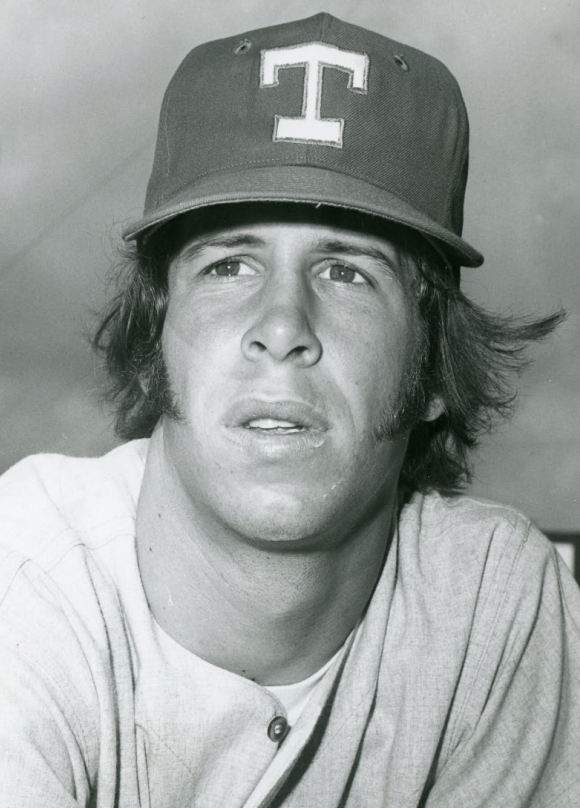 ---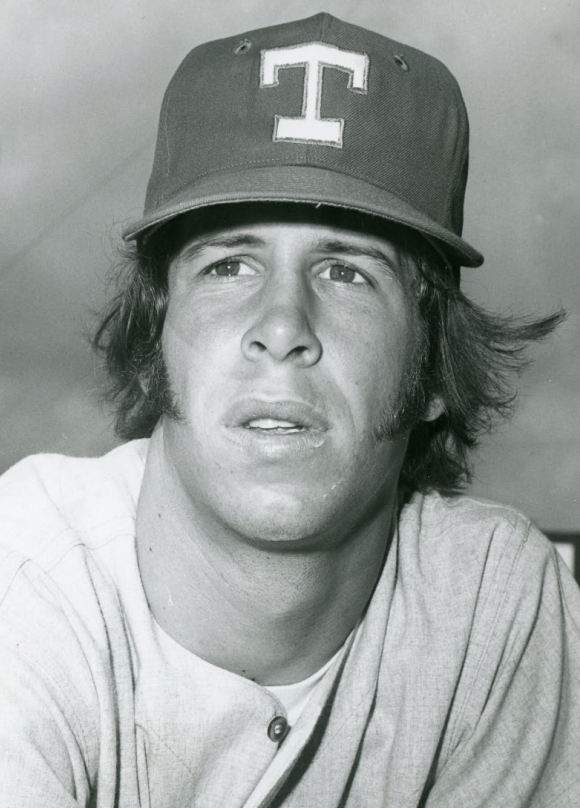 Joseph Lovitto Jr. was born on January 6, 1951, in the Los Angeles County harbor town of San Pedro. Joe was the oldest of two sons with a brother, Robert, born in 1959. His parents, Joseph and Anthonette Lovitto, enrolled their son into San Pedro's Catholic, all-boys Fermin Lasuen High School and saw Joe become a star athlete, excelling in football and baseball, in the years 1966-68. A switch-hitting catcher in high school, Joe discovered he would be selected in the first round of the January 1969 major-league amateur draft by the Washington Senators provided he could find a way to be eligible by graduating from high school. Since graduation at Fermin Lasuen was only in June, Lovitto was forced to consider another way.
Lovitto found he needed only one semester to graduate from public high school, so he transferred to San Pedro High School in the fall of 1968. This enabled him to graduate in January of 1969 and become eligible for baseball's January Amateur Draft.1 True to their word, the Senators selected Lovitto as the second player picked in the first round of the 1969 draft. Picked first before Lovitto by the Houston Astros was another switch-hitting Californian high schooler, Derrel Thomas. Thomas went on to enjoy 15 seasons in the big leagues as a versatile player who played every position but pitcher during his career. Of the first 50 players picked in that draft, eight made it to the majors while only three played professional baseball longer than 10 years.
At the time of his signing by the Senators in 1969, Lovitto was believed to possess all the physical tools to reach stardom in the major leagues. In high school all of this came easy. He was the fastest. He could hit anyone's pitcher. He could throw anyone out on the bases. As he stepped up into another level of the baseball talent pool, expectations were very high that Lovitto would soon be the next Mickey Mantle.2 His physical gifts were genuine but his understanding of them was lacking. Not realizing all professional baseball players were high-school or college stars, Lovitto, it soon became apparent, had an attitude and approach to the game that in high school was endearingly called "confidence," but was soon to be sarcastically labeled "brash," "cocky," and even "arrogant."
Mike Shropshire in his biting book about the 1973-75 Texas Rangers teams made this observation: "Lovitto could run, throw, hit and hit with power. The problem was that while he could do all these things, Lovitto seldom did."3 Some would say he was a victim of injuries that limited his physical abilities and playing time. Certainly that is a part of his story but his development as a major-league hitter never was realized as he was accelerated through the Rangers farm system, playing only 168 games in Class-A ball, 44 games in Double-A, and 34 games in Triple A. The Rangers' desperate need for more fans in the seats and for exciting talent that could be hyped, their financial investment in him as a first-round pick in the draft, his rock-star-like external demeanor, his good looks and "confidence," as well as the high expectations of the ballclub's talent evaluators, all served to cause the Rangers to insert an inexperienced and unproven 21-year-old Joe Lovitto into the starting lineup of the 1972 Rangers, where he would struggle mightily to fulfill "expectations." Lovitto's career foreshadowed the arrival in 1973 of another high schooler, 18-year-old David Clyde. Same motives. Same results.
Lovitto's first taste of competition was in Shelby, North Carolina, in the Class-A Western Carolinas League. At 18, he was the youngest player on the team. Losing some playing time to injuries, he appeared in about half of the team's 124 games, starting 14 games as a catcher and 49 games in the outfield. This was his last experience as a serious candidate for the catching position as the Senators wanted to utilize his excellent speed in the outfield and not squander it crouching behind the plate. Hitting .229 in 271 plate appearances with six home runs, Lovitto showed flashes of his speed on the basepaths by stealing 22 bases in 29 attempts.
Concerned about Lovitto's light hitting and needing to find a fielding position best suited to his outstanding speed and throwing arm, the Rangers sent Lovitto to the Florida Instructional League after the season. Playing in a place where young prospects could develop or learn new positions, and older veterans could rehabilitate from injuries under game conditions, Lovitto again was the youngest player on the roster, and in 24 games, hit only .179 with a meager two RBIs in 91 plate appearances.
The Senators moved their Class-A team to Burlington, North Carolina, in 1970. Under Joe Klein, who had also managed Shelby in 1969, Lovitto had a more promising season at the plate, hitting .266 with 5 home runs and 45 RBIs in 101 games. In the field, he split time between the outfield and a new position, second base. Relatively injury-free, he played in 101 of the team's 137 games.
The 1971 season saw Lovitto reunited with his manager for a third consecutive year, when he and Klein were moved up to Double-A Pittsfield. Playing exclusively at second base, in 44 games Lovitto showed evidence of meeting those high "expectations" by hitting a solid .301 with 27 RBIs. Anxious to see if this was evidence of progress, the Rangers moved him up to the Triple-A Denver Bears. Though limited by injury to only 34 games and 111 plate appearances, Lovitto responded with an average of .326 and an on-base percentage of .414 while playing mostly in the outfield. It seemed the real Joe Lovitto had finally appeared.
At spring training of 1972, in the new uniform of the Texas Rangers, Lovitto was a member of a major-league team, playing for manager Ted Williams who, along with most of baseball, agreed that he was certainly destined for stardom. He had been groomed to play both infield and outfield, and the only question was where he would play in the field.
On April 15, 1972, Lovitto made his major-league debut. Batting seventh and starting in center field, he went 0-for-2 at the plate, with a walk and a stolen base as the Rangers lost, 1-0, to the California Angels. In the next game, April 16, he singled to center for his first big-league hit, off the Angels' Tom Murphy. His only home run in 1972 came on June 10 against the Orioles' Dave McNally – a two-run homer to right-center in Arlington Stadium. The season, however, became a continuous struggle at the plate. It was July 10 before Lovitto's average rose above .200, and to do that it took a 4-for-5 night at the plate to climb from .194 to .212. He ended the season batting .224 in 375 plate appearances. When he did get on base he was able to steal only 13 bases in 24 attempts.
Lovitto's flippant attitude continued to exhibit a careless approach to development as a player. It was viewed by some as just his "sense of humor," which only served to affirm his career-destroying pattern of behavior. Ted Williams and his coaching staff likely did not see it as just a quirky sense of humor. An example was Lovitto reportedly telling Williams, when asked if he had read Williams' book on baseball, "Hell, Ted, I didn't even know you wrote a book."4 Another is the photo of Lovitto, in uniform, sitting in the dugout, with his mouth completely filled with a baseball.5 To complete the picture, there is another story of Ted Williams telling Lovitto he was wasting his talent, which resulted in Lovitto storming from the room and slamming the door in his manager's face!6
In November 1972, Williams resigned and Whitey Herzog was hired to replace him. Brutally honest, Herzog sized up his 1973 Rangers as follows, "Defensively these guys are really substandard, but with our pitching staff, it really doesn't matter."7
The 1973 season was perhaps the worst start imaginable for Lovitto. His performance reached new lows and, over the space of 2½ months, forged a one-way plane ride from Arlington to Spokane, Washington. How bad was Lovitto in April of 1973? With a batting average of .152, he made 28 outs during the month. The opponents' outfield had four of the putouts, four of the outs were strikeouts, and 20 were made within the infield. In 33 official April at-bats, Lovitto had five hits (one of them an infield hit) without a run batted in and with just one stolen base. Only eight times did Lovitto get the ball out of the infield. In May, he was 0-for-8 in nine games. In June, he was 1-for-3. His last game was June 10, after which he was soon on his way to his new position as an outfielder for the Triple-A Spokane Indians. Herzog had seen enough.
At 23, Lovitto arrived at a new place in his professional career. No longer being coddled because of his potential, he now was expected to produce, both at bat and on the field. At Spokane, Lovitto remained relatively healthy, batting a respectable .279 with 4 home runs and 38 RBIs. This was enough for Lovitto to be invited to the 1974 spring-training camp with another opportunity to make the major-league club.
With third base now covered by Lenny Randle and Jim Fregosi, Lovitto was competing for a spot in the outfield. The slower speeds of Jeff Burroughs, Alex Johnson, and Tom Grieve limited them to the corner outfield spots, so with a 33-year-old Cesar Tovar his only competition for the center-field spot, Lovitto made the team for the 1974 season. However, the wording under the photo of Lovitto in the 1974 Texas Rangers game program clearly revealed that the Rangers were close to ending their relationship with Lovitto. In a document that typically goes to great length to be positive in its descriptions of player exploits and potential, it was chilling in its wording about the future of Joe Lovitto as a Texas Ranger: "A big project in spring training will be this cocky youngster, who was the Rangers' No.1 pick in the …1969 draft. Switch-hitting Joe has played second base, the outfield, third base and caught, but has been slowed by a variety of ailments – elbow, shoulder, tonsils, flu, etc. He has more talent than has surfaced, can run and throw, needs only to hit a bit more to stick around." In contrast, the publication said of catcher Dick Billings, who hit .179 in 1973: "Rich broke his right thumb on April 27, missed 15 days, and that set the tone for his entire 1973 season. He didn't have a good year, but he's a gutsy guy who plays with pain and never complains."
Playing in 113 games in 1974, Lovitto batted .223 with 2 home runs and 26 RBIs, and 6 stolen bases in 14 attempts, numbers very similar to his 1972 season. Lovitto remained with the team through the 1975 season but saw action in only 50 games while batting .208 in 123 plate appearances. In his final season he was on the disabled list from June 15 through August 31, missing 76 games. His last at-bats in the majors occurred in a game against the Chicago White Sox on September 14, 1975, when he pinch-hit in the ninth inning for the DH, Tom Robson. He walked and scored a run. He batted twice more, grounding out to short and flying out to center field, before the game ended in the bottom of the 13th on a walk-off single by Roy Howell. His last appearance in a game came two days later, on September 16, when he ran for Mike Hargrove in the bottom of the ninth in a 6-4 loss to Oakland.
On December 12, 1975, Lovitto was traded to the New York Mets for Gene Clines. On March 26, 1976, at the end of spring training, he was released by the Mets. The career that once held such promise and interest ended without fanfare or notice. Lovitto retired, at the age of 25, and did not play again. His baseball career was marred by his health, his immaturity, and the Rangers' need to rapidly build a new fan base. Their need and his lack of maturity were a formula that proved lethal to the vulnerable career of a talented athlete.
On July 8, 1974, in the middle of his third season with the Rangers, the 23-year-old Lovitto took a step toward stability in his life when he married Melissa Jan Farmer, a 21-year-old former high-school beauty queen and American Airline flight attendant from Grand Prairie, Texas. The marriage ended three months short of six years on April 9, 1980.
Maturity has a way of encroaching upon life as one grows in age. It began to come for Lovitto one year after his divorce and some five years after his retirement from baseball. At the age of 31, he married Katherine Lynn Madden at her parents' home in Mansfield, Texas, on April 4, 1981. The couple had two daughters, Lauren and Leslie.
Ten years later, in 1991, Lovitto's health introduced a new challenge into his life: He was diagnosed with testicular cancer.8 The battle against cancer consumed the next 10 years of his life as the cancer began to spread into other parts of his body. In this battle, Lovitto's strength of will, which had made him less coachable in baseball, served to preserve his life far beyond what the doctors at Houston's M.D. Anderson would predict. Utilizing every experimental drug available combined with Lovitto's strong will to live, his doctor said, prolonged his life for at least four years past any reasonable medical predictions based upon his physical condition. Lovitto died on May 19, 2001. He is buried in the Moore Memorial Gardens Cemetery, Arlington, Texas.
Lovitto is remembered by his family, his teammates, Rangers fans, and the city of San Pedro. San Pedro placed a plaque bearing his name on the "Sportswalk to the Waterfront" to honor his sport exploits. Others honored on this Hollywood Boulevard-style sidewalk are athletes from the San Pedro and Los Angeles area including Joey Amalfitano, Alan Ashby, and Garry Maddox. The biography associated with Lovitto's plaque reads, in part, "Joe Lovitto was a star football and baseball star at San Pedro's Fermin Lasuen High. … Although Lovitto had blazing speed, his career was hampered by injuries. … Billy Martin said, 'Lovitto would have been a great player, but he was plagued by injuries."9
Bill Zeigler, the Rangers' trainer during Lovitto's tenure with the team, provided a perspective on him that most of his teammates shared: "Joe was a guy who played hard and aggressively. As I recall he hurt his shoulder on several occasions diving for balls in the outfield. He dressed flamboyantly, with gold chains and such, but his teammates loved him. A very popular guy with all of us." 10
This biography was published in "1972 Texas Rangers: The Team that Couldn't Hit" (SABR, 2019), edited by Steve West and Bill Nowlin.
Sources
In addition to the sources cited in the Notes, the author also consulted Baseball-Reference.com, 1974 Texas Ranger Souvenir Program and Scorecard from author's personal files, and The Baseball Encyclopedia (ninth edition) from Macmillan.
Notes
1 The January amateur draft was begun in 1965 and discontinued in 1986. Baseball's amateur draft is now conducted only once per year, in June.
2 A statement (unsupported) attributed to Ted Williams and quoted in an online obituary posted on July 5, 2002, by Debbie Cromwell. findagrave.com/cgi-bin/fg-cgi?page=sh&GRid=5463135, accessed December 20, 2015.
3 Mike Shropshire, Seasons in Hell with Billy Martin, Whitey Herzog and "The Worst Baseball Team in History"… The 1973-1975 Texas Rangers (Lincoln: University of Nebraska Press, 1996), 21.
4 Caption under a photo of Lovitto and Williams that was posted online at findgrave.com by Lovitto's sister-in-law, Debbie Cromwell.
5 Eric Nadel, Texas Rangers: The Authorized History (Dallas: Taylor Publishing Company, 1997), 68.
6 Shropshire, 21.
7 Ibid.
8 Los Angeles Times, May 23, 2001.
9 sportswalkwaterfront.com, accessed December 20, 2015.
10 Author interview with Bill Zeigler, January 24, 2016.
Born
January 6, 1951 at San Pedro, CA (USA)
Died
May 19, 2001 at Arlington, TX (USA)
If you can help us improve this player's biography, contact us.
https://sabr.org/sites/default/files/LovittoJoe.jpg
600
800
admin
/wp-content/uploads/2020/02/sabr_logo.png
admin
2012-01-04 19:54:33
2012-01-04 19:54:33
Joe Lovitto