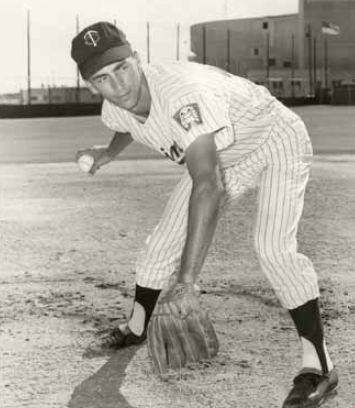 ---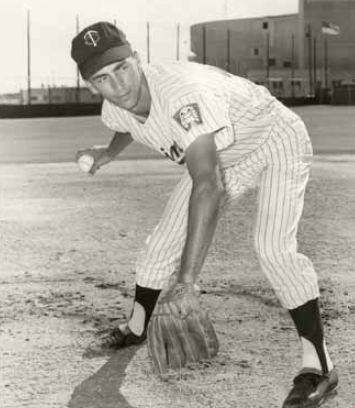 Joseph Rudolph Nossek spent 43 years in professional baseball as a player, manager, and coach. Seven of those years were as a player with a high point being his season with the 1965 American League champion Minnesota Twins.
Nossek was born in Cleveland on November 8, 1940. He loved baseball and enjoyed listening to Jimmy Dudley, the Cleveland Indians broadcaster. His father, Joe Sr., was a standout pitcher in the Cleveland sandlot leagues, and an uncle, Jim Stepp, helped cultivate the youth's interest in baseball. Nossek began as a pitcher, but he played outfield in high school, making the All-Ohio team at that position and helping lead his Euclid High School team to a spot in the state championship tournament in 1958, his senior year. Nossek recalled, "I worked out with the Washington Senators after I graduated from high school. I went to Washington for a couple of days and they said, 'We'll keep an eye on you, but we think you should go to college for a couple of years,' which I ended up doing, and it turned out to be the right thing to do."1
Nossek attended Ohio University, where as a junior in 1961 he was named to All-American, and All-Mid-American Conference first teams, which drew attention to him from a number of major-league scouts. "When it was time to make a decision to sign, our college coach and my dad were in the room with the scout (Floyd Baker), and Minnesota was the first team in, and I ended up signing with them," he remembered. "I didn't even talk to the other teams."2 Sure enough, the Senators/Twins organization had kept its word, and kept its eyes on Nossek.
After signing with the Twins for a $45,000 signing bonus, Nossek was sent on June 12, 1961, to their Charlotte (North Carolina) team in the Class A South Atlantic (Sally) League. He ended up batting .274, and he had a big day against Charleston on August 9, when he went 4-for-4 and belted a bases-loaded single that gave the Hornets a 6-5 victory.
While in Charlotte, the Caucasian Nossek witnessed racism on a scale he had never experienced before. "The Jim Crow laws were in effect back then so that was a new experience for me, to see how they treated the black players," he said. "That was a culture shock! My wife came to visit and there were separate restrooms and drinking fountains at the ballpark. And my black teammates had to stay in a different part of town and they had to go to the back of the kitchens to get served (at restaurants). It really stunk, but unfortunately that's the way it was."3
In 1962 Nossek was placed on the Twins' 40-man roster and took part in spring training until he was sent back to Charlotte on March 26. He played in 134 games for the Hornets, batting .276. One of the highlights of his season was getting five consecutive singles in a 9-0 victory over Norfolk-Portsmouth on May 30.
Nossek was moved up to Triple-A in 1963, playing in the Pacific Coast League with the Dallas-Fort Worth Rangers, managed by Jack McKeon. Not noted as a power hitter, he still won two games with home runs. in 128 games, he batted .293.
Nossek began the 1964 season with the Twins. His first major-league appearance came on April 18, when he entered the game as a defensive replacement for Harmon Killebrew, with Bob Allison moving from center field to left. In his only at-bat for the Twins that season, pinch-hitting on April 24 against the Tigers' Mickey Lolich, he popped out to second base. Shortly thereafter, Nossek was sent to the Twins' Triple-A farm team in Atlanta (International League). Nossek had an offyear for Atlanta, batting only .238, but a broken thumb was a big factor. However, he had developed into an excellent defensive outfielder. In a 1965 interview he said, "The big step was when I learned to turn my back on the ball hit over my head. I started learning that in 1961 with the help of [Minnesota center fielder] Lenny Green. Last summer it really helped me."4
After the 1964 season, Nossek played in the Florida Instructional League and led the league with a .350 batting average. Nossek's path to the Twins outfield was blocked by solid players like Killebrew, Allison, Jimmie Hall, and Tony Oliva, so Nossek played third base in Florida. Twins' assistant farm director George Brophy observed, "Nossek needs experience at third base, of course, but he has the ability. I saw him make good plays on the slow-hit ball, and he has good range at third. He handles those sharply hit grounders."5
How much did the Twins value Nossek? Before the 1965 season, they tried to trade for Red Sox second baseman Chuck Schilling. Twins' president Calvin Griffith said, "The last time I talked to them, they wanted Joe Nossek. I consider Nossek too good a young prospect to give up on right now."6 Great performances in the Florida Instructional League and at spring training earned Nossek a spot on the Twins' 1965 roster. The team planned to use him as a utility outfielder, and to platoon him with Jimmie Hall against left-handers.
On June 27 Nossek singled home the winning run in the 10th inning off Larry Sherry, giving the Twins a 6-5 victory. The hit raised his average to .315. After the game Nossek said, "Sometimes I go for a week and don't eat much. I just don't feel like eating sometimes, but I have a good Italian wife who likes me to eat. So I eat better when I am at home."7 This habit of light eating led to his nickname, "Coffee and Juice" which fit well for the slender 6-foot-1, 175-pounder.
Nossek hit his first major-league home run off Hank Aguirre at Tiger Stadium on June 13. Over the course of the season Nossek's batting average plunged to its final .218 in 170 at-bats. Nossek started in center field in five games of the Twins' seven-game World Series loss to the Los Angeles Dodgers. In Game Two he had a fourth-inning single off Sandy Koufax, the first Twins hit of the game en route to a 5-1 victory that gave the Twins a 2-0 series lead. Nossek singled off Claude Osteen in Game Three, and added a pinch-hit single off Don Drysdale in Game Four. He went 4-for-20 in the Series. Reflecting on his performance, Nossek said, "I think my biggest accomplishment was only striking out once in that Series, and that was against Howie Reed, a right-handed curveballer. Koufax didn't get me and neither did Drysdale or Osteen."8
Nossek was involved in a controversial play in Game Seven. In the third inning, Zolio Versalles singled with one out and tried to steal second base. As Nossek swung, Versalles broke and had the base stolen easily, but umpire Ed Hurley ruled that Nossek had interfered with catcher John Roseboro's throw, ordered Versalles return to first base, and called Nossek out for interference. Nossek denied that he interfered: "I just went for an outside pitch. I tried to duck when I heard Roseboro coming."9 The Dodgers, behind Koufax's three-hit, 10-strikeout performance, defeated the Twins 2-0 to win the Series.
Nossek spent the offseason in the Florida Instructional League learning yet another position, second base. "… I am always happy to learn a new position," he said. "I feel it makes me more valuable. If I don't make it at second, the experience should make me a better all-around utility man."10
Nonetheless, on May 11, 1966, Minnesota placed Nossek on waivers, and the Kansas City Athletics claimed him. Nossek was optimistic, "Coming to Kansas City may be a break in more ways than getting a shot at playing regularly. For one thing, the park is one that I should do my best in. I'm not a home-run hitter anyway and I'm not going to be tempted to try here."11 But he was upset with the Twins. "I was really disappointed by that," he said of their placing him on waivers. "They talked about what a great bench they had and I had won a few games for them pinch-hitting.12
After the Athletics' José Tartabull suffered an ankle injury, Nossek replaced him and played so well he accumulated a lot of playing time. Nossek enjoyed playing for A's manager Alvin Dark. "Dark is a fine handler of men," Nossek said. "He has given me the opportunity to play every day and he has also helped me with my batting."13 Dark said, "He's the kind of player you like to have for defensive purposes."14
Nossek played in 87 games with the '66 Athletics, batting .261. Among the highlights were an inside-the-park home run off the Indians' Sam McDowell on July 10, and a streak of 87 plate appearances without a strike out. Nossek will never forget a nice surprise he received after the season bonus after the season. He was pleasantly surprised at 11:30 P.M. on Christmas Eve. "I get a call at 11:30 at night, and it's Charlie Finley wanting to talk contract. He gave me a nice raise to $10,500, and that was a great Christmas present."15
Nossek played in 87 games for the A's in 1967 and batted .205. He had an unusual experience during spring training. The Twins and A's were playing in Caracas, Venezuela, on the campus of Central University. Neither team knew why so many armed soldiers were at the stadium. It turned out that students were rioting outside the ballpark. The music and cheering at the game muffled the sound of gunfire, but one policeman and two students were injured. After hearing about the disturbance, Nossek commented, "The soldiers in the dugout didn't look so bad after all."16 Before spring training he spent the offseason employed by a St. Paul brokerage company.
The A's sent Nossek to Triple-A Vancouver in 1968. He played every game of the Mounties' PCL schedule and batted  247. He was named the team's MVP and most popular player. He ranked a game on September 7 against the Hawaii Islanders as one of his most memorable. "Mickey Vernon was our manager in Vancouver and I talked him into letting me pitch the second-last game of the season. It was a doubleheader that day, so it was only seven innings, but I ended up pitching a complete game and we won 5-1. I remember I struck out two guys in the first inning and then I couldn't lift my arm when I went out for the second inning. But I did make it through the game, [and] I got a whole new appreciation for pitchers and what it takes them to get in shape."17
In 1969 the Kansas City A's were the Oakland A's. Nossek was with the team in spring training, He faced a tough fight to make the major-league roster in the face of competition from Reggie Jackson, Mike Hershberger, and a hot prospect named Joe Rudi, but Nossek cherished the opportunity. "All I want to do is stick, then I'll worry about the rest. I need one more year for my pension," he said. 18 In a spring game against the San Francisco Giants, he had four hits, scored two runs, drove in two, and made a fine defensive play on a ball hit by Willie Mays. Nossek made the A's roster and appeared in 13 games with six at-bats before being sent to Triple-A Iowa. On July 12 Oakland traded him to the St. Louis Cardinals for infielder Bob Johnson. Nossek was assigned to Triple-A Tulsa, and was a September call-up to St. Louis, where he recorded a single in five at-bats.
Although he was on the bench frequently, Nossek still focused on the game and what was happening and developed a reputation as one of the game's best sign stealers. He recalled one incident of many. "When I played for Hank Bauer, out in Oakland in 1969. I was sitting on the bench a lot, so I started to watch the [opposing] manager and the third-base coach interact. I was sitting there one game and thought, 'Gee whiz, I think they did this yesterday and I think it's going to be a hit-and-run.' So I went up to Hank, who could be quite gruff, and I said, 'Hank, I think the hit-and-run is on here.' And he just looked at me and gave me that stare and looked away and didn't do anything about it, so I went back and sat down and sure enough, the hit-and-run was on. The following day I'm sitting there, not playing again, and I see the same signs and so I walked over to Bauer again — a little fearful of what he might do — and I said, 'Hank, I think the hit-and-run is on again.' And he says, 'You think?' And I said, 'Yes, sir.' And so Hank pitched out and we get the guy and I got hooked [on stealing signs]."19 Word of Nossek's uncanny skill spread quickly. "I built up a reputation that I think was deserved for the first half of my career, but I think a lot of it was psychological later in my coaching days, but psychologically it turned out to be a good weapon."20
Nossek spent most of the 1970 season at Tulsa, batting .228 in 396 at-bats. He was a September call-up and had one at-bat on September 13, his last as a major leaguer. He grounded out against the New York Mets' Tug McGraw.
In February 1971, Nossek was sold to the Milwaukee Brewers and spent the season with Triple-A Evansville. He batted .223 in 174 at-bats, and also was a coach assisting manager Del Crandall.
With his playing days behind him, Nossek in 1972 managed the Danville Warriors, the Brewers farm team in the Class A Midwest League to the league championship. Del Crandall became the Brewers' manager in 1973 and named Nossek his third-base coach. Nossek had the job for three seasons, until Crandall was fired after the 1975 season.
Nossek returned to the Twins as third-base coach in 1976. Released after the season he wasn't out of work for long; the Cleveland Indians hired him to be the third-base coach. He remained on the Indians' coaching staff until the end of the 1981 season, when he and pitching coach Dave Duncan left over a salary dispute. (They were making $30,000 and sought raises to $36,000, but the Indians offered $33,000.) Players were upset with the potential loss of the two coaches — Duane Kuiper and Mike Hargrove even offered to chip in to pay the pair. Commenting on the impasse, Nossek said, "I have been a big league coach for nine years, I spent the last five in Cleveland. The Indians gave me a job when I needed one a few years ago, but now I think it's time for me to find out what I am worth on the open market and make the best living I can for my family."21 Duncan became the pitching coach for Seattle, while Nossek agreed to a two-year, $75,000 deal with Kansas City.
Nossek played a role in the George Brett pine tar incident on July 24, 1983 at Yankee Stadium. Nossek attempted to restrain an angry Brett, and when the game was resumed on August 18, Nossek was as the Royals manager, replacing the ejected Dick Howser.
The Royals let Nossek go after the 1983 season, and again it didn't take him long to find a new job. The Brewers offered him a contract for $38,000, but the White Sox won out with a $50,000 offer. Nossek's salary led White Sox board chairman Jerry Reinsdorf to comment, "We just don't sign coaches, we hire instructors."22 Nossek remained with the White Sox until the middle of the 1986 season, serving as a coach and advance scout, and left to work as advance scout for the Houston Astros. After the 1989 season, the Astros gave the White Sox permission to talk to Nossek about a job, which Nossek took. Astros manager Art Howe commenting on the departure of Nossek said, That's a key job and Joe was one of the best. We're really going to miss him, but he had a great opportunity and couldn't pass it up."23 Nossek rejoined the White Sox coaching staff as an outfield coach, and also served as an eye-in-the sky defensive coordinator.
Nossek served as the eye-in-the-sky coordinator in 1990. In May of that season the Baltimore Orioles filed a complaint with the American League charging Nossek with illegally stealing signs. League rules permitted a coach to position defenses from an agreed-upon high perch, but the Orioles claimed Nossek sat in the stands facing the Baltimore dugout, and relayed the information to manager Jeff Torborg. It got to the point that Orioles general manager Roland Hemond sat with Nossek to watch him. Nossek brushed off the incident, saying, "Why don't they just change their signs? It's that simple. They put coaches in the dugout. What's the difference? But I'm glad they're worried."24
Nossek became the White Sox' bench coach in 1991. Before the 2004 season he stepped down because of his physical condition. "Unfortunately, my aches and pains have reached a point where I don't want to jeopardize being able to fulfill my responsibilities in uniform," he said. "I have had a knee replaced, a shoulder is next and my back continues to be a problem. It just has gotten tougher to be at the ballpark each day, and I wanted to make this decision now so that it is not a distraction to [manager] Ozzie [Guillen] or the team."25 White Sox general manager Ken Williams said, "We cannot say enough about Joe Nossek and what he has meant to the White Sox organization over the past two decades. His loyalty, skills, and baseball knowledge are unmatched in this game. We understand how being in uniform each day has become more difficult for Joe, but we are going to make sure he remains a valuable resource for this organization in some capacity."26
As of 2014 Nossek and his wife, Jean, lived in Amherst, Ohio, enjoying their four children, 11 grandchildren, and one great-grandchild.
Notes
1 Cooperstowners in Canada
2 Ibid.
3 Ibid.
4 Max Nichols, "Spindly Nossek :A Light Eater, Heavy Swinger," The Sporting News, July 10, 1965.
5 Max Nichols, "Twins Infield Tussle Takes on Added Starters, Nossek, Quilici," The Sporting News, December 5, 1964.
6 Max Nichols, "Griffith Expects Trouble Signing Reluctant Twins," The Sporting News, January 23, 1965.
7 The Sporting News, July 10, 1965.
8 Cooperstowners in Canada
9 Lowell Reidenbach, "Dodgers Never Forget — Follow '55 Script," The Sporting News, October 23, 1965.
10 Max Nichols, "Nossek and Kosco Earn Passing Grades in Twins' Florida Book," The Sporting News, December 18, 1965.
11 Major Flashes, American League, The Sporting News, June 11, 1966.
12 The Sporting News, June 25, 1966.
13 Ibid.
14 Ibid.
15 Cooperstowners in Canada.
16 "A's, Twins Play In Caracas — Machine Guns in Dugouts," The Sporting News, April 1, 1967.
17 Cooperstowners in Canada.
18 The Sporting News, March 22, 1969.
19 Cooperstownes in Canada.
20 Ibid.
21 Terry Pluto, "Two Tribe Tutors Unhappy With Pay," The Sporting News, October 24, 1981.
22 Stan Isle, "Footnotes," The Sporting News, November 14, 1983.
23 N.L. West, The Sporting News, November 13, 1989.
24 Alan Solomon, "O's Charge Sox Cheated," Chicago Tribune, May 26, 1990.
25 "Joe Nossek Steps Down as Bench Coach,"  chicago.whitesox.mlb.com, March 19, 2004.
26 Ibid.
Born
November 8, 1940 at Cleveland, OH (USA)
If you can help us improve this player's biography, contact us.
http://sabr.org/sites/default/files/JoeNossek.JPG
600
800
admin
/wp-content/uploads/2020/02/sabr_logo.png
admin
2012-01-04 20:03:26
2021-08-16 05:48:11
Joe Nossek